Once you're in the door, there's plenty of advice floating around about style, project management, budget and all the rest—but how do you actually get the job in the first place? We're asking designers to peel back the curtain and walk us through how they landed a project, step by step. Here, Lexington, Kentucky–based designer Isabel Ladd, historic preservationist Lucy Jones and textile designer Alex Mason explain how they pulled together a hotel suite inspired by one of Netflix's buzziest shows, The Queen's Gambit, in less than two weeks.
Tell me the backstory on this hotel suite project.
Isabel Ladd: I got a call from the team at Cornett, an advertising agency here in Lexington, and they asked if I wanted to work on something special, but they couldn't tell me what it was. I said yes before they even finished explaining the situation because I love working with them. I've done set design for their clients, and I did the interiors for their headquarters. So, I came on board without even knowing what I was agreeing to. But when I found out that it would be a hotel room at the 21c Museum Hotel inspired by The Queen's Gambit, which largely takes place in Lexington, I was so excited. The show has been so great for Lexington. We've already started to have fans of the show visiting the city, going to spots where they filmed. So, I was excited to be able to help build on that fandom. It's been so great to shine a spotlight on the city at a time when it could really use the boost.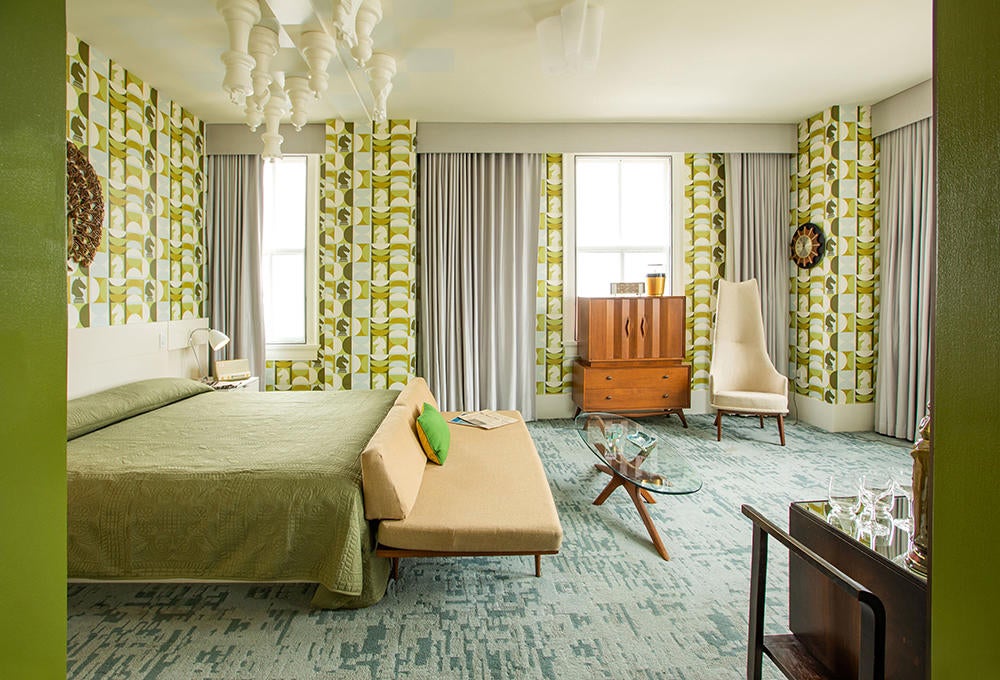 What were your first steps?
Ladd: They called me on a Saturday night; by Monday, I had a spreadsheet of all the accessories I thought I would need and they had connected me with Lucy, a local historic preservationist who I knew socially but had never had an opportunity to work with.
Lucy Jones: It's always been a dream of mine to work on a '60s motel restoration, and I've been collecting furniture and accessories that would work in that setting for years. So, I just happened to have a collection of furnishings perfect for this project that we could choose from.
Were you both fans of The Queen's Gambit already?
Ladd: Yes! I had binged the whole thing in two days a few weeks before they called me to work on this project. I loved it.
Jones: I was holding off on watching the show because I had read the novel that it's based on and was a big fan of that. So, I actually didn't watch until I came on to the project.
Isabel, had you worked with a historic preservationist before?
Ladd: Never! I found that it took a lot of pressure off of me because I didn't have to do a ton of research. There were little things while we were doing the installation, like I wanted to put the chairs and the desk at an angle and Lucy said, "They would never have put them that way at the time." Everything was linear then. It was something I never would've thought about or caught.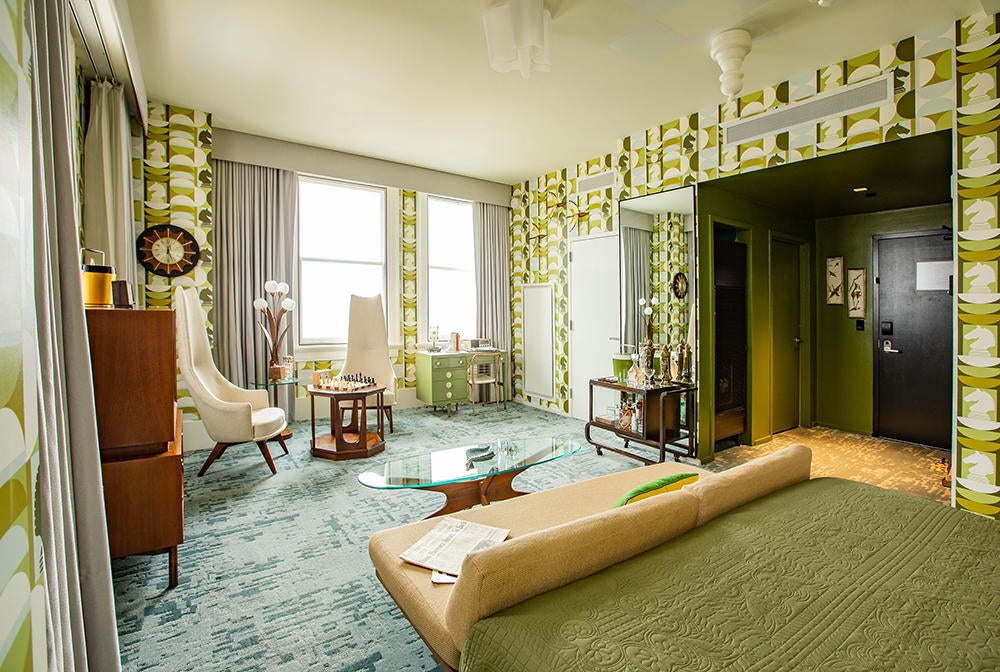 What was your timeline?
Ladd: At first, there wasn't a set timeline. It was a little vague. So, I had started putting lists together and a budget, but then all of a sudden they told us that they wanted it done before Christmas, which was less than two weeks away at the time. Once they told us that, all my other work went on pause. It was all done in 10 days, including Alex Mason (of Lexington-based textile brand Ferrick Mason) creating a custom wallpaper for us.
That's crazy! So, what were the biggest challenges of that time crunch?
Jones: We had certain limitations. We couldn't switch out the bed, the carpet or the drapes. So we had to work around that and use the color palette that was there with the carpet, which really isn't period appropriate in color or style. There also had to be group approval, not just between the three of us, but with the advertising agency and the hotel, as well.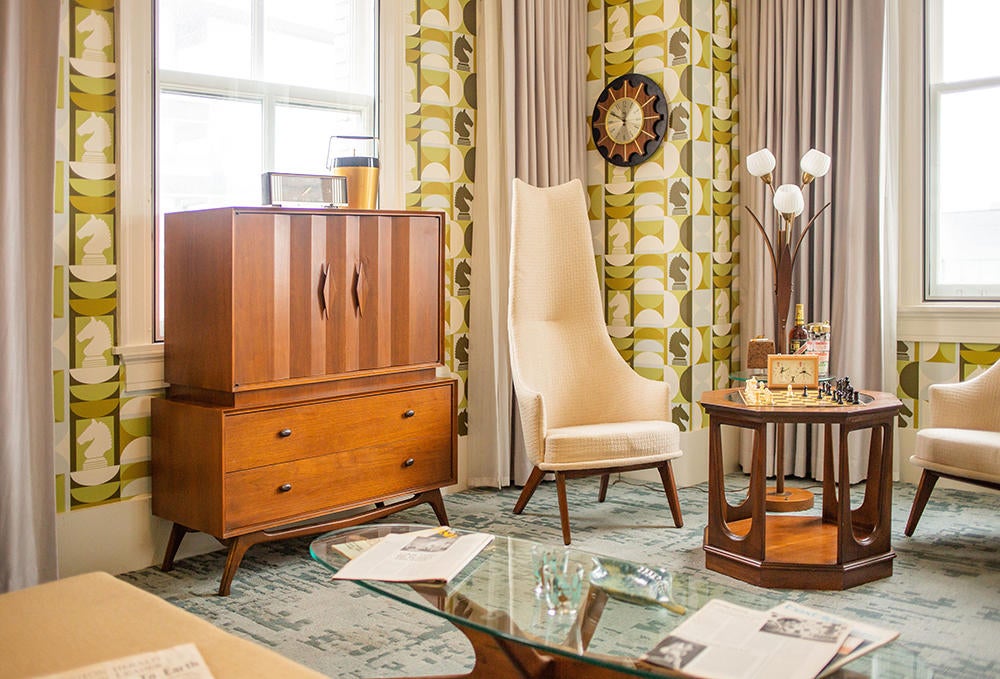 Mason: I'm definitely not used to having so many people approving a design. The three of us were really liking this orange color palette, but the hotel felt it would be too overwhelming to walk into an orange room. So, ultimately we went with this avocado green.
Ladd: Trying to source a wallpaper was one of the hardest parts. I feel like Lucy and I found the end of the internet. We searched everywhere and just didn't see anything that was a fit. So, that's when I reached out to Alex. I called her on a Monday and by the following Monday the print she created was being installed.
Alex, what was that insanely fast process like for you?
Mason: Luckily, I had seen the show three times already when I got Isabel's text! Lexington has a famous history with horse racing, so I knew I wanted to use the iconography of the knight and tie the city's history with the chess piece. We print everything in-house, so I came up with the design in a few days and was able to print it, copyright it and install it a few days after that.
Isabel, when did you decide to do the installation of the chessboard on the ceiling?
Ladd: I knew I wanted to do that because that's a big part of the show—the main character visualizes the chess games on the ceiling. The team at the hotel wasn't so sure about doing the installation, though. There was a lot of back-and-forth about it. They wanted time to think about it, and I was like, "Let's just go for it!" We found these hollow chess pieces on Amazon that are 2 feet tall and had them mounted on the ceiling. For the board, I didn't want to paint the ceiling, so we just got a high-gloss contact paper that could contrast with the matte paint already on the ceiling and made our chessboard out of that. I had them install the pieces in the formation of the last game she plays on the final episode.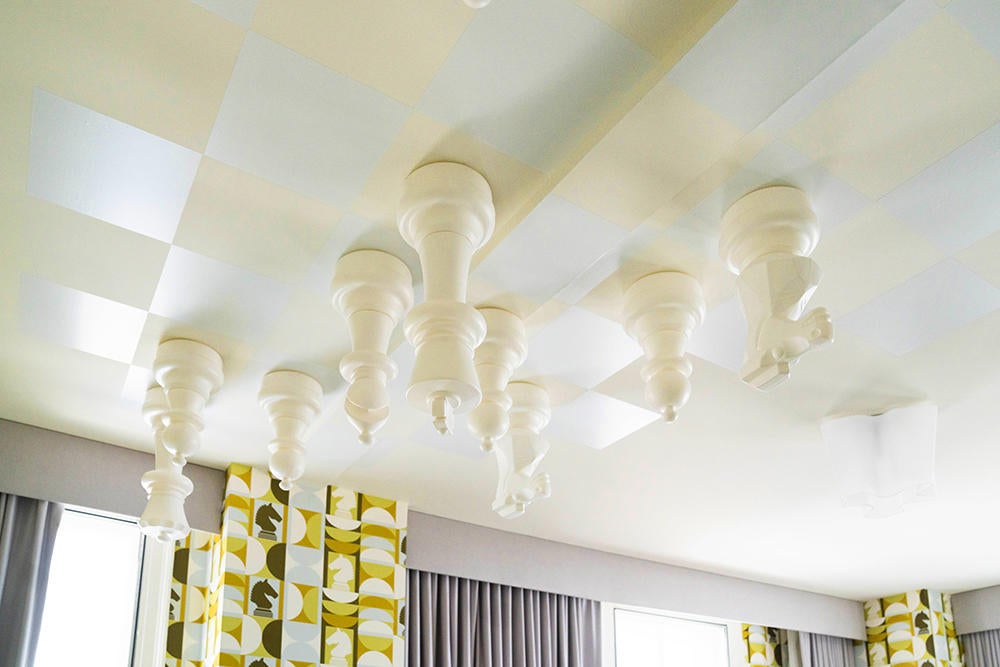 Jones: In the end, I think that installation is what really brings you into the spirit of the show. It's not just a '60s room; it really is tied to The Queen's Gambit. It makes you feel like you're in that moment the show creates.
Were there ideas that you had that didn't make it into the final design?
Ladd: There were so many people involved in this—three creatives plus an ad agency and a tourism bureau. So, that's a lot of people to weigh in, and naturally, not everyone agreed on everything. I wanted candy pills on the nightstands, because the main character's pill addiction is a big part of the story. I also wanted to have cigarettes (or at least candy cigarettes) on the desk. But those are food items, and there were laws about having them in hotel rooms. But, how cool would that have been? I also wanted there to be period-appropriate clothes in the closets, with suitcases and an ironing board and iron from the era. I sourced all of that. But the hotel didn't like that. They thought it would give the wrong impression, like people left their stuff there. I love little details, though. In good design, your eye must travel. You need 500 pieces that make a statement, not just one.
Home page photo: From left: Alex Mason, Isabel Ladd and Lucy Jones in the Harmon Suite at 21c Museum Hotel in Lexington, Kentucky | Photo courtesy of Isabel Ladd