Once you're in the door, there's plenty of advice floating around about style, project management, budget and all the rest—but how do you actually get the job in the first place? We're asking designers to peel back the curtain and walk us through how they landed a project, step by step. Here, Chicago-based designer Bruce Fox explains how he was rejected and then rehired for a project after the first designer left, and why the neoclassical penthouse packed with unbelievable architectural detail was worth testing his ego (and sanity).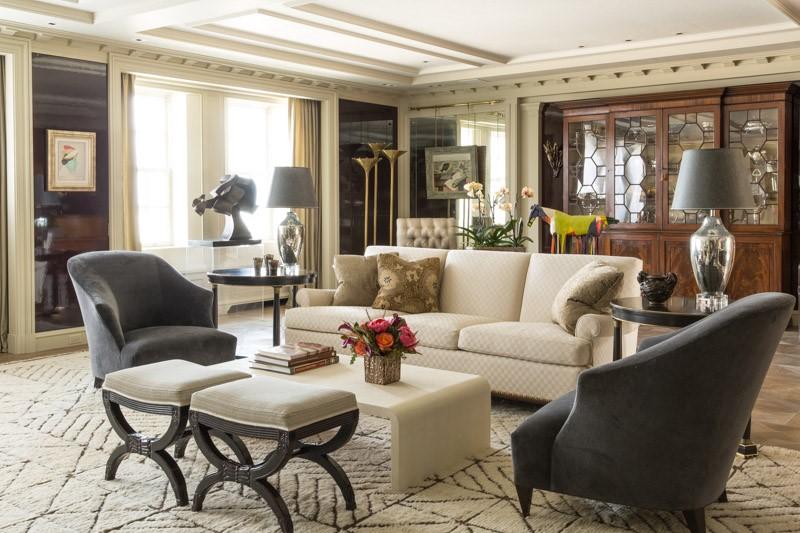 Lisa Romerein Photography
How did this project get to you?
I was originally recommended by a [real estate agent]—I interviewed for the project and did not get it. The client ended up hiring a New York–based designer, and I don't know what happened, but they [went] their separate ways. The construction was underway and the project needed somebody to head it up. I got a call from the client asking if I would be interested, and I turned him down. But then I got a call from somebody else working on the project, and they urged me: "You might want to reconsider and talk to him again." They said a lot of interesting things were happening. There was still a year and a half to go. I called them back, and we worked things out.
Did you have any apprehension about the drama that might have taken place, or that it might be a difficult project? How did you work through that?
I did, and that's why I said no. So I did my research, and I was talking to a number of people, and it was an exciting project. The architect was Ferguson & Shamamian, whose work I really respect. I began to think, "What am I going to learn here?" I was hungry for something different. It was a prestigious project—a penthouse at a great address in Chicago. Internally, I just worked it out: At the end of the day, if a client's really bad, you just move on. He and I talked it through, and we thought we could have a really good working relationship.
Were you given any background as to why it didn't work out?
I don't remember the exact words, but it was very loosey-goosey: "We decided to go our separate ways; we weren't seeing eye to eye on the design," etc. But there was a fair amount of items purchased, so I think it was a personality clash.
Were you asked to continue the previous designer's vision, or re-imagine it?
I needed to figure out who the designer was and who the client was. I've taken over another project before, and I said, "You can't use that ugly chrome chaise. That goes against everything I am and you are." But I didn't feel that way with [this project]. [The client] was reusing a fair amount of his own stuff because he is a collector, and he has magnificent taste.
There's a pair of Donghia ghost chairs in there, and I hate them—they're so '80s—and I said, "Why would you reuse them? You don't have to." But he felt really strongly about it, and when a client digs their heels in, it's usually something sentimental. In the end, I reupholstered them. I did a fair amount of reupholstering because the client said, "Oh, we're doing everything in gray." And I said, "Well, the chairs aren't gray—they're green. They look stupid." To me, a poor choice was made. So, there was a lot of that going on. I was given the ability to say, "I don't like that. I want to do something else." But honestly, I don't think I was that far removed from the other designer.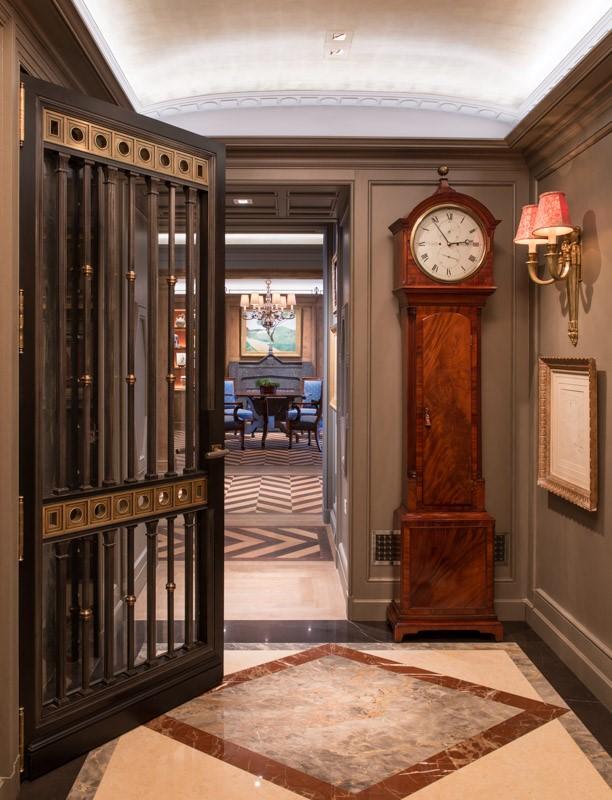 How would you describe the style of the house? What were they trying to accomplish?
He is on the second floor of a 12-story building on East Lakeshore Drive—a wonderful address in Chicago with magnificent views of the lake. But he was on two. He initially started the project by designing a conservatory; he purchased an annexed space so that he had a place to go to when it was gloomy, because he was highly affected by the northern climate. But then the price of that got so big, and the penthouse came up for sale, and he went up there and of course, it's just filled with light. Then he tapped into Ferguson & Shamamian for what they do best: details and classicism. So a lot of those decisions were made architecturally.
What are some of your favorite rooms or details?
We upholstered the study walls in alpaca, and that was really cool. One of the entries is painted, and in the other we did a handwoven fabric from Chapas Textiles, out of Brooklyn. We applied fabric to the wall knowing he had cats. I kept telling him, "You can't put this fabric on the wall—you have cats!" We ended up covering the bottom part of the wall with sheets of plastic, like what you stick on carpet when you're remodeling. It was so nutty. Cats don't have a lot of boundaries. The master bathroom has handmade paper on the walls—Japanese with deckled edges. It's luxurious and really pretty. It's fun to find that stuff, like a research project.
Lisa Romerein Photography
Is that purple lacquer in the living room?
Yeah, it's unusual. It is purple, but it's really dark and it's lacquer, lacquer, lacquer, right? It's like a 13-step process, where paint is put on and polished, and put on and polished. It's cool that he let us do it, because he's searching for light and yet he let us paint things dark. But there are also mirrors in that room, mounted on the wall, so it's the right balance of dark and light.
What is your typical project, and where?
We're residential—primarily in Chicago, in the suburbs, but I'm constantly going to wherever the clients are building a second or third home. I just finished a project in Utah, and I've done them in Arizona and Stowe, Vermont, and I'm currently working on one in Naples, Florida. You end up having these core clients, and they start to spread you all over the place.
What's your first interaction like with a client? What's your intake?
We have several intake forms where we're trying to get information. It's really interesting to know if they have staff. Because you see it over and over again, like, "You are going to need help." You get a lot of pushback if they don't know they need it yet, but as people's houses get bigger and their property gets bigger, they need more help.
We go through a lot of forms, and it helps us raise red flags. That's really important because you don't always get to ask all those questions in the interview, especially now, over Zoom—if their Zoom is fuzzy, and I'm hearing every other word. That's definitely playing a part in how projects are coming to us—initial interviews on video—and we would never do that in the past. You always want to meet them face-to-face, and hopefully see their spaces! That tells you a lot. I've been in a client's house and it's like a dormitory. They're sleeping on bed frames without headboards or bed skirts—no effort happening whatsoever to make it homey or even residential. I see how you're living. That's the interesting part. I listen to every word, I take it in, and then I leave and I process, process, process.
Lisa Romerein Photography
What do you usually wear to those first interactions? Even on Zoom?
Well, on Zoom, I always wear a tube top and nothing under that [laughs]. I look at who they are. One client I recently got, the architect recommended me and the interview was in the architect's office, and I put on a blazer and it felt weird. They were so casual, I took my blazer off and rolled up my sleeves to try to look more casual. But I've also interviewed with an old-school banker type, and it was a Saturday interview and I said, "I think I need to wear a suit to that interview." I did, and he had a suit on too, and it was a good decision. I also don't want to be somebody I'm not in the interview, then turn around and wear my jeans and a button-down. So it's trying to be in-between.
Do you google clients before you meet them?
If I don't, someone in my office does.
How do you present your design concept?
I always like to do it in my office where I have lots of stuff, because I'm an overpreparer. If I get a frown, I want to have something else in my back pocket. I think that everything looks organized on a wall, especially colors. We like to pin everything up and create a story and excitement around it. We do lots of inspiration images—sometimes it's a photo that represents what we're thinking. It might be textures. We presented a client [with a photo] of a white-painted town house in London with cherry trees blossoming and decided the walls would be pink based on this image.
What do you bring to a site visit?
I bring a human being with me. It used to be cameras, now it's iPhone. Of course, a measuring tape, a scale, sketch paper. We often have blue tape to tape things off, because not every client can really visualize what you're saying. We're hired to be the visualizers and get the ideas across. We bring anything we can to be able to visually show a client what we're going for.
Homepage image: Inside the neoclassical penthouse designed by Bruce Fox. | Lisa Romerein Photography