A lot can happen in a year. For Jason Miller, founder and CEO of lighting design brand Roll & Hill, it was a spur-of-the-moment decision that roughly doubled the size of the company. "We'd been looking for different ways to expand for a number of years and [had] explored a number of avenues to do that," Miller tells Business of Home. "As we did more research, furniture floated to the top—[but] production is the real heavy lift there." In November 2019, fate came knocking.
A few days before Thanksgiving, one of Roll & Hill's suppliers, Alexis Manufacturing Company, reached out to say it would be shutting down operations of its Grand Rapids, Michigan–based factory after several months of unsuccessfully trying to sell the company. For several years, Roll & Hill had partnered with Alexis for the wood components of its various lighting fixtures. And though the supplier was founded in 1946 as a chair manufacturer, it had recently been doing contract work for a number of American designers and manufacturers. "The opportunity presented itself, and we raced to make it happen," says Miller. By February 2020, the deal was finalized, making Roll & Hill the new owner of the production facility.
Miller attributes the decision to several factors, but one stands out: Alexis Manufacturing was already outfitted with the equipment to immediately begin producing wooden furniture, and despite the pandemic lockdowns, the company was able to begin developing the designs and prototypes for a collection of wood furnishings designed by Jason Miller Studio along with designs from New York–based Karl Zahn and Portland, Oregon–based Campagna.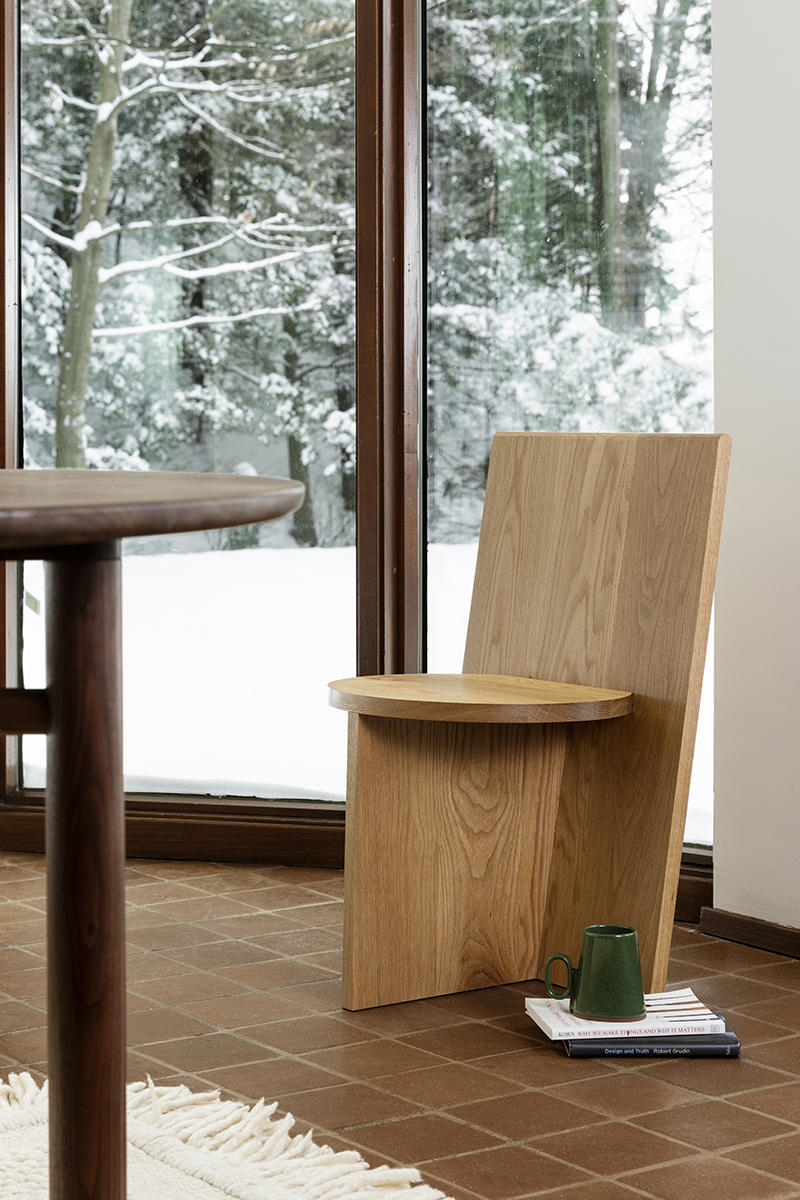 In keeping with his company's longtime business strategy, Miller has decided to make Alexis a defined division under the Roll & Hill umbrella, maintaining the same vertical manufacturing approach to furniture as with lighting production, and tapping its own factory to make each piece. In Michigan, the team on the ground has remained largely the same and will continue to accept contract business as a separate entity overseen by Miller, while prioritizing the Roll & Hill pieces.
A major driver of the acquisition is Miller's interest in American design, championing domestic makers and designers and selling in a high-end market. "We were highly incentivized from the beginning to get a collection out into the world and for sale relatively quickly," he says. "The goal was to make products that would appeal to an American market." The debut collection features pieces made of American hardwood (whether white oak, maple or black walnut)—from Karl Zahn's sculpted saddle poised on rounded legs and Campagna's signature interplay of geometric planes to Miller's first line, in which he has smoothed the edges of a traditional dining table silhouette and a nightstand with unlacquered brass details.
"I don't think anyone would look at America as a backward design market, and I think it's easy to forget that that was not the case 10, 15 years ago," says Miller. "That was how [Roll & Hill] started, and the goal is to do the same thing with furniture—to take that idea of high-quality, designed things that appeal to Americans."
Homepage image: The Lexington table in white oak by Jason Miller for Roll & Hill's debut furniture collection | Courtesy of Roll & Hill