In Business of Home's series Shop Talk, we chat with owners of home furnishings stores across the country to hear about their hard-won lessons and challenges, big and small—to find out what they see for the future of small industry businesses like theirs.
This week, we spoke with Amy Meier, an interior designer whose firm and eponymous retail space are based in Rancho Santa Fe, California. The store's location, about a half hour north of San Diego and two hours from Los Angeles, pivoted its business model and helped build the national clientele that she enjoys now—not to mention, it continues to influence her Instagram strategy, where she estimates 80 percent of sales come from. Meier chatted about her desire for a unique inventory, collaborating with artists and her strong feelings about customer service.
What was your professional background before the shop?

It's been a very windy road. I have an undergraduate degree in fine arts with an emphasis on photography. After college, I worked for an Italian tour operator, doing their photography and graphic design. Then I started my own handbag line. I thought, "Oh, gosh, I need to go back to school for this," so I went to Parsons School of Design in New York and [got] a graduate degree in fashion. I worked for a Gap brand called Forth & Towne—it no longer exists—and designed clothes. They closed the doors one year after I started. The perk with Gap is that it's such a huge and supportive company, so we got two months' (notice before) the last day of work plus two months' severance. It really gave me time to sit back and reflect on what I wanted to do next. I had an opportunity to move and do interior design, and I've never gone back. My practice opened in 2009, and the physical store where we are now (opened in) 2018.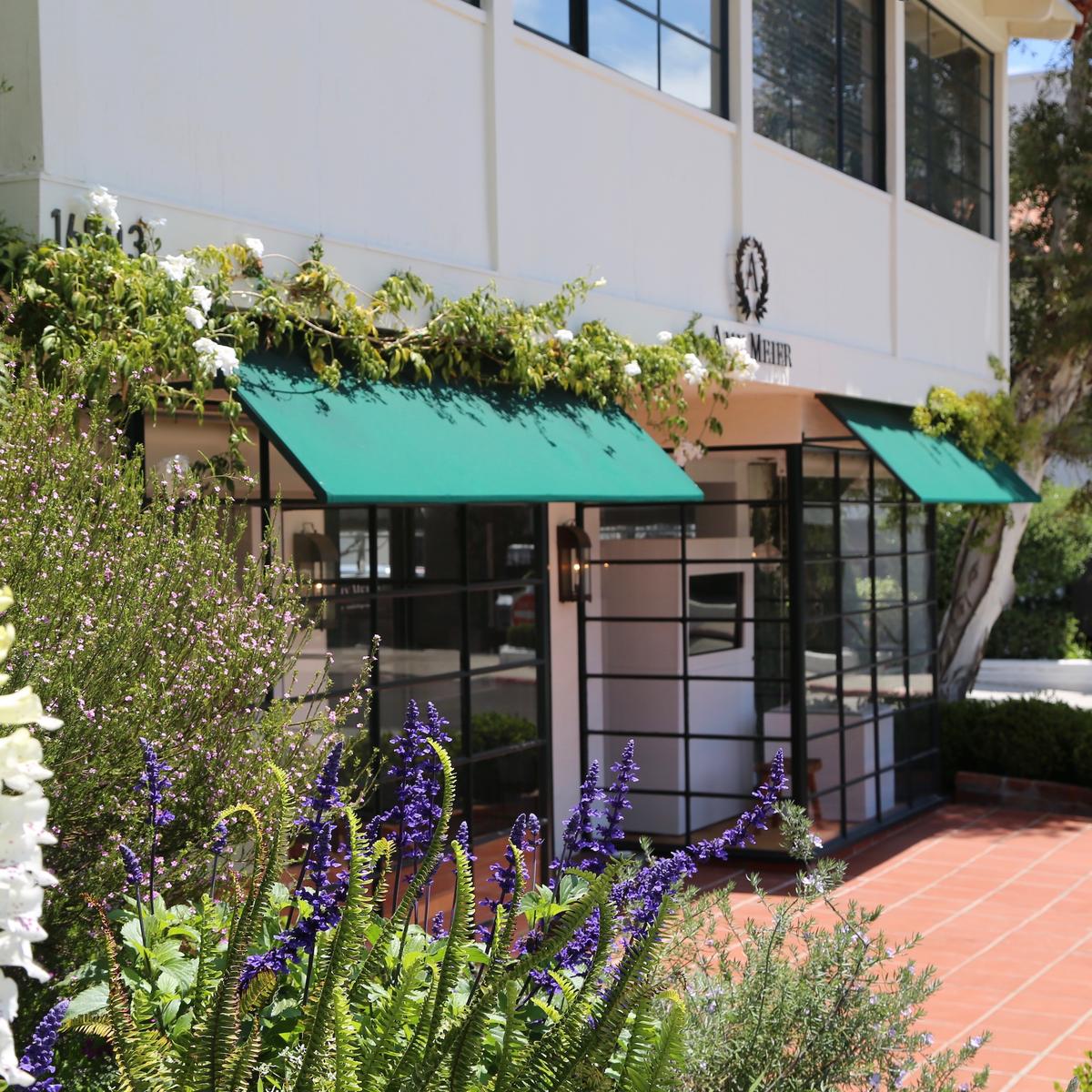 You have a physical storefront, but it's really appointment-only and to the trade, is that right?

It's not only to the trade, but 95 percent of our business comes from the trade.
How did you get to that model?

We are in this really cute rural town in Southern California, and it doesn't have a downtown with a walking atmosphere. It's not as much of a window-shopping town, so people come here with the intent to shop. We sell a lot of big or very expensive items—it's not the window shoppers' price point. When we opened, we had books, little vases and some smaller items to capture those people, but we've found the people that were really responding to our pieces were other interior designers and architects because they got what we did and could sell it to their clients.

What is the vibe of your store?
The phrase we use is "unique, refined and one of a kind." What was important to me was creating a retail environment where you could not find what we sell at any other location. In the day and age where everything can be found online—and found cheaper—it was really important to me to create an inventory unique to us. We (have) vintage and antique pieces that we refinish and repurpose.

We also do a lot of artist collaborations. That's oftentimes what gets people in the door—the excitement over a collaboration with an artist who might have their own following and their own point of view. Carol Leskanic is one of the first we worked with, a gilding artist out of Connecticut. I went to her and I was like, "Gosh, I love your pieces. They have such a Brâncuși-esque look—but what I want to do (together) is a petite lamp that you would see in a French apartment with the cord coming out of the back." She was like, "I've never done lighting!" And I said, "OK, can we come up with some shapes that are unique to us? You ship me the shapes, and I'll make them into lamps." I was at an antiques fair in San Francisco and was inspired by these Czech artists who do beautiful tabletop mobiles. Casey Johnson out of Asheville, North Carolina, does super sculptural furniture, and I went to him and was like, "Hey, would you ever do mobiles?" So we started a collaboration. Usually, I go to the artist with something in mind, then I want them to interpret that with their own voice.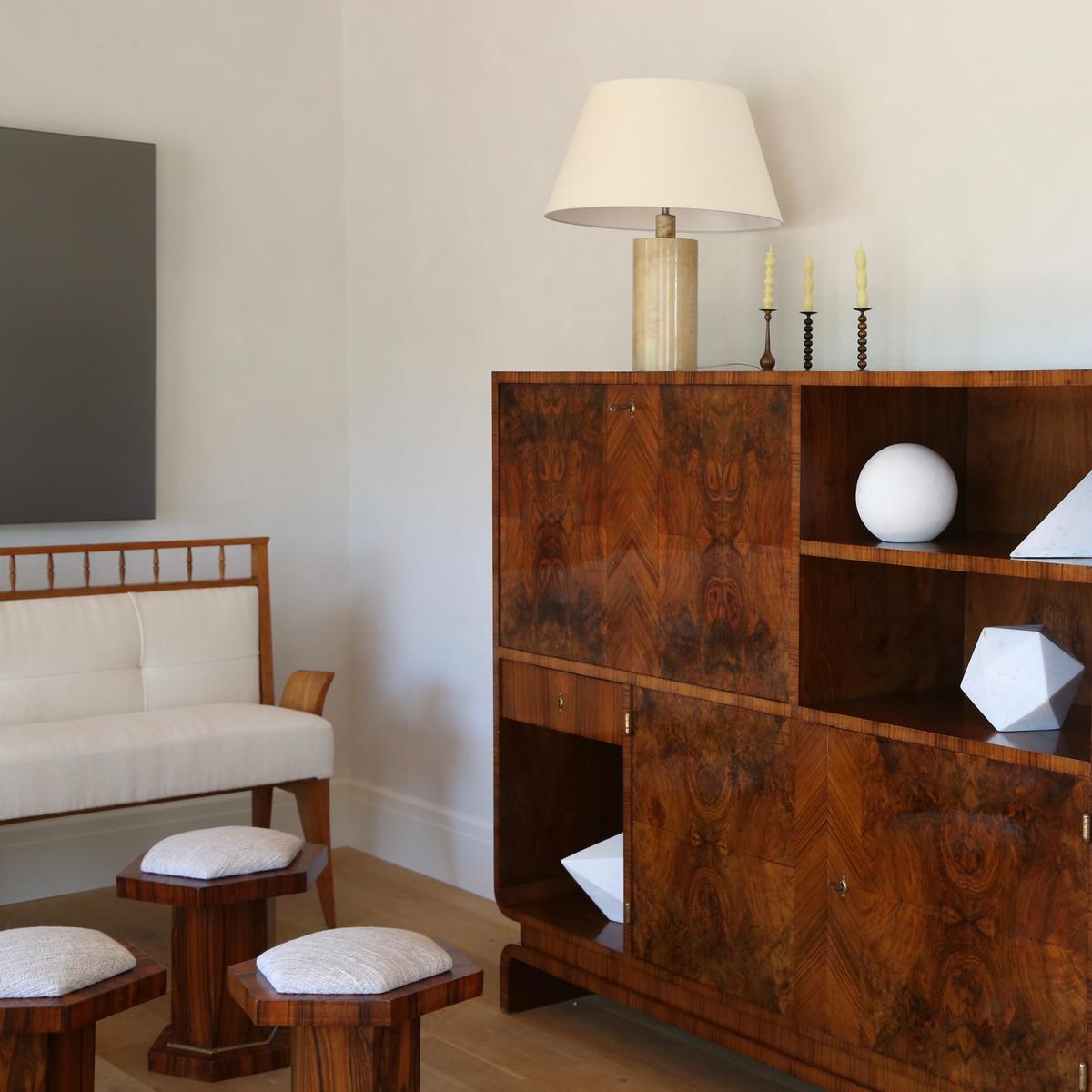 How much of your product is vintage, and how much is being manufactured?

It is 50-50. We also have our own bench-made furniture I design. The two mainstays of our shop are our Astrid lights and our handcut oak pedestals. We have multiple lights blown at one time and they go out right away. Same thing with the pedestals. We usually try to make them in larger production, and we let people know, "Hey, it's coming in four weeks." They quickly reserve them.
If those are the items you can't keep in stock, is there a product in the store that just makes you really happy? Makes you smile every time you walk past it?
We just launched a line with Hartmann & Forbes, a window and wallcovering (company). After that experience, I wanted to take it one step further and create lighting. Are you familiar with the artist Jonathan Nesci? He does a lot of work in aluminum with Donald Judd-esque lines. I went to him and said, "I've got these great weaves that I want to make lampshades out of. Can we collaborate on light fixtures?" We've been working on that since early fall last year, and we just put them into our showroom. Those for sure make me happy.
Who is the typical interior designer you're working with? Are they all in L.A.? Are they around the country?

They're actually all over the country. We work with New York–based [designers] like Victoria Hagan and Steven Gambrel, then we do a lot with Chicago-based designers like Alessandra Branca. We do a lot in L.A. because I'm so close. There are designers who have shopped with us for a long time; I'll just bring the goods up with me when I go to L.A. and do a little drop-off. One of the reasons we have such a broad reach as far as clientele is that I'm in two design groups, Leaders of Design and Design Leadership Network. I am in a more rural small town, a good two hours from L.A., so it's definitely giving me way more visibility and a great network. I love working with my colleagues—to be involved in their installs and to get to see how they run their businesses. Where did they put that pedestal? It's so much fun for me to see what I have hand-picked, thinking that it will go into this specific place, then all of a sudden they put a whole new twist on it.

What are some of the other challenges in your area? Being between these two cities, or just in Southern California in general?
L.A. is obviously very well-known. People seek interior designers or shops or tastemakers from L.A. I'm north of San Diego County, and I don't think people naturally think of someone from San Diego as having a very cultured or metropolitan view. Teaching and educating are a hurdle, but the location is not a disadvantage because of Instagram. I'm not joking—80 percent of sales are through there.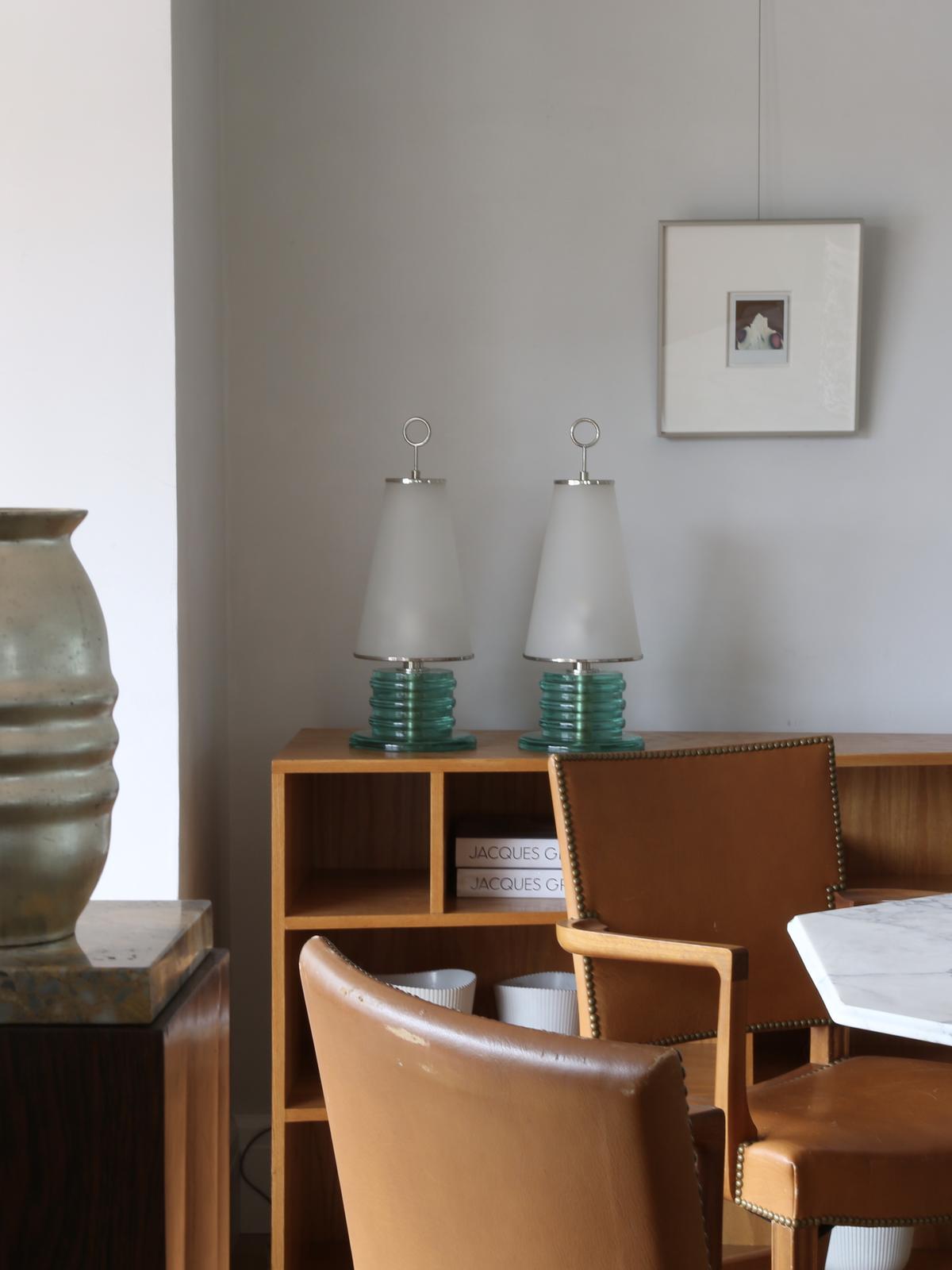 Are they direct sales through Instagram?

No. When I opened up the shop, I had a loyal following on my design account, so I think a lot of people found the shop account through my design. They already knew what my aesthetic was, and they knew what I was generally going to do, or that they would like it. People tag us when they buy a product or they do an install, and that obviously helps grow our audience tremendously. But I'm all about service. I don't sell through Instagram, per se—we don't take the point of sale, we direct them to our office and follow up via email. But I know myself as a designer: If I see something I like and I ask someone, "Hey, what's the price on this?" and they say, "You can go to my website," nothing irks me more! I just asked you—I don't want to go to your website! That's what Instagram is: You see it, you react. So I see that, try to get back with as much information as I can and make it as easy as possible. Then I hand it off to the office, and they follow up.
Are you running the Instagram accounts of the store and your design work?

I am. I'm one of those crazies.
How do you manage that?

Honestly, I probably don't do it right, but I also think it maybe reads a little bit more authentic that way. I just post either when we have new inventory or when I'm really excited, or on my design account when we're installing. I only post the moment that I want to post. I don't reflect back or plan posts upfront. It's not like, "Oh, these two images would look really pretty together (on my feed)." People in my office have said, "Look, you could get these apps and plan out eight posts and then they'll self-release." That doesn't do it for me. And the way I do it, it doesn't feel like a time suck because I'm honestly doing it in that moment. It takes two seconds.
What is your biggest everyday challenge? And what's the biggest existential challenge?

My everyday challenge is splitting these two worlds. I try to focus on client work Monday through Thursday, then Fridays I look to the shop. I do all my own photography as well, so Friday I photograph everything and then we catalog it all. We've got someone in our office that puts everything up on the website and in Studio Designer. There's a push and pull of those two worlds because I love both. And honestly, I need both. I need the clients and that investment in someone else's life and pulling someone else's vision out, which is fun for me. But then the shop is really fun because there is no client, and no one is telling me no.
​​Bigger than that is—I just wish I had more time. I eat, breathe, sleep my business. My kids come with me on the weekends into the shop. This Saturday, I'm meeting one of our glass artists; we're about to launch soap dishes and a new glassware collection. He asked to meet on a Saturday and I'm like, "Absolutely." It really bleeds into my whole life.
What advice would you give yourself if you could go back to opening day?

I don't know if I would change anything. I'm a very instinct-based person. The shop has become what it is today based on those instincts and what sells, what doesn't sell. I would never have gotten to that place where we are right now had we not started out, like I said, trying to hit that lower price point or hit that person walking in. At the end of the day, I think of my shop as almost a gallery. It's very clean. It's very edited. Not all of our inventory is out. That makes my heart sing! I am not a shopkeeper that can have 12 sets of dinnerware out and under flowers, then a bunch of spoons thrown into a bucket. I have so much admiration for those people who can be beautiful shopkeepers, but that is not in me. Not in me.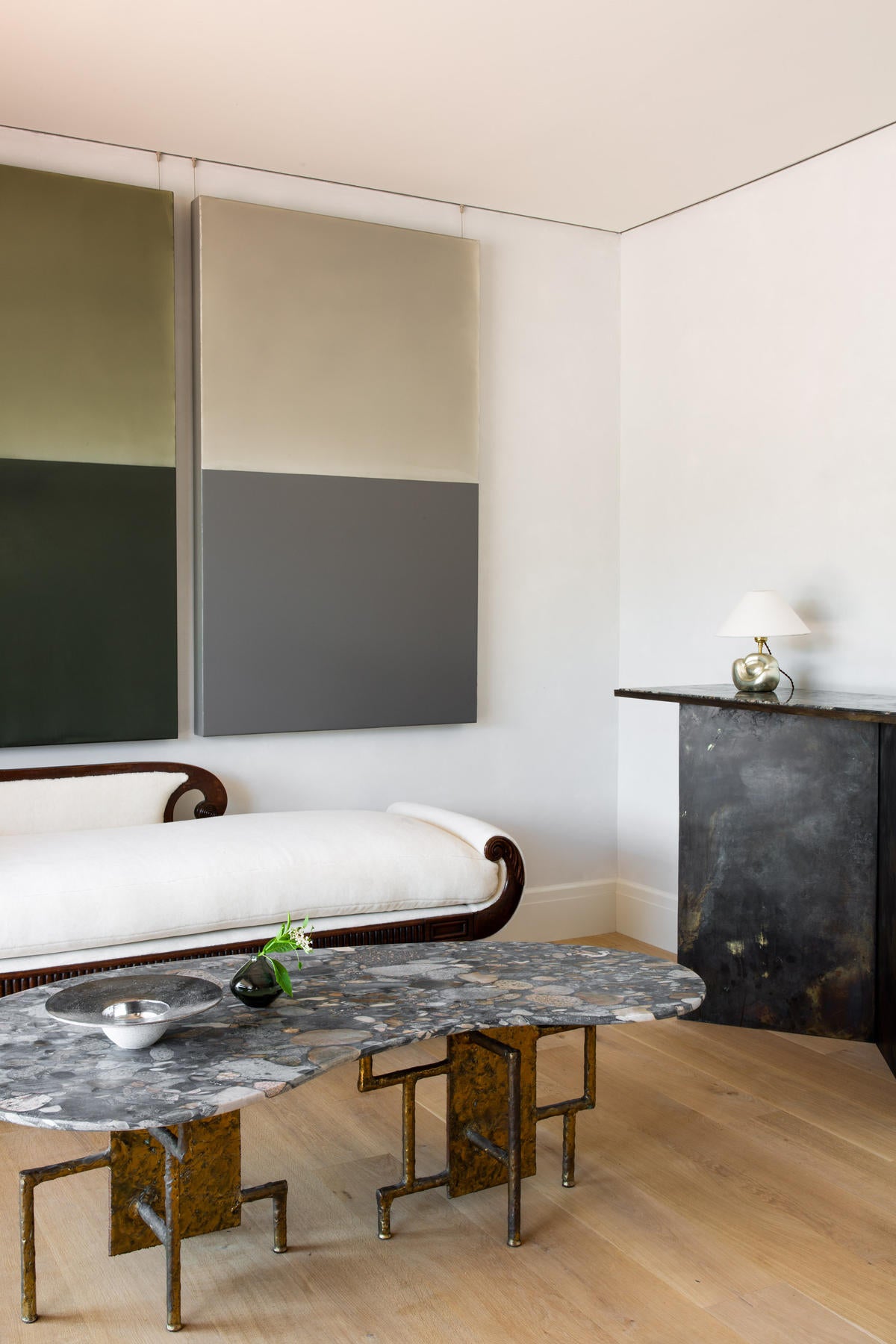 I know it's a little bit different because you're dealing with designers, but is there something that you wish more customers understood about the business, or about why things cost what they cost?

It's not necessarily what I wish people knew, but what I really seek to do is to educate people on craft. Craft is such a lost art, and we need to get back to it. I think people are starting to get back to it and really celebrate it. And craft not being, like, a patchwork quilt. Craft can be gorgeous!
What do you think the future is of small businesses like yours?

I think people are so thankful to work with small businesses because of the customer service. Something so pronounced during the pandemic is the crazy delays and no one answering a phone to tell you that something is back-ordered. Or you just receive an email, "Your order is missing." Well, who do I even call to figure that out? Why does it keep going on back order? I think human touch and interaction is valuable. People really appreciate having a person behind a business. It's like our brick-and-mortar, right? We don't have (to have) the brick-and-mortar. We could technically photograph everything offsite, in a warehouse. But people really appreciate knowing that we have a flag planted, a physical presence that they can depend on. If anything, this pandemic has really helped small businesses. What I hear is people are very frustrated by big-box operators.
What's your favorite day as a shop owner?
My greatest day is when we launch a new collaboration or when there's something new in the shop and everyone clamors over it. We've got six backup holds on it. It's so exciting to see that people love what I love!

Hompage photo: Amy Meier at her store in Rancho Santa Fe, California | Courtesy of Amy Meier