The High Point Market Authority's MyMarket app, which launched before the April 2016 market, has earned a Blue Diamond Award in a competition organized by the Charlotte Area Technology Collaborative to honor top technology in the region.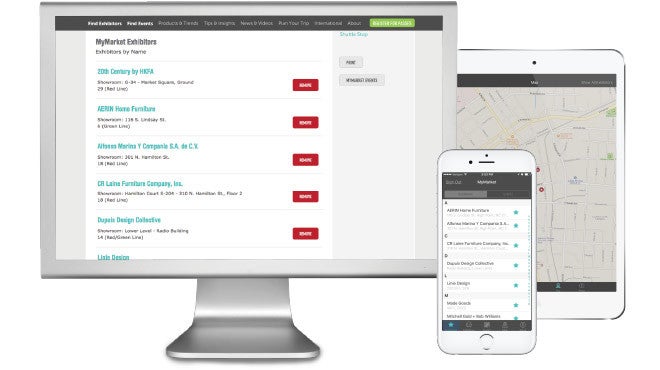 The app won the Cool Innovation Award, which is given to "the individual or company that demonstrates the best example of creativity, execution and applied invention, which addresses a new approach to an old problem that may make lasting and far reaching changes in the way we work with each other. Value + Creativity + Execution = Cool Innovation."
"It is such an honor to win an award for our app," shared Tom Conley, president and CEO of the High Point Market Authority. "Our goal was to develop an app that would enhance a user's market experience by simplifying the process involved in navigating 11.5 million square feet of showroom space. Seeing the app being used by thousands each market, and now winning this prestigious award, has been quite rewarding."
"It was truly a collaborative effort, and we are grateful to have worked hand in hand with Skookum and our marketing agency, Emisare, on this project," added Conley. "Of course, this wouldn't have even been possible without the additional funding from the North Carolina Department of Commerce, so we also extend our gratitude to Senator Trudy Wade and Representative John Faircloth for their role in securing those funds."
Additionally, three new features have debuted within the app: On the outdoor map, numbered shuttle stops have been added for both the Red Line and Green Line shuttle routes. On the exhibitor profiles, a preview map has been added to help users better understand a showroom's location. And a short, five-slide animated tutorial will appear when users open the app for the first time. 
The app is now available for download in the Apple Store, for use on iPads and iPhones during Spring Market, April 22 to 26.