In our series, What I Love, we're asking designers to build us a mood board of what's inspiring them right now.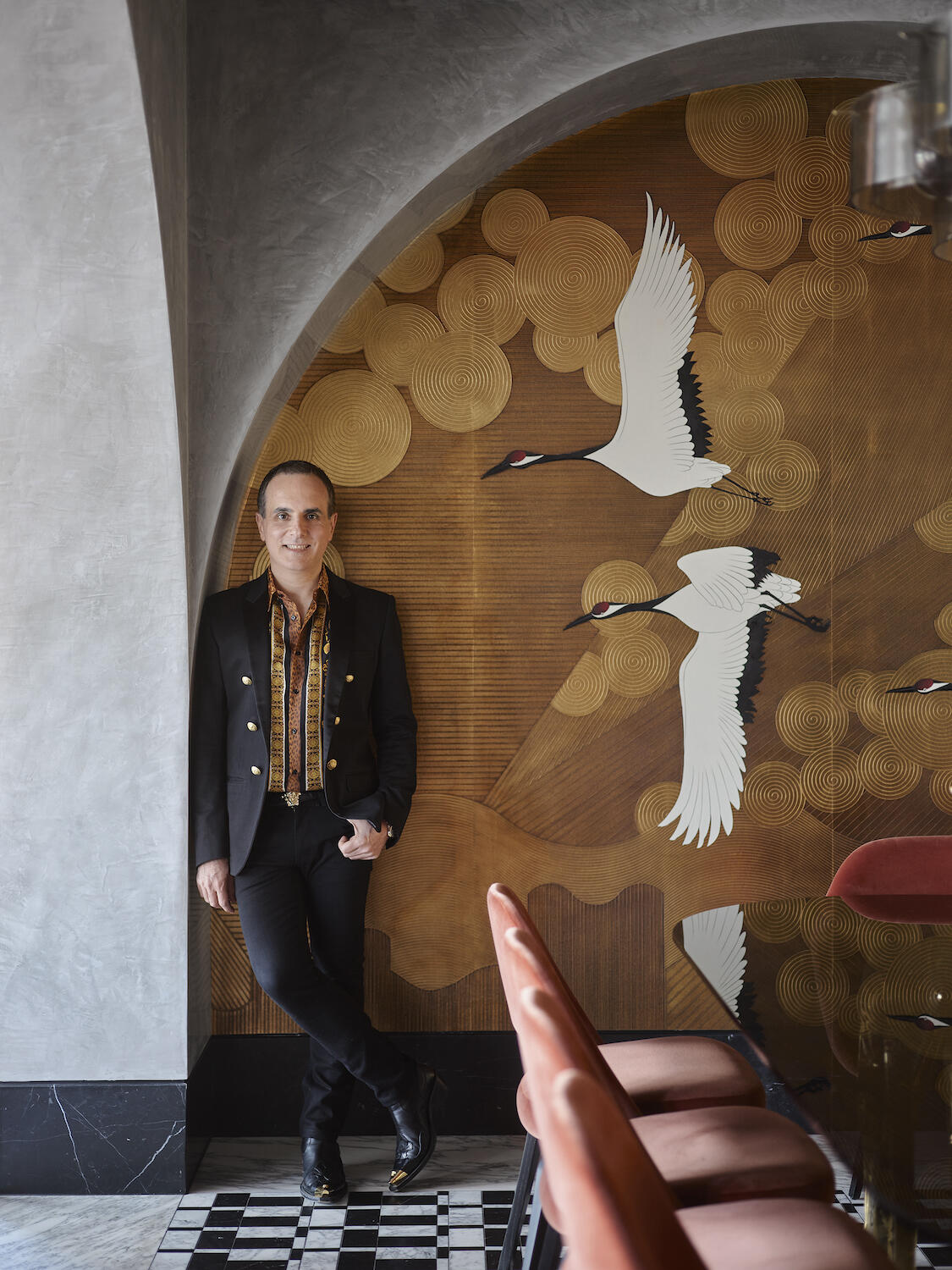 Greg Natale has a knack for creating bold, tailored interiors. The Australian designer—and author of The Layered Interior—balances rich hues with high-contrast motifs to create lushly layered spaces that exude glamour and elegance.
Take, for instance, his current mood board. Designed with his new Sydney-based home-slash-office-headquarters in mind, Natale describes the scheme as an "homage to the work of modernist architect Paul Rudolph" and, more specifically, the Manhattan town house he created for fashion designer Halston in the 1970s. "Gray was a defining tone of the town house, while the maroon and red in the flat lay recall the fabulous carpet of Halston's office," he tells Business of Home. "The deep blues are a color I am very fond of at the moment."
The designer says it's the "purity of the materials" that ultimately draws the various selections in the palette together. "The tones are dramatic and dark, but the emphasis is always on the beauty of the finishes," he says. "It's quite minimalist in that everything is pulled back to its essence—material, tone, line—which will allow the artwork in the space to shine."
Here, Natale breaks down the details—from black-and-white faux marble tile to glossy clay-colored paint swatches.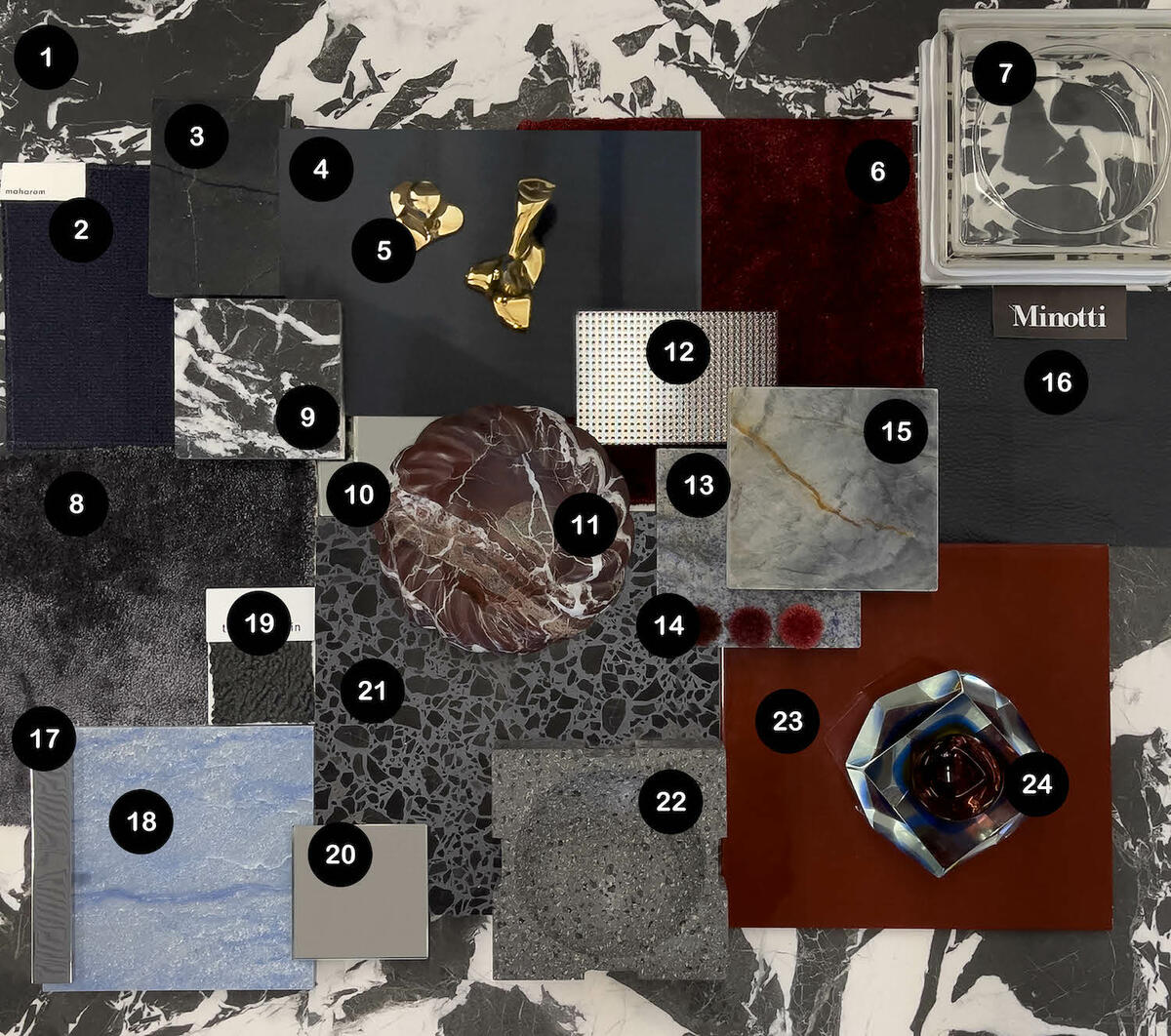 1. B & W MARBLE TILE IN FRAGMENT BY DI LORENZO
"This will be the floor of the main office. I chose faux marble because I need something very hard-wearing, but the dramatic combination of black and white still makes the floor a feature."
2. LINEN BASKET FABRIC IN SPELLBOUND BY MAHARAM
"Midnight blue is a color that I love at the moment and wanted to introduce into our home. This textural fabric will be perfect for a sofa in the living area."
3. NEGRESCO QUARTZITE STONE BY CDK STONE
"Another hard-wearing stone, this will feature in the kitchenette of my home. With just a little veining, it has a subtle tonal effect."
4. NEWBURYPORT BLUE PAINT SAMPLE BY BENJAMIN MOORE
"In a satin finish, navy is an elegant design classic."
5. GAUDÍ KNOBS IN BRASS BY ANTONI GAUDÍ
"I bought these stunning brass hooks after a visit to the Sagrada Família Basilica a few years ago, and I can't wait to add them to my dressing room in the primary suite. To me, they're like jewelry for the house—they actually reminded me of Elsa Peretti's creations, which draw on my love of late-1970s style and the Studio 54 era."
6. CANNES FAUX SILK CARPET IN MARSALA BY ITC NATURAL LUXURY FLOORING
"This will be the carpet for my dressing room. Who wouldn't want a little red-carpet glamour in their boudoir?"
7. ALPHA GLASS BRICK BY GLASS BRICK COMPANY
"I need to bring light and air into my house's internal staircase, and a wall of glass blocks will achieve that beautifully. I love the simple circle pattern within the blocks—this design embraces the simplicity of lines and materials."
8. CANNES FAUX SILK CARPET IN SLATE BY ITC NATURAL LUXURY FLOORING
"In my formal living room, I'll be choosing a luscious expanse of charcoal carpet. It will continue the nuanced hues of gray throughout the building, and I'll team it with square, masculine furniture designed along clean lines."
9. NERO ANTICO BLACK MARBLE STONE BY RMS MARBLE
"The reception desk of the office is where I can really celebrate the beauty of marble. I'm planning to make a monolithic-style feature of the desk that highlights this striking stone's bold lines and contrasting tones."
10. POLISHED CHROME TAPWARE FINISH SAMPLE BY ASTRA WALKER
"This building will feature polished chrome tapware, referencing Paul Rudolph's high-tech aesthetic. I love how chrome can be classic and futuristic at the same time."
11. ROPE BOWL IN MERLOT MARBLE BY GREG NATALE
"Echoing the red carpet in the dressing room, the primary en suite floor will be a sophisticated wine-hued marble—like the one used in this bowl—a deep, indulgent color for the ultimate sanctuary space."
12. CROSS REEDED GLASS SAMPLE BY SPECTRUM ART GLASS
"I like to bring interest to shower screens with textured glass—it delivers an extra layer of detail while keeping the focus on the material itself."
13. GRANITE STONE IN PEGASUS BLUE BY CDK STONE
"Reflecting the deeper blues elsewhere, the vibrant color of this stone will make an appealing benchtop in the powder room."
14. CUSTOM CARPET SAMPLES BY DESIGNER RUGS
"The bold red carpet of Halston's office will always be an inspiration for me, and I'm currently playing with these three samples with a view to creating a custom carpet for the office reception area. Combining the three tones will ensure depth and vitality."
15. MIRAGE LAKE QUARTZITE STONE BY CDK STONE
"On my kitchen benchtops, this elegant blue stone will pair perfectly with the 2-pac joinery in navy. The stone's striking gold vein will add warmth and detail."
16. NABUK LEATHER IN BLUE OCEAN BY MINOTTI
"A little more midnight blue, this time in luxe leather for the dining chairs near the kitchen. I think layering a color through different materials brings depth and interest to a space."
17. NEO BLADE PULL HANDLE BY DESIGNER DOORWARE
"I'm keen to keep everything minimalist and streamlined, with slim handles and uncluttered lines. The hardware, like the tapware, will be polished chrome and used sparingly—probably just for vanities and wardrobes."
18. AZUL MACAUBAS QUARTZITE STONE BY CDK STONE
"I don't even know where this will go yet, but I love the vivid blue effect of the stone. I might incorporate it into a piece of furniture—stay tuned."
19. 6-2050-20 FABRIC BY THAYER COGGIN
"Soft and beautifully textural, this faux shearling fabric in a charcoal hue will be just right for the dining chairs in my formal lounge room."
20. MIRROR SAMPLE BY SPECTRUM ART GLASS
"There is nothing so glamorous as a mirrored wall, and these will be featured throughout the space. As well as reflecting light, the mirrored elements will help to break up the stronger monolithic pieces."
21. SL18 BLACK TERRAZZO STONE BY TERRAZZO AUSTRALIAN MARBLE
"There is something so powerful and simple about this mix of black and gray. It will bring a seamless, clean look to the entry floor and staircase."
22. SL23 BLACK TERRAZZO STONE BY TERRAZZO AUSTRALIAN MARBLE
"Accessories bring everything together, and I'm looking forward to incorporating these precious finishing touches."
23. ARROYO RED PAINT SAMPLE BY BENJAMIN MOORE
"Another rich hit of red in the dressing room, this will give the joinery a sumptuous, glossy finish, joining forces with the red faux-silk carpet."
24. VINTAGE ASHTRAY
"I have stolen this gorgeous 1970s ashtray from my mother and just love it. The mesmerizing combination of maroon and midnight blue inspired me to incorporate those colors into my design, bringing my own modern take while celebrating a personal family treasure."
Homepage photo: A flat lay by Greg Natale | Courtesy of Greg Natale