This week, one space tourism company debuted the interior design of its travel capsule—an eight-person pod decked out with floor-to-ceiling windows, plush recliners and a small cocktail bar. Whatever comes next, stay in the know with our weekly roundup of headlines, launches and events, recommended reading and more.
Business News
Danish kitchen brand Reform has completed a $27 million fundraising round led by the Paris-based investment fund Experienced Capital, which acquired a minority stake in the company. Established in 2014, the brand sells cabinetry both through its own website and a network of 11 showrooms across Denmark, Germany and the United States. With the new capital, the company plans to accelerate its development in Europe and the U.S., with five new showrooms scheduled to open by the end of the year in Frankfurt, Germany; Brooklyn, New York; Los Angeles; Philadelphia; and New Jersey.
Supply chain technology company Shipium has completed a $27.5 million Series A funding round led by Insight Partners, TechCrunch reports. Founded in 2019 by Amazon veteran Jason Murray, the startup was established to help smaller e-commerce retailers achieve the same fast and affordable shipping experience as Amazon Prime by applying machine learning and automation to supply chain forecasting software. With the new round of funding, the company intends to further develop product engineering, and build out its sales and marketing teams.
Speckle, a startup centered on providing an open source platform for 3D drawings, has announced the completion of a $5.5 million seed funding round led by Frontline Ventures and Matrix Partners, TechCrunch reports. Founded by trained architects and engineers Dimitrie Stefanescu and Matteo Cominetti in 2020, the company creates software that makes it easier for teams working on construction projects to share files. With Speckle, the pair plan to further build out their collaborative platform.
Across the U.S., neighborhood associations are attempting to block companies from buying up single-family homes for the purpose of turning them into rentals, The Wall Street Journal reports. Members of the associations are claiming that the rise in home purchases by rental investors has made their neighborhoods less desirable due to a lack of property maintenance, in addition to making it more difficult for local families to buy houses. Some analysts, however, say the coordinated efforts could make the market even harder to navigate for renters, who are generally less wealthy than homeowners and have a difficult time finding affordable housing.
Blackstone Inc. has entered into an agreement to purchase the U.S.'s largest publicly traded student housing owner, American Campus Communities, in a deal that values the company at about $12.8 billion. With the ongoing housing shortage causing rents to rise near campuses, big investors like Blackstone and Brookfield Asset Management Inc. are increasingly getting in on the sector. Through the acquisition, Blackstone marks its largest single move into the market to date, taking over the ACC's 166 buildings in cities and college towns across the U.S.
Launches and Collaborations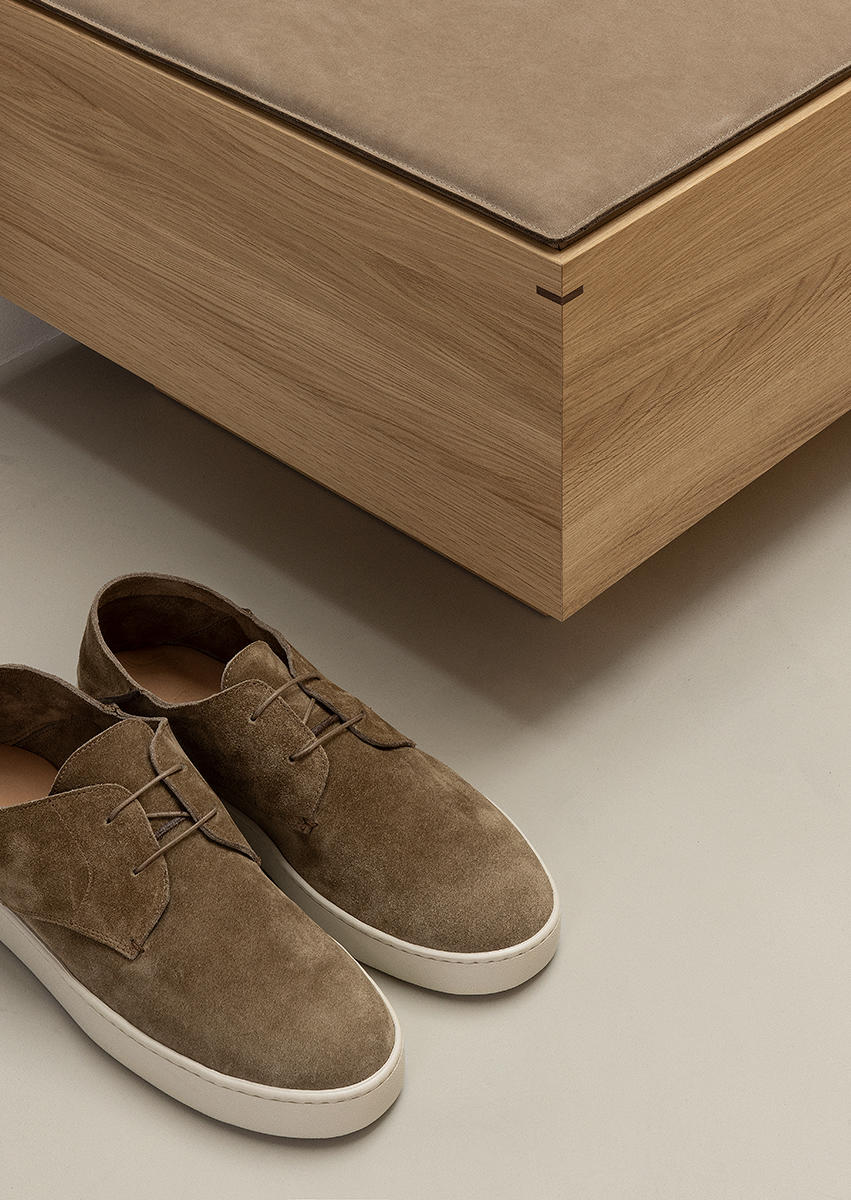 Subscription furniture brand Fernish has announced plans to launch in New York and Washington, D.C. The expansion—which tacks on to the company's operations in Southern California, Seattle and Texas—will make Fernish bicoastal for the first time. "Part of the calculus for us was: When are New York and D.C. quote-unquote 'back'?" CEO Michael Barlow tells Business of Home. "Over the past six to nine months, rent prices and rental occupancy in New York and D.C. have gone up and to the right. Being where our customers are is critical to our business."
Luxury footwear brand Koio has partnered with design house Norm Architects for a limited-release sneaker and solid oak bench—each piece created with the other's aesthetic principles in mind. Handcrafted in Japan by craftsmen at Karimoku Case Study, the bench was created with a solid oak base and a suede seat cushion, with corners made from slim strips of black leather as a nod to Koio's pieces. The sneaker, meanwhile, comes in two colorways modeled after the bench—leather and suede—and features a collapsible heel that can be worn upright or folded.
Recommended Reading
The high-end furniture rental market may be headed for an upswing in the years to come, according to new insights from research firm Jefferies. As Barron's reports, analyst Jonathan Matuszewski predicts that spending on furniture subscriptions from direct-to-consumer platforms will near $1 billion in five years—a spike from the $150 million spent today. The firm surveyed 1,000 consumers and found that about two-thirds were interested in high-end furniture rentals. Meanwhile, retailers like Williams-Sonoma and its subsidiary brands, West Elm and Pottery Barn have partnered with providers like Rent The Runway and Feather, moving into terrain previously dominated by lower-end companies like Rent-A-Center and Aaron's. "We are at the beginning of a revolution in how consumers furnish their residences," Matuszewski told Barron's. "Access over excess will be a mega-theme in the years ahead."
A renewed craving for houseplants, sparked by the pandemic, has sent commercial growers on a quest for the next "it" plant—a strain of foliage that will fly off the shelves at high costs, before trickling down to bigger retailers at affordable prices (thus becoming mainstream.) For The New York Times, Katie Van Syckle takes a closer look at the surge in plant sales over the past few years and talks to some of the industry insiders attempting to feed the craze.
One architect is looking above street level for the next frontier of new urban development—proposing a series of semi floating structures to make use of the unused aerial space above densely populated metropolitan areas, Fast Company reports. Developed by architect Andreas Tjeldflaat, project Oversky outlines a speculative infrastructure system based on existing technology—the effects of which could be used to cool cities and reduce the effects of climate change on their inhabitants. "The formed cloudscape serves as a new kind of public space," writes Tjeldflaat.
Call for Entries
The International Society of Furniture Designers is now accepting applications for the 2022 Innovation + Design competition and exhibition, intended for professional designers who make their own product as well as students planning a career in the industry. For more information or to enter, click here.
In Memoriam
Kevin Lippert, founder and publisher of the Princeton Architectural Press, passed away last week at the age of 63, according to The New York Times. What began as an entrepreneurial venture established to bring smaller reprints of rare architectural tomes to more students morphed over the years into a publishing house known for high-quality books on varied topics like design and visual culture. Later on, Lippert developed a legacy for championing emerging architects, and eventually received an award from the American Academy of Arts and Letters.
Homepage image: Fernish has announced plans to launch in New York and Washington, D.C. | Courtesy of Fernish