Mere style will no longer suffice to make a lasting impression in the hospitality sector; today's guests demand a truly sensory, sui generis experience. And that's exactly what Boutique Design New York intends to deliver at the Javits Center on November 12 and 13 through four custom-made vignettes that envelop their visitors with transcendent light effects, chromatic palettes, sustainable furnishings, and living, breathing greenery. Conceived by industry-leading creative talents and featuring innovative exhibitor products in the context of imagined lobbies, lounges and supper clubs, each captivating spot tells an insightful story about the near future of interiors in the hospitality and lifestyle realms. And by hosting compelling speakers and conference sessions over the course of the event, the quartet of exhibits encourages BDNY attendees to craft new narratives of their own.
"The Designed Spaces serve as networking hubs where people do business," says BDNY brand leader Keisha Byrd of the trade fair's signature installations. Guaranteed buzz generators, they provide a symbiotic opportunity for collaborators: Hotel brands benefit from the vision of the most forward-thinking design firms, while designers get to experiment with the latest technology and trends for restaurants, clubs and lounges, lodging, spas and wellness centers. "The designers drive the content, including educational programming, to bring attendees to their space," Byrd continues. "They can offer a specialty cocktail, present a keynote speaker. It's all their concept—like a little pop-up."
With 650 exhibitors and a projected 9,000 attendees, BDNY's numbers befit the Big Apple, but the trade show's focus remains, relatively speaking, intimate—just as every individual bedroom in even the largest five-star hotel chain should be. "It's intentionally curated, meant to be walkable," says Byrd. Bonus: A two-day trade-fair pass is complimentary for BOH readers, industry pros and design aficionados alike (use code DAPMBOH). If that's not enticement enough, Byrd and some of the participants offer the following preview of the themes of these unique spaces.
IMAGINATIVE TRAVEL BY ANDAZ | booth 1869
Hyatt and Host Hotels, designed by Otherworld Creative and Within Light Studio
Soak up a kaleidoscopic light show worthy of a James Turrell gallery exhibition in this welcoming ambient space showcasing Hyatt's boutique Andaz brand. Magically mimicking the changing hues of a sunset at a beachside resort bar, it's the perfect momentary escape from gray Manhattan in mid-November. "It's beyond design—intangible, dynamic, transformative," Alvaro Montoya Mora, regional vice president and lifestyle studio head for Hyatt Design Services, says of the light-altering experience. Partnering with Lutron and Within Light Studio, Otherworld Creative fashioned the space by emanating illumination not just from overhead fixtures but also through sculptural wall sconces and custom furnishings from Fairmont Designs. "The real star of the show is the lighting effects, so we rendered everything else in very neutral textures chosen to support the concept," says Nina Gotlieb, founder and principal at Otherworld. Seizing the opportunity to go "totally surreal," Gotlieb also commissioned a palm frond piece from DAC Art Consulting for the ceiling. Ethereal illumination plus down-to-earth textures equals peace. The phases of the sun will cycle in timed segments, so check in for the Monday afternoon panel, then hang out afterward to bask in the golden-hour vibes.
Can't-miss panel: Transformational Design; Monday, November 13, 3 p.m. to 4 p.m.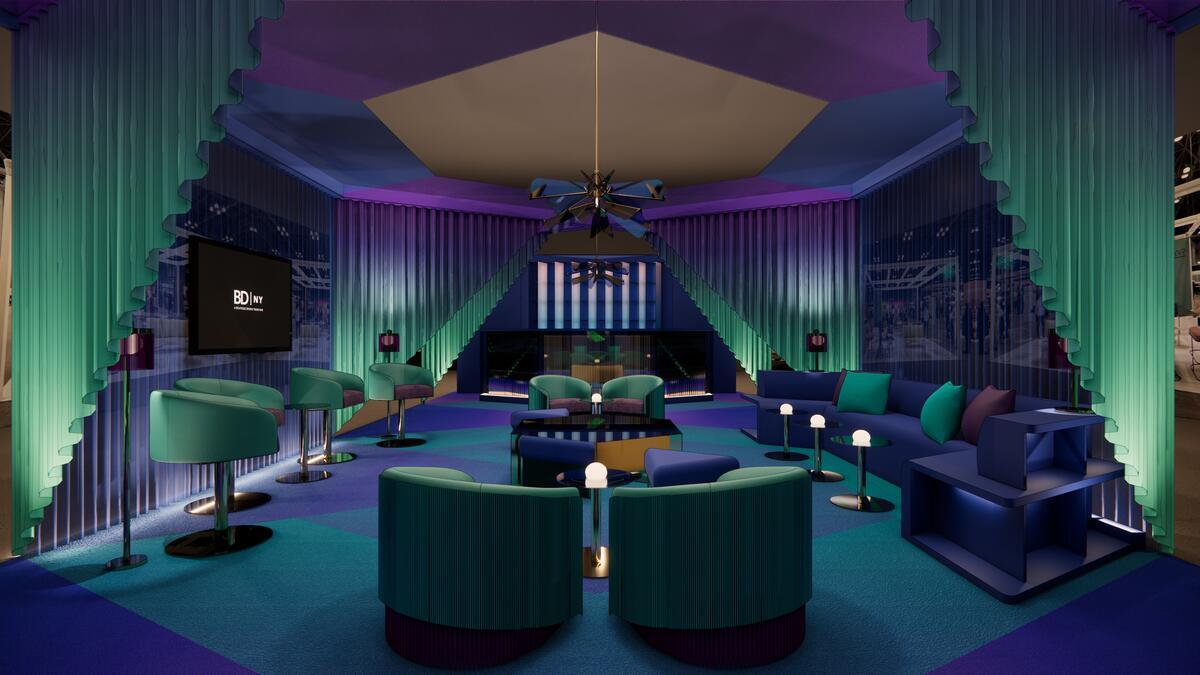 Courtesy of Rockwell Group
CHROMACLUB | booth 2251
Rockwell Group
From golden sunsets to glimmering spiderwebs … A geometric floor plan and iridescent drapery beckon guests into this luxe, seductive lair. "Rockwell Group is known for its theatrical spaces, and this dramatic supper club is no exception," says Byrd. In deep violet, blue and green fabric panels by Valley Forge, undulating curtains frame the bar, stage and lounge areas, providing both the desired degree of privacy and triangular portals into the pavilion. "A spiderweb captures lots of things—it draws you in. That was the starting point behind our saturated color story," says Greg Keffer, a partner and studio leader at Rockwell Group. "The shape of a web informs both the dimensions of the space and the accessories and furnishings like the custom light fixtures." Lodging Concepts seating and Couristan carpets amplify the lush comfort. Taken as a whole, the sense of inclusion that these materials foster makes the ChromaClub an irresistible, slightly mysterious spot to nurse a drink at the cocktail bar while savoring live music—a jazz trio, perhaps, or a soulful torch songstress.
Can't-miss panel: Owners Talk: Clients Weigh In; Monday, November 13, 2:30 p.m. to 3:30 p.m.
DESIGNED BY NATURE | booth 369
1 Hotels
This luxury hotel brand's stellar eco-conscious reputation is due to its commitment to sustainable products and practices—priorities that speak to the values of its guests. Nature intertwines with every aspect of 1 Hotels' designs. To bring the outside into this verdant, serene BDNY booth, team leads Christopher Alvarado and Kerrie Murphy chose rustic wood and carved stone furnishings, accents hand-woven from palm leaves, and an enchanting eucalyptus leaf trellis made from a repurposed arch. Throughout, cascading foliage softly filters light from overhead. "The fabrics are eco-friendly, and the flooring is Greenguard certified," says Stacy Shoemaker Rauen, editor in chief of Hospitality Design. Adds Byrd: "All the companies involved in this vignette were vetted to confirm they were fully green." Utilizing responsibly sourced materials, sponsors Bluebird Lighting, C2C Designs and Shaw Contract Hospitality handily made the cut.
Can't-miss panel: NEWH BrandED: 1 Hotels; Sunday, November 12, 1:30 p.m. to 2:30 p.m.
DOWN THE RABBIT HOLE | booth 2935
KTGY Simeone Deary Design Group
If, out of the corner of your eye, you spy Alice's White Rabbit scurrying up and down the halls of the Javits Center, follow that cottontail! It will lead you to this wonderland. Symbolizing peace, prosperity, longevity and hope, the rabbit served as KTGY principal designer Lisa Simeone's whimsical mascot and muse. In celebration of Lunar New Year 2023, the Year of the Rabbit, her team crafted a convivial hideaway that's a little bit bunny hutch, part secret garden and the spot to be for a mad tea party. "Rumor has it a tarot reader may even be in attendance," says Byrd. Playful pieces from Brand Standard Furnishings, BDL Better Designed Lighting and Farmboy Fine Arts enhance the fun. "Our flora and foliage, our furniture and fixtures, our fantasy and function—our architectural language, in other words—is very clean," Simeone says of her approach. To take in the optimistic space while contemplating a custom fortune cookie, be sure to hop by!
Can't-miss panel: The Impact of AI on Design: How Is This New Technology Shaping How We Create Now and in the Future?; Monday, November 13, 12 p.m. to 12:30 p.m.
This story is a paid promotion and was created in partnership with BDNY. For a complimentary two-day trade-fair pass to the event, click on the link and use code DAPMBOH.