With so many confusing messages about green materials today, could it really be that genuine leather furniture offers a genuinely sustainable choice? When crafted from ethically raised animals and treated with naturally fallen plants rather than toxic chemicals, as with the latest Four Hands designs, the answer is a resounding yes. Upholstered in Eucapel, a carbon-neutral leather cured with eucalyptus leaves, the new pieces from the Texas-based home goods pioneer provide the luxe indulgence of classic leather sofas and chairs but with a more natural finish and much softer feel. Not content to merely improve its raw components, Four Hands has also applied its signature modern aesthetic to the styles—which are already garnering awards.
"Taking the harsh synthetic chemicals out of leather manufacturing—a craft that is centuries old—is breaking new ground in the furniture field and responding to what people are paying attention to in their products now, namely: Where does it come from? How is it made? What's the story behind it?" says Rick Lovegrove, president of upholstery at Four Hands. Eucapel—both its leather and its leaves—comes from Uruguay. After thoroughly fact-checking the material's footprint and manufacturing practices, Four Hands is the first company to bring it to market. And its story is quite compelling.
"An interesting fact about Uruguay: There are actually more cows than people per capita," continues Lovegrove. Both beef and paper are big business in the small South American country, and each is approached holistically. "Many people don't know that there's not a single scrap of leather made that's not a byproduct of the meat industry. The hides would just end up in a landfill if it weren't for leather goods." As for the eucalyptus, while the bark of trees is harvested and pulped to make paper, the leaves pile up on the forest floor, posing a wildfire risk. "Nobody had figured out what to do with them until the tannery gathered them up at the end of the season and extracted their natural tannins," explains Lovegrove. By helping stabilize hides prior to dyeing, the vegetative substance eliminates the need for man-made chemical agents. In addition, treating leather with eucalyptus tannins saves up to 40 percent of water compared with mainstream commercial methods.
"At Four Hands, we celebrate the uniqueness of each hide. We're not using polyurethane sprays to make sure that every single square foot looks uniformly the same," says Lovegrove. A pair of club chairs upholstered in Eucapel won't pose as identical twins in a living room. Each will bring its own individuality, natural characteristics and color variance to a setting. "Over time, the leather will develop a patina all its own. That's the beauty of having something original in your home."
Four Hands is launching its Eucapel leather furniture in two rich colorways: warm, burnished Cognac and deep, dark Ebony. An innovator in alternative materials, the brand continues to source other plant-based tannins and explore progressive manufacturing perspectives, with additional Eucapel pieces to be integrated into the Four Hands portfolio going forward. "We're currently playing around with a formulation of coffee bean shells," says Lovegrove. "It's really cool." Here, he previews three of the first designs to feature the leather.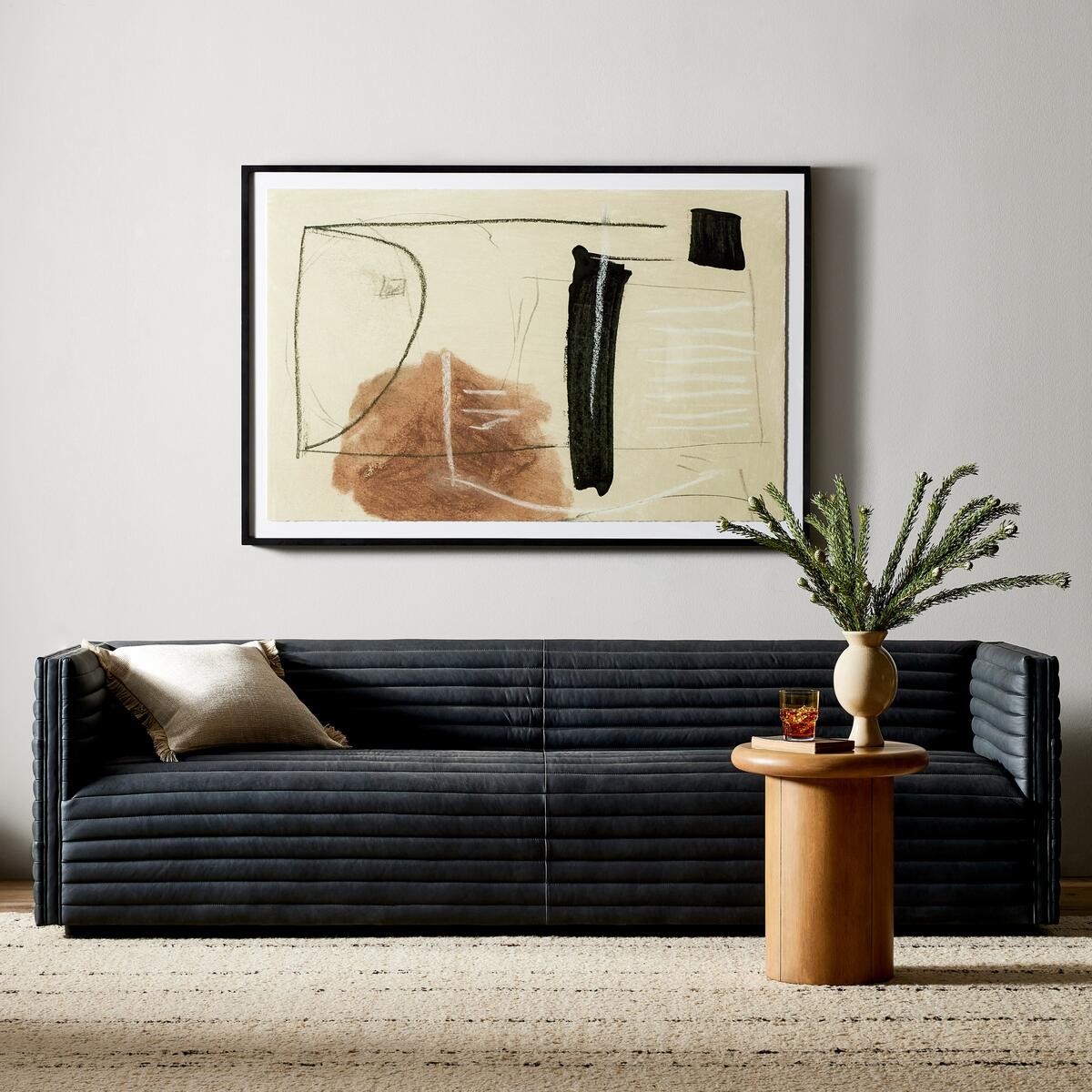 PADMA: THE PRIZEWINNER
Made in Brazil, Padma presents a modern-day twist on the trad chesterfield, punctuated not by tufts but by 2-inch-wide channels around the entirety of the piece. "The horizontal banding is all hand-sewn, giving the sofa a streamlined, linear appearance," says Lovegrove. Welt cord trim adds a finishing touch, while Eucapel leather in Cognac or Ebony conveys warmth and character. The vision of Four Hands senior product developer Christina Fareri, Padma recently received a Pinnacle Award from the International Society of Furniture Designers.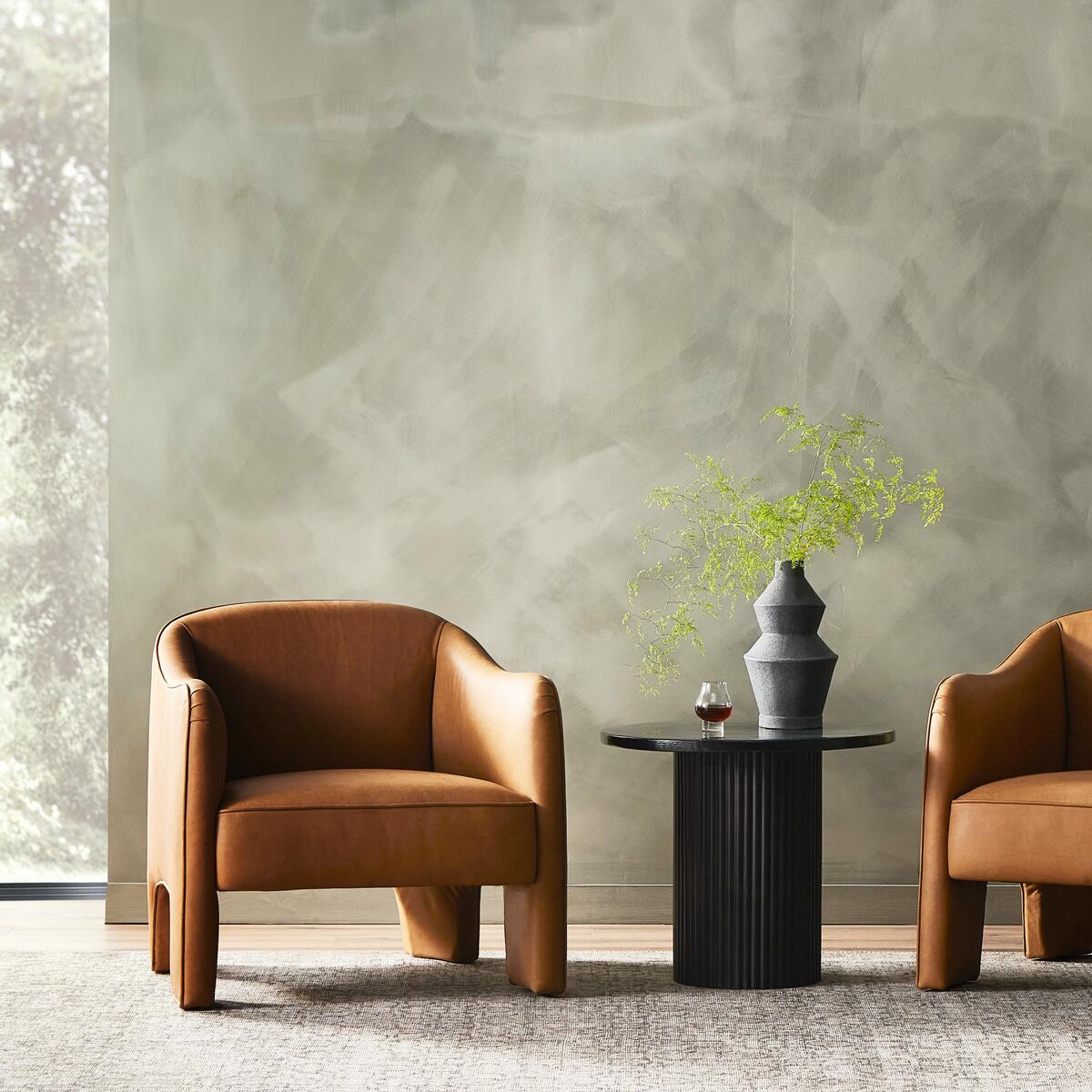 SULLY: A SHAPE-DRIVEN DESIGN
"We continue to see a very strong trend toward sculptural pieces, especially in occasional seating," says Lovegrove. A collaboration between Four Hands and acclaimed Danish designer Morten Georgsen, Sully shows off the nuances of Eucapel leather through its fully upholstered body, which includes eye-catching cutouts. "It's the perfect application of the material, and our customers have really embraced it," he comments. Sinuous-spring construction makes for a supportive experience.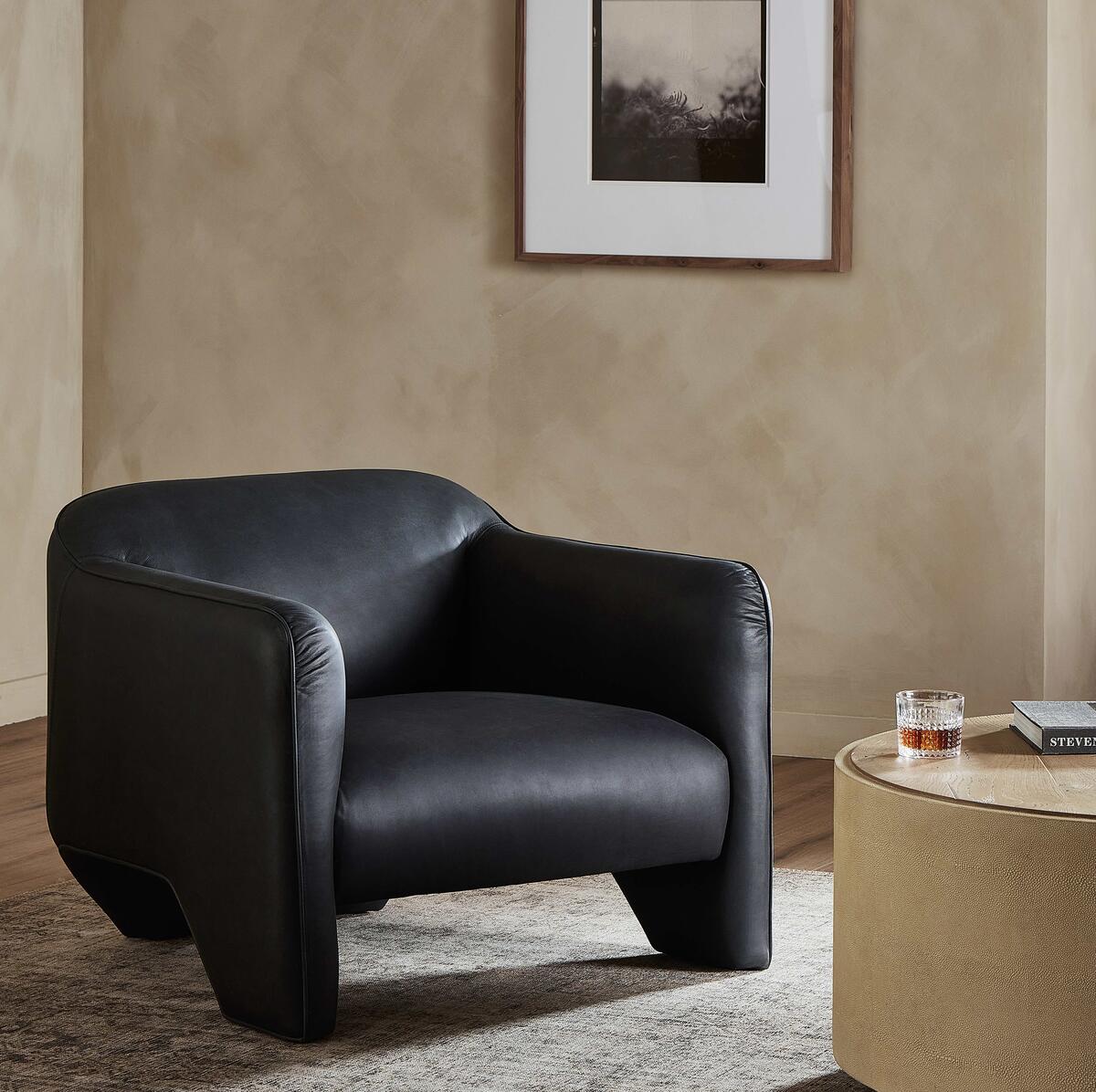 DARIA: THE COMFIEST CLUB CHAIR
Another result of the partnership between Four Hands and Georgsen, the plump Daria club chair made its debut at High Point Market earlier this month. "Stripping everything away, it's a very modern design, but when you add volume and loft with the cushioning, then encase it in luxurious Eucapel leather, it softens the overall aesthetic and makes the piece super inviting to sink into," says Lovegrove. Welt cord piping and purposeful pleating throughout are not strictly decorative; they help tailor the chair's voluptuous curves. "People want beautiful furniture, but they're also living with it," he adds. "When it's got to be good quality and comfortable, it's going to be Four Hands."
This story is a paid promotion and was created in partnership with Four Hands.