In our series, What I Love, we're asking designers to build us a mood board of what's inspiring them right now.
Elena Frampton has a knack for creating truly one-of-a-kind environments. The New York–based founder of Frampton Co takes a wholly integrated approach to her projects, employing an eclectic mix of bold prints, touchable textures and modern artwork to foster spaces that exude comfort and character.
Her flat lay—teeming with sumptuous materials and unruly linework—is no exception. Frampton says she designed the palette with "a space for early evening aperitifs" in mind. "I just returned from Paris and was inspired by the opulently layered schemes," she tells Business of Home. "The ornamentation, pattern, color and richness is so prevalent, and yet very versatile."
Though a colorful Christian Lacroix pattern served as the starting point of the scheme, Frampton layered in an array of touchable earth-toned textiles to strike the balance between livable and luxury. "I chose complementary graphic elements, and mixed accents of metals and woods," she says. "And since it's a dream space, a surrealist blue mirrored bar, as one does."
Here, Frampton breaks down the details—from black-and-white chenilles to blush-hued mohairs.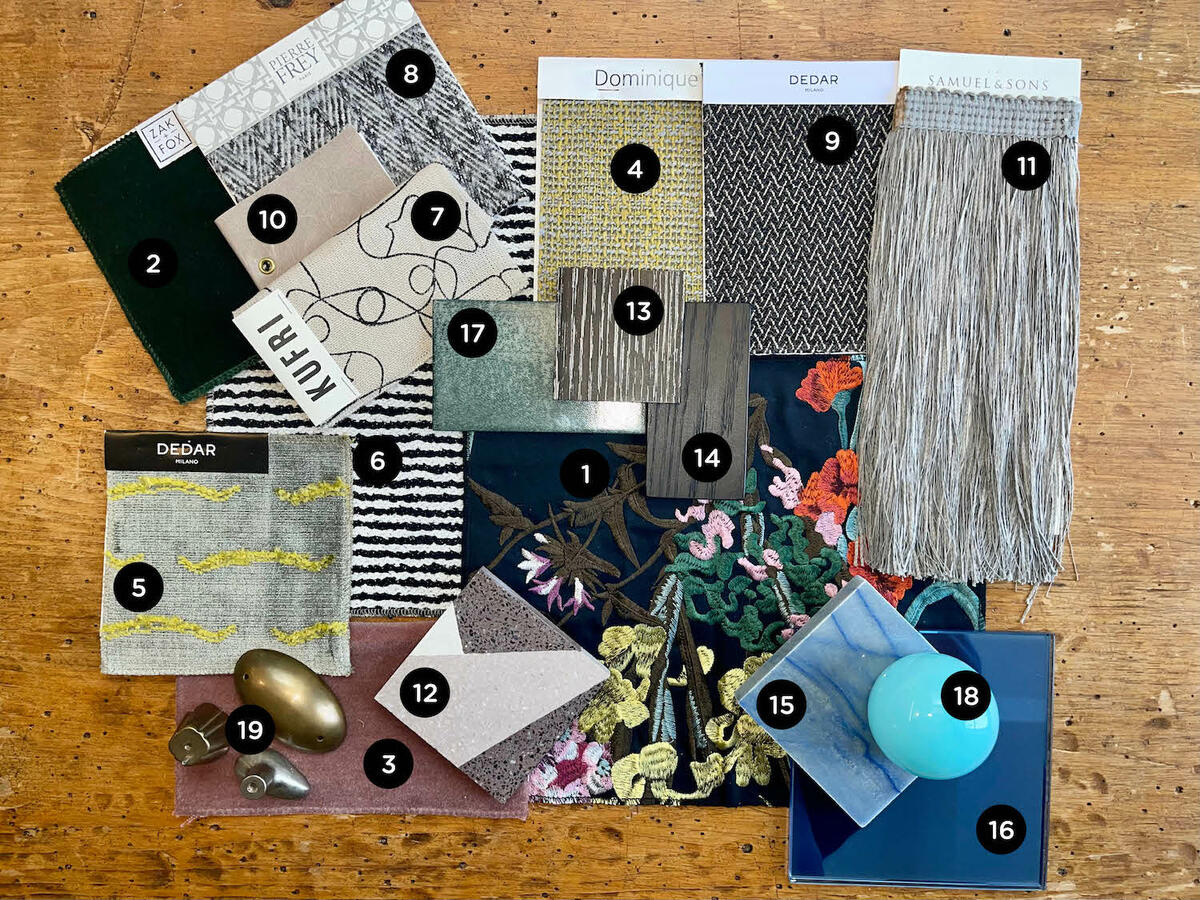 1. JOSEPHINE FABRIC IN REGLISSE BY CHRISTIAN LACROIX AT DESIGNERS GUILD
"The mood starts here: The richness of material and imagery sets the tone for the space, and the pattern opens the door for accents, whether through complementary color or establishing balance. It's fitting that this textile collection takes its name from a Parisian subculture of the later 1700s known for decadence and folly."
2. BAYAN FABRIC IN ZFBY-04 BY ZAK+FOX
"A cotton velvet echoing the coloring of the inspiration pattern."
3. MOHAIR SUPREME FABRIC IN ROSETTE BY MAHARAM
"This mohair's muted rose brings a softness to the palette without going overtly feminine."
4. TRICOTAGE FABRIC IN CITRON BY DOMINIQUE KIEFFER AT RUBELLI
"I love to use a mix of classic patterns, especially menswear references, to bring subtle texture and variety to upholstery. This has a textured, tactile weave like that of knitwear."
5. NOUVELLES VAGUES FABRIC IN TIGER EYES BY DEDAR
"This has a really special, luxurious quality in look and feel. A velvet jacquard embellished with luminous yarns, it's incredibly soft with substantial durability."
6. RAGTIME BAND FABRIC BY GRETCHEN BELLINGER
"The softest chenille with a strong graphic statement."
7. MUSE FABRIC IN GUNPOWDER BY KUFRI
"This linen organic linear pattern acts as a counterpoint to the stripe, and together, a perfect mix of neutrals."
8. LEONIE FABRIC IN ARDOISE BY PIERRE FREY
"This woven has a classic chevron pattern, soft texture and durable construction, bringing comfort and utility to an opulent space."
9. ATHERINI FABRIC IN NOIR DE CAFÉ BY DEDAR
"Another comfortable, hard-wearing chevron pattern, this dense design can be used almost anywhere."
10. MADRID LEATHER BY MOORE & GILES
"This olive tanned leather was made to show off the natural beauty and imperfections of the material. It will patina beautifully on banquettes or other seating."
11. CUSTOM LA TERRE CUT FRINGE BY SAMUEL AND SONS
"You can't have evening cocktails without a fringe moment!"
12. WHIMSY BY NICOLE FULLER FIELD TILE IN ELLSWORTH AT ANN SACKS
'This tile brings a strong graphic element to the palette, while the pale pink and mauve tones keep the overall effect soft and pretty."
13. OXIDIZED OAKWOOD SWATCH BY CUFF STUDIO
"A dark, rich wood will allow the palette's accent colors to really pop."
14. CHOCOLATE BROWN CERUSED OAK SWATCH BY LAWSON-FENNING
"The contrasting wood grain complements the scheme."
15. AZUL MACAUBAS POLISHED STONE BY ARTISTIC TILE
"The uncommon beauty of this stone makes a statement on any scale, but can you imagine an entire bar? The crown jewel of the space."
16. BLUE MIRRORED GLASS SAMPLE BY ACCURA GLASS BENDING
"A mirrored element in a bright, reflective blue adds a surrealist quality to the scheme."
17. DYED PARCHMENT FINISH SAMPLE IN EVERGREEN BY ROMAN THOMAS
"I imagined using this green-tinted parchment on lounge tabletops or possibly a coffee table in a more relaxed seating arrangement."
18. CHERRY BOMB CHANDELIER SAMPLE IN SKY BLUE BY LINDSEY ADELMAN STUDIO
"Lindsey Adelman's work is like jewelry for interiors. This glass sample—from her Cherry Bomb chandelier, which I absolutely love—brings the perfect combination of whimsy and geometry to the space."
19. VINTAGE HARDWARE
"Since I mixed metals and shapes here, I kept the finish matte and saved the shimmer for elsewhere."
Homepage photo: A flat lay by Elena Frampton | Courtesy of Frampton Co