Dreaming of revamping a tired property, then selling it for a big ka-ching? Seasoned pros reveal what they've learned about house flipping—and how to prevent flopping.
Designers are renowned for turning decor lemons into highly Instagrammable limoncello cocktails. So it's no wonder that many turn to house flipping for its lucrative potential. "My biggest success story was preventing a 1920s Tudor home in an established neighborhood of Fort Worth, Texas, from being razed," says Dallas designer Jean Liu, who had so much fun working on her starter home with her contractor that they ended up flipping four more homes together. This particular property could have been condemned, with its broken windows, old plumbing, exposed wires and rotting wood. Still, Liu and her contractor saw the ugly duckling as a would-be swan—and they were right. They purchased the home for $600,000, spent another $250,000 on the renovation, and sold the property for $1.1 million. "Not a bad payday for a side hustle," says Liu.
In addition to the profits, flipping comes with a huge perk: no clients. While the pandemic delayed Austin, Texas–based designer Sara Malek Barney's real estate plans, the founder of Bandd Design finally launched a real estate arm of her business in 2021 and now splits her time between development work and client-facing design projects. "One of the ideas behind it was taking clients out of the picture—being able to have full creative freedom and forge my own path," she says.
Still, a project with no clients isn't quite a license to do whatever you want—there's still plenty of strategy to keep in mind so your side project doesn't turn into a money pit. To give you a leg up, we asked designers in the game to reveal their best advice for happy house flipping.
Know What to Look For
Creating luxury—however loosely defined—tends to reap rewards. "Austin is a super-hot market," says Barney. "From a real estate perspective, it's all either very bad architecture from the 1980s and '90s, or new builds without any design thought or care. The idea was that I could add a creative design spin that was a little more elevated and special than the standard builder-grade stuff being thrown up everywhere." But in a sea of potential fixer-uppers, what do you even look for?
Once Barney zeroes in on areas with good schools and charming neighborhoods, she has an unexpected agenda: She's looking for a home that's a little weird. "I like something that has a quirk to it," she says. "If it's just a standard tract home like everything else on the street, it doesn't appeal to me." In Natick, Massachusetts, designer Karen Goodman of Copper Dot Interiors has a similar approach. "To me, the perfect flip is something that has some character, but it also needs to be able to make sense," says Goodman, who has flipped eight properties over the past six years. "There are a lot of houses out there with awkward layouts, weird rooms and things that make you wonder. If you can see past that and make some sense out of it, buyers will appreciate it in the end. If you can't fix the weirdness without a full gut, perhaps keep walking."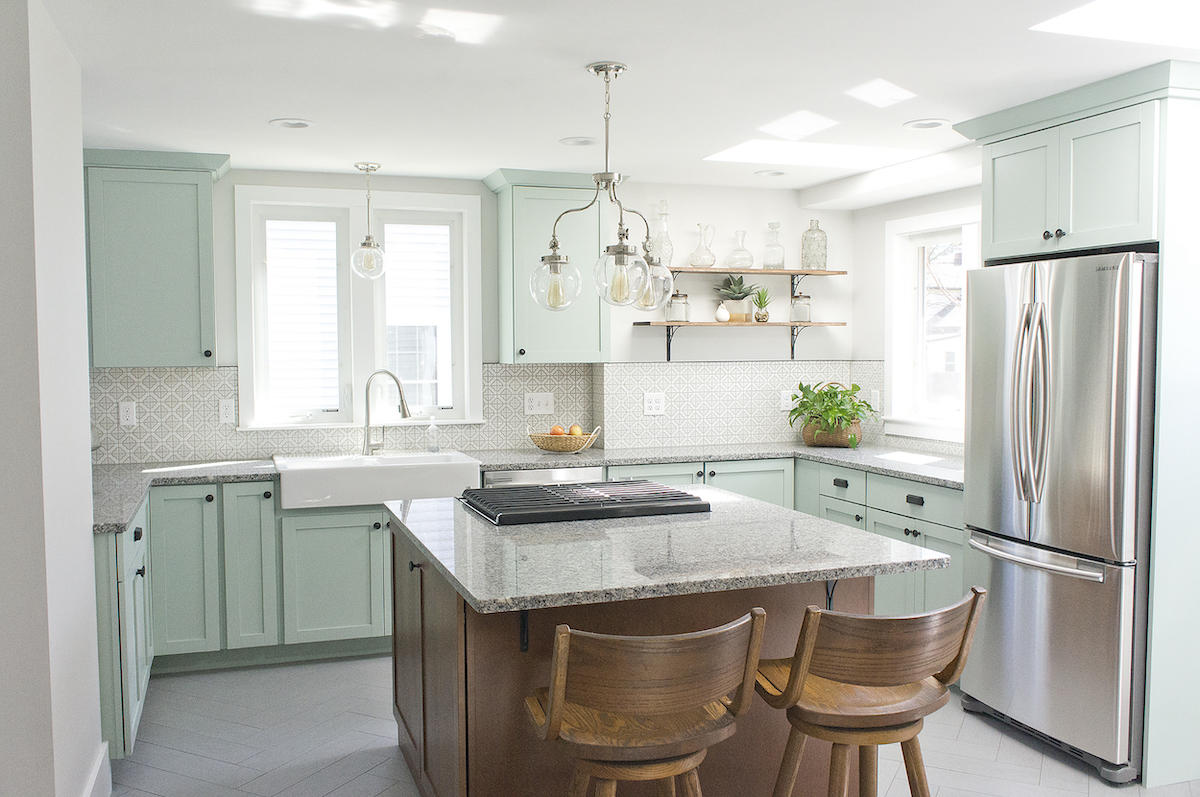 Winnetka, Illinois–based designer Alexandra Kaehler gives herself even tighter parameters, only taking on homes that need minimal floor plan updates—creating a new mudroom or a laundry space on the first floor, or opening up the kitchen. She's found that houses that require a bigger lift are less likely to pay off at the end of the project.
Of course, that old real estate maxim—location, location, location—matters enormously when it comes to your returns. But in a runaway market, real estate comparables, or "comps" (the recorded prices of similar properties that are on the market), aren't always a helpful tool for assessing whether to invest. "The comps in Austin right now are just stupid," says Barney. "They don't even make sense because the market is so crazy. It's like, 'Do nothing to a house, hold it for six months, and sell it for 50 percent more.' So it's hard to say, 'Do this [to your property] and you will get a success story.'"
Doing your homework on the local market is an essential first step. To get the lay of the land, Goodman recommends walk-throughs, even if you know the house isn't a good fit for a flip, to gain a better understanding of the going rates for homes of various scales and styles. By training your eye for what's out there, you're more likely to recognize a good deal when you see one—and to feel confident walking away if the numbers don't add up. "If you can't get the home for the right price, keep looking," counsels Goodman, who tours at least 10 houses—and often more—for a typical flip. "If you know your market, you'll know how much you can put into the house to make it worth your while. The tough thing as a designer is the desire to make it epic. It's a constant struggle to not sink in more money than necessary."
Some flippers, like the Bethesda, Maryland–based couple Alex and Iwona Petrov of Yzign Interiors, recommend seeking out off-market deals. "There are two ways to find properties: one is going through the MLS, or multiple listing service, where most properties are already renovated," says Alex Petrov, referencing the database real estate brokers use. "Another is to focus on off-market deals through wholesalers." The Petrovs purchased an off-market condo in July 2021 within the Washington, D.C., metro area, for $155,000, and now—having beautified it with everything from a serious renovation to eye-candy interior decor—have had it appraised at $275,000 if they sell it fully furnished. (One thing you shouldn't do is rely on Zillow, which pulls from the MLS—sometimes with enough of a delay that you could lose out on a good deal.)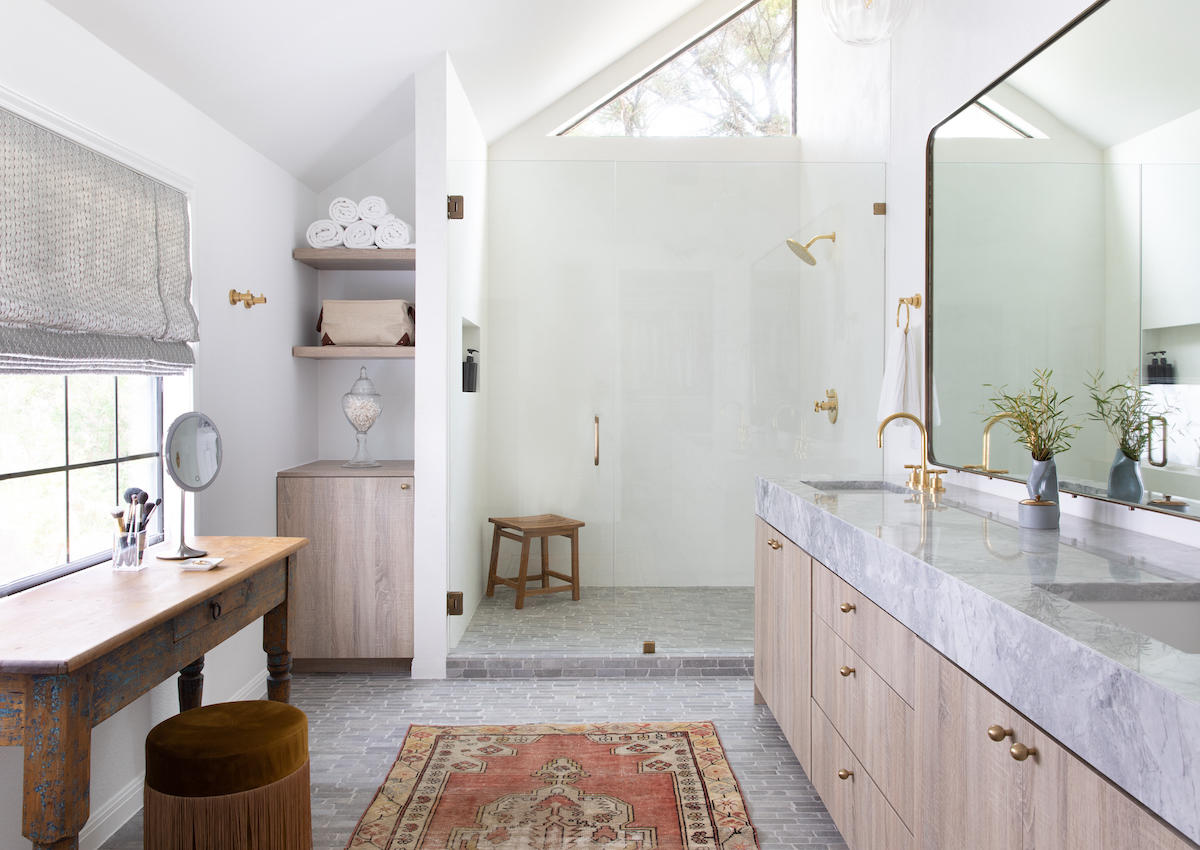 In Massachusetts, Goodman found her biggest success story in a short sale. "It was a charming and character-filled home but so neglected and piled with trash that it took at least three dumpster truck loads to get it clean enough for us to start work," she recalls. Still, the hard work was worth it: "We had buyers for that home even before it was finished and made roughly an $80,000 profit with a five-month turnaround."
Spend Wisely
If a house flip were reimagined as an outfit for a special occasion—and you had a limited budget—what would you spend the "real" money on? Your jewelry? Your shoes? For a 3,000-square-foot, 60-year-old house in Chicago's northern suburbs, Kaehler plunked down a lot for high-end appliances (a Sub-Zero refrigerator and a Wolf range), marble counters, grasscloth wallpaper and Visual Comfort fixtures. And when she sold, she made a 20 percent return on her investment in five months.
"Millenials are now 37 percent of homebuyers, and as a group they don't want to buy things; they like to buy experiences," says Iwona Petrov. The impetus to create that sense of experience has made her much braver with her color choices—for example, she recently deployed a dark green tile in a kitchen rather than veering toward the safe and always-on-trend white. "Say something different than what's already on the marketplace," she urges.
Designers say that the best path forward is to spend more on elements that are most likely to turn heads—within reason, of course. "I'm a big lighting junkie, and hardware is easily updated, but we also don't want to break the bank on finishes," says Barney. "We're not just throwing up what we could find at Home Depot, and we're not putting in a Lindsey Adelman chandelier, either, because it doesn't make sense in terms of resale. There's a fine line you have to find." She recommends spending more in the primary bedroom and bathroom than you would in, say, a powder room: "You're not going to get that return by putting complicated tile throughout the guest bathroom."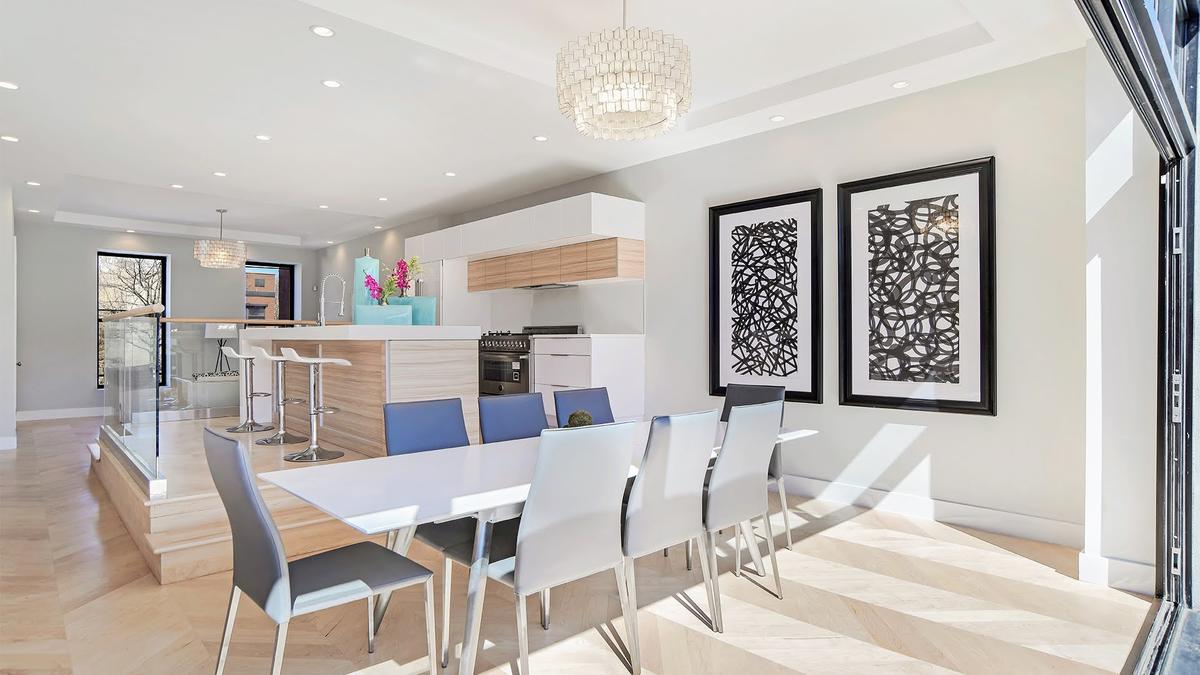 Courtesy of Arbie Real Estate Solutions
Priscilla Syade Hass, a Brooklyn, New York–based designer who used to revamp brownstone interiors for a development company, has found that modern choices help properties sell for the highest price—even in historic homes. "A little bit of brass in the plumbing or light fixtures would always do well," she says. "Show a little bit of glam."
Goodman discovered that it's possible to create a high-end look for comparative peanuts—it just comes down to the details. "Box store cabinets? Sure—but box in the fridge and add crown molding to the ceiling for a custom kitchen look. Basic subway tile? No problem! Have your installer run it vertically or in a herringbone pattern to add a bit more interest," she suggests. "Don't be afraid to take a risk on a patterned tile or a certain light fixture. If it looks the same as every other house on the market with gray walls and white cabinets, why should they buy your house? Is there a fun backsplash paired with the more basic kitchen elements? A statement mirror in the bathroom? Give them something they'll remember. You need to put in something that could be a little polarizing, because it gives people something to fall in love with."
Prepare to Fail
Even experienced flippers can have things go haywire once in a while. "My biggest failure might have been the second house I flipped," says Liu. "It was a ranch-style house that had a great floorplan for a family, but it lacked any interesting architectural details. To make up for this, we spent more than we should have trying to 'glam up' the house." Though the house went under contract quickly, the upgrades didn't result in a high enough appraisal price, and Liu and her partner ultimately didn't turn a profit on the project. In short, they overdid it for the neighborhood. "We had to work with the buyers and their mortgage company to come down on our price so the house would close," the designer recalls. "We could have walked away from the contract, but we likely would have ended up in the same situation with someone else. It was a painful lesson of learning where and where not to spend on a renovation."
The project drove one lesson home for Liu: Design to what the market can bear, not to fulfill your aesthetic inclinations. "If you're not familiar with what the neighborhood can command in terms of price, an agent should be the first stop in finding out what the comps are in that area," she says. "Those numbers should give designers an idea of how much to spend and where the money is best spent on the project."
Goodman actually lost money on her last flip— proof that timing is just as essential an ingredient as good design. "The market was heating up so we didn't buy the house for as low a price as we would have liked, and it was on a narrow road, which limited resale," she says. "While it turned out great, we ended up losing a few thousand dollars in the end—not an epic fail, but it's my only flip that didn't end up in the green."
Find the Right Team
It may sound obvious, but you want to work with a team of contractors and tradespeople you trust when it comes to the actual work of transforming your new property. "Look to work with people who are transparent in their billing and reliable when it comes to showing up when they say they will—unless you want to spend the entire day on the job site managing the project," says Liu. "The longer the construction takes, the more money it costs."
And know your agent: "Team up with a knowledgeable and established real estate agent who is known for selling in the neighborhood where you're flipping," adds Liu. "They might even have clients in mind before the project is completed. If time is money, which it has always been for me, getting the house under contract as quickly as possible is key."
Most of all, be good to yourself. As Barney says, "I like being my own client—even though I'm probably the most indecisive client of all!"
Homepage image: To transform a large media room into the home's primary suite, Sarah Malek Barney added a new wall to split the space in two. | Molly Culver