Williams-Sonoma released its first Harry Potter collection through Pottery Barn Teen in 2017, cementing its monopoly over snowy owl poufs and Golden Snitch clocks. A long time coming, the furniture and accessories collection hit the market a decade after the last book in the series was released and six years after the final film premiered in theaters.
What took so long? The issue was internal. At first stab, Warner Brothers's attempt to license Harry Potter beyond action figures and costumes wasn't so successful, so they shut the program down. But in 2015, the company got a new president for its product development team, someone who believed in the potential of just how much Warner Brothers could sell The Boy Who Lived. And so, Williams-Sonoma began producing pillows, bed frames, bedding and other accessories, even amid the risk that Harry Potter had, like its villain Voldemort, passed its expiration date.
The collection was a hit. Williams-Sonoma quickly expanded its Harry Potter collection to be available in all of its Pottery Barns, not just the shops geared toward young adults. "We designed this collection to appeal to fans, collectors, children and adults," Allison Spampanato, senior vice president of design for Pottery Barn Kids and PBTeen, tells Business of Home. "There's something for everyone."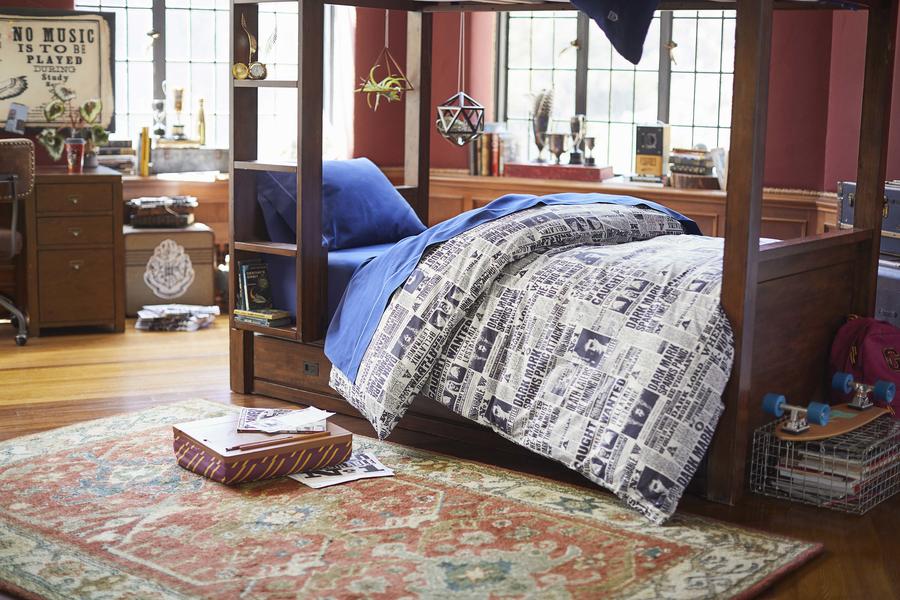 Courtesy of Pottery Barn Teen
It's not just big home brands that have gotten into the game—retailers and manufacturers of all sizes are creating themed collections with major pop culture franchises, contributing to a $26.2 billion marketplace for licensed home decor. BOH investigated the cultural shift behind this phenomenon, and the ways the interior design industry has reaped the rewards of franchise licensing.
+ + +
It's cool to be nerdy now. (This writer's older sister has enough autographed superhero posters to prove it.) But, believe it or not, this wasn't always the case. Baby boomers weren't that into fan merchandise, so, for a long time, there just wasn't much of a market for the stuff.
"It's really a generational shift," Steven Ekstract, brand director of Global Licensing Group, a licensing trade show organizer, tells BOH. "When you look at the generation that came up from the '60s and '70s, they were somewhat allergic to brand extensions and licensing. They saw it as exploitation. Millennials really started to embrace it, because they grew up with franchises." Franchises—multi-part pop-culture film series—are also bigger now. Ekstract says Hollywood's main source of revenue switched from home video rentals (RIP, Blockbuster) to franchises about 20 years ago. Now, big summer tentpole movies are almost always a franchise film—a new addition to the Marvel Cinematic Universe or the billionth Fast and Furious.
That's not to say that people obsessing over media is new. There have always been fans, and they have always found one another, whether through small, regional comic book conventions or friendly neighborhood shops. But with the advent of the internet and social media, over the past decade in particular, fans have become so visible that they've caught the attention of licensors (and licensees), who have recognized their spending power.
"You could talk to any random person on the street and say, 'What Hogwarts house are you?' and they'd likely have a very strong opinion about where they should have been sorted and why," Suzanne Scott, assistant professor in the Department of Radio-TV-Film at the University of Texas at Austin, tells BOH. "Part of that is, Harry Potter is a ubiquitous media text, everyone knows it and likes it, and the other part is, people really do think about their identities in terms of media, imagined through these texts." Even Scott is not immune to the charms of a quality franchise: She and her husband will head to Disneyland later this year to celebrate her 40th birthday, and have already picked out which Star Wars souvenirs they'll bring home.
+ + +
Without a doubt, the cultural shift has benefited our insatiable consumer-driven market. Merchandisers have not only identified that fans will spend heavily, but that the market is multi-tiered, and that different fan groups have different preferences—and price points. "I remember a time when I could only buy fan T-shirts at a comic book shop or a convention. Now I can go to Target and walk the aisles, and they're everywhere," says Scott, who prefers investing in merch with more subtle references to the franchises she loves. Brands have been quick to capitalize on that distinction, in a strategy that Ekstract called "slicensing." To slicense is to take a license to a diverse range of manufacturers with the aim of reaching a diverse range of consumers. For instance, shoppers can get a $4 plastic Mickey Mouse figurine from Walmart, and collectors can get a $15,000 crystal Mickey Mouse figurine from Swarovski.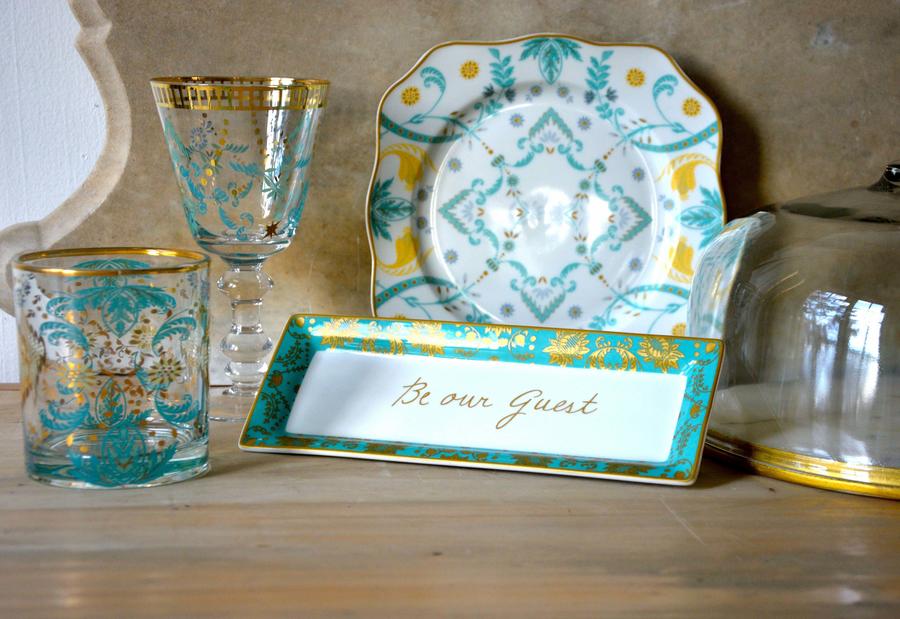 The home industry has capitalized on the rise in demand. Last year's total global retail sales of licensed products and services hit $271.6 billion. Home-related categories took up 10 percent of that total, and saw a higher growth than the overall 2017 average. As the market grows, so does its need to diversify its offerings, especially in terms of price, availability and quality.
It's arguable that the market for licensed merchandise has gone on the same trajectory as the fandom itself, which has moved from the margins to the mainstream. You can find merchandise anywhere, for any price. That's all the more reason for fans to covet something collectable. They don't want to wear the T-shirt anyone can get from Target. The right item has to be something subtle and specific, "so that only other 'real fans' will understand it and get it—a marker of status within fandom, as well as real life, in terms of having nicer things in your home," explains Scott.
+ + +
It's not just T-shirts and action figures flying off the shelves. The High Point world has adapted to the crazy economics of fan merchandising, too. Sarah Willett, founder and president of home brand Patina Vie (they had a line with Castelle debut at market this spring), just released her third collaboration with Disney, a set of tableware based on the live-action remake of Aladdin.
Though these pieces are unquestionably aimed at fans, they're aimed at fans with money, and a basic appreciation of design aesthetics.
The creative process for the Aladdin tabletop collection began 24 months ago—the Patina team was privy to behind-the-scenes film production so it could gather inspiration. Arabesque patterns as well as rich blues, purples and golds in the tableware came straight from the film's production design. (Magic carpets probably have special customs rules that allowed for this.)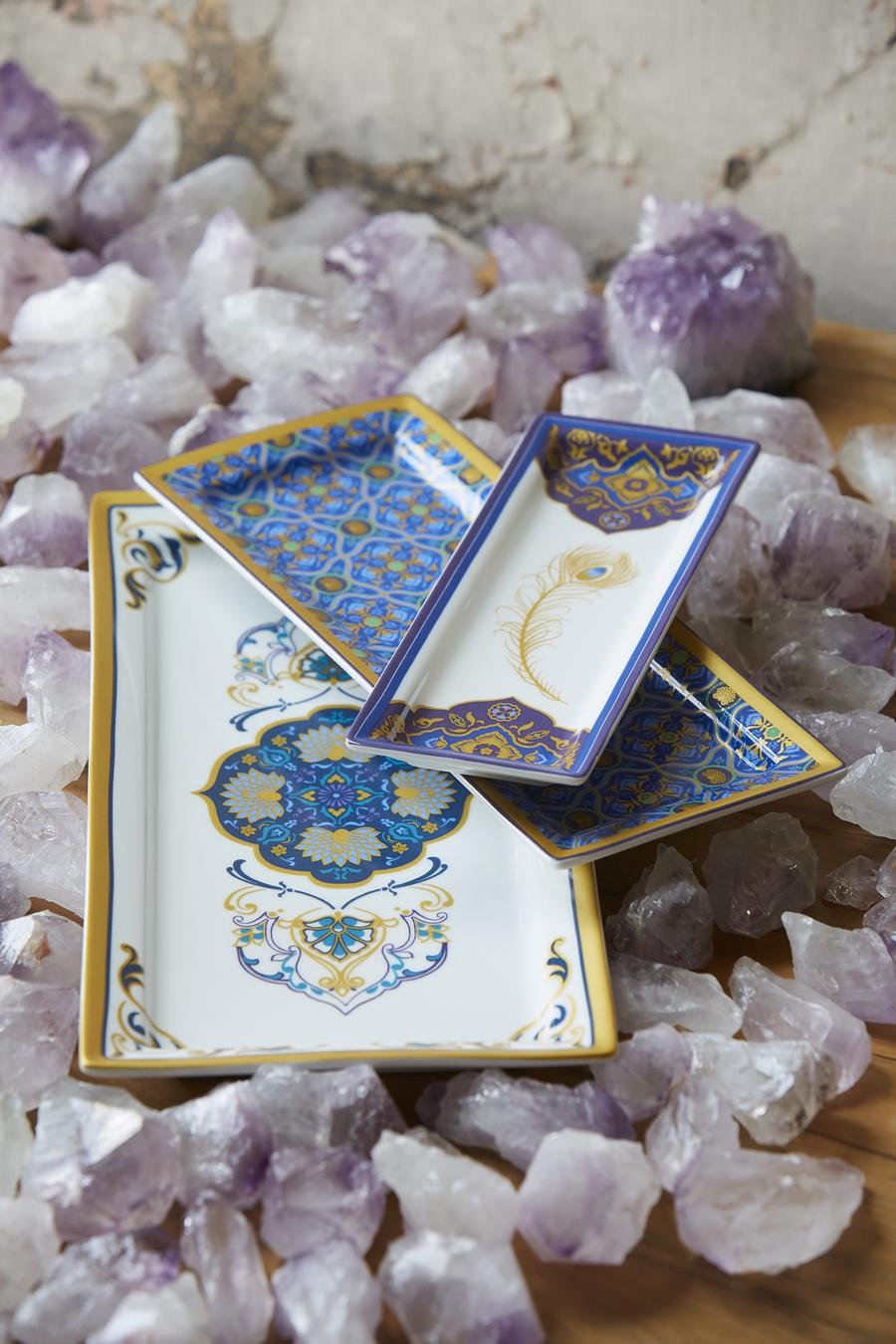 Disney's product development Princess Team (yes, that's what it's called) first approached Patina Vie in preparation for 2017's live-action Beauty and the Beast. The partnership was a marriage of the brands' respective strengths: Disney could count on Patina Vie's vision to reach retailers like Anthropologie (Willet had already designed pieces for the chain), and Patina Vie got to be associated with, well, Disney. After Beast was a tableware collab on Coco, the 2017 Disney Pixar original, another success. For the third, most recent collection, Disney awarded Willett exclusivity, meaning that the Aladdin tableware is only available through Patina Vie.
Fashion-forward and sophisticated, Patina Vie's tableware doesn't feel like "movie merchandise"—there are no logos or characters that tie the collection explicitly to Aladdin. To stay faithful to her own brand aesthetic, Willett wove elements of the films into her traditional design process. She is hoping the collection will appeal to a broad customer base. Fans who've seen the movie in theaters may want to have a piece of fanciful memorabilia; alternatively, non-fans might think the plates are gorgeous, without realizing there's a connection to the franchise at all.
The symbiotic power of that franchise brand association lends itself to luxury too. Just like the merchandise they buy, fans come in all shapes, sizes and economic statuses. It's up to designers to capitalize on that. Philippines-based industrial designer Kenneth Cobonpue recently launched Kenneth Cobonpue x Star Wars, a high-end collection of lamps, armchairs and stools that he made in collaboration with Lucasfilm.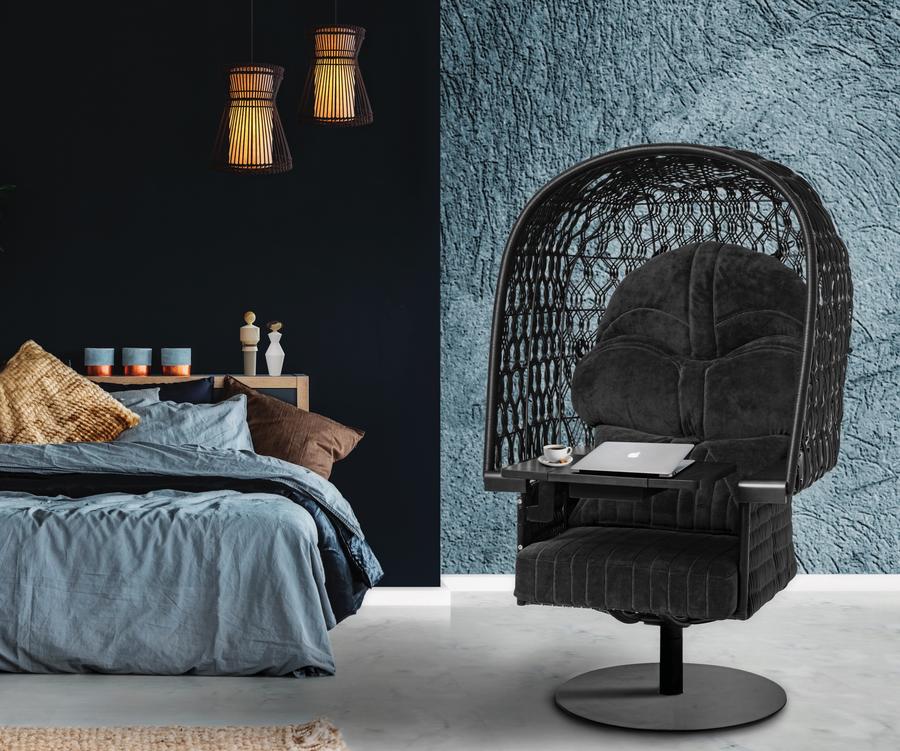 Courtesy of Kenneth Cobonpue
Though the phrase "Star Wars furniture" may suggest pure kitsch, Cobonpue's collection is marketed less like gonzo fan merch, more like a new line from CB2. The pieces are photographed in the context of elevated, contemporary interiors—if you squint, you might think that chair was an abstract geometric form, not a TIE Fighter. Though these pieces are unquestionably aimed at fans, they're aimed at fans with money, and a basic appreciation of design aesthetics.
Star Wars in particular represents the vast breadth of licensing opportunities. The original film was released in 1977, meaning its earliest superfans are now in their late fifties—adults with adult taste (and adult pocketbooks). On the other hand, there are new Star Wars films released nearly every year, attracting young audiences. The Star Wars universe, it seems, is big enough to include both toys and luxury furniture.
"I think the film has touched so many people over the years that this collection has a pretty broad audience," says Cobonpue. "So many generations, mine included, grew up with Star Wars, so there is something kind of wonderful about being able to design an interpretation."
+ + +
That's products. But when it comes to projects, are there really that many interior designers willing to incorporate props and posters into a room with their name on it? That was a challenge that Denver-based designer Devon Tobin had to overcome with a young couple whose large Colorado home she recently took on. "This couple is genuinely the most avid readers you'll ever meet; they're both Harry Potter fanatics, and they wanted a Harry Potter library," she tells BOH. Tobin didn't give them exactly what they asked for, opting instead to fill the study with small objects that boasted mythical undertones, and larger-than-life decor that blended grandeur and coziness.
As designers, it's critical that we don't take a theme literally.
Devon Tobin
"Nothing [in the room] is genuinely connected to the franchise. As designers, it's critical that we don't take a theme literally—I have clients all the time who say, 'My son loves sports,' but we don't want to overtheme their room with sports, so let's dissect what they love about them." It's vital to respect the adoration, she says, but ultimately, good design should be good on its own.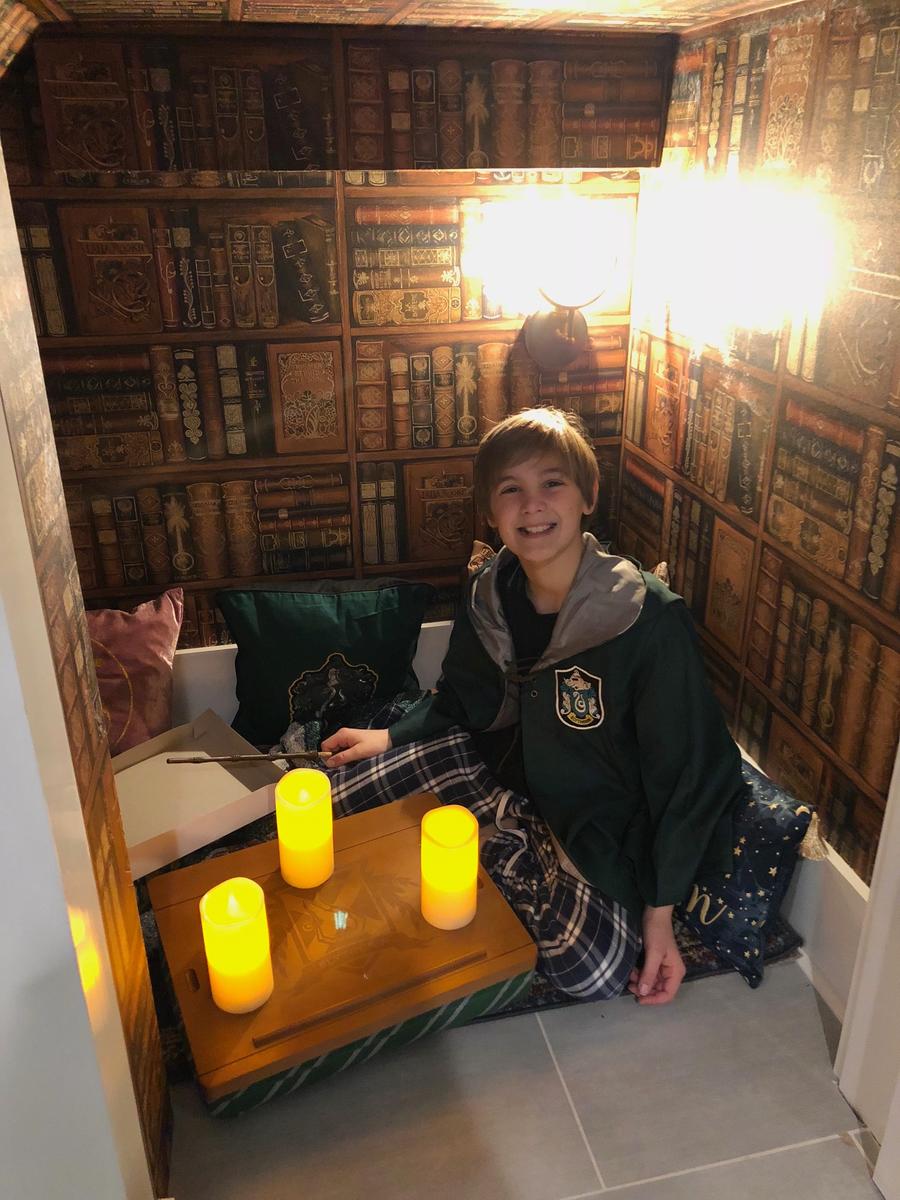 So maybe not every designer is willing to cater to a client's obsession. But some, in special cases, have chosen to lean into it. Jennifer Mabley and Austin Handler of Watermill, New York–based firm Mabley Handler Interior Design have made one such exception, for their son, Wesley.
Wesley has a wizard's lounge carved out of a small storage space under the stairs in the Mabley-Handlers' basement. Complete with bookshelf wallpaper, oriental carpet and, of course, soft goods from the Harry Potter collection from Williams-Sonoma, the lounge is a cross between the fictional boy wizard's early childhood bedroom and his dormitory at Hogwarts. "A kid connects with some of the phrases and imagery from the film, and that's what makes it fun for them," Handler tells BOH. "We weren't re-creating a set—it was creating a playspace where the kids can use their imagination."
Licensing may be a huge business, but it all comes down to fans like Wesley. The power of a franchise to spark imagination (and remind us all that wizards are totally awesome) isn't worth $26.2 billion—it's priceless.
Homepage photo: Courtesy of Kenneth Cobonpue