In our series, What I Love, we're asking designers to build us a mood board of what's inspiring them right now.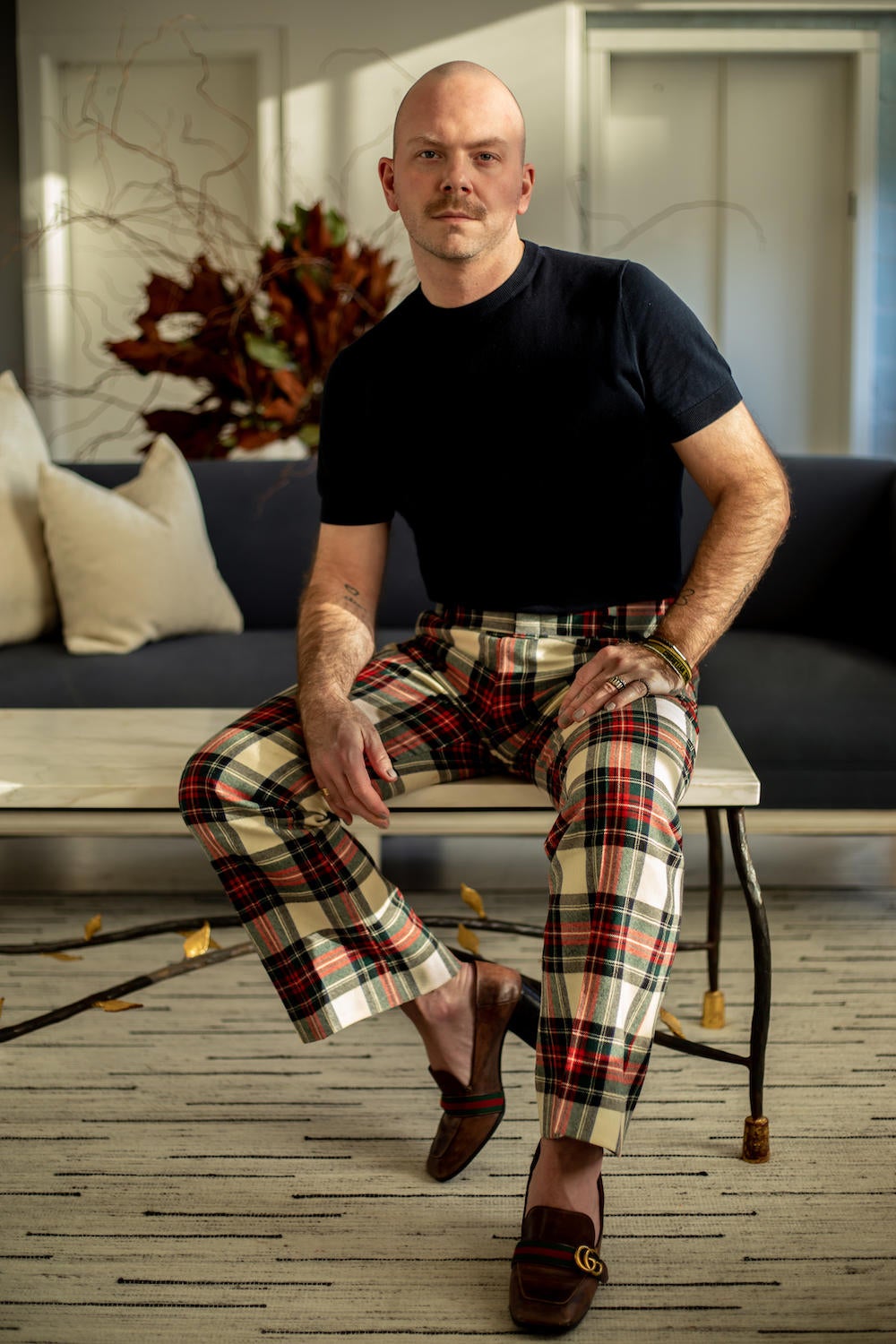 Courtesy of D'Aquino Monaco
Dane Pressner doesn't have to look far for design ideas. The New York–based design director of D'Aquino Monaco keeps a compilation of his favorite of-the-moment samples, swatches and inspo images close by to ensure he's always surrounded by stimuli. "This way, I have inspiration at my fingertips at all times," he tells Business of Home.
His current mood board reveals a lot about his current state of mind. Teeming with saturated hues and untamed textures, Pressner's scheme is filled with an array of seemingly disparate pieces that somehow manage to work together. "Like a tantrum, it's moody and dramatic but without being too serious," he says. "I like to create a serene mood, and then throw something in to turn it on its head."
A harmonious range of raw materials, deep earth tones and artisanal craftsmanship is what ultimately draws the designer's flat lay together. "Designers are storytellers, and everything in my palette has a story," he says. "My love of craft, color and the process of making connect each piece."
Here, Pressner breaks down the details—from snakeskin-style velvet to trompe l'oeil patterned wallpaper.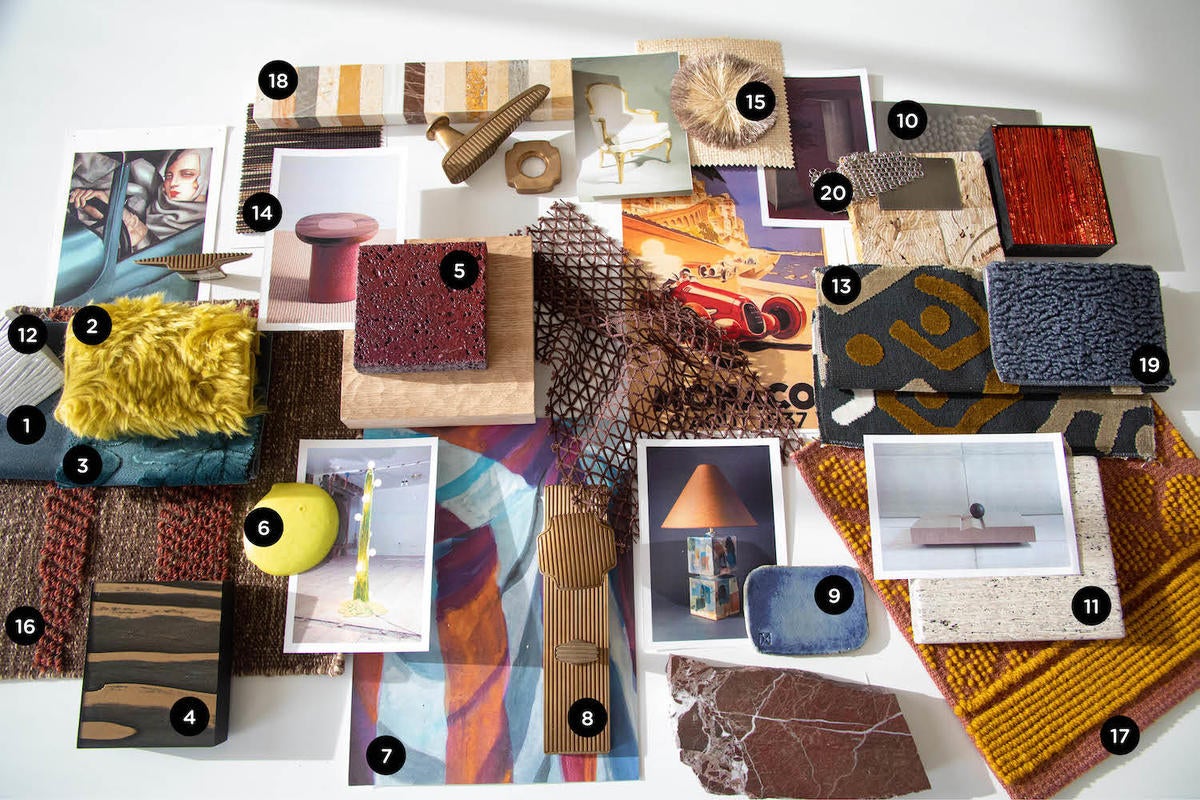 Courtesy of D'Aquino Monaco
1. VICTORIA FABRIC IN DENIM BY THE SIGN
"What I love about this fabric is the saturation of color—and, of course, its hand. I am drawn to rich, deep colors that don't necessarily feel dark."
2. ARGO 2 FABRIC IN 0443 BY RAF SIMONS FOR KVADRAT
"The whimsical nature of the fabric makes me smile, not to mention the color is incredible. Aside from decorating with it, I want a coat made with it as well."
3. ANACONDA VELVET FABRIC IN PETROL BY HOUSE OF HACKNEY
"Historically, snakes represent a creative life force, rebirth and transformation. Who doesn't want a bit of that in their decor? This cut velvet is wildly luxurious and a bit menacing."
4. ICED GREY FIR IN BRONZE AND ICED BARN WOOD IN PLATINUM RED WOOD SAMPLES BY BARN IN THE CITY
"The creative mind behind Barn in the City is nothing but genius. If you need a showstopping piece for any room in the house, they should be your first stop."
5. GLAZED LAVA STONE SAMPLE BY IAN FELTON STUDIO
"Ian Felton understands proportion and how to make large-scale pieces feel effortlessly elegant and almost slight. His hand-carved wood is a dream to touch, and his unique palette of glazed lava stones are beyond sophisticated."
6. LARGE CACTUS FOAM LAMP SAMPLE BY JOSEPH ALGIERI
"Joseph Algieri is a mad scientist! His foam lamps spark so much joy. The green sample I am showing is so bad it's beyond good. I own work of his and have commissioned his creations for clients."
7. JUDY STRIPE IN PURPLE AND BLUE BY VOUTSA
"The pattern creates the illusion of what feels like thousands of yards of draped fabric. Mame Dennis would 100-percent have used this in her Beekman Place apartment."
8. SERIES 108 HARDWARE SUITE IN SATIN ANTIQUE BRONZE BY D'AQUINO MONACO FOR SA BAXTER
"The Series 108 hardware line was designed by D'Aquino Monaco for SA Baxter. Inspiration came from Francine Monaco and my love of vintage automobiles. I feel it bridges all types of interiors modern to traditional and looks quite different when in different finishes."
9. LAPIS GLAZE SAMPLE BY DANNY KAPLAN STUDIO
"Danny Kaplan's simple forms are almost archaic, yet so modern at the same time. He recently added a stunning lapis glaze to his otherwise strict palette of anthracite or stone. I am particularly obsessed with the recent collaboration with Bruno Grizzo that features multicolored finishes."
10. METAL FINISH SAMPLE BY LANIN BY ALEXANDR ZHIKULIN
"Alexandr Zhikulin is a metalworker whose talent seemingly knows no bounds. I am blown away by his straw marquetry interpretation, which he creates by sanding the metal by hand."
11. MAYKUME WOOD PANEL SAMPLE IN GRIS NOIR BY MAY FURNITURE
"Minimal and sophisticated—I love the texture and tone of this wood finish."
12. C-THRU 2 LAMP FINISH SAMPLE BY THE ALPHA WORKSHOPS
"A wonderful nonprofit that has some of the most beautiful items. I love their C-Thru 2 lamp, which is hand-cast in plaster and finished in my favorite aluminum-leaf faux bois."
13. MAJESTIC FABRIC IN NOIR & OR BY PIERRE FREY
"This pattern is one of my latest obsessions. I have to stop myself from specifying it on all of our projects."
14. PANAMA WALLPAPER IN DANDY BY ÉLITIS
"Élitis is my immediate go-to for natural textures, in particular wild ones. I am still waiting for the right client to allow me to do an entire room of this black and natural grass cloth."
15. RAPHIA ROSACE WALLCOVERING IN POLAIRE BY CMO PARIS
"Hand-crafted and hand-tinted 3D raffia—this wallcovering is so magical, when you see the full scale you might imagine yourself on an island somewhere."
16. CUSTOM RUG SAMPLE BY TAI PING
"I absolutely love a hand-knotted rug, and this custom zebra-print flat weave is stunning. I find it so important to have items in your home where you can see the craft of how it's made. It's grounding, and I think you appreciate these items more when it is clear that someone's bare hands have made it."
17. RIALET RUG SAMPLE BY LA MANUFACTURE COGOLIN
"This rug, and everything else this brand offers, is in my must-use pile. I am fascinated by their color selections and in particular this combination."
18. STRATA LINEA STONE PLANK TILE SAMPLE BY CLÉ TILE
"I find this product so cool, because it is made from stone remnants and then repurposed into tile planks. I'm especially drawn to its warmth and color."
19. SHEEPSKIN UPHOLSTERY IN SHADOW BY OPUZEN
"I have used this fabric more than I care to admit, and I have it in my own home. The texture is so cozy and the color somehow fits effortlessly into almost any palette."
20. ARMOR SIDE TABLE CHAIN MAIL SAMPLE IN SATIN NICKEL BY KONEKT
"I absolutely love chain mail—the way it moves, the way it feels. It's the perfect example of how something cold and harsh can be soft at the same time. These tables can fit into any decor scheme."
Homepage photo: A flat lay by Dane Pressner | Courtesy of D'Aquino Monaco