Design magazines and new product have always gone hand in hand. For some, the dozens of highly curated pieces an editorial team chooses to fill a mag's glossy pages is the whole reason they buy a publication. So when magazines went digital, the introduction of e-commerce was a natural extension of the product roundups that happen in print. The main difference? Online, media companies stand to profit more directly from the products they profile.
The primary way a media brand makes money is through affiliate revenue: a cut of any sales that happen through their site. That arrangement is most profitable when publications are working with mega retailers—especially Amazon—which can lead to some head-scratching matchups, like a high-end home magazine directing you to buy, say, a cheap toaster.
For Marc Lotenberg, CEO of design magazine Surface, it was that disconnect that kept preventing his team from pursuing e-commerce. "There's been such a rise in affiliate content over the past few years and, for me, that's where editorial goes to die," he says. But as the market kept getting more saturated, Lotenberg realized there was an opportunity to do something different. "We decided we would do the exact opposite and create a marketplace with really unique pieces that meet our editorial standards," he says. So, after two years of back-and-forth on how and when to execute a curated e-commerce offering, today Surface launched Design Dose—a digital marketplace unveiling one exclusive product daily.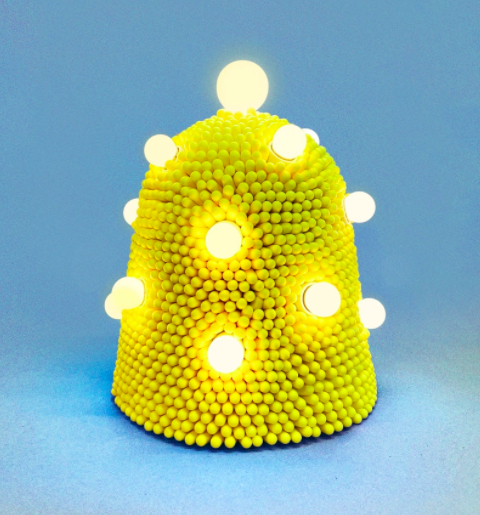 Part of the conceit of Design Dose is that the products, which will range from furniture to fashion and textiles, are pieces that the editorial team can create content around, whether that's an interview with the maker, a studio visit, or insight into why the piece is worthy of their attention. "I learn so much from that type of content because I can see that a chair might be $3,000, but I didn't know it takes 72 different pieces of wood to make the frame or how the joints go together or that the upholstery is hand-stitched," says Lotenberg. "There's so much more that goes into great design than most people understand. It's not a machine cranking these bespoke pieces out, there are people behind it."
The first piece launched on Design Dose is an avant-garde take on a table lamp by Brooklyn-based designer and artist Joseph Algieri, which is covered in 350 lemon-colored earplugs. It retails for $2,800 and only one is available. Accompanying the product listing is a short interview with Algieri and a "by the numbers" section with interesting details about the piece, like that it took three days to assemble and features 14 light bulbs. Surface will receive a placement fee on the front end that supports content creation around the product, in addition to receiving a percentage of the sale.
"We're committed to showcasing pieces that people will be seeing for the first time," says Lotenberg. "A big motivator for us has been that you're seeing the same pieces everywhere. Meanwhile, there's tens of thousands of options out there. We don't need to compete against what's on other platforms, because all they have are the same 20 products that the customer already knows about. What we're focusing on is exposing people to really great design brands that our readers should know about, but which just aren't getting the air time they should."
Lotenberg was further inspired to launch Design Dose as a sort of response to the pandemic, which has left small makers and artists without major fairs to exhibit at, while also landing Surface readers who are spending the bulk of their time at home. "Everyone is struggling right now, but these small brands could really use the extra bump to get attention. I see Design Dose as a means of democratizing things in a way—it's not just bigger brands that can survive and get noticed," he says. "We see it as solving a discovery problem for readers and a reach problem for creators."