Vases secured an unexpected spot across several headlines this week—artisans are now upcycling antique glassware into smoking devices, while comedian turned ceramicist Seth Rogen fetched five figures at auction for his vibrant pottery. As the industry continues to surprise us, stay in the know with our weekly roundup of headlines, launches and events, recommended reading, and more.
Business News
A French court ordered Ikea France to pay $1.3 million in fines and damages after former senior officials were found guilty of spying on union representatives, employees and customers from 2009 to 2012, the Associated Press reports. As part of the ruling, two former executives were convicted, fined and given suspended prison sentences, while the 13 other defendants on trial faced a mix of acquittals and suspended sentences. In a story that first surfaced with an email leak in 2012, the victims claimed that managers used surveillance to target union leaders and conduct criminal and background checks on unsuspecting employees, job candidates, and even customers seeking large refunds.
Home organization brand mDesign has announced its acquisition of Wild Birds of Joy—a marketplace seller specializing in bird houses and feeders. The move marks mDesign's first into the market consolidation space with a focus on companies that match its home-centric core competencies.
Co-living startup Habyt has completed a $24 million Series B funding round and merged with competitor Homefully, TechCrunch reports. Founded in 2017, Habyt borrows its format from co-working companies like WeWork: Members pay a monthly fee for a short-term stay in fully furnished living units located in 15 cities and six countries across Europe, in a service aimed at young professionals who move cities and jobs frequently. The business has already snapped up competitors Quarters, GoLiving and Erasmo's Room, and plans to expand into France, Italy and Asia with the influx of capital.
Millennial-focused slow lifestyle magazine Kinfolk has launched Kindling, a spinoff publication targeting parents. According to AIGA Eye on Design, the new magazine forgoes polished, aspirational lifestyle content for a casual aesthetic modeled after children's workbooks and scientific journals. Populated with playful illustrations and bold colors, the title's inaugural issue covers topics like the role of minimalism in children's decor and features a roundup of products a family should bring on a staycation.
The International Interior Design Association's New York chapter has announced its partnership with the newly formed Equity Council. The independent consortium of designers and industry professionals aims to enact change in the industry through four key workplace pillars—promoting cultures of inclusion, increased racial diversity, education and communication. Founded in 2020 by industry leaders Yetta Banks, Hana Getachew, Erin Ruby and Elsie St. Léger, the organization collaborated with consulting group Racial Equity Partners to put together an assessment on current industry efforts toward racial equity along with an annual reporting process to measure progress. To take part in actionable goals set forth by the group, industry professionals can sign the group's Design Industry Pledge, which will be unveiled after a June 22 launch and virtual panel discussion.
For Google's second annual International Small Business Week event, the search giant is rolling out a series of free offerings designed to help business owners leverage its services, Inc. reports. Among the new features are new video ad campaign tools on YouTube; a point-of-sale system add-on called Pointy, which displays in-store product inventory online for free; and increased search and map functionalities allowing businesses to list more specific services like digital menus.
According to a new study by Formica Corporation, 93 percent of interior designers found that homeowners confuse key differences in surfacing materials used in their kitchens and bathrooms. The report sought to understand consumer knowledge around the differences between laminate, granite, marble, quartz and other surface materials, and found that 85 percent of homeowners say it would be useful to have a nonporous countertop material, yet 42 percent consider granite as their top choice material and 27 percent favor marble (both porous materials.) Despite the misinformation, the renovation boom isn't stalling—according to the report, 71 percent of consumers are planning home improvement projects within the next year.
Launches and Collaborations
Designer Sasha Bikoff, in partnership with design studio and foundry SA Baxter, has launched a collection of hardware modeled after fossilized shark teeth. The new line consists of a doorknob, pocket pull, cabinet knob and door knocker, among other items, available in a blue-green patina, matte black bronze and polished chrome.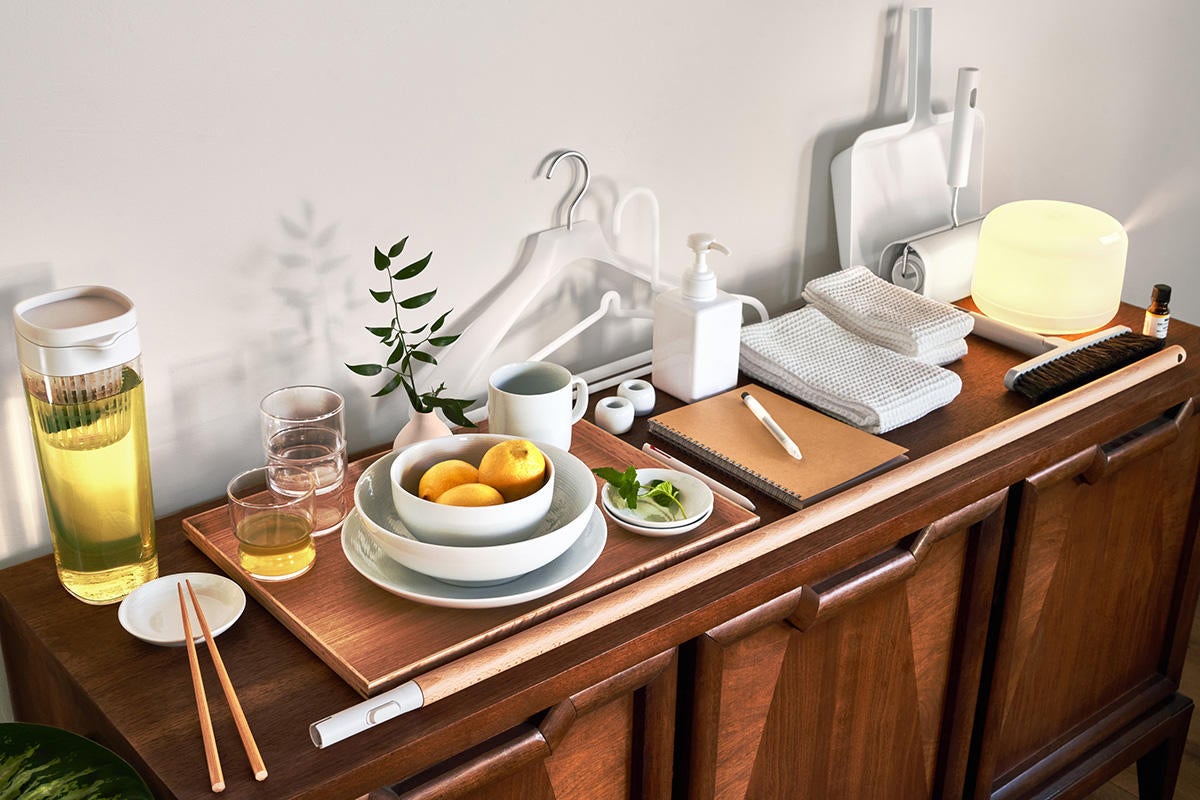 Japanese retailer Muji has partnered with Airbnb for a curated kit of products geared towards hosts on the home rental platform. Each package features 23 different items from the brand—including dishware, bath products, an aroma diffuser, cleaning tools and stationery—and is designed to accommodate up to two guests.
Mainly Baskets Home has debuted its second line created in collaboration with Nashville, Tennessee–based designer Sarah Bartholomew. The Garden Collection comprises handwoven furniture and accessories crafted in a nod to the Orangeries of the 17th and 18th centuries, featuring a trellis motif often found in French gardens.
Longaberger has launched a collaboration paying homage to the American painter and illustrator Norman Rockwell. The new series of baskets borrows color and detail from the artist's works, in particular the paintings Mother and Daughter Singing in Church and Mending the Flag.
Recommended Reading
The quilt motif, a symbol of rural Americana, first made its transition to the outside of a barn in 2001 following a public art project in Ohio, the New York Times reports. Since then, it's become a phenomenon across the Midwest—more than 16,000 known buildings are now externally adorned with barn quilt art. Homeowners and local art groups have also coordinated their efforts to form more than 300 organized trails designated by the symbol, enticing tourists and road trippers to venture into less-trodden local communities.
Tent rental business Shelter Co. took on an unexpected new client last year when tech giant Google tapped the company to help create its outdoor offices. Previously accustomed to outfitting weddings and corporate retreats, Fast Company reports, Shelter Co. abruptly took on the challenge of reimagining workplace design alongside one of the biggest companies in the world.
Cue the Applause
The American Society of Interior Designers has recognized the recipients of its 2021 National Honors. The organization has granted the Lifetime Award to Suza Cree and Marilyn Akins; the Industry Partner Merit Award to Karen Lerman of Kravet; the Chapter Community Service Award to the ASID Texas Chapter for its work with Salvation Army Austin Area Command; and the Medalist Award to honorees Dana Nunn, Lynn Vogeltanz, Emmy Knott Williams, Ariel Cox and Victoria Reitz.
Hartmann & Forbes, a maker of natural window coverings, wallcoverings and textiles, has earned a number-six spot on Oregon Business magazine's 2021 list of 100 Best Green Workplaces in Oregon for the company's ninth consecutive year. Along with crafting products made of natural fibers such as ramie, water hyacinth and abaca fibers for a smaller environmental footprint, the company started Project Green in 2005 to promote the use of sustainable practices in the workplace.
The National Kitchen & Bath Association has announced California-based interior designer and retailer Jeanne Chung as the newest member of its Global Connect Advisor team. As an industry leader and influencer, Chung is known for leading design firm and corresponding blog Cozy Stylish Chic, as well as operating a retail and trade showroom in Pasadena. In 2021, the designer will also open co-working space and resource library Designer Domicile as an extension of her showroom.
Call for Entries
Instagram has partnered with the Brooklyn Museum for the launch of the #BlackDesignVisionaries program. The organization will award three $10,000 grants to aspiring Black designers between the ages of 18 and 30, along with one $100,000 grant to a small, Black-led design business less than 10 years into its practice. Applications close July 16; for more information click here.
Homepage image: The Garden Collection by Sarah Bartholomew for Mainly Baskets Home | Cat Maxwell