The path to sustainable business practices is littered with jargon. Terms like "circularity," "biophilia," "zero waste" and "carbon neutral" get tossed around like confetti these days, and it's not just consumers who are in danger of falling for "greenwashing" (itself lingo for branding something as sustainable without offering much proof). Designers and manufacturers alike are increasingly daunted by the lack of unified definitions for these practices. Mona Chun, the chief operating and sustainability officer at transforming furniture brand Mebl, recalls speaking with a colleague at another company who said she was encouraging her team to limit the use of the term "circularity," instead focusing on the practices alone. "I think there's a fear that that word is just getting thrown around and is going to lose its meaning," says Chun.
That conversation prompted Chun and Mebl founder and CEO Michael Hirschhorn to collaborate with the Sustainable Furnishings Council and Soma Studio Milano on the Circular Design Glossary: Furniture & Furnishings, a first-of-its-kind digital publication that aims to improve the practical understanding of what it means to apply design concepts of the circular economy to the furniture sector. The glossary, which launches online today, highlights 43 approaches to sustainability, from biomimicry and life cycle considerations to social equity and even vegan design principles. The publication also spotlights furniture companies that are implementing these practices, from startup brands like Sabai and ZZ Driggs to industry heavy hitters like Williams-Sonoma, Room & Board and Ikea.
"The idea of adopting a shared language that crosses over from interior designers to suppliers to manufacturers and retailers is crucial," says Scarlette Tapp, executive director of SFC. "If we can all get on the same page about what these terms mean, it's going to definitely move the industry further down the line in terms of sustainability."
Hirschhorn says the goal is to demystify the circular economy—the concept of reusing, repairing or returning items at the end of their life cycle instead of simply discarding them. "I think we need to be showing practical examples of these ideas, as well as defining them," he says. Brands like Sabai, Floyd and even larger retailers like Pottery Barn and Ikea, for example, have begun incorporating take-back programs where they refurbish and resell used goods.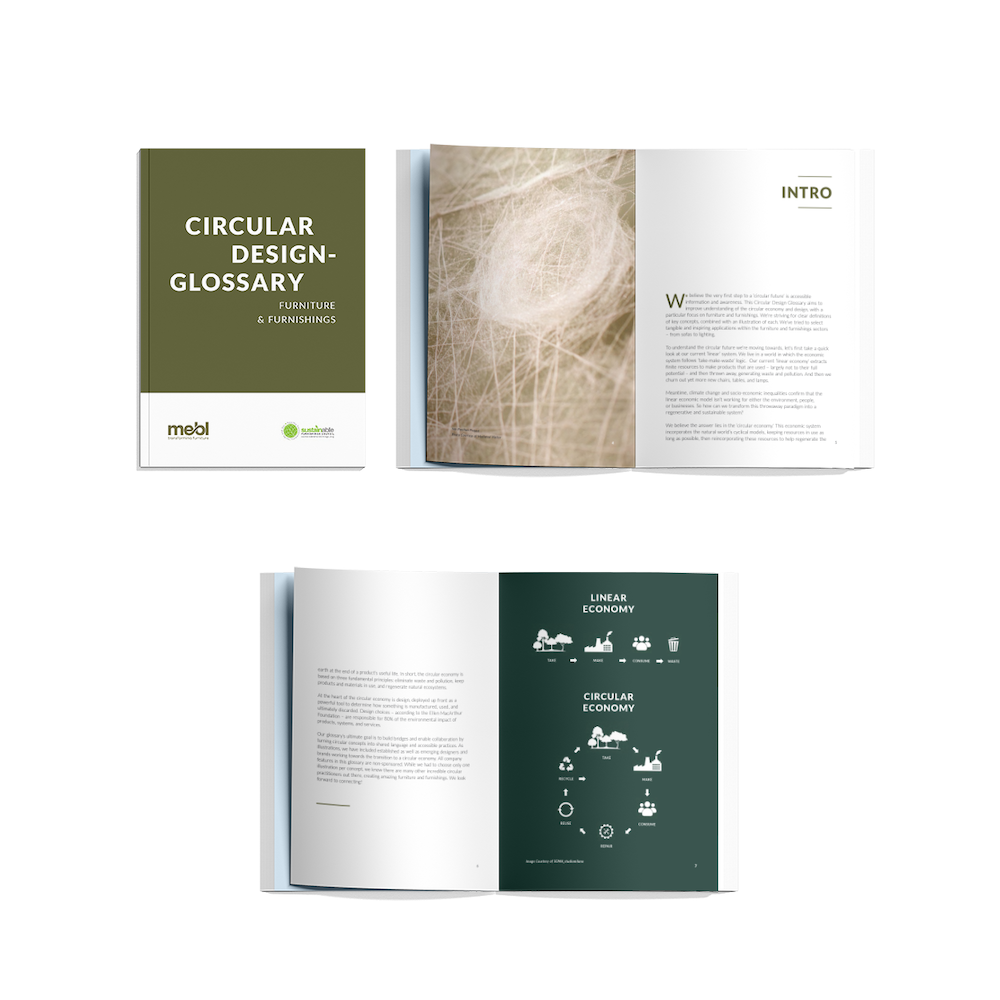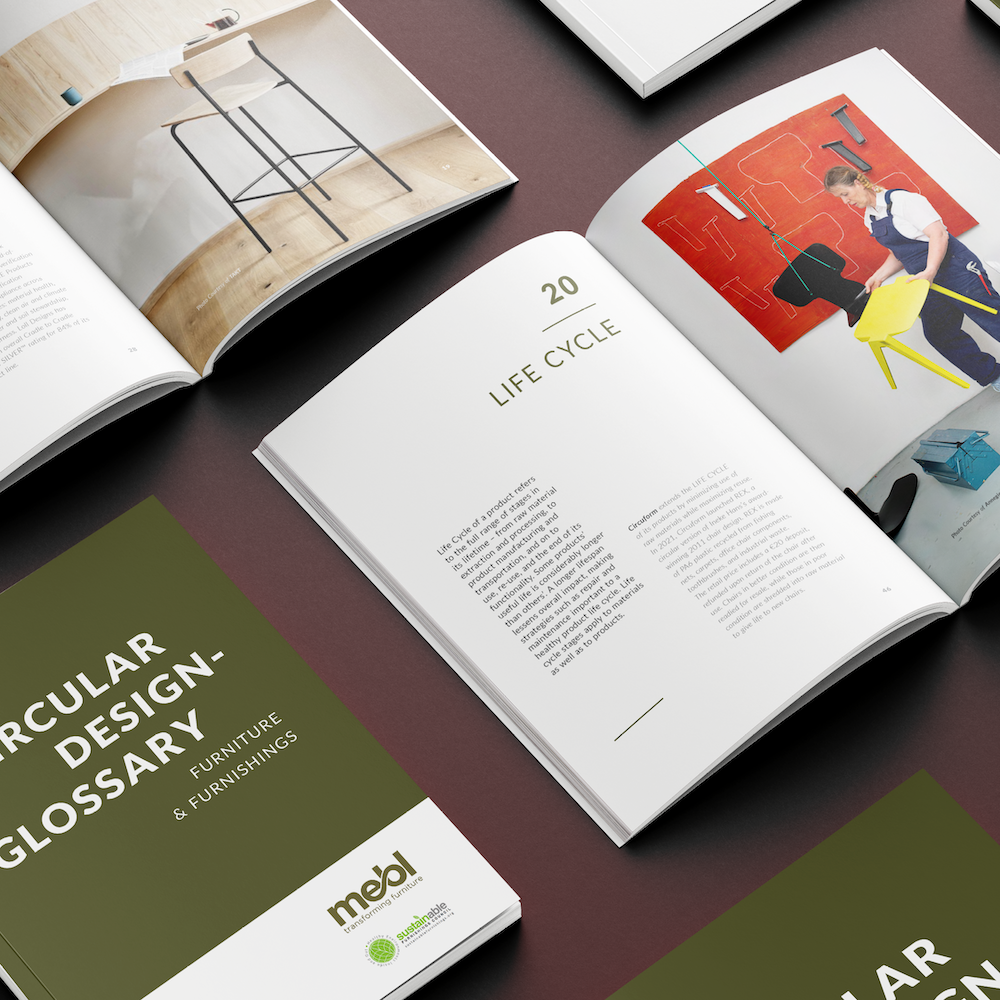 When crafting the glossary, Hirschhorn and his collaborators prioritized including beautiful product imagery from circular brands to show that sustainability doesn't equate to a lack of quality or aesthetics. "Going circular doesn't mean that furniture has to be crunchy granola," he says. "It can be state-of-the-art, high-end furniture. Some of the pieces that exemplify the terms in the glossary are $169 and some are $16,000—that is what we're trying to show, that this is applicable across the spectrum of the industry."
Another goal was to show that circularity doesn't have to be all-encompassing. While newer companies like startup Model No. were formed and launched around sustainable principles, it can be more difficult for behemoth legacy brands to correct course. But Hirschhorn hopes the glossary can demonstrate that even incremental change can make a difference.
For Tapp, one of the biggest surprises is how many companies in the furniture sector already operate with sustainable principles and simply aren't aware of it. "I was speaking to the owners of Abner Henry, and they've been making locally sourced furniture in Ohio for generations," she says. "That's how they've always run their business, but 'traceability'—knowing where your materials come from—is a component of circularity. They just hadn't been thinking of it in those terms."
Its creators hope that this inaugural guide (which was published without any sponsorships to maintain integrity and objectivity) can be a jumping-off point for an annual edition, updating and expanding the scope as the industry evolves. "There is a whole range of ways that people can apply the concepts outlined here, and we want companies, designers and manufacturers to be inspired to try one thing or share the glossary among their staff and talk about it, or send it to their suppliers or their consumers," says Chun. "They might discover that they're already doing some of these things and start highlighting that they follow these circular practices. They might join a community like the SFC, or they could advocate along with us. We hope many do."

Homepage image: An inside look at the circular design glossary | Courtesy of the Sustainable Furnishings Council