In our series, What I Love, we're asking designers to build us a mood board of what's inspiring them right now.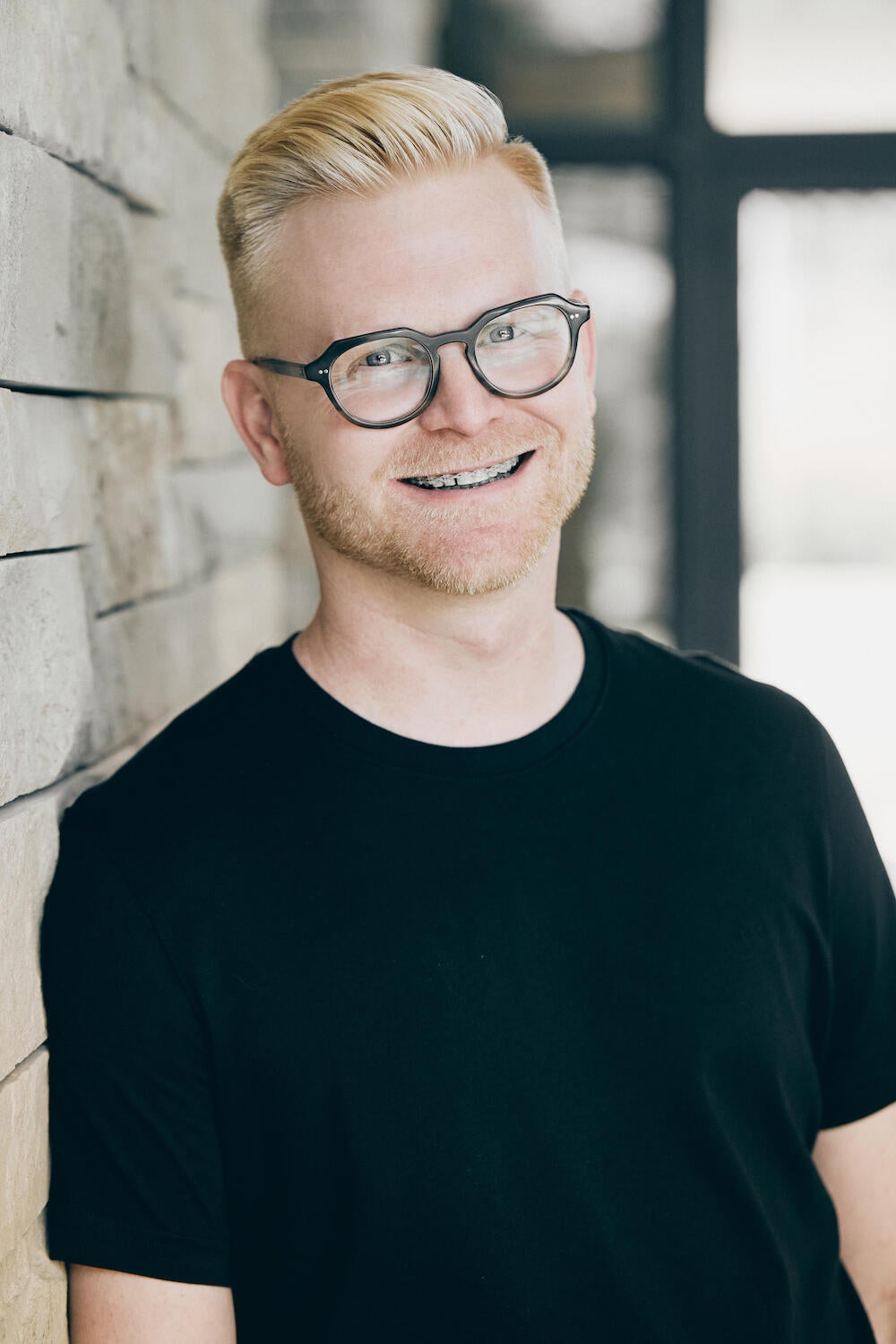 Bryan Yates believes that the best interiors tell a story about the people who reside in them. The Dallas-based designer behind Yates Desygn strives to create highly curated spaces that don't skimp on comfort or character. "Lately, [our team has] been inspired by rich earth tones that help us add warmth and contrast to our interiors," he tells Business of Home. "We are over the grays and whites; it's all about injecting color and personality into a timeless envelope."
His mood board—teeming with deep saturated hues and highly touchable finishes—is no exception. Yates says he designed the flat lay with craftsmanship and materiality in mind. "Every item has a hand-crafted element," he says of the scheme. "It feels luxurious yet livable."
A veritable range of tonal values and tactile textures is what ultimately draws the designer's scheme together. "We love spaces that continuously allow the eye to move and can be read as a whole," he says.
Here, Yates breaks down the details—from natural walnut swatches to gold marble mosaics.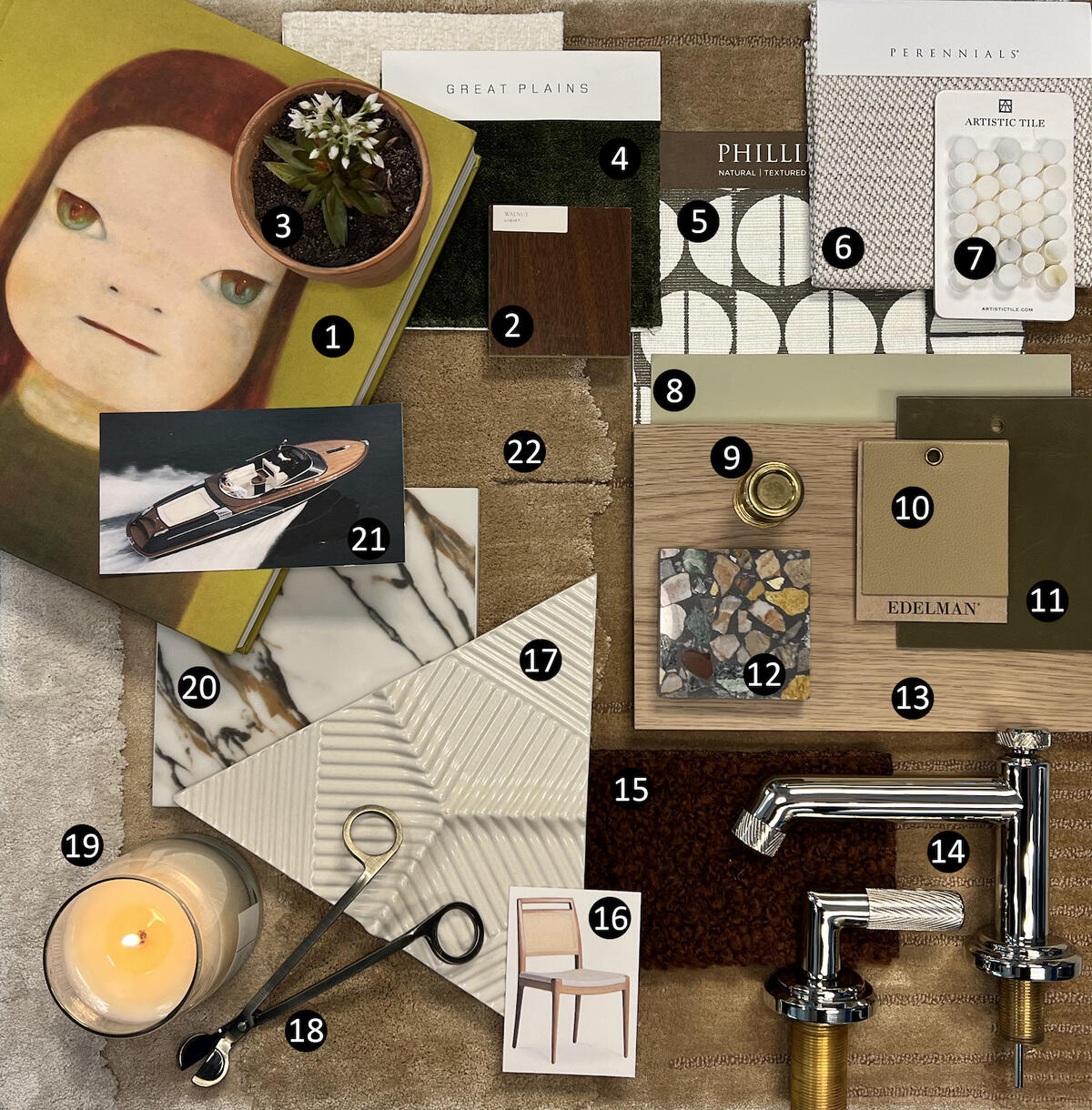 1. YOSHITOMO NARA HARDCOVER BOOK BY YEEWAN KOON
"Nara is one of my favorite Japanese artists. I love the playfulness and emotion in each piece."
2. NATURAL WALNUT SWATCH BY LAWSON-FENNING
"I love all the wood details from Lawson-Fenning, especially in walnut."
3. POTTED SUCCULENT PLANT
"Succulents are always a source of inspiration for me."
4. LUSH FABRIC IN PALM BY HOLLY HUNT
"The rich colors and textures of Holly Hunt fabrics elevate our projects and transmit luxury."
5. MODERN MOON WALLCOVERING IN DUSTY GREEN BY PHILLIP JEFFRIES
"We love to have fun with wallcoverings, and this paper brings pattern, texture and color to a contemporary space."
6. NIT WITTY FABRIC IN DOVE BY PERENNIALS
"Perennials fabric is always a go-to option for our clients. This pattern in particular is a nice neutral while still adding dimension to a space."
7. STUDS CALACATTA GOLD MARBLE MOSAIC BY ARTISTIC TILE
"A classic and timeless mosaic, but with a twist. The scale is perfection."
8. BALL GREEN NO. 75 PAINT BY FARROW & BALL
"This light olive green color is the ideal neutral."
9. RUTLAND CABINET KNOB WITH STEPPED ROSE IN UNLACQUERED BRASS BY CROFT
"This piece brings detail and dimension to a cabinet."
10. DREAM COW LEATHER IN ADOBE BY EDELMAN LEATHER
"This has a great natural texture. When it comes to Edelman, you can't go wrong."
11. HUE LEATHER IN TERRAPIN BY MAHARAM
"We are on team colored leather. This olive green is the new brown leather for a sofa or chair, in our opinion. We love the boldness it can bring to any space."
12. PORTLANDIA TERRAZZO MEZZO FIELD TILE IN CAPE BY WATERWORKS
"Can you say obsessed? It is everything I love—terrazzo and color!"
13. GENOA WHITE OAK FLOOR SAMPLE BY CRAFT ARTISAN WOOD FLOOR
"The wider the plank, the better. This color is a beautiful base for any space. This is an engineered hardwood floor, and we selected it because of the craftsmanship and the color consistency."
14. PINNA PALETTA SINK FAUCET BY LAURA KIRAR IN POLISHED NICKEL AT KALLISTA
"This fixture has elegance and refinement. We are always balancing feminine and masculine design."
15. SHAUN BOUCLE FABRIC IN TERRACOTTA BY LES CRÉATIONS DE LA MAISON AT CASTEL
"From the color to the texture and everything in between, there is nothing you can't love about this cozy and luxurious fabric."
16. ALANA CANED SIDE CHAIR BY DEIRDRE JORDAN AT TROSCAN
"The design and attention to detail are fantastic."
17. MODERN FIELD TILE IN RIBBED TRIANGLE BY MADE BY ANN SACKS
"This tile creates a unique three-dimensional backsplash."
18. WICK TRIMMER IN ANTIQUE BRASS BY WICKMAN
"A staple for any candle lover."
19. ENCENS 9 CLASSIC CANDLE BY LE LABO
"This is our favorite brand and smell."
20. CALACATTA LUXE CLASSTONE BY NEOLITH
"This stone brings a dramatic punch while also being an environmentally friendly solution for a manufactured product."
21. RUNABOUT MOTORBOAT
"Since I was a kid, I have been obsessed with this boat. Its luxurious architecture and craftsmanship is something that has brought me endless inspiration over the years."
22. ARIA FABRIC IN LIQUID GOLD BY PATTERSON FLYNN
"I love when we can blur the lines between landscape and interiors, and this does just that. This area rug plays off nature. It could be the color variation of gradient sand at the beach, a topography or even layers of sediment."
Homepage photo: A flat lay by Bryan Yates | Courtesy of Yates Desygn