Designer Brian Patrick Flynn had never been to Texas before, when a project took him to Dallas in 2018. He posted about his sojourn on Instagram, and who should comment on it but design and lifestyle guru Joanna Gaines. She and her husband, Chip Gaines, run their many business ventures from Waco, Texas, about two hours from Dallas, so Flynn messaged her, asking if she'd be interested in meeting up while he was in the area. "I wound up driving to Waco, and we talked for over an hour," he says. "She's one of those people who is exactly how she appears on television—charming and totally authentic. I already loved her from Fixer Upper, but meeting her, I fell in love with her all over again."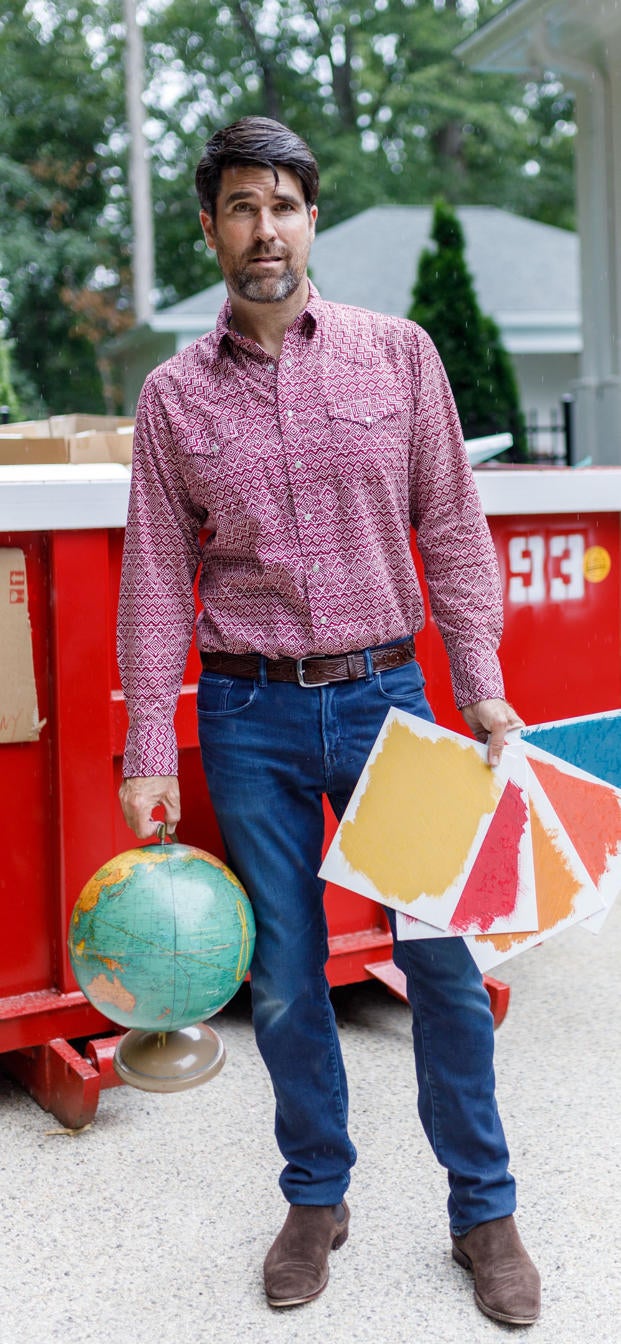 Magnolia Network/Tomas Espinoza
As the conversation was winding down, Gaines asked Flynn if he would be interested in working with her forthcoming TV network, Magnolia, on a show of his own. "As she told me more about what she wanted to do with the network and explained her vision for the programs, it came into focus for me, and I knew it would be a fit," says Flynn. His yet-to-be-titled show will premiere with the first slate of original programming when the Magnolia Network launches in spring 2021.
While he has been a regular on HGTV and TLC design makeover shows for over a decade, he has yet to star in his own show. "I never wanted to do a show that was just me redecorating houses," says Flynn, who went to film school and worked as a TV producer before getting started in design. "So, when I started working with Magnolia, we conceived something different and more challenging to capture, which is the day-to-day process of a self-taught designer."
The show will feature a docu-follow format, taking the viewer with Flynn as he goes through the design process with his clients. "I don't have any formal design training, so while there are days when I feel like an expert after 14 years, there are other days when I feel like an intern," he says. "For so long, I've been baffled about where I fit in the design industry. Am I high-end? Am I attainable? But, when you look at Joanna Gaines, every product that she rolls out, whether for Target or Anthropologie, it's both beautiful and affordable. I think we're both respected by our peers, but fit into a category of being relatable. We're trying to show that you don't have to be a multimillionaire to afford good design."
Flynn is intrigued by how differently designers approach a project, how some people plan out every last detail and others are really loose. "There's no one way to do things, and we hope to show that in an honest way," he says. He also wants to use the show to explore topics like product design and the realities and challenges of interiors photography.
While both Flynn and Gaines have a history with HGTV, Magnolia aims to set itself apart from the popular network by prioritizing authenticity and good stories. "In my opinion, the art of storytelling on TV has gotten lost," says Flynn. "It's so often just the same makeover format with different personalities attached. But there's something to be said for taking the time to show someone's process. I hope that will resonate with people."
Homepage photo: Magnolia Network/Tomas Espinoza