For design professionals, membership on the digital platform Material Bank is free. And for brands looking to massively expand their outreach and confidently outsource their sample distribution—so, all brands, basically—partnership with Material Bank pays for itself in spades.
"It's an amazing tool that gives us a competitive edge," says Nelson Goodman, chief development officer of TileBar in New York. His company is currently a brand partner of Material Bank, which has more than 450 brands on the platform today. "We've seen requests from samples increase dramatically; the return on investment is clear."
The premise is simple yet impactful: Brands that sign up with Material Bank get their products before the eyeballs of more than 90,000 design professionals who are sourcing materials for their commercial and residential projects. On the platform, individual pages catalog each company's identity, contact information and samples in one place. Design professionals can search by brand name, collection name or product category, and advanced filters—for everything from color and pattern to certificates, standards and price range—further narrow the field. TileBar currently offers 845 styles on Material Bank, samples of which can be in the hands of a designer, free of charge, by 10:30 a.m. the next day if they get their request in before midnight ET.
"Along with the efficient approach to sample order fulfillment and the greater awareness around our brand, the lead-generation aspect of the partnership is a big benefit," says Dean Lindsley, vice president of Wisconsin-based Pallas Textiles, which is now showcasing 125 fabrications on the platform. "The ability to advance those leads almost instantly, using the metrics Material Bank provides, and turn them into specific project opportunities within the precise window of time—there's enormous value in that."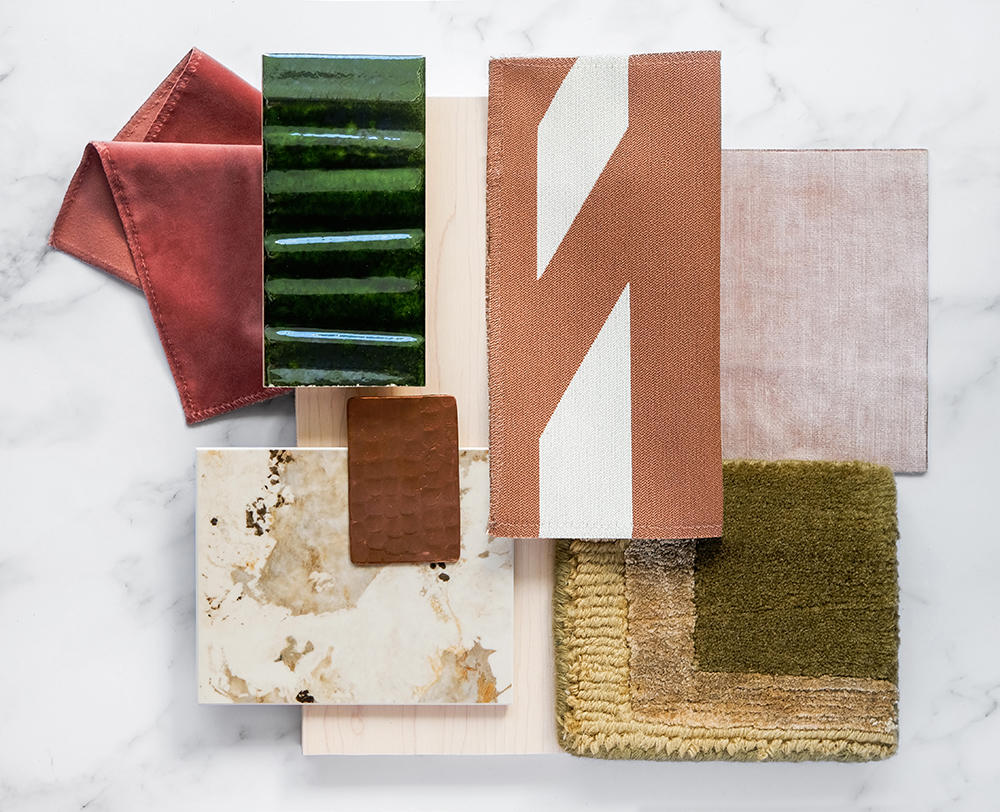 Courtesy of Material Bank
Then there are the analytics that Material Bank supplies to vendors. "The detail in the data analysis is extraordinary," says Goodman. "It tracks every single sample ordered, the design firm that ordered it, the related project name and type, how your business is performing in comparison to competitors and in particular regions of the country, and much more." Equipped with this knowledge, vendors have the ability to contact those designers directly to discuss whatever project it is they're working on, with the goal of transforming that initial sample request into a substantial commitment.
"Material Bank has helped remove some of those historical barriers, so connections can be more immediate and more collaborative," says Lindsley. "Designers see the advantage of engaging with our resources so we can assist them in their efforts." Due to the mutual accessibility Material Bank fosters between design pros and brand groups, Pallas's sales reps have had much more success establishing relationships with accounts that had previously been challenging to approach. They've also discovered and connected with new customers they didn't even know were considering them.
"The analytics also play a part in our product development," says Lindsley. Feedback about which color families or styles are performing well (and which aren't) "affirm, confirm or reaffirm strengths, weaknesses and gaps, allowing us to review our strategy and tweak [our assortment]," he says.
Lindsley describes the onboarding process with Material Bank as "efficient, effective and customer-focused." As more and more design pros join the service to enjoy the ease of receiving samples from a variety of new and favorite brands overnight, the number of product views will only continue to grow—and so will the number of participating vendors. "As a competitor, I would tell other brands to stay away!" says Goodman with a laugh, as if Material Bank were a secret he could keep to himself.
This story is a paid promotion and was created in partnership with Material Bank.
Homepage photo: The Material Bank platform and a box of samples from the company | Courtesy of Material Bank