"Ascension," presented by neo-conceptual artist Richard Humann, consists of 12 imaginary constellations located in the sky over the city of Venice. Viewable using the augmented reality app Membit, the installation is a reflection of a new constellation system, superimposed over the world's existing one.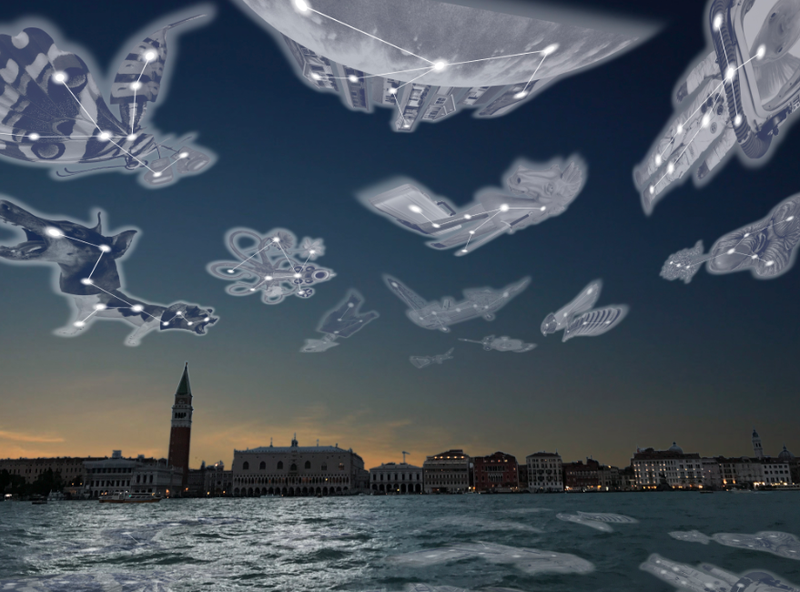 "The Hero with a Thousand Faces" by Joseph Campbell-inspired artist Humann, who created new constellations picturing 20th-century icons. 
Spark+ Art, which represents the installation, shares a glimpse into the mythology created by Humann: "The narrative begins with the two-headed dogs of war, 'The Great Wars,' that represent the two wars, WWI and WWII of the first half of the 20th century that shaped so much of what was to come. The world at war then gives way to the era of the 'Shining Suburb on the Hill,' which is the America of post-1945. We see the rise of 'The Blue Moon King,' represented in the form of a black and white bear that is Elvis Presley."
"Then comes 'The Gentle Beast' which is a whale-car hybrid spouting oil that opened up the vastness of America while making it smaller and more accessible to all at the same time. The bunny rabbit, dressed in royal attire, is 'The Tragic Queen' who is actually Marilyn Monroe. 'The White Knight' stands proudly with his sword by his side, and the nuclear briefcase by his feet. He is John F. Kennedy and is a man of peace who is prepared for battle, but it is during peacetime that he meets his end too soon."
Other icons and institutions present in the virtual constellations are Princess Diana, the Twin Towers, Steve Jobs, Muhammed Ali and a group of astronauts and the space program. 
The AR installation is location specific; installed at 13 different viewing spots throughout Venice. An Ascension constellation system artwork on canvas is now on view at Palazzo Mora, Strada Nova, 3659, 30121 Venezia, Italy.