Remember when buying furniture sight unseen online—not just lamps and ottomans, but capital F furniture like sofas and dining room tables—was considered a risk? Then came the pandemic.
"Prior to that, at least from a trade perspective, Article being a digitally native company and not having any showrooms was considered a roadblock," says Hayley Dyrndahl, B2B sales program manager for the brand. But with everything shut down, the playing field was leveled. No one had any showrooms, leaving consumers and designers alike to scour the web for home goods. Article was well prepared. While many in the industry scrambled to get e-commerce operations up to speed, Article had already sold and shipped almost a million items online by the time pandemic lockdowns set in, and its site, first launched in 2013, had been honed over time into a sleek, convenient tool.
"Designers realized they were going to have to change how they shopped for furniture," says Dyrndahl. "In the process, many looked to see who had an established online presence." Article did.
Philadelphia designer Annmarie Naples, who first stumbled across the company about five years ago while looking for a sofa online, was ahead of the curve. After taking a chance on Article's signature Sven sofa, she's had "one good experience after another" as a partner in its trade program ever since. Today, Naples counts on Article for Trade to help furnish both residential and commercial projects, most recently using the brand to complete a client's rental property in Vermont. "Every single room in that house is Article-centric," she says. "The most common feedback on Airbnb is, 'I want to own everything here. Where did this stuff come from?'"
Founded in 2011 in Vancouver, Canada, Article designs, manufactures and delivers distinctive furniture with widespread appeal. The brand has become known for its modernized midcentury pieces made from natural materials like leather, marble and oak. The very first item the company sold back in 2013 was its Sven sofa; since then, the company has sold more than 120,000 Svens. With Article for Trade, designers can enjoy the same convenience of e-commerce as well as the company's signature customer service.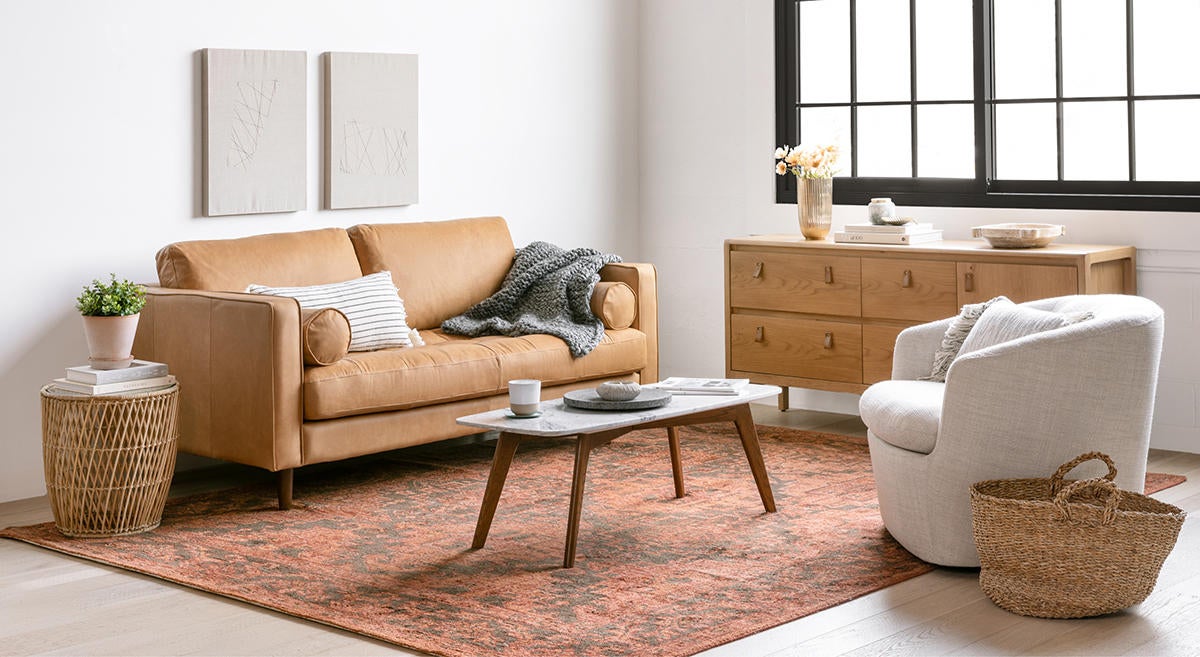 One of the trade program's prime benefits is its flat-rate shipping fees: $49 for a door drop; $169 for assembly onsite. "Whether you've placed a $5,000 order or a $25,000 order, that price stays the same," she adds. Another is the discount on spend, which can be as significant as 15 percent.
Those perks make a difference. "It makes Article products a very easy sell," says Naples. She cites the Nova, Lubek and Divan sectionals, Hira rug and Caliper bookshelf among her go-tos and is especially impressed by the durability of the brand's outdoor collection.
Article's digital-first approach made it a handy resource for designers during COVID's showroom shutdown. The brand has also taken steps to roll with another pandemic side effect: supply chain snarls. In 2020, to help supervise and further streamline product development in China, Malaysia and Vietnam, where the company manufactures its furniture, Article opened its first satellite office in Ho Chi Minh City. Dyrndahl credits having "boots on the ground" overseas as one of the principal reasons the brand has been able to keep products in stock stateside.
To fulfill orders quickly, Article for Trade employs a three-pronged strategy. First, it deeply stockpiles product across a network of warehouses—the company has a combined 1,800,000 square feet of storage space. Second, it localizes Article Delivery Teams (ADTs) throughout the United States and parts of Canada who can move product pretty much anywhere at a moment's notice. And third, it assigns each individual project a dedicated service professional who will see it through from purchase order to installation.
"We aim to have all items available at any given time, with a quick turnaround for what's in stock," says Dyrndahl of this all-hands approach. Need to be sure? Article's site allows designers to cross-check by item, zip code, stock status and ETA. Trade partners can also instantly generate a quote based on the contents of their shopping cart. Eight warehouses, from New Jersey to Florida to Washington, serve 12 major cities. "We'll hold an order if a client is not quite ready to receive it. We'll consolidate a ship list from separate warehouses. We'll expedite delivery if that's what needs to be done. We're here every step of the way," adds Dyrndahl.
When the occasional snafu does occur, the designated trade support liaison steps up to resolve it. "Even as we've scaled, we've made sure that the account managers remain an end-to-end solution for our trade partners, assisting not only with the spec'ing process at the start but all the way through to delivery check-ins," says Dyrndahl. Such personalized support eliminates the frustration of dealing with an anonymous customer service rep who's clueless about the details of a project—or the all-too-common problem of getting no status updates at all. "That's an experience we never want our partners to have," she says. "Article prides itself on being transparent and proactive with designers and consumers alike."
"Article for Trade's customer service is second to none. Like, to none," says Naples. Her home city of Philadelphia, with its narrow rowhouses, gritty industrial lofts and labyrinthine street parking laws, provides no shortage of challenges, but she says that Article for Trade's "white-glove" team has been up to any task: "No problem is too small. They respond to feedback. And they answer their phones! In this day and age, you can't put a price on that."
This story is a paid promotion and was created in partnership with Article.
Homepage image: The Svelti dining set | Courtesy of Article