Recipients of Las Vegas Market's seventh annual Global Goodness Awards were announced earlier this month. The awards, which recognize furniture, home decor and gift companies for their environmentally friendly, sustainable and socially responsible initiatives, will be given to Arcadia Home, Home Trends & Design (HTD), Pebble and Yumajai.
"Las Vegas Market buyers and exhibitors are extremely conscious of the ongoing impact that their purchasing and manufacturing decisions have on the overall health of the global environment, and they are seeking products and solutions that make a positive difference in the world around us," says Esther Ossei-Anto, marketing manager of the International Market Centers.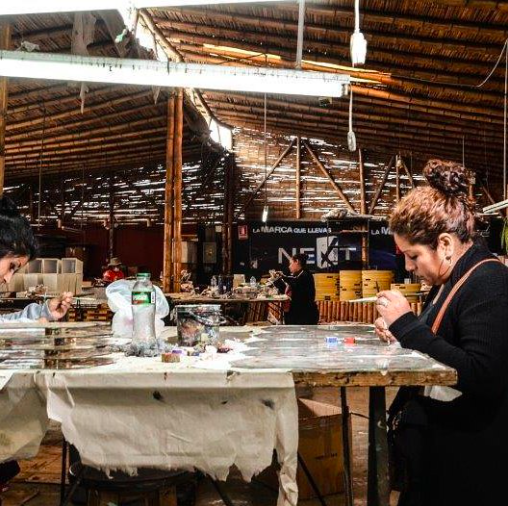 Austin, Texas–based solid wood home goods manufacturer Home Trends & Design (HTD) earns top honors in the Furniture category. Among HTD's many ecologically responsible credits is its use of mango wood, a sustainable hardwood that's harvested from mature trees that are no longer able to produce fruit. The solid wood furniture, industrial accents, upholstery and lighting manufacturer is also a founding member of the Sustainable Furnishings Council and the Mango Foundation.
Receiving the Home Decor honor is Brooklyn-based Arcadia Home, which employs artisans in Peru and India to handcraft its eco-friendly home and holiday decor. A member of the Alliance for Artisan Enterprise, Arcadia Home works to preserve traditional art techniques, foster steady employment and viable conditions for artisans around the world, as well as designing with environmentally friendly materials like natural fibers and recycles resources.
Handmade and Fair Trade Children's accessory brand Pebble is recognized for the Gifts category, while Colombian fashion house Yumajai earns the People's Choice Award.
A record number of applicants were reviewed by the Global Goodness judging panel of industry sustainability experts, featuring Colvin English of ByHand Consulting, Susan Inglis of the Sustainable Furnishings Council, and Maud Obe of Aid to Artisans. Socially responsible efforts have long been a focus of Las Vegas Market, which hosts pavilion showcases concentrated on artisanal products and their makers.
"As the leading furniture, home decor and gift destination in the western United States, Las Vegas Market is proud to demonstrate a continued commitment to recognizing social responsibility, sustainability and corporate good citizenship with the annual Global Goodness Awards," says Ossei-Anto.
The 2018 Global Goodness Awards will be presented during the Winter Las Vegas Market, which runs until February 1.