This week in design, the most extreme holiday home decorators are taking a rest after filling every inch of their home with festive decor. Stay in the know with our weekly roundup of headlines, launches, events, recommended reading and more.
Business News
The Stop Tip-overs of Unstable, Risky Dressers on Youth Act (or STURDY) was officially signed into law, Furniture Today reports, as part of the $1.7 trillion fiscal 2023 spending bill passed by Congress and signed by President Joe Biden on December 23. The legislation's passage marks a win for the American Home Furnishings Alliance, which favored STURDY over the Consumer Product Safety Commission's tip-over standard set to take effect May 24, 2023. (Now, STURDY will supersede this rule.) For certain furniture industry groups and producers, the news is the latest installment in a yearslong battle over safety standards—read BOH's deep dive into the issue here.
More than a year after filing for Chapter 11 bankruptcy, ABC Carpet & Home has returned as a digital-first furniture and home decor brand. As Modern Retail reports, the company's September 2021 takeover by investment fund 888 Capital Ventures has led to a new business model for the nearly 125-year-old New York–based retailer. Instead of bringing in a majority of revenue from its flagship Manhattan store, ABC aims to eventually draw half of revenue from its overhauled e-commerce site while using its recently redesigned retail presence as a marketplacelike showroom. Along with a new digital marketing strategy, ABC is also rolling out buzzy collaborations with Stark Carpet, actress Sienna Miller and the American Ballet Theatre. So far, the new approach shows promise: The company's relaunched e-commerce channel saw a 157 percent year-over-year increase in sales this past Cyber Monday.
With interest rates at record highs in the U.S., Americans are capitalizing on the newfound strength of the dollar by taking their search for second homes abroad—specifically, to Italy's wine country. According to The Wall Street Journal, real estate agencies in the Piedmont region in Italy are reporting an influx of Americans over the past two years into an area that was previously populated mainly by Northern Europeans and Italians from nearby Milan and Turin.
The Canadian specialty retailer Sleep Country Canada Holdings Inc. acquired direct-to-consumer sleep brand and fellow Canadian company Silk & Snow in a $24 million deal expected to close January 1, Furniture Today reports. Following the purchase, Silk & Snow will continue to operate as an independent entity led by CEO Albert Chow and COO Kenneth Mo, who will both join Sleep Country's leadership team. Launched from a Kickstarter campaign in 2017, Silk & Snow has grown from offering a single memory foam mattress to a selection of mattresses, furniture, bed essentials and bath products.
Builder confidence in the market for newly constructed single-family homes dropped two points in December, according to the National Association of Home Builders/Wells Fargo Housing Market Index—marking the 12th straight monthly decline in 2022. The metric is at its lowest since mid-2012, except for the initially low numbers seen at the pandemic's onset in spring 2020. According to the report, construction costs are up more than 30 percent since inflation began rising at the beginning of the year, making it harder for builders to keep housing affordable for buyers. According to NAHB's chief economist Robert Dietz, the silver lining to this month's reading is that it was the smallest decrease over the past six months, indicating a possible slowing in the market's downturn.
Launches & Collaborations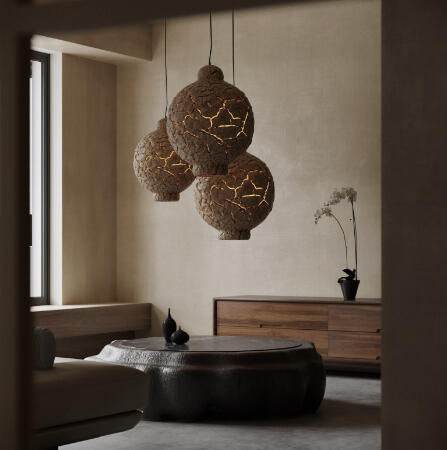 Courtesy of Makhno Studio
Ukrainian design house Makhno Studio introduced a new lamp collection inspired by the country's strength and resilience in the face of ongoing conflict. Each lamp in the Bavovna collection is designed to look like a piece of cotton (known as a "bavovna")—a term indicating weakness and used by Ukrainians to mock the Russian press's attempts to diminish attacks in occupied territories. Each piece is also finished with gold and copper detailing, aimed to replicate the spark that occurs just before an explosion with the goal of empowering Ukrainians and their supporters abroad.
French furniture company Ligne Roset has partnered with biotechnology producer MycoWorks to incorporate the company's trademark mushroom leather into a new line of pillows made from Reishi, MycoWorks's flagship fungi material, with more pieces set to roll out in the coming months.
Recommended Reading
What do cigarettes, the Galápagos Islands and former President Barack Obama have in common? They can all be found in candle form today—and it appears that consumer demand is driving the trend. Searches for candles in general are up 80 percent on Etsy in the past 12 months, while sales for candles over $75 rose by 26 percent this year compared to last, which begs the question: Where is the current craze coming from? For The New York Times, Anna Kodé delves into the mix of factors that contributed to the growing popularity of candles—including a rise in the usage of social media and e-commerce platforms empowering independent makers, and a need for solace in the wake of social isolation and loss brought on by the pandemic.

Certain homes featured on film and television leave a lasting impression on viewers: Carrie Bradshaw's Sex and the City apartment, the Moulin Rouge! boudoir and the stately Home Alone house, to name a few. As part of promotional efforts for movie remakes and anniversaries, it is now possible to step inside those iconic spaces (sometimes the original, sometimes a re-creation)—if you are lucky enough to nab an exclusive stay offered through Airbnb. For Dwell, Abby Carney peeks behind the curtain of the new program promoting these homes, asking guests whether the spaces lived up to the big-screen hype.
Homepage image: ABC Carpet & Home has returned as a digital-first furniture and home decor brand. | Courtesy of ABC Carpet & Home