The Sustainable Furnishings Council, which celebrated its 10th anniversary in 2016, has a mission of helping customers to find healthy furnishings and companies to reduce their environmental footprint. Susan Inglis, SFC's executive director and a co-founder—also the founder-owner of From The Mountain, a company that imports hand-spun cashmere yarn from Afghanistan and provides income for 100-plus Afghani women in the process—sat down with EAL to share with interior designers a glimpse into the organization and how they can get involved.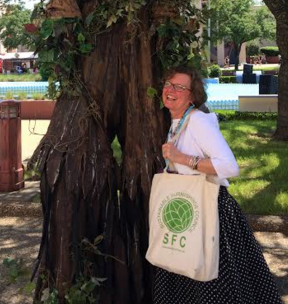 For the uninitiated, how would you describe the mission of SFC? 
SFC's mission is to help companies reduce environmental footprint, and to help shoppers find the furnishings they want. We are pleased to do this by providing both consumers and industry professionals with guidance and resources, including robust educational programming.
How would you describe the typical SFC designer-member? 
An SFC designer has gone to the trouble to ask, "What's it made of?" and has otherwise screened the companies he or she sources from to know that they are not only offering beautiful and functional products but are also doing their part to ensure a healthy future for everyone, avoiding unsustainable content like harmful chemical inputs, and are making every effort to reduce energy consumption. This designer is prepared and eager to respond to consumer concerns about the environments he or she is creating in their home.
What's on the SFC's schedule this year? What are some ways designers can get involved? 
SFC is very excited about our new "What's it made of?" initiative, and we invite designers to take the Pledge to ask…. The goal is to encourage companies to avoid the hazardous chemicals that are most often found in furnishings products: flame-retardant chemicals, VOCs, including formaldehyde, PVC (often known as vinyl), fluorinated stain treatments, and antimicrobials. We are also excited about our new and improved GREENleaders class—we are teaching it online, and also have classes scheduled at Las Vegas Market (January 25), in Portland, Oregon (March 9) and in New York City (May 25).
Another material-based initiative we have going on this year is our Wood Scorecard Project with World Wildlife Fund, which will result in a ranking of performance among the larger furniture companies in our industry. This is particularly significant since we are a relatively small and fragmented industry, making it, unfortunately, easy to hide illegally harvested wood. Finally, I want to mention our #GetYourGreenOn interior design competition.  
We will be announcing the 2017 contest on January 22 at our panel discussion with the 2016 winners. In 2017, we are adding to the project requirements and tying to our "What's it made of?" initiative. We think it will be even more fun than last year, and will make a greater difference—we are excited to build on what we have already accomplished, in this competition, in our educational programming, and in the way we grow membership. We also have a new Members Only portal on our website, with a rich variety of resources for designers.