A recent Houzz report surveyed home renovation firms in the U.S.—including architects, interior designers, general contractors and remodelers, design-build firms, building and renovation specialty firms, landscape and outdoor specialty firms, and decorating specialty firms. Run over December 2017 and January 2018, the goal was to both provide an outlook on this year as well as review last year's performance among design industry pros who use the Houzz platform.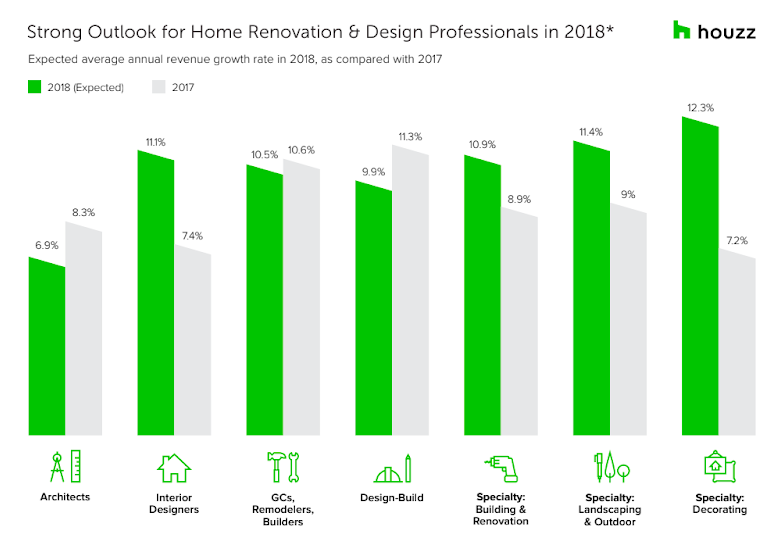 "The residential renovation and design industry continues to build on the robust growth of the past four years. Average revenue growth rates hovered around 10 percent annually, with performance exceeding expectations for most firms, and at least one-fifth of businesses hiring more workers each year," says Nino Sitchinava, principal economist at Houzz.
"With market fundamentals aligned in favor of the home improvement industry, 2018 is set to be another great year," she continues. "That said, businesses are cautious about tightening local labor markets that may hamper growth in many regions, and apparent economic uncertainty on a national level."
Read on for the top takeaways for 2018:
1. A positive outlook: The report says its poll respondents are "bullish on 2018," noting that the great majority "have a positive outlook for 2018 (71 to 88 percent)." Construction-focused and outdoor industry groups are "particularly optimistic, with 36 to 44 percent having 'very good' outlook for the year. Companies across industry groups also anticipate demand for their services to improve (65 to 70 percent) and expect an average revenue rate of growth of seven to 12 percent in 2018."
2. A rise in business costs: Houzz found that, while the availability of products and materials is expected to remain stable this year, according to two-thirds of companies across industry groups, half of these expect the costs of products and materials to rise. "Between increases in the costs of labor and costs of products and materials," notes the report, "it is not surprising that many companies expect the overall costs of doing business to continue to increase in 2018."
3. A drop in available labor: Both labor availability and labor costs are expected to worsen, according to certain contingents of Houzz respondents (27 to 53 percent and 36 to 57 percent, respectively).
4. An uncertain economy: Among those polled, 25 to 38 percent of companies in each industry group are hopeful that the national economy will improve, while a "meaningful" number of 12 to 28 percent expect that economic conditions will deteriorate.
Among the year-in-review findings from 2017, the report found that the majority of firms surveyed reported positive results last year, with three out of five showing revenue increases. It also found that there was accelerated average annual revenue growth rates among architects, general contractors and design-build companies.