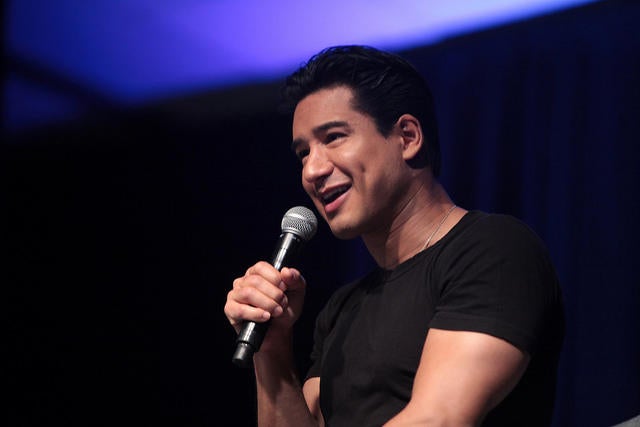 Lopez Wong, a fitness expert and children's book author, lives in the Bellaire home with her husband, fitness expert and former NFL player Kailee Wong, and their four children.
The second-floor garage addition, which houses a dance and fitness studio, spans 492 square feet and includes a large mirror, fitness wall panels and a beam that serves as an anchor for aerial yoga. The space also includes a lounge area, a meditation room, a kitchenette and en suite bathroom. Among the other features are printed, vinyl wallpaper ("I knew that space would be taking a beating with fingerprints and scuff marks," Aplanalp-Yates told Houzz); drop pendant lights, "fluffy pillows" and layered rugs; and a storage cabinet equipped with a motorized TV system that can easily conceal the TV.
"Home for me is a place of solace and peace, somewhere that's purpose is tranquility and zen-like," Lopez says in the episode. "A place that I don't ever want to be away from for too long."

Watch as Lopez surprises his sister with a renovation for her home.
Lopez isn't the first celebrity to be featured on the digital show. Other episodes this past season have featured Gordon Ramsay, who gives a chef a room makeover, and NFL player Clay Matthews. The series' previous seasons have spotlighted Ashton Kutcher, Mila Kunis and Kristen Bell, among others.