Maybe you heard the news? 2019 was a great year for stocks. The S&P 500, a widely followed temperature check on the overall market's health, rose 29 percent, its best return since 2013. Home retailers like Williams Sonoma, RH and even the beleaguered Bed Bath & Beyond did even better. But 2020 is a new year, and with January earnings starting to come in, it's a great time to take a look at what lies ahead.
Will Williams Sonoma keep up the momentum?
Last year, shares of Williams Sonoma rose 51 percent, largely driven by performances from West Elm and Pottery Barn. West Elm in particular was a big winner—comparable store sales rose 14 percent in the third quarter of 2019. The stock, currently trading around $76 a share, is just a couple of points away from its all-time high set back in 2015.
Laura Alber, the company's president and CEO, is winning praise from investors for continuing to successfully navigate a difficult climate for retail. A challenge for 2020 will be getting the right assortment in place for Williams Sonoma Home and reducing the brand's reliance on sales and promotions to move product.
Can Waterworks play a role in RH's success story?
It shouldn't come as any surprise to readers of this column that RH outperformed the market last year. The company's shares rose more than 81 percent in 2019, as it continued its transformation into a global luxury brand. The stock is currently trading at around $220 a share, slightly off the record high of $241.97 set in December, but still riding a strong uptrend. A quick reality check: RH stock has risen nearly 1,000 percent since 2017. Wall Street is feeling CEO Gary Friedman.
This year, we can expect to see the opening of five new RH galleries around the country, as well as the long-awaited Guesthouse at 55 Gansevoort Street in New York City. Their performance will likely play a role in the company's stock performance in the coming year. Friedman has already proven himself a master of retail. Can he add hotelier to his resume in the months ahead?
Another question: Will this be the year that Waterworks, the luxury bath and kitchen brand RH acquired back in 2016, gets cozier with its parent company? At present, a search for Waterworks on the RH site brings up no results, not even a link to the brand's stand-alone site.
Friedman suggested in December, on his last call of the year with analysts, that it was finally time to bring Waterworks more into the RH assortment: "We believe it's the right time to begin to integrate that business onto our platform and amplify that business onto our platform—we think it's the best brand in the industry and we think it will render the RH brand more valuable." Stay tuned.
Bed Bath & Beyond got a mini bounce. Will it last?
The good news: Bed Bath & Beyond's shares soared 52 percent in 2019. The bad news: It was starting from a beaten-down price of $11, way down from the dizzying highs of $75 in 2015. The cause of the bump? An outside investor finally forced the company's founders to retire from the board and a search was initiated for a new CEO. In November of last year, Target's former chief merchandising officer, Mark Tritton, became president and CEO. He moved swiftly to make changes, announcing the departure of six members of the executive team within weeks of his arrival.
There was nothing Tritton could do, however, to improve the company's third quarter results, and they were miserable. Bed Bath & Beyond reported its second quarterly loss in its history, losing 38 cents a share, as same-store sales declined by 8.3 percent. Shares fell nearly 20 percent on the news. Tritton announced the company would no longer be providing forward earnings guidance until a turnaround plan is officially announced in the spring.
Investors had been encouraged by the company's announcement earlier this month that it had sold much of its real estate holdings. Bed Bath & Beyond entered into a sale-leaseback transaction with an affiliate of Oak Street Real Estate Capital, signing long-term leases for the stores and office space covered by the agreement. The deal will generate $250 million in net proceeds for the company.
Can Pier 1 avoid chapter 11?
The holiday shopping season turned out to be disappointing for many leading retailers, and the announcement of continued store closings will again be a major theme in 2020. Already Pier 1 has revealed that it will close 450 of its 925 locations after a dismal third quarter saw sales decline by over 13 percent. With Pier 1 shares now trading at around $4 a share and the company cutting the staff at its corporate headquarters by 40 percent, many wonder if bankruptcy can be forestalled much longer.
The big picture
The major stock market indexes are extended from their long-term trends as we go into 2020, so a meaningful pullback of some sort is likely coming soon. This time last year, traders were worried about an imminent recession, but those fears seem to have dissipated as the economy continues to defy historic norms. Still, one indicator worth keeping an eye on is the price of gold, which has climbed 20 percent since May. Often, such a move in gold suggests traders are uneasy about the current climate and are moving to diversify their assets ahead of a negative surprise. For the sake of a highly fragile retail landscape, let's hope they're wrong.
____________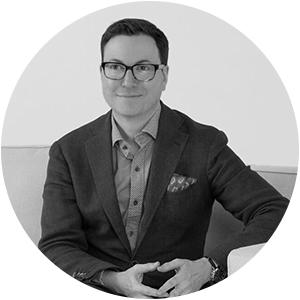 Dennis Scully is the host of the weekly BOH podcast, where he explores the changes and challenges facing the interior design community through interviews with industry thought leaders, entrepreneurs and creatives. Scully was previously a business development consultant for major trade brands, and has held sales and marketing roles at Domino, Waterworks and Twill Textiles. In his Market Watch columns, Scully calls upon his background as an analyst and longtime securities trader as he explores the ins and outs of the home industry's publicly traded businesses.
Disclaimer: The author does not hold shares of the companies featured in this column at the time of the story's publication. The views, thoughts and opinions expressed here belong solely to the author, and do not necessarily reflect those of BOH. The material is for informational purposes only, and does not constitute any form of financial advice.
Homepage photo: Shutterstock.com