It's baa-aa-ck! This year's Kips Bay Decorator Show House has been transformed by trends that manifest throughout the 15,000-square-foot home at 110 East 76th Street, New York. Bringing us everything from ancient decorative accents (think: campaign tenting and Roman-inspired wallcoverings) to dramatic, statement-making bars, the designers have brought their A game to the space. Read on for our favorite trends at the showhouse—and soak in the glorious visual evidence.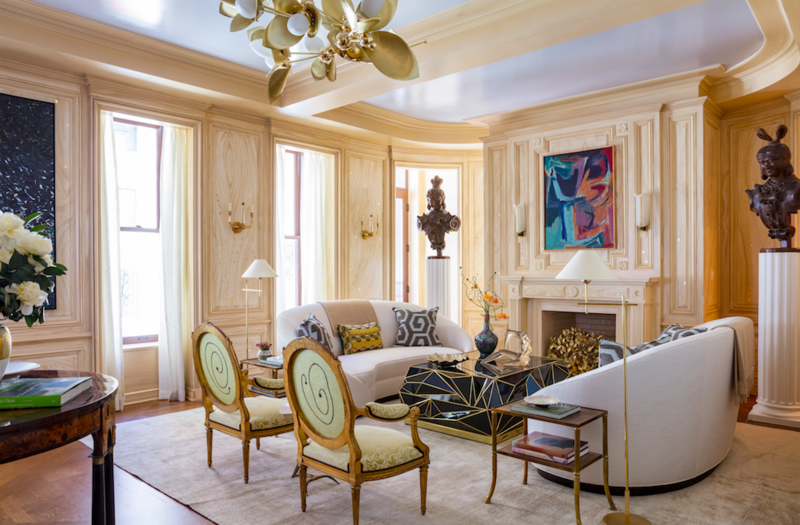 1. Good as Gold
All that glitters appears in various rooms throughout this year's showhouse. Bunny Williams set the trend with her "Gilded Knots" room, inspired by the designer's thesis: "Imagine that you have a very comfortable living room in a tree house, where you can look at the sky through gilded leaves and watch a spider make a giant cobweb." The space spotlights a large jeweled cobweb installation designed by Art Groove, woodwork painted by Bob Christian to look like wood grain with gold knots, and gold-flecked drapery.
"Laura's Bedroom," by Brian del Toro, spotlights a ceiling with a soft cork wallcovering with gold accents from Innovations, while Wesley Moon Inc.'s area, spanning a wet bar, butler's pantry and elevator landing, include a faint gold paper with a custom design by de Gournay. Then there are Drake|Anderson's salon, which features gilt-hued walls and bar-room ceilings designed with a grid-patterned gold, smoke and clear mirrors; Marcia Tucker's dressing room and master bathroom, which incorporates rose gold–finished fixtures from Kohler; and Michael Herold's foyer, adorned with gold leaf light fixtures.
2. Dancing on the [Canvas] Ceiling
Cue the Lionel Richie jam, because a select group of designers is bringing the party upward. There's the draped "tenting" of a bedroom vestibule from Mark D. Sikes, while a muraled campaign tent on a ceiling canvas completes Alexa Hampton's "Olympia Folly." Perhaps the most colorful of all is Barbara Ostrom's "Art and A La Carte" room, which features a Frank Stella–inspired rainbow canvas ceiling. Says Ostrom of her inspiration, "I had been going to a lot of art shows and museums over the winter and was constantly inspired by the brilliant use of color and intricate balance [the] artists used in their work. When I was given the dining room to design for Kips Bay this year, I decided to transform the room into the vivid sense of color and excitement I felt when viewing a great painting."
3. Memphis Redux
New York designer Sasha Bikoff's vibrant stairway—which the designer told us serves as something of a "palette cleanser" in between the house's various courses—isn't the only example, though it's certainly the brightest. Drawing inspiration from Ettore Sottsass and Alessandro Mendini, Bikoff worked with The Rug Company on a custom piece for the stairs, in addition to incorporating mirrors from artists like Chris Schanck and Misha Kahn and vintage light fixtures.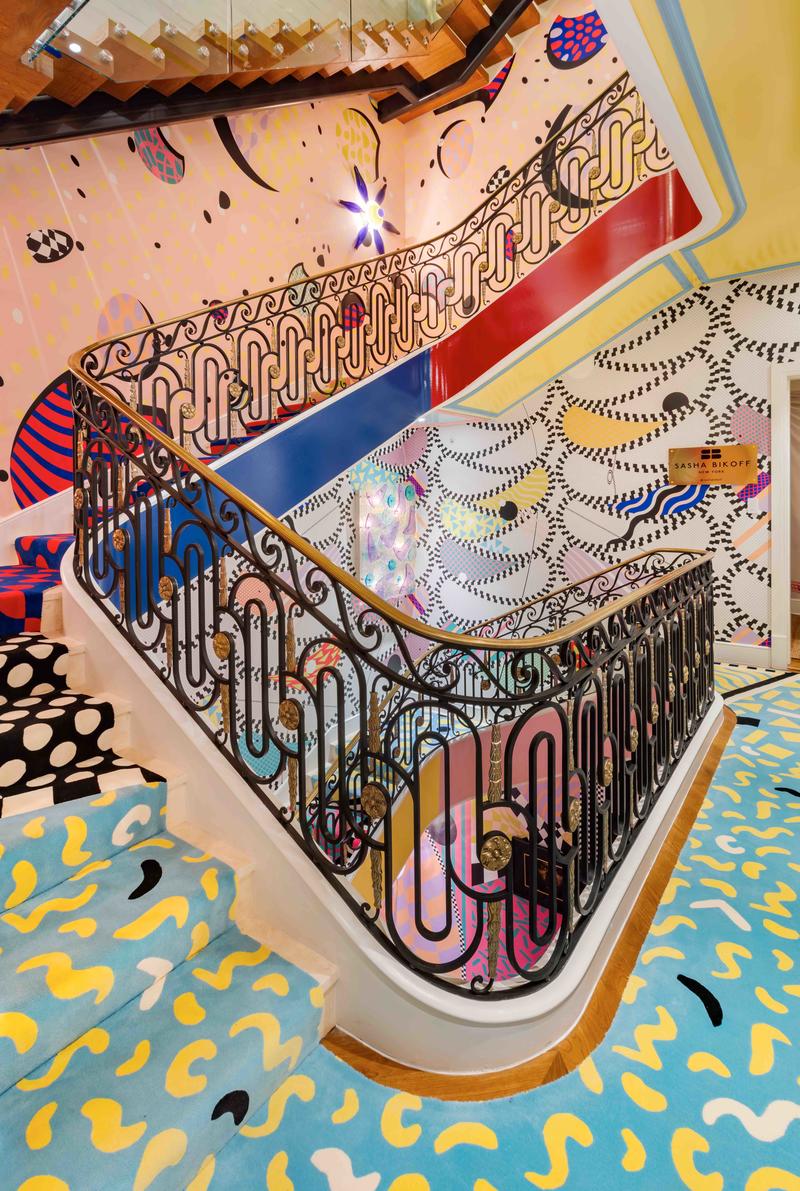 "I have always been a fan of Memphis Milano, so something I knew would resonate well are the colors and patterns of this 1980s Miami design movement juxtaposed with the Old World European traditional architecture of the showhouse," Bikoff says of her work. "The space needed to be more than just an ode to the past; it needed to both sing the praises of the past and look to the future. I was inspired by the simple shapes and motifs (such as zigzags, polka dots, squiggles and pyramidal triangles) in the work of Memphis Milano designers Ettore Sottsass and Alessandro Mendini. These shapes, when combined, create a sense of movement that I wanted to evoke on the staircase as you transition from room to room."
Juan Montoya Design's lower-level space (the design firm calls it "an homage to that heavenly geometry and order") also features Memphis influence, with a checkered bench designed by Montoya and executed by Walter P. Sauer, a curvilinear sofa, early-20th-century chandeliers, and cubistic wall paneling.
4. Bars, Bars, Bars
Moody bars abound at this year's showhouse. B.A. Torrey's 1970s-inspired area features a wraparound bar and smoking terrace; Drake|Anderson's has a "monolithic" bar accompanied by a five-tier Murano glass chandelier; and Wesley Moon's wet bar "glows like a beacon," with a countertop and back wall covered in a deep Belgian Bluestone and framed by eglomise glass and cabinetry composed of cerused oak and horsehair. Why the trend? As Jamie Drake remarked, "In this political climate, everyone just wants a drink!"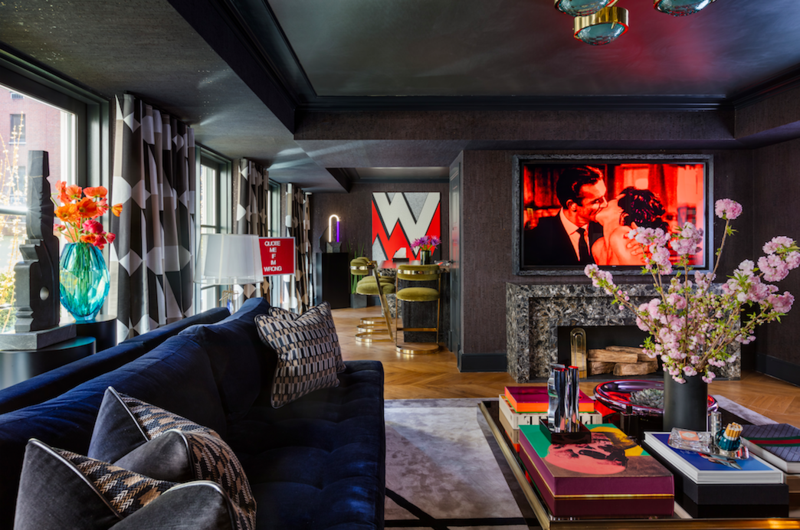 5. Ancient-to-Modern Accents
artwork inspired by the ancients (and their successors) is on view in Alessandra Branca's master bedroom, with its 17th-century Roman still-life painting; Wesley Moon's wallcoverings, ingeniously made from the archives of medieval hymnals from the Metropolitan Museum of Art (free for public download!); Mark Hampton LLC's draped interior of a Greco-Roman tent (part of designer Alexa Hampton's first-ever collab with de Gournay); and classic Italian scenes that unfold across Michael Herold Design's foyer, featuring a Nicolas Poussin–inspired 17th-century landscape wallpaper by Iksel Decorative Arts.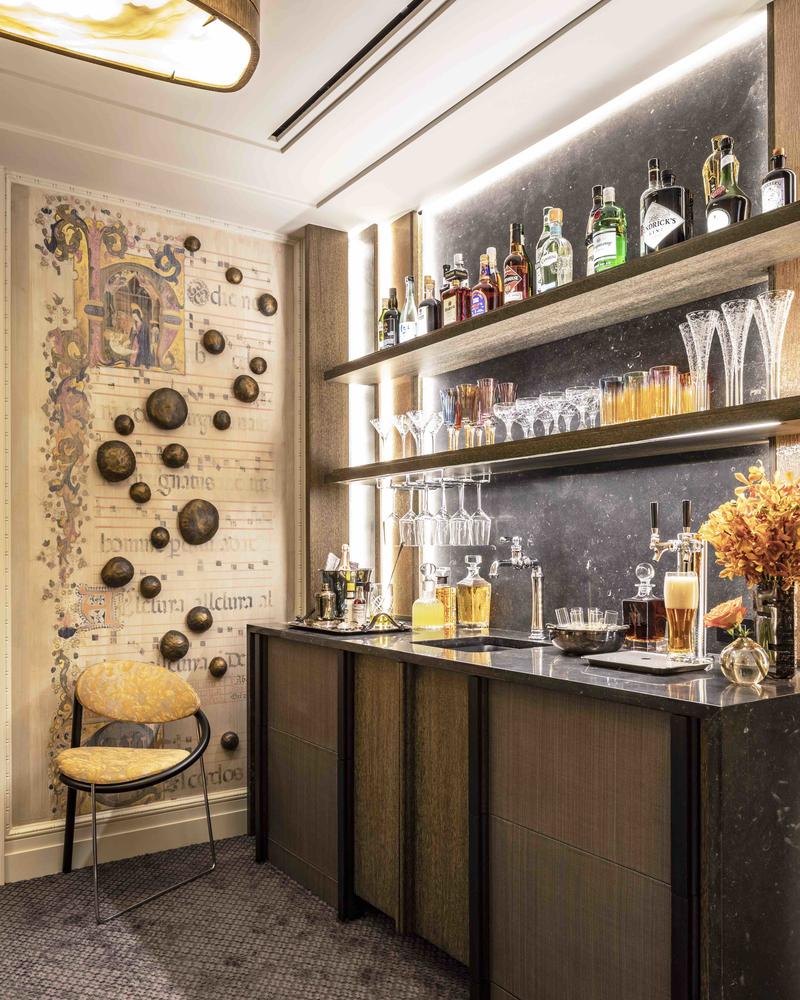 "With its surrounding backdrop of soft hanging textiles, an idealized view of Greek temples emerges in the background, framed by Aleppo pines and Cypress trees. In the foreground are discarded Roman helmets and a propped up shield," Hampton describes of her space's distinctly Italian influences. "Clearly, I have seen Gladiator one too many times."
6. Plant Walls—Indoors and Out
Two outdoor spaces embody the trend: Nievera Williams Design's garden terrace, which features Schumacher's Citrus Garden, the pattern originally designed by Josef Frank, incorporates multi-sphered topiary plants and "organic, jungle-like planting," says Nievera Williams. Charles Pavarini III's "Home Wellness Retreat, for Mind, Body and Spirit," the showhouse's top-floor oasis, features a lush green wall, private garden and reflecting pool. "It's our responsibility as interior designers to ease the spirit and to make people feel good about themselves by bringing function, great design, and peace to their home environment," says Pavarini of the space's inspiration.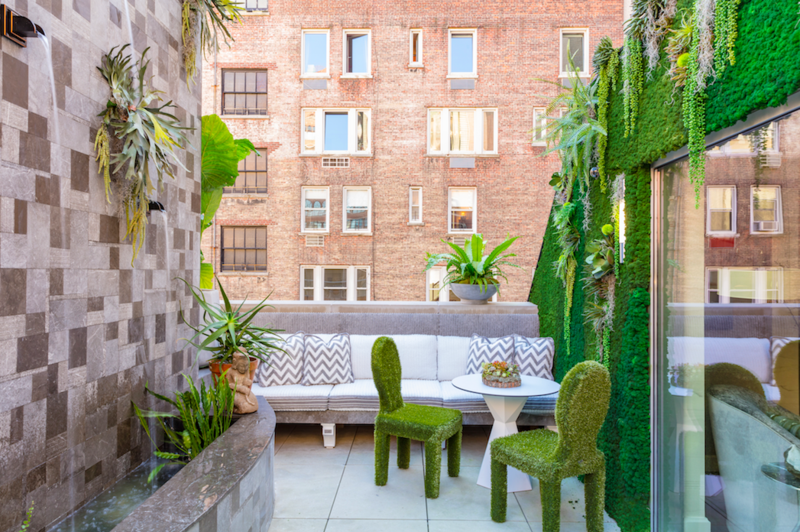 Greenery is making its way indoors too. The dressing room and master bathroom by Marcia Tucker Interiors feature a wall of live greenery from MagnaFlora serving as a focal point in the soothing space.
The Kips Bay Decorator Show House runs through May 31. Hours are Monday to Saturday 11 a.m. to 5 p.m.; Tuesday and Thursday 11 a.m. to 8 p.m.; and Sunday noon to 5 p.m. Admission is $40, and all proceeds benefit the Kips Bay Boys & Girls Club.