A lifelong leader, Susan Lyne has held major roles at Gilt Groupe, Martha Stewart Living Omnimedia, AOL's Brand Group and ABC Entertainment. Her most recent endeavor is BBG (Built by Girls) Ventures, a VC firm funding the likes of design platform Modsy, wedding-registry upstart Zola, and women-only workspace The Wing. Today, Lyne focuses her attention—and her magic touch—on finding and funding female-run businesses.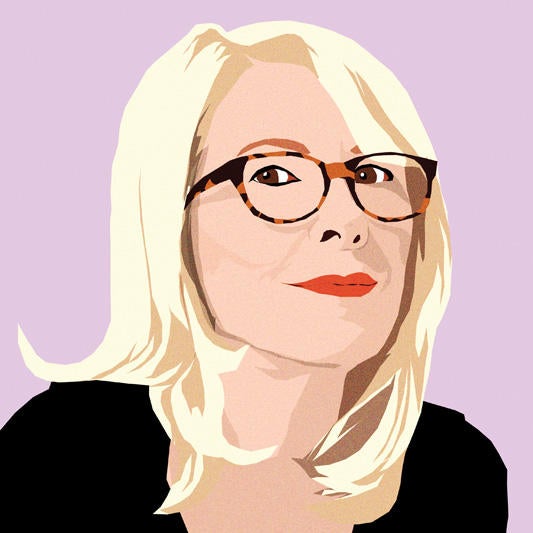 Illustration by Monica Ahanonu
I dropped out of college to take a job as the assistant to the editor in chief of a magazine in San Francisco. This was in the mid-1970s. With no internet and no smartphones, if you wanted to work someplace where you could have an impact on the way people thought, magazines were it. I later launched my own magazine, Premiere, which led to the second phase of my career, in television. I spent almost a decade at Disney/ABC Entertainment, where I ultimately ran primetime.
I got replaced weeks before the annual upfronts, during which ABC announced a schedule that included [soon-to-be hits] Grey's Anatomy and Desperate Housewives, which I had developed. I learned a lot during that development season. The accepted wisdom was that men would not watch programming created for women, but women would watch a show that was built for guys. I had spent my first two development seasons trying to do what everyone else was doing; it was only in that last season that I realized we needed to go in a different direction.
"All my shows are gone," said one of my development executives, bemoaning the fact that Sex and the City was going off the air. That phrase, "all my shows," really triggered something for me. Out of that [conversation] came Desperate Housewives and Grey's Anatomy, two shows that proved that men would watch programming for women—and, even if they didn't, there were enough women to make a show hugely successful. That's been a great lesson for me: Women are the dominant consumer. We always have been, and I think we always will be.
You see it across every sector of the economy. It's not just that we buy more clothes and beauty products, it's that we buy more insurance. We make decisions about what house you're going to live in and what doctors you go to. We make the consumer economy move, and so focusing on that female customer is never a bad idea. This was the premise we started BBG Ventures on: If women are the dominant consumer, then identifying the best founders who understand that consumer intuitively is a great bet. And so every company we invest in has to have at least one female founder.
Ultimately, you're investing in a person. Over 4,000 companies have reached out to us or been introduced to us since we launched, and we've probably met with 1,500. You have to believe that this founder is going to obsess over getting it right and that they have the courage to keep going. There is not a single startup that does not go through very bumpy days—even the ones that look like they were clear sailing from the start—and a lot of people aren't built for that. You look for someone who believes she was put on this earth to do this and is a happy warrior. I believe that about myself too. Optimism is a gift. It can't be blind, but if you wake up in the morning believing that the day is full of possibilities and that there's a solution to every problem, then you have a better chance at success.
I love Modsy. Founder Shanna Tellerman had a vision: She believed that it should be possible to see how home furnishings are going to look in your home space. It's a huge ticket item, and not everyone can afford to have a great decorator figure out which pieces are going to work; [Modsy is] giving people the ability to shop with confidence.
I'm a serial home renovator. Most people hate living with construction, but I love it. When I'm not reimagining my own space, I'm helping friends with theirs.
I'm a very good listener, and I'm interested in hearing other people's stories. I'm also a good judge of talent—being able to identify talent, and recruit and then nurture talent, is key to succeeding in this world.