The juiciest bites from the Business of Home news desk include departures (and arrivals) at Elle Decor, Amazon's emerging design initiatives and a major merger.
WHITNEY ROBINSON NAMED EIC OF ELLE DECOR
Whitney Robinson replaced Michael Boodro, who served as the magazine's EIC for almost seven years. Robinson has held roles as style director, senior editor and contributing editor at Town & Country; deputy editor for Hearst's relaunch of Metropolitan Home; and was the founder of Qatar-based Qulture.com.
Shelter mags seek new home
The publishing world continues to keep design pros on their toes: New York Spaces was acquired by MOD Media, joining the group's stable of regional publications, while Time Inc. began exploring the sale of Coastal Living, Sunset and Golf.
HSN, Inc., parent company of Ballard Designs,  to be acquired by QVC QVC's parent company
Liberty Interactive has announced plans to acquire HSN, Inc. in a $2.1 billion deal. HSNi is the parent company to Cornerstone Brands, which owns industry favorites Frontgate, Garnet Hill, Grandin Road and Ballard Designs, whose new collection with Miles Redd debuted this August.
Amazon charges onto the design scene with three new storefronts
The Ethan Allen Design Studio on Amazon marks the first time the furniture brand has sold product outside of its own stores; design couple The Novogratz recently worked with Amazon to edit a selection of home furnishings and curate items from Amazon's inventory; and the e-commerce powerhouse is now inviting viewers of new web-based home makeover show, Overhaul, to shop the designs featured on the series. Developed by Kin Studios, the show is hosted and co-produced by Christiane Lemieux of DwellStudio.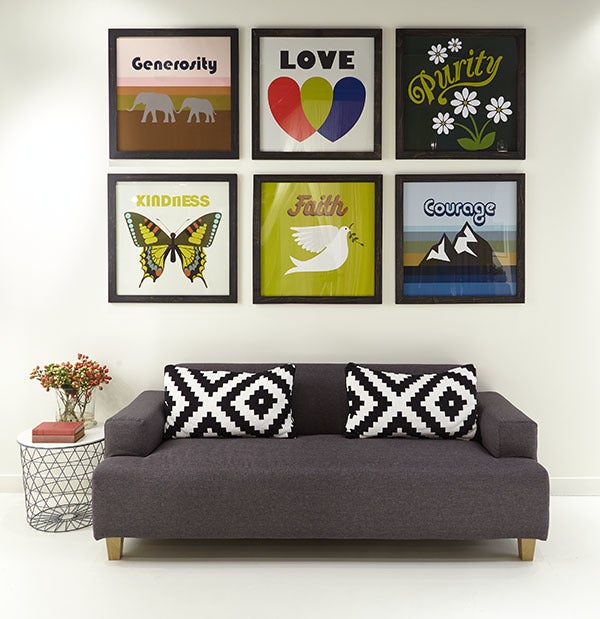 Home Depot to offer design services via Laurel & Wolf
Home Depot stores are now connecting customers with Laurel & Wolf's designers via a pro referral site, which will also be integrated into Laurel & Wolf's platform, helping users to search for in-person professional help.
Veranda furniture and Vogue Living fabric debut
In October, Veranda will premiere a 40-piece collection with Fine Furniture Design at High Point Market, spanning bedroom, dining room occasional and upholstery pieces. Schumacher and Vogue Living have also collaborated on a fabric and wallcovering collection (pictured) inspired by the Vogue archives via a licensing partnership with Condé Nast.
3-D printed furniture gains momentum
Print the Future, a 3-D printing company which specializes in furniture and home goods—and boasts a 50,000-designer-strong platform—filed for a Regulation Crowd Funding public offering. The company has plans to eventually open hundreds of brick-and-mortar stores, where amateur and professional designers will be able to design and print objects to fit their spaces.