The latest design movement pays homage to the past—and makes us optimistic about the future.
There is a new buzzword making waves in the world of fashion and interiors: "newstalgia" (or "nowstalgia"), a term referring to something brand new that harkens back to something old. It is Gen Z's way of saying "homage" or "reference," and it's all the rage in design today. "In an increasingly technology-filled world, many shoppers are opting for nostalgic aesthetics that are reminiscent of decades past," says Dayna Isom Johnson, a trend expert at Etsy. "We're seeing a return to all things retro, from '90s prints and patterns to the decor styles of the early 2000s, which remind us of simpler times."
No doubt you've already seen (and perhaps swooned over) a newstalgic piece or two. Consider the neon colors and shiny materials that dominated the spring runways, where fashion brands such as Balenciaga, Blumarine and Jacquemus reimagined turn-of-the-century trends like butterfly tops, lowrise jeans, baguette bags and velour tracksuits. In interiors, the newstalgia trend emerged in the form of flashy futuristic decor, inflatable furniture, furry fabrics, metallic upholstery and shimmery, iridescent finishes. "There's been a 187 percent increase in searches on Etsy for 'Y2K decor' in the last three months, compared with the same time the previous year," says Johnson. "I think this is largely due to how bold, fun and vivid the early aughts trends were."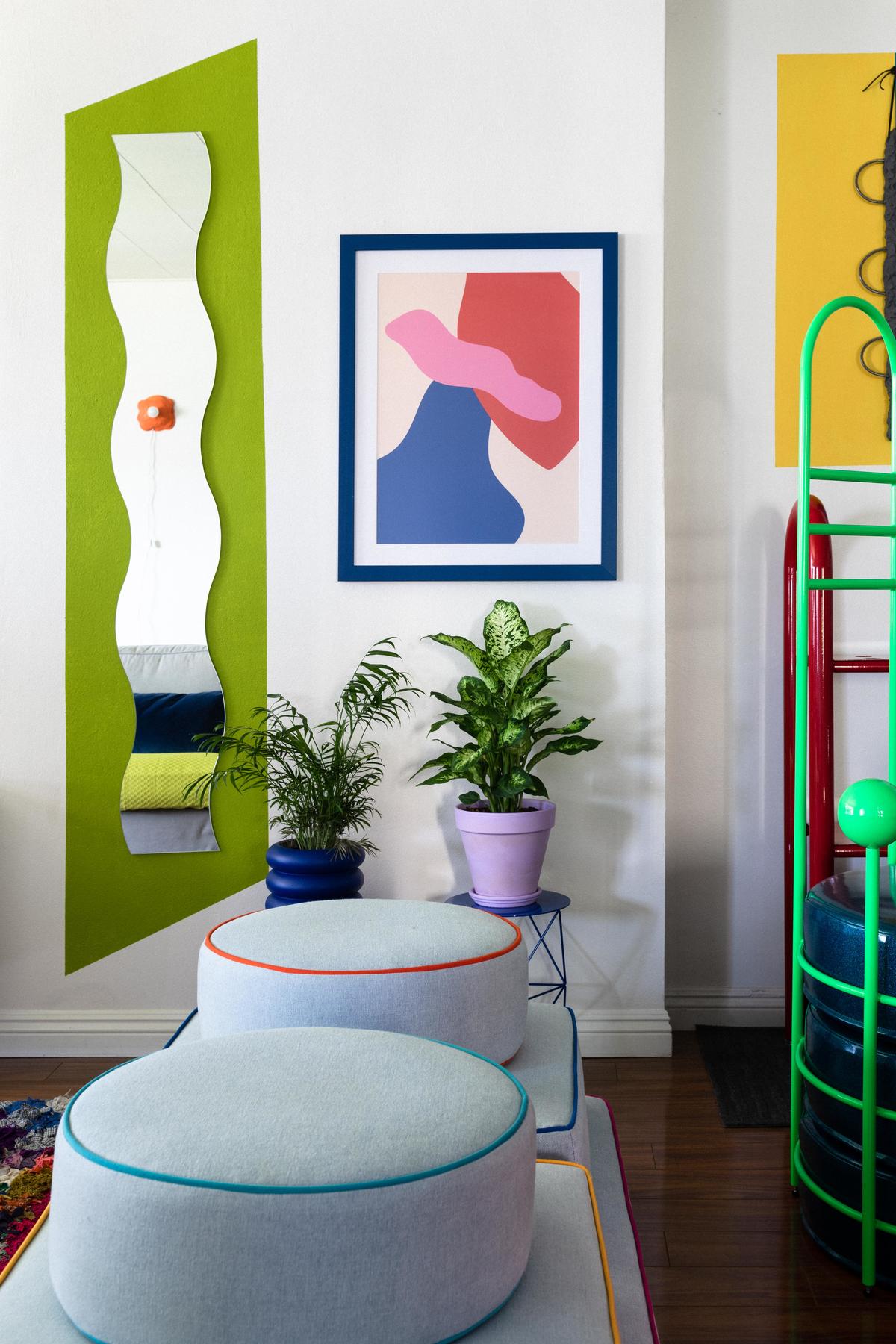 For designers of a certain age, the look is pure nostalgia, and for Gen Z, it's all new and fun. "I had some of my formative teen years during the Y2K era, so I think the imprint of those trends will stay with me throughout my life," says furniture designer Leah Ring, who founded the Los Angeles–based studio Another Human in 2017. "A lot of my designs are metallic or brightly colored, and many of them are driven by a narrative of some futuristic world. Perhaps the Y2K movement influenced me more than I even realized."
Of course, you can't fully make sense of the era's aesthetic without understanding the trends of the decades that preceded it. In the 1980s, the Memphis Milano movement introduced experimental design motifs (bright neon hues, bold geometric shapes and liberated lines galore) that would have a long-lasting impact. Cut to the 1990s, when those eye-catching colors and spirited sensibilities were edged out by moodier grunge looks. The 1990s vibe was all about authenticity (or attempted authenticity, at least), with simple yet playful fads that spanned everything from plaid flannels to fuzzy fabrics, smiley faces and animal prints. "A lot of the trends that emerged in the mid-to-late '90s were shaped by a DIY ethos that opposed mainstream pop culture," explains Ryan Moore, author of Sells Like Teen Spirit: Music, Youth Culture, and Social Crisis. "However, by the end of the decade, the pendulum started to swing back toward mass consumerism, paving the way for the techno-utopian commercialism that defined the Y2K era." That's a lot of aesthetic action for one decade.
This catapults us straight into the year 2000 and all the idealism that came along with it. As advancements in technology cultivated both hopes and fears about the new millennium, those emotions were evident in the over-the-top escapism and futuristic designs (think hologram finishes, butterflies and lots of bubblegum pink) that characterized the era's trends. "There was a sort of tech-optimism that was prevalent in the Y2K aesthetic, pushing people to imagine what the future of our digital world looks like and how that might translate to the built environment," says Ring.
It's no surprise that in today's metaverse-minded era, utopian turn-of-the-millennium trends might offer a similar appeal. "It allows one to invite play and fantasy into their everyday lives," says Ring. Given the experience of the past few years, a little playtime sounds like a welcome relief.