Centuries-old craftsmanship is at the heart of Rocky Mountain Hardware's designs.
Be it a cabinet knob shaped like a grosbeak bird or a counter stool modeled on a cast bronze tractor seat, the divine is in the details at Rocky Mountain Hardware. "Most people do not realize the breadth of our product line and the opportunity to carry a design theme throughout many aspects of their project," says president Christian Nickum. "We can, for example, outfit an entire kitchen and bathroom with our standard line, and then create a customized door grip for the front door."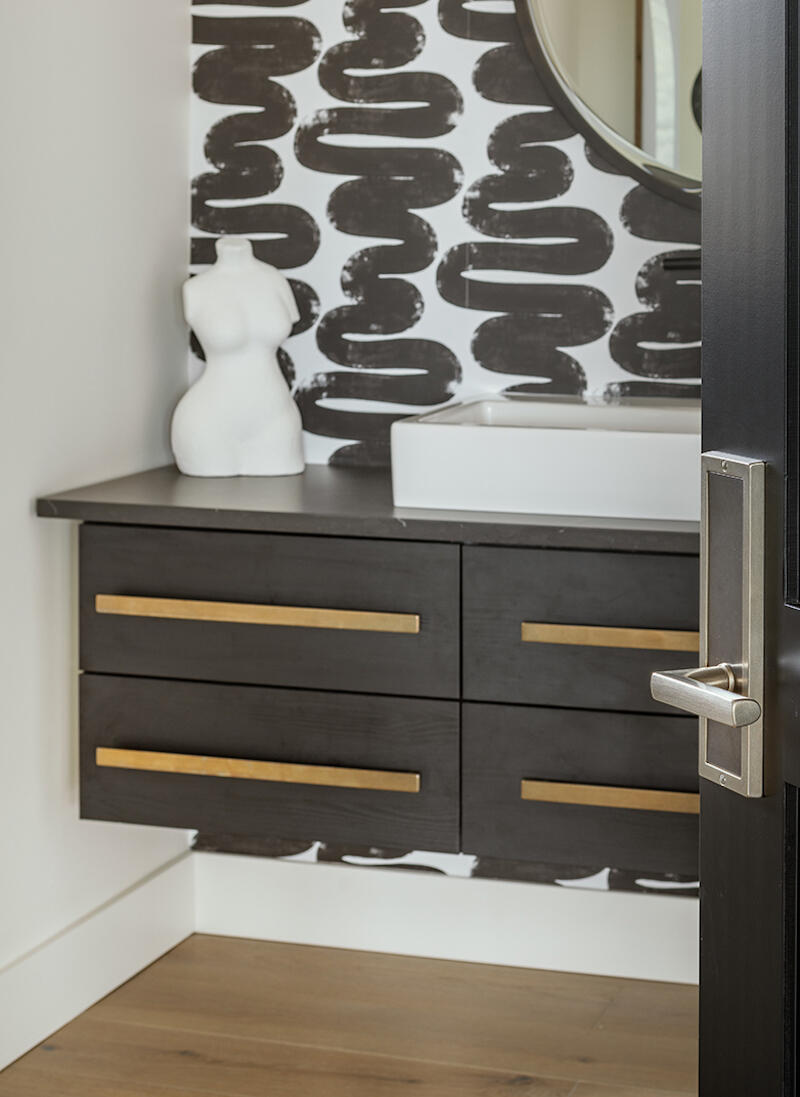 Courtesy of Rocky Mountain Hardware
Though the Hailey, Idaho–based company and its range of offerings have evolved exponentially since debuting more than three decades ago, its trademark heirloom-quality craftsmanship remains. "From a manufacturing standpoint, we have the tools to do things a lot of companies can't," says Nickum. "Whether it's adding a family crest to an existing entry plate or creating custom table legs for a live-edge black walnut dining table, we can make it happen."
The brand launched in 1994 when owners Mark and Patsy Nickum saw an opportunity to bring highly customized hardware to the market. "My dad had a window, door and hardware company that serviced high-end projects," says Nickum of his father, Mark. "He was installing doors for a local project when the clients complained to him about a lack of custom hardware. So he approached a friend who had an art casting foundry, and they created the first few original designs that we still have in our line today, like the Potato knob and the Beavertail lever with a rectangular backplate." At the start, the company had just six employees, who took on everything from sales to building the custom orders. Today, it has a staff of 145, with Nickum at the helm since 2003.
Despite its growth, one thing that hasn't changed is the brand's commitment to traditional craft: All of its hardware is still hand-made from mold to finish in Idaho. In addition to its headquarters in Hailey, the company owns and operates foundries in nearby Blackfoot and Shoshone for casting, machining and grinding.
Courtesy of Rocky Mountain Hardware
The production process for each piece originates with three master craftsmen, who create casting pattern boards, the wooden forms used to originate a design. "They use a variety of centuries-old methods to create the most realistic and intricate patterns possible," says Nickum. Each piece of individually cast hardware ultimately touches no fewer than 30 hands as it undergoes a 20-plus step process that includes an array of Old World techniques such as sand casting, where sand is compacted to both sides of a pattern board to forge a mold, and lost-wax casting, where wax molds are dipped in a ceramic slurry and fired in a kiln before hot molten bronze is poured into the cavity.
This level of attention to detail can be a time-consuming endeavor. "It can take an average of 15 hours for a typical grip or escutcheon to be ready for casting," says pattern artist Brent Gneiting, who works at the brand's Blackfoot foundry. After that, fellow pattern artist Jason Brown says it can require "100 hours or more" to complete the piece. The brand's artisans come from a medley of creative backgrounds, ranging from former dental lab technicians to welders, ceramists and art professors. "All of our employees are very detail oriented and have their own techniques that they've developed over the course of many years of experience," says Fred Kirschmer, who manages the Blackfoot foundry. In-house talent has other perks, as well: Even the most extravagant of custom pieces can be produced in as little
as 12 weeks.
In November, the brand will release a collection of cabinet hardware and bathroom accessories in collaboration with interior designer Jennifer Hoey of Suede Interiors at the New York hospitality-focused trade show BDNY, which includes a chic toilet paper holder with a built-in smartphone shelf. The line grew out of a long history of custom projects for Idaho-based Hoey, which is how the brand tends to source its creative partners. "Our collaborations with interior designers over the years—including Robert A.M. Stern Architects and Lenny Kravitz Design—has given us the opportunity to add new products to our line as we do custom work for them," says Nickum. "We have never lost sight of what put us on the map: Our can-do attitude, craftsmanship and the constant foresight to look for better ways to manufacture in Idaho."