The season's most exciting new U.S. showrooms and storefronts come from Italian brands that highlight the good life.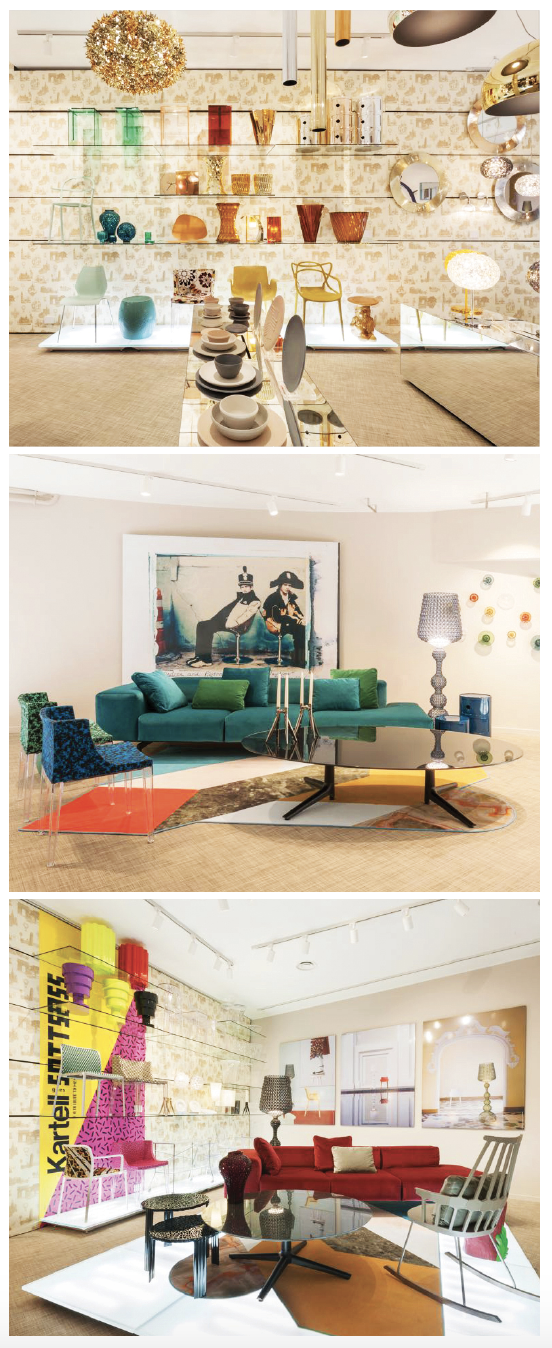 Kartell SoHo gets an Instagram-friendly update
Gone are the stark white walls and pedestals that displayed the brand's plastic contemporary furniture with a museum-like effect. Instead, Kartell's New York outpost has been softened with a playful but muted wallcovering that serves as a backdrop for walls of furniture that appear to float on glass shelves.
The redesign is Kartell's response to the brand's shifting retail business, says John J. Jenkin, CEO of Kartell U.S. "Social media has changed the way we communicate with our customer," he explains. Many young fans of the brand may not know or revere the names of Kartell's iconic pieces—Philippe Starck's Sir Gio table and Louis Ghost chair, or Ferruccio Laviani's Bloom fixture. "But show them a picture and they recognize the table, the chair, the light," he says. "It means that the shop today has to be a visual experience. Before, people were afraid to touch the furniture—it was [displayed] like art. While we are not changing the mission of our products, this new layout encourages people to have an experience, to reach out and grab the products."
Kartell unveiled the first iteration of the new layout at its Milan flagship during Salone del Mobile this spring, and after New York, is setting its sights on revamping the London and Paris stores. "We play with refraction and color, how the light goes through the transparency of the furniture—it's playful and joyful, but still elegant," says Jenkin. "Every time I open the door, it feels like a candy store." (39 Greene St., New York)
At last, Dedar unveils its first-ever stateside showroom
Luxury fabric house Dedar opened its first U.S. showroom in New York's D&D Building, an atelier so beautifully crafted, visitors may nearly forget that they're still in a design center. "My approach to design begins by identifying the context of how the environment will be used and how life will flow within it," said Florentine architect and longtime Dedar collaborator Michele Bönan. He drew inspiration from American residential architecture of the 1960s to create an intimate space with warm wood floors, white brick on the walls, and dramatically lit textile displays.
More than 3,000 of the brand's classic and contemporary palettes and patterns are on view, in addition to textiles and wallcoverings by Hermès; the showroom will also stock bolts of fabric for designers' last-minute yardage needs. A 15-foot-long antique table from a textile store in Florence, complete with a brass ruler along one side, anchors the space and provides an ample surface for designers to work. "We asked [Bönan] to design … the ideal house we would love to have in New York," says Raffaele Fabrizio, co-owner of Dedar with his sister, Caterina Fabrizio. And home it is, down to the wooden slats installed overhead to disguise the building's sprinkler system—a masterful touch that completes the illusion. (979 Third Ave., Suite 1009, New York)
Poltrona Frau makes big moves
The century-old modern furniture brand opens a 4,300-square-foot Miami Design District showroom that features its most iconic leather and upholstery options in neutral and ocean-blue hues that evoke the nearby sand and sea. The company has also carved out a corner to showcase its immense leather collection, housed in a leather-covered bookcase, and the Cockpit office chair, created in collaboration with Ferrari's design team.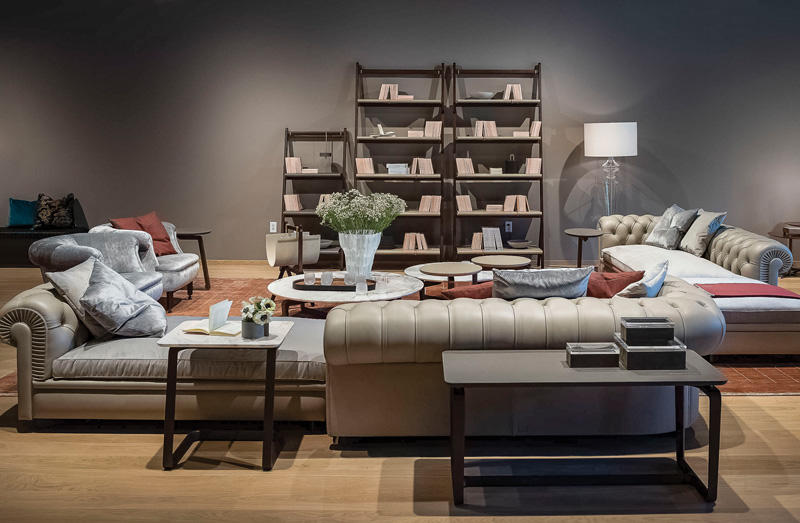 Courtesy of Poltrona Frau
On the other side of the country, Poltrona Frau is shuttering its West Hollywood showroom and eyeing a new home for its Los Angeles flagship in Beverly Hills. Each showroom is inspired by the concept of the brand's Via Manzoni store in Milan, from the warm gray walls and natural oak floors to intimate furniture groupings. "The layout combines historical and contemporary pieces with coherence," says Nicola Coropulis, Poltrona Frau's managing director. "Everything is part of a global strategy of attention to retail and distribution formats—and of course Miami is the right place to be now." (4100 NE Second Ave., Miami)
Plus, Miami gets a bit more Euro-chic in November with the opening of "Made in Italy: MITA Textile Design 1926–1976," an exhibit that highlights 50 years of collaborations between Genovese textile firm Manifattura Italiana Tappeti Artistici and artists like Fortunato Depero and Gio Ponti. (The Wolfsonian–Florida International University, 1001 Washington Ave., Miami Beach)
Homepage image: Dedar's new showroom at the D&D Building | Max Zambelli