BOH catches up with four creatives and industry innovators to get the latest on their new roles and ventures.
A new Network for High-End Decorators
British-born, Los Angeles–based designer Kathryn M. Ireland has many irons in the fire: In addition to her renowned interiors business, the former Million Dollar Decorators star designs a fabric line, sources another textiles collection with her son, and hosts design retreats. Now, she has soft-launched a new online venture, The Perfect Room, to bring the room-in-a-box e-commerce model to luxury consumers by delivering as-seen-in-shelter-magazines spaces from top designers.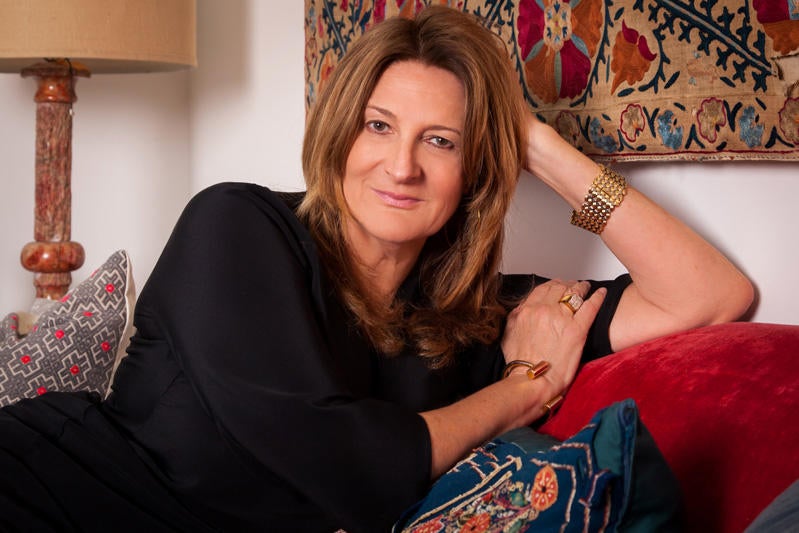 The idea of bridging the gap between online shopping and hiring a professional designer had been on her mind for some time: "I remember hosting one of my design boot camps, teaching clients how to create mood boards and shop for furniture on their own," she recalls. "Even then, they still asked for my design touch to make their homes complete. I realized that there is an element of interiors that clients want to do themselves, but also an element that they need curated by a designer." Ireland's site is both a digital portfolio for the featured designers and a shoppable service. Customers can purchase a curated selection of products to replicate the entire room for each image, buy just its essential pieces or the accents and accessories, or shop the site à la carte. "These are clients who walk into RH and say they want everything on page 35 of the catalog because they don't have any time," she explains. "Our goal is to educate and highlight good design to make the luxury aspect more accessible than ever."
In addition to her own rooms, Ireland collaborated with big names out of the gate: Bunny Williams, Jeffrey Bilhuber, Rachel Ashwell, and her Million Dollar costars Martyn Lawrence Bullard and Jeffrey Alan Marks each contributed designs. She also set the bar high for future designers on the platform. "Designers I bring on must have been on the AD100 or Elle Decor A-List and have previous book deals and licensee partners," she says. It's a simple revenue-share model extended to Ireland's close-knit list for now, but eventually she plans to take submissions from other prominent designers, vendors and photographers to showcase their product and work on the site."
Through an in-house concierge program, designers and field experts help clients from first click to installation—answering design questions, creating custom floorplans, sending samples, coordinating shopping, and overseeing delivery and installation—to ensure that the experience never loses the designer touch. "There's nothing like working with Bunny or Jeffrey that we can replicate completely," admits Ireland—but that's not the point of The Perfect Room. "When you work with a designer, you make something entirely new. We're a bit of the opposite: We want this journey to feel as though you found a Martyn Lawrence Bullard room in House Beautiful that would be perfect in your home, rang Martyn, and he told you where to get everything to get the look—and then went on to handle everything thereafter to bring it to life."
---
Creating a New Chapter
"Point of view is everything," says Kyle Marshall, who in mid-July reported to work as the new creative director of Bunny Williams Home. It's a dream job for the RISD architecture grad who is as interested in classical references and immersive experiences as he is in designing furniture. "I was one of those kids who was obsessed with houses and rooms," he recalls. "I realized early on that it was about more than just design—it's about  creating an atmosphere."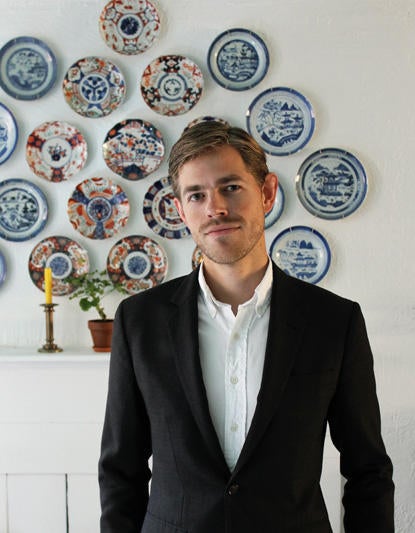 Marshall spent several years as an independent designer; the pull of crafting entire spaces and experiences led him to Ralph Lauren Home, where he designed furniture for the past three years. "I was designing one-offs and interiors, but was more interested in how to make multiples of something," he says of the transition to a branded design studio. "My conversations before joining both Ralph Lauren Home and Bunny Williams Home were actually very similar. It was about bigger ideas, and having a knowledge base to create something new that is anchored in a certain historical sensibility."
Now, he will oversee not only the Bunny Williams Home line—his first collection will arrive in 2019—but also licensed lines with Mirror Image Home and Ballard, which debuts its Bunny Williams upholstery collection this October. "It's all part of the same world," says Marshall. "They're at different price points, but everything is beautifully made and meant to evoke this experience of Bunny Williams at home." It is an ethos he is grateful to channel: "Bunny has a heritage, she doesn't have to invent one. I like that there's all of this existing knowledge—the projects she's designed and put out into the world. There's a sensation, a feeling, an ambiance. And being able to design new things that fit into that story—creating a new chapter in that book—is exciting to me."
---
The New Face of Tabletop
Personalization and authenticity are keys to continued success in the tabletop business, says Kristi Forbes, the new director and senior vice president of FortyOne Madison. It's also been a defining characteristic of her nine-month tenure at the building. Although Forbes had attended nine years' worth of FortyOne Madison's spring and fall New York Tabletop shows as an executive at AmericasMart, relocating to the city and immersing herself in the day-to-day life of the building has been illuminating. "Sometimes I'll sit at the front desk to see who's registering," she admits. "I can run a report to see that this restaurant or museum or designer came in, but being face-to-face personalizes it." Hospitality is one of the major growth areas for the building; in addition to providing special programs for designers, many brands offer customization for restaurant and hotel clients. "A chef opening a new restaurant recently came in for appointments with several tenants, so I saw firsthand how FortyOne Madison plays an important role in his business," she says.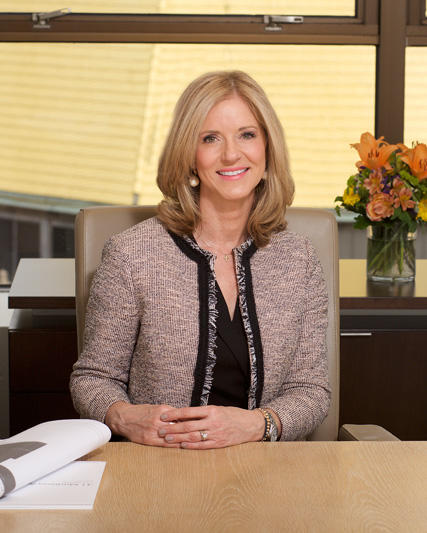 Courtesy of FortyOne Madison
Forbes also sees brands capitalizing on a social media-fueled obsession with health and wellness. "Consumers are cooking and entertaining more," she explains. "Our brands are using this opportunity to educate them—but they're also evolving their offerings to fit lifestyle trends. For example, casual dining has become an extremely important category, especially for the younger generation. But casual doesn't mean cheap. It's functional, high-quality and also beautiful."
With her first market under her belt as of the spring, Forbes is energized for what's to come in October. On deck is a partnership with Holiday House for the lobby displays, as well as the impending arrival of several big-name tenants that will join the ranks of the other 95 showrooms and more than 130 brands. "There's a lot of energy and optimism in the building," she says. "FortyOne Madison is the epicenter of the tabletop world. Market is definitely about order writing and doing business for the upcoming season, but it's also where everyone from designers to creatives at the Bloomingdale's of the world gather for inspiration."
---
Painting a Hassle-Free Picture
Like many designers, Nicole Gibbons had a tried-and-true roster of paint colors in her arsenal. "No one has a difficult time picking paint when they have a design expert to guide them," she says. "When I would present to clients, I would only recommend one color. No one's ever like, 'Show me five more, I'm not convinced.'" But the interior designer turned startup CEO recognized that, for the average shopper, buying paint was a real pain point in the decorating experience. So Gibbons leveraged her expertise to create Clare, a venture capital–backed paint brand that launched in July with designer-approved color options and the seductive ease of online shopping.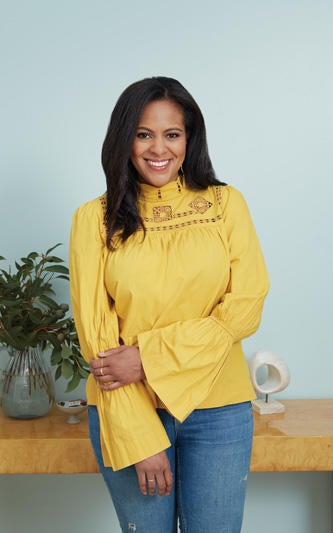 (On the BOH podcast, Nicole Gibbons explains how she attracted prelaunch venture capital to found Clare.)
Early in the development process, she identified the major problems with paint shopping at big-box stores and paint dealers: too many colors, too many product lines, a lack of transparency about ingredients, and a cumbersome, costly shopping and sampling process that requires several trips to the store. Clare answers each head-on, from an easy-to-use website and a paint-free, peel-and-stick sampling process to an edited selection of colors ("I looked at 600 color formulations to get down to our perfect 55 shades," says Gibbons), finishes (eggshell for walls; semigloss for doors, cabinetry, and trim; primer; and a flat white for ceilings) and the quality tools needed to get the best results. "We exist to make paint shopping easier and more inspiring," says Gibbons. "I saw an opportunity to support the customer through their entire journey, from picking the color to offering paint, tools and tips—and even after the paint has dried, continuing to inspire them."
Homepage image: A living room designed by Kathryn M. Ireland, now shoppable on her e-commerce platform | Tim Beddow