If you can't stand the heat, get out of the kitchen. San Francisco–based designers Eche Martinez and Emilie Munroe face off on what should—or shouldn't—happen behind closed doors.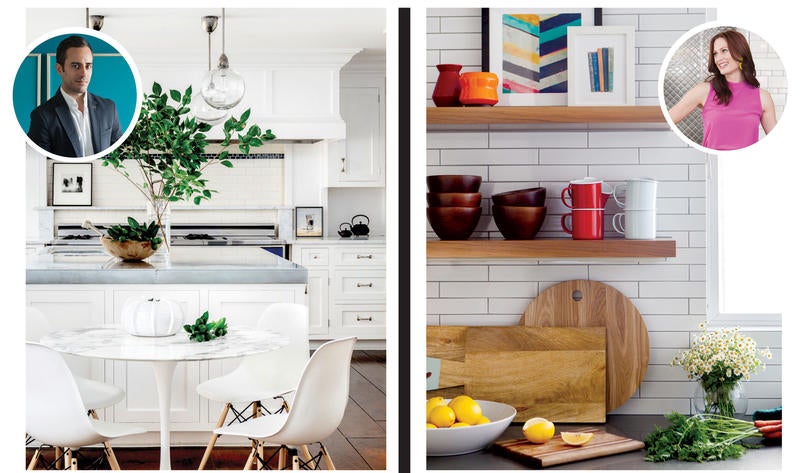 Martinez (@echemartinez): 
Unless you love dusting, open shelving is definitely a trend to pass on. Sure, we've all seen enviable images on Pinterest featuring open shelves, but in real life, the home is rarely Marie Kondo-ed to perfection. We need storage space—and the permission to have a few mismatched coffee mugs, too. Even if your kitchen essentials are neatly organized (or alphabetized), do you really want to style your storage each time you unload the dishwasher, like Emilie? I didn't think so! Cabinetry adds a sense of depth and interest that cannot be achieved with open shelving, enhancing a home's architecture and character. Whether you use the lightest bleached oak for a laid-back beach house, or a high-gloss lacquer on paneled fronts for a sophisticated townhouse, you can create any vibe while concealing clutter and keeping your plates and glasses dust-free. And just as accessories complete an outfit, cabinetry hardware is often the subtle but stunning detail that makes a kitchen feel luxurious and cohesive. As a neat freak myself, I can't think of anything better than having everything tucked away behind closed doors.
Munroe (@studiomunroe): 
A kitchen full of cabinetry feels staid and overpowering, leaving you lost in a sea of matching doors. (And are you really going to make your houseguests fling each door open in an effort to locate dishware?) I feel the same way about cabinetry that I do about Eche when he walks into a design event: He looks like perfection in his suit and tie, but I just want to take a layer off and see a bit more of what's behind! An open shelf is a blank canvas that's full of opportunity, and the increased accessibility of everyday essentials is a huge bonus in busy, dynamic lives. It brings color and texture into the kitchen and enhances the volume of the room by opening up vertical space. One of the biggest concerns about open shelving is maintaining a curated, organized look. But fear no more: Once you've determined the ideal layout, it is effortless to return pieces to their proper spot. After all, the only difference is that you don't have to open a door to access the cupboard! When you remove the doors and make a conscious choice to have kitchenware that you love, you will not only enjoy utilizing the pieces, you'll also add personality and style to your home.
Photography: Martinez, Henrik Kam; Interior, Christopher Stark;  Munroe, Alanna Hale; Interior, Thomas Kuoh