App-controlled appliances transform the heart of the home into its power hub.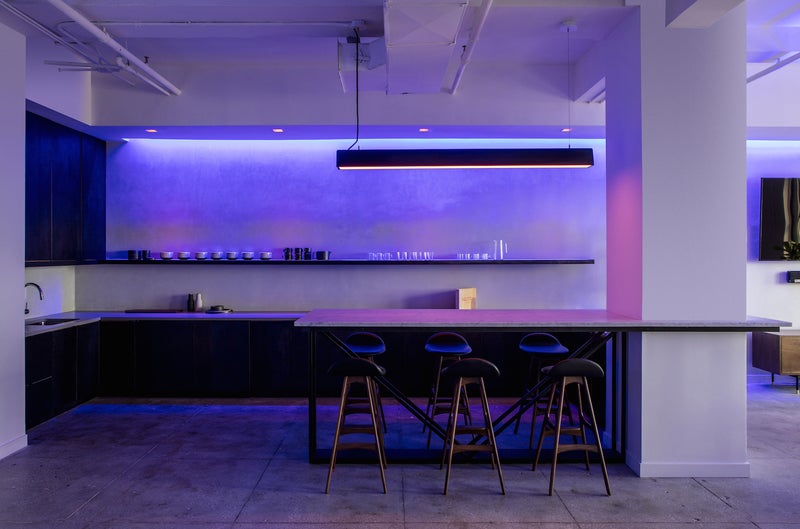 Gone are the days of racing back home to check whether you left the stove on or arriving late to work because it took an eternity to brew that vital morning cup of coffee. Controlling life from the palm of your hand is the new reality, when all the appliances and features in the kitchen can be activated via a single swipe. App-controlled appliances have brought convenience and simplicity into the kitchen, and thanks to seamless integration, designers aren't forced to sacrifice style in exchange. The latest offerings are no longer considered abstract indulgences or luxury goods, but amenities that consumers have come to expect in their homes. Bill Darcy, CEO of the National Kitchen & Bath Association (NKBA), says NKBA members reported that in more than half of their projects, consumers requested wiring and pathways for future tech integration, and over one-third requested tech solutions in the kitchen. As the options expand and the user experience becomes even more impressive, this niche category is ready to take over in a big way. Here's a quick rundown to stay ahead of the curve.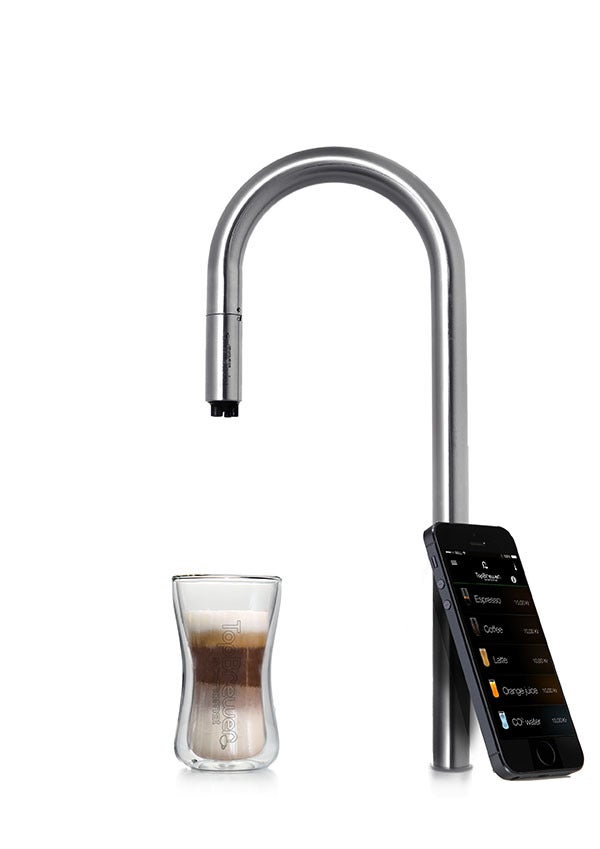 App control gives users the freedom to preset, pause, stop and restart at their convenience. Whether it's hot coffee at 6 a.m. or a preheated oven ready for a 7 p.m. dinner date, brands are putting the control in users' hands—creating options they didn't even know they wanted.
Steve Stewart, director of product and showroom display at Pirch, says the industry seems to be evolving daily, with the introduction of functions like voice operation, color touch-screens and self-diagnostics. He notes that products are now offering quantifiable benefits: cost control, time management and increased energy efficiency, and smart appliances are also constantly adapting to the needs of customers, making them more user-friendly and adding another level of comfort.
"Automatic updates and upgrades of products in place of replacement will be important to help adopters feel more comfortable making the investment and taking the next step into smarter appliances," says Stewart. "In the end, it will be the consumer who will inform the industry what is and what is not useful in their home."
Companies like GE are looking at complete kitchen control. The brand's refrigerator, oven, range, microwave and dishwasher can be controlled and monitored from a single app. Has the dishwasher sprung a leak? No worries, the app will let you know.
Consumers define "smart home" differently. For some, it might be full kitchen integration, à la GE, while for others, it might be a single product, like Amazon's Alexa, which uses voice commands to operate appliances, to order from Amazon and to read the news. The NKBA's Darcy sees the industry moving quickly toward full integration, especially as kitchen remodels remain popular and homeowners are able to renovate from scratch.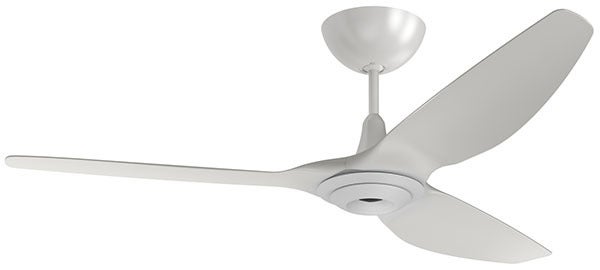 Major appliances aren't the only products that have these capabilities. Ceiling fans from Haiku Home can be controlled from a smartphone and integrated with smart thermostats, like ecobee4, and Ketra's light system, which adjusts lighting based on the user's GPS location, has its own app. Other companies are creating products that add something extra to the kitchen experience. Gone are the days of clunky, space-wasting contraptions. The only part of Scanomat's TopBrewer you see is the sleek, swan-like spout—the rest is hidden away under the counter. There are no buttons or nobs because the entire system is controlled through the app.  
From lattes on command to comfort at a click, app-controlled devices are making the kitchen better than ever—if not feeding our egos (pun intended) with the power to swipe.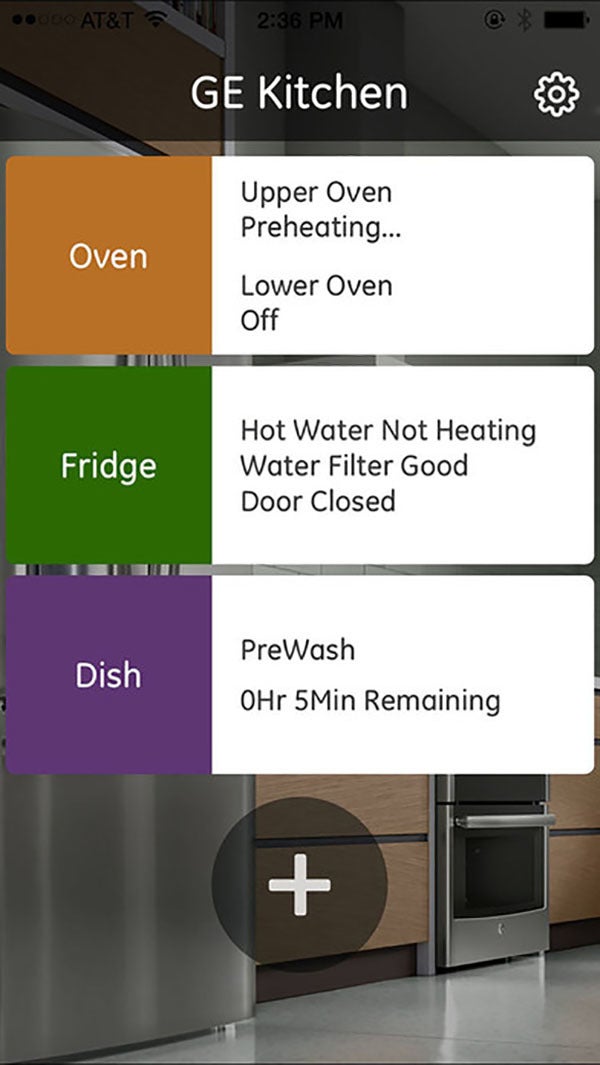 Total Control
Refrigerator, oven and range, dishwasher, microwave—all the kitchen essentials are connected through the GE Kitchen app, which allows users to view the status of each—monitor what's been turned on or off, schedule cleanings and view usage. It also integrates with Amazon's Alexa to use voice commands and Amazon Dash to reorder dish pods or water filters.
Mood Lighting
Turning lights on and off with a swipe is one thing, but the Ketra Natural Light system also helps to maintain mental well-being. The LEDs shift throughout the day to mimic the color temperature of sunlight, helping to regulate your body clock. In the morning, the lights are crisp and white, promoting alertness, while at night, they morph into a softer, amber hue. Caffeine Fix A full, at-home espresso bar makes mornings a little easier, especially when drinks are ready in under a minute with a tap of a finger. The TopBrewer self cleans after every use, so there is no threat of coffee appearing in a cup of tea or steamed milk ending up in an espresso shot.
Air Supply
Set speed and temperature preferences with the Haiku Home app and the fan does the rest. The fan senses motion in the room, turning off and on accordingly, and can integrate with a smart thermostat to more effectively cool and heat a space.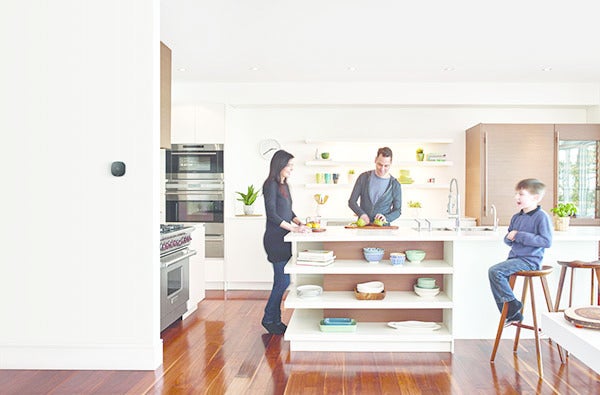 Climate Change
Keeping the house temperature-controlled is only the beginning with the ecobee4 thermostat. The app allows users to adjust the temperature, set a vacation event and adjust the voice controls. Amazon Alexa Voice is built directly into the thermostat, so you can ask it to add items to a grocery list or read the directions to a recipe. Plus, with a sensor in the kitchen (or any room), it can detect hot or cold spots, and adjust according to occupancy.