Europe has always been the mecca of fabric sourcing. But mills located elsewhere are figuring out how to stand out—and at a major discount. 
"When we acquired Clarence House in 2003, some of the best product in their line at that time was created in the prodigious, prolific weaving region of Caserta in southern Italy," recalls Bob Appelbaum, president of the luxury fabric house. "We still source a lot of product there, but over the years, many of those mills have gone out of business." The story of textiles in Italy is one of extremes: exceptional beauty and extraordinary quality, complicated by the demise of the region's yarn suppliers, dyers and finishers who have closed up shop, crippled by rising costs. (In addition, a longstanding unfavorable exchange rate with the euro has further crushed the margins of American companies who source in Europe.) 
"For us, Italy is the most important country in the world for sourcing," says Appelbaum. "The mills there are, without a doubt, the most creative." But manufacturers on other continents have emerged as key players in the textiles trade, including mass-produced, value-oriented fabrics from China, sheers from Turkey, and  luxury  textiles from India. While Italy may often be Appelbaum's first stop, it is not his only stop when sourcing—especially for some of the other companies under the Clarence House umbrella. 
Nina Butkin, vice president of design at Fabricut, Inc., has witnessed the same shift. For Fabricut's high-end brands—Vervain, S. Harris and Stroheim—Italy is still an important source; for cost efficiency, the others­—Trend and Fabricut—now source primarily in Turkey, India and China. "One of the reasons we still buy from Europe for the luxury brands is because they are so advanced in their design, in the quality, and in that attention to the feel of the fabric, the weaves, the types of fibers and how to use them in innovative ways," she says. But Butkin also has her eye on a handful of mills in India that are starting to compete with the European market because of investments the factories have made in the people, skills, design development and manufacturing processes—investments that may well render them major competitors in the near future.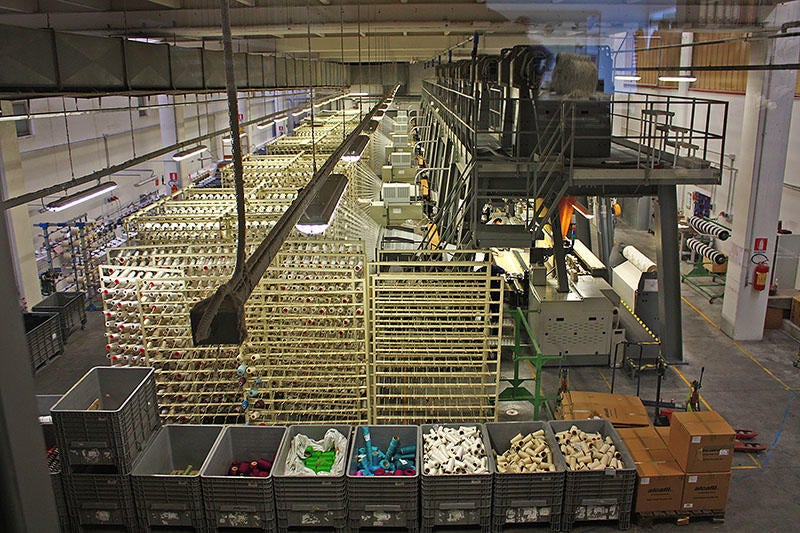 And it's not just fabrics: New York–based passementerie brand Samuel & Sons has shifted much of its production in a similar direction. The company sources product in Asia partially for cost, but also because its team has recognized the new capabilities coming out of places like Asia, where there is a proliferation of silks and labor-intensive handmade tapes and trims that would be unreasonably costly to make in Europe. "Working with mills in Asia has allowed Samuel & Sons to create trims that haven't been made since the 19th century, and innovate with completely new fibers and processes," says company president Michael Cohen. 
Each textile mill has a fingerprint, or personality, that defines that mill. If you lose that mill, it is very difficult to replace it with the same level of effectiveness or uniqueness.
—BOB APPELBAUM
Despite the innovations in Asia, all three companies prefer European fabric and trims for their special attention to detail and level of quality that is difficult to replicate. "European mills continue to have a much stronger grasp of design and can more easily translate our vision," adds Cohen. "Furthermore, the mills generally have higher-quality man-made yarns, better color selection, and the ability to mix colors more effectively and beautifully." The loss of those Italian businesses has had a tremendous impact on the fabric companies, and rebounding from a mill's closure isn't as seamless as it seems. "Each textile mill has a fingerprint, or personality, that defines that mill," says Appelbaum. "If you lose that mill, it is very difficult to replace it with the same level of effectiveness or uniqueness."
It's not just production that has stifled business. Butkin explains that a shift in the way fabrics are marketed and sold out of showrooms has also had an impact. Instead of visiting showrooms and poring over sample books, the newer generation of designers is browsing online, then calling for samples. "When we change how we buy and how we sample, we might not need as much yardage," she explains. "It means we are buying less from the mills. It means the mills are buying less from their yarn suppliers or their finishers. It is really going to impact how our resources survive." Many of the mills she works with have had to find ways to reinvent their businesses, often by pivoting to a different category. Some have even devoted their looms to wallcovering fabrics, where there is still less competition from emerging markets. "The Italian weavers, I feel, continue to innovate," she says. "In their fight to survive, they demonstrate that they are truly artisans."