Designer-to-the-stars Kelly Wearstler has parlayed her glamorous portfolio of critically acclaimed, A-list-approved interiors into a well-oiled business that creates highly regarded furniture, lighting, rugs, home decor—and, yes, the residential and hotel design that originally made her famous.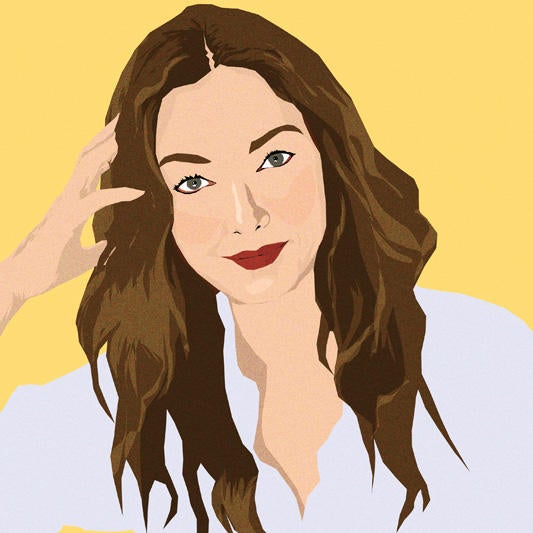 Illustration by Monica Ahanonu
After college, I wanted to start my own interior design business. I was introduced through a friend to a Hollywood producer and his wife to redesign their dining room. They loved it, and I ended up designing the entire home. I did not follow the trends of that time period, and it paid off. The project got published and I started Kelly Wearstler Interior Design. I remain true to my voice, true to my vision, and do not allow what others are doing to dictate my creative process.
My first restaurant was BG at Bergdorf Goodman. It was an incredible honor to work with such an iconic retailer, and it gave me a real sense of accomplishment. I have been fortunate to work with incredible clients throughout my career and consider them to be my greatest muses. I feel so privileged and excited to do what I love every day.
There are very strong, independent women in my family who have been an incredible inspiration to me. Both of my grandmothers had careers for more than 50 years. My mother always worked and managed being an amazing mother; she set me up with a bank account and checkbook when I got my first job as a teenager. Having strong female role models with a great work ethic helps to bolster your own independence and confidence in yourself. They taught me that there is no one who will take care of you better than yourself.
I admire Iris Apfel, who at 97 is a successful businesswoman, model, fashionista and a constant inspiration for how she embraces life. She is a true trailblazer who lives fearlessly.
To be an entrepreneur, you have to have a bold mindset. You can't let fear stop you from creating the life and business that you want. I had to create my own path, break rules, and not be restricted by boundaries in order to evolve my interior design and architecture studio into a multifaceted business with numerous licensing deals, collaborations, a flagship gallery, and a robust e-commerce site. You need to be deft at wearing many hats.
I look for people who are creative, passionate and have a strong work ethic. Surrounding myself with people that have these attributes is the only way to successfully navigate and evolve my expanding businesses. I most value passion in my working relationships. I am so passionate about what I do, and working with passionate people seems to always lead to a great project or product.
My most significant challenge is learning to say no. The beauty of my work is I get to touch so many mediums and it keeps me on my toes. I have always been a great multitasker. There are so many interesting opportunities that excite me that it is sometimes a challenge to say no. It takes a village, though, and it is so important to have the support of a talented team, and to foster a culture of ownership.