For decades, Wendy Goodman has been a chronicler of good design in the Big Apple. As design editor of New York magazine, she produces its weekly Design Hunting feature and a new video series, Interior Lives; through her reporting, she has uncovered the city's most intoxicating interiors. Her third book (and the first to document her own career) hits shelves in September.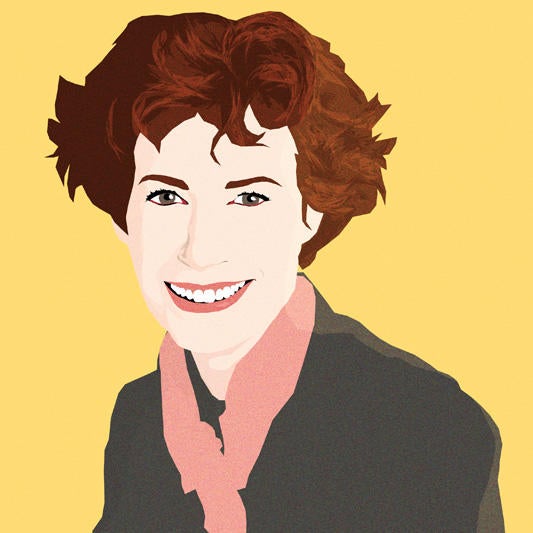 Illustration by Monica Ahanonu
My mother, a watercolorist and fabric designer, was so industrious, so creative and so independent. In our first-floor apartment on Park Avenue and East 93rd Street, she used peg board in the broom closet to hang paintings, sculptures, my brother's little corgi toys, old watches—this wonderful assemblage of things that interested her. She did everything like that. She saw things she loved and translated them into her own in the way she could. She is 97 now, and still absolutely elegant and amazing. My father was a surgeon. We never moved—we had this stability. I just loved getting home from school; it was busy, my mother had something cooking and it always smelled good.
I've always been obsessed with people, their behavior, why they make the decisions they make. The way they dress, the way they decorate, the way they talk to people. I'm just very curious about people. When I started, magazines were the only way you could find out how people dressed, how they lived, why they did the things they do. You had to open a magazine.
My first paying job was at Harper's Bazaar, where I was hired to be the assistant of a young British editor who had just arrived in New York. Her name was Anna Wintour, and what didn't I learn from that experience! I have always loved writing and loved books. Writing has always been a part of my life, even when I had the misguided idea that I wanted to be an actress, and studied seriously to that end. I knew I wanted to change my career from fashion to interiors the day I walked into La Grenouille restaurant in Manhattan and was captivated by this little carriage house filled with remarkable paintings, fresh flowers and so much beauty. I was struck by lightning.
If I am meeting someone who is intriguing to me, I inevitably ask, "Where do you live?" If I am in an interview, I usually come around to asking them to describe the home they grew up in. A home is an autobiography. Every interesting home is a self-portrait of that person. The stories I always look for are just that—stories of that person's passions, what they collect, books, paintings, objects. Or not! Some people don't like to have anything around. A home is really the inner life of that person. It tells you so much without a word being spoken. You know about that person. Editing and writing my latest book, May I Come In? Discovering the World in Other People's Houses, was the hardest of the three books I have done, because it's personal—the stories behind the stories I've already told.
Richard Avedon's private space above his studio was the most revealing and astounding home. I knew he was this charismatic and wildly intelligent, wildy curious person, but I always thought that if you're a grownup, you live in a certain way. Then I got to his house, where the walls were bulletin boards and he literally just pinned things up. I thought, You can do anything you want! It's your space, your rules. I never recovered from that first impression of entering his home.
Instagram is great, and it's awful at the same time, in the sense that it becomes obsessive, getting lost looking at all this stuff. People may think they need not experience things, because they see them on screen. Almost every house I write about, I do visit. You have to know and see and experience these places to know what the story is. Actually experiencing the air, the smells, the temperature, the climate, the personality of that space is really important. We have all these tools, so you think, I know that. I've seen that. You know a part of it but not the whole essence of it.
When liaising with my editors, it's a constant rallying cry for what I think is of the moment to give our readers—which is challenging, because our readers are getting so much information. What can we bring them that they haven't seen? How can I keep raising the bar so people go, "Ooh, that's interesting. I didn't know that!"