Vitruvi's sophisticated all-natural home scents are designed with intention.
Scent is a powerful thing. Our olfactory receptors are directly connected to the limbic system—the part of the brain that controls mood—which is why a whiff of a certain smell can instantly evoke a buried memory or prompt a strong emotional response. That reflex is nothing new to Sara Panton. The CEO and co-founder of natural home-scent brand Vitruvi knows all about the benefits of scent. "Smell is the most influential yet underutilized of the senses," she says. "Having a specific scent for different rituals helps the body develop habits by pairing a scent to a moment of the day through the science of scent association."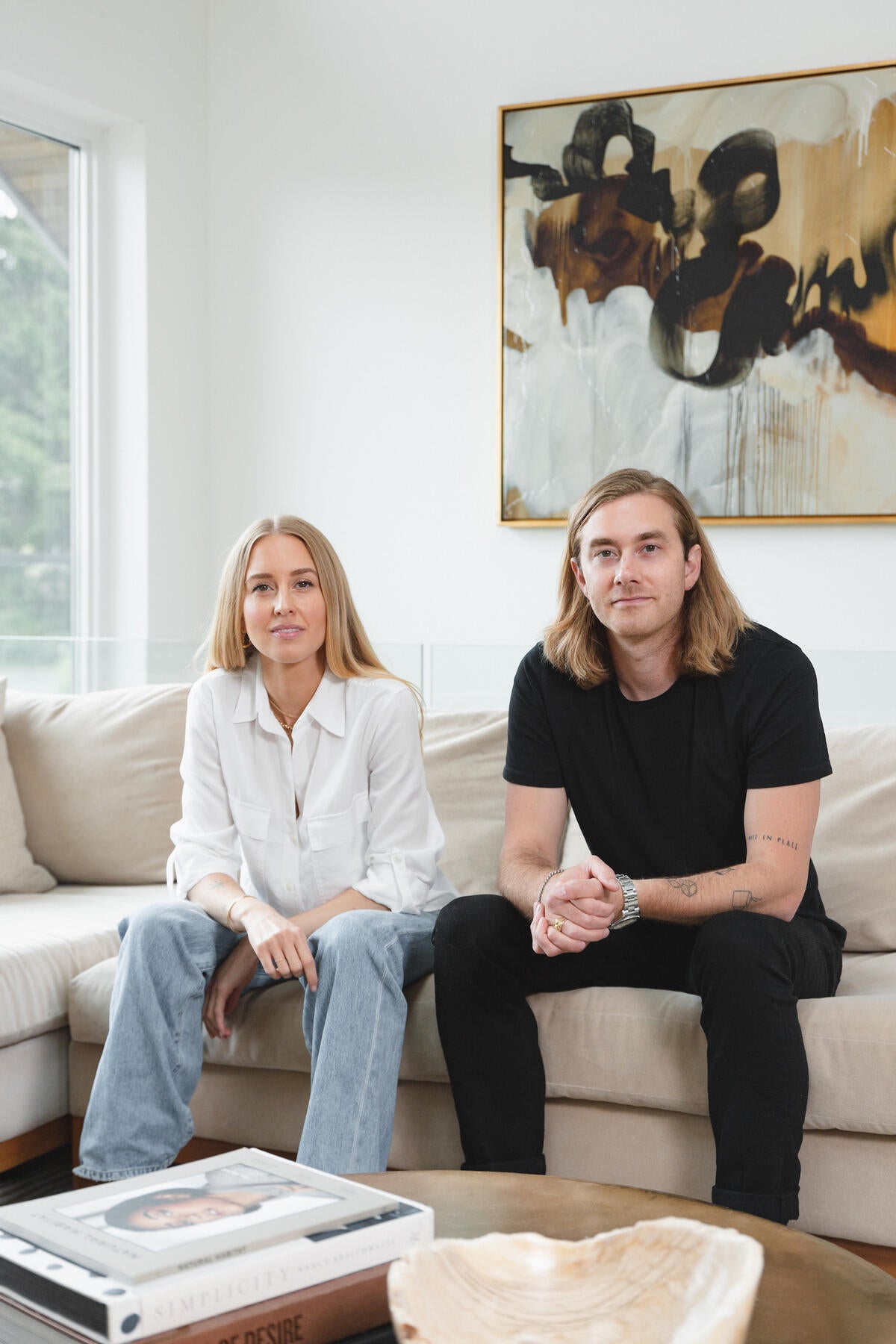 Growing up in a rural farming community on Vancouver Island, Panton's family taught her from a young age about the importance of all-natural products, along with the value of growing and producing organic food. This early education in holistic living inspired her to pursue an undergraduate degree in global health with the hope of becoming a doctor in preventative medicine. "I grew up surrounded by farms and the ocean," she says. "It sounds so simple, but I've always been interested in the ways that nature takes care of itself." During her first year at medical school, Panton began experimenting with plant-based botanicals—specifically essential oil extracts—and their impact on the limbic system and olfactory cranial nerve, which regulates the sense of smell. "I started concocting home scents that were safe to breathe and that would help me stay focused while studying," she says. "I quickly found myself more engaged with this side project than with the demanding study hours and test schedules at school."
In 2015, Panton and her brother, Sean, launched Vitruvi with a series of single-origin essential oils and blends designed for the home, dispersed via a sleek, ceramic ultrasonic diffuser that breaks up oil molecules to create a fine mist. Today, the Vancouver, British Columbia–based brand offers 13 essential oil blends and nine single-origin oils for the home, including a signature scent named Legacy and three stylish ultrasonic diffusers in multiple colorways. "We saw an opportunity to create products that allowed someone to use scent with intention throughout the day," she says. "Our products are all inspired by our customers' needs. They want grounding, all-natural herbal scents to help create an inviting living space."
Panton aids in the development of all of Vitruvi's products, especially its scents. "Every blend starts with a visual moodboard and a list of feelings associated with each scent," she says. "Once the mood is decided upon, the scent profile is built by deciding which essential oils that we want to use for the top, middle and base notes. Having a layered approach to designing the scent results in a unique, dynamic and distinct aroma."To strike the perfect aromatic balance, the brand creates multiple variations of the same blend, testing different percentages of essential oils in each, before settling on the winner. "The scent of an essential oil can evolve over time and smell differently when diffused versus in the bottle," says Panton. "For each iteration, we let the scent sit and 'marry' for a few days before determining how the notes will ultimately come together." The entire process can take up to 12 weeks.
Panton also pays close attention to interior trends, particularly when it comes to the design-forward home brand's diffusers. "Our bestselling Stone diffuser took more than a year and a half to design, and we are continually updating it, whether it's redesigning the buttons or adjusting the cord placement based on customer feedback," she says. Move, a cordless diffuser, and Stay, a long-lasting diffuser, both come in neutral hues and feature of-the-moment sculptural silhouettes.
Since the brand's inception more than seven years ago, Panton says business has grown month over month, with the most success in the American market. "Vitruvi launched with two team members, and now has more than 30 employees," she says. The brand's product offerings are expanding too. In May, the company unveiled a line of all-natural air-freshener sprays composed of essential oils and natural nitrogen, becoming the first to offer a fine-mist experience without harmful propellants, synthetic fragrances, VOCs and small particles. "We want to create a holistic home scenting system, and these sprays are for all of the in-between moments throughout the day."
This fall, the company unveiled the Cloud, a compact, whisper-quiet humidifier that releases a cool mist for optimal air hydration. In 2023, Vitruvi will debut a slew of fresh products, including a few new product categories. "We want to educate people on the benefits of aromatherapy and the importance of natural air care," says Panton. "The air care industry has been stagnant for decades and we aim to disrupt it."
Homepage image: Vitruvi's Stone diffuser in Terracotta breaks up essential oil molecules to create a fine mist | Courtesy of Santiago de Hoyos