It's easy to step into a well-designed space and know it works. It's often harder to describe why, exactly. BOH asked celebrated designer Alexa Hampton to dissect the choices behind her moody, maximalist Manhattan bedroom.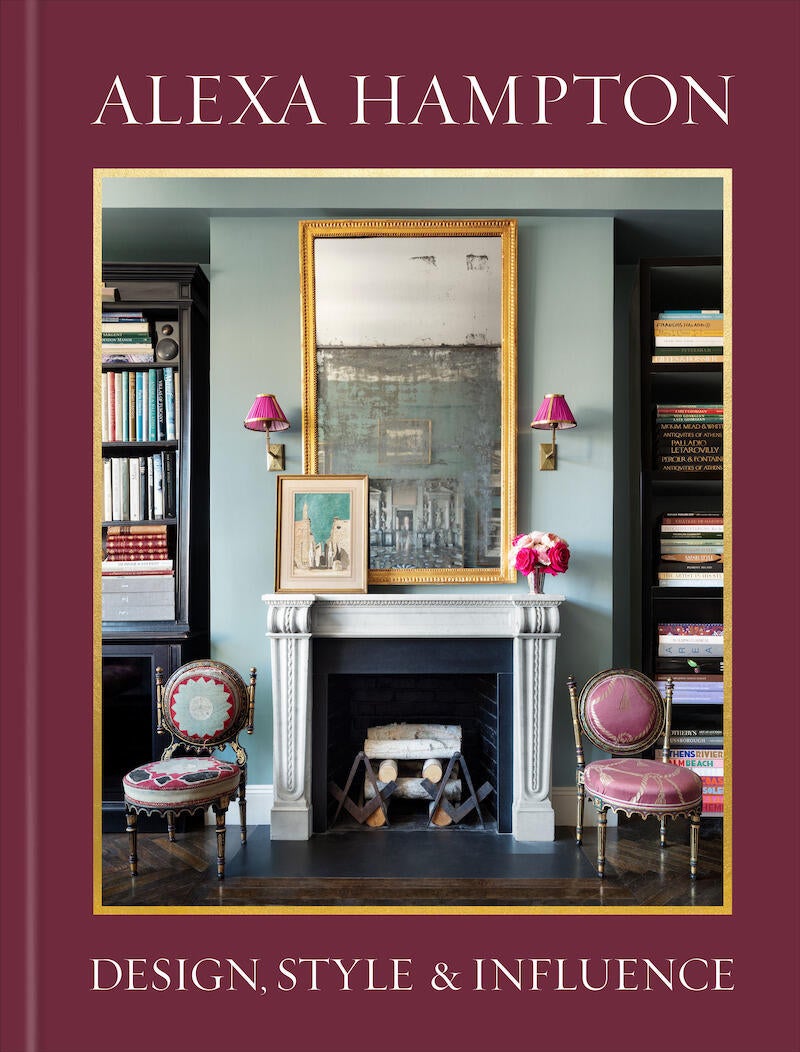 There is no doubt that Alexa Hampton has  mastered the language of design. In the 25 years since taking over her late father's eponymous firm, Mark Hampton, she has earned a regular place on industry best-of lists, authored numerous books and columns, and designed product for a range of brands, from Kravet to Theodore Alexander to The Shade Store. In her latest book, Design, Style & Influence, Hampton offers a peek into her inner world—and her family's home—as she chronicles her life's work, personal style and the inspiration behind it all.
Among the featured projects in the book is Hampton's own primary bedroom, which she recently redesigned. After deciding her original white-and-taupe color palette was not in step with the rest of her freshly renovated Manhattan home, she opted for a rich purple color scheme, complemented by coral silk drapery, amethyst accents and landscape oil paintings.
What makes this wild combination work so well? We called Hampton to find out.
JUST FOR YOU
My home has evolved for me in the way it would for a nondecorator, which might be surprising. Even though you believe you know what you're doing, you get stronger, more confident and more authoritative over time. You get to a point—and this was reinforced by Covid—where your house is not something that you see as an object to show others. It becomes a habitat for just you, so it must suit you.
START WITH STRUCTURE
I have a fairly small primary bedroom, and it has a lot of windows, which is great. But I had no ability to be creative about where the bed would be located. Most of the room was programmatic and told me what I had to do, so it became very important for me to address those things and make it special. The evolution of the room started with making all of the doors jib doors so that when I'm in the bedroom, I feel like I'm in a single space—there are no perforations, no staccato. I already had the two walls of windows, so everything else had to be uninterrupted. Then, I wanted these incredible ceilings, so I made coffers and had Hyde Park Moldings install a beautiful crown. I put a striped wallpaper on them, and medallions in the middle, so the ceiling really grounded the room. It was architecturally present, and it felt like it had history and meaning. You see that wall of windows and there's a whole city playing out in front of you, then all of a sudden it's like, "Oh, my God, look at the ceiling, it's beautiful." So I actually started there, and that created the structure, which was a huge defining aspect of the room regardless of its color.
OUT WITH THE OLD
When I originally did the apartment, I took what was in my old bedroom, which was all white and taupe, and I reinstalled it in this bedroom thinking that the color palette would look so beautiful. It was clean and austere but also airy, and my kids loved it. But this new room is much smaller, and it doesn't have the fireplace and bookshelves of the previous room, where book spines brought color and interest and the scale of the room brought impact. The taupe version in the new room looked unremarkable—there was nothing to say that this was our room because there was nothing that made it any different from any of the other bedrooms. I hated that I made such a rookie mistake. Finally, I was like, "It's not special enough!" and decided to redo the room. On a lot of projects, I look back and I'm like, "That's great—what made me do that?" I can't tell you how I ended up with that purple color, but I'm so glad I felt my power.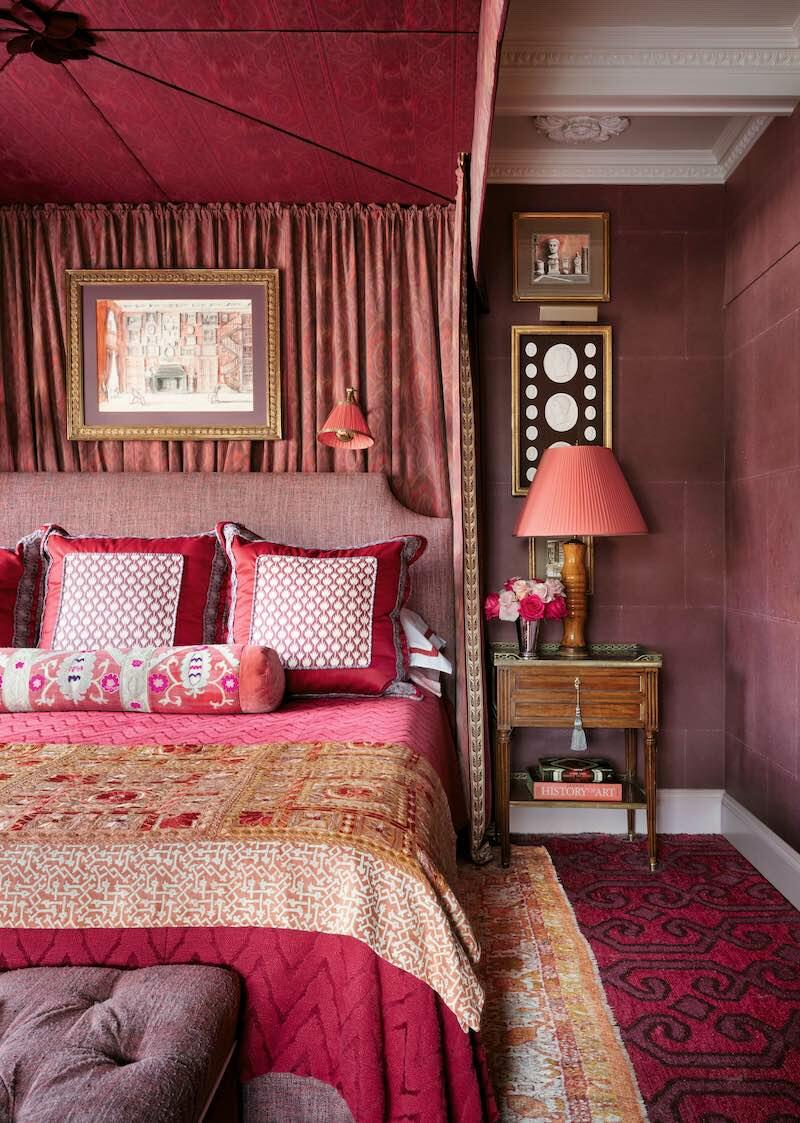 BUILD THE BASE-ICS
I love a canopy bed because it helps make the room look hierarchically important—it signals that this is the most important bedroom. I went for the purple because it's sumptuous and amazing, and the presence of almost two whole elevations of windows allayed any fears I had about a dark color creating a black hole. The room is so bright during the day, and then it's just gorgeous. I was playing with this beautiful ikat silk fabric on the interior of the bed and then a velvet on the outside of the bed—which is insane. I still can't believe I did that. Who do I think I am, Henry VIII? Then I used another purple texture for the headboard and a dust ruffle, and the purple hand-painted wallpaper is by Gracie—it has so much visual texture that people often think it's suede when they walk in. It was purple, purple, purple as the base. Then, it started giving me coral highlights on its own, and the lamp shades all turned into coral silk. When the sun is setting and the sky gets very dark blue, the coral is absolutely perfect.
VIEW FINDER
Most of the time, when I'm in my room I'm in bed. So even though the bed is such a fantastic object to look at, the bed is most amazing when you're in it—that's a huge thing to consider about a bedroom. It's not just the back wall of the bed and how grand it looks; it's about how it looks when you're nestled inside of it. Mine is very dramatic, and I love that. When I'm in bed, it's like a stage and the theater is the city—it's all amplified by this dark surrounding and feels like you're in a movie theater. And because the corner is all windows, it's very energized, but you can almost feel like you're in a fishbowl. I needed to take control and dominate the windows with curtains because I couldn't let the windows dominate me.
MATERIAL GIRL
I was at ABC Stone's marble yard, and I passed by this slab of amethyst stone that was unbelievable. I already had those bedside tables, but they had no pizzazz. Putting that slab on those tables is maybe the craziest thing I have ever done in my life, but it's totally fine to be crazy in your own house. It has a lamp standing on it, and it usually has books on it, so having the amethyst just peeking through tempers it. It allows me to walk through that room and never really focus on it, but when I do see it, it's like, "Wow."
THE POWER OF LAYERS
Your eye needs to move around a room and be engaged at every tier. The wall-to-wall rug in my bedroom is a Bordeaux-colored cut-tile pattern, and then on top of it is an orange Turkish Oushak carpet. There's a point at which pattern upon pattern upon pattern cancels itself out. It's two patterns, and they're really noisy and everything else is calm. Your eye goes straight to the patterns, but if everything has stuff going on, it can start blending together. That's when the pattern starts functioning like a solid. My pillows have patterns, and there's a drawing of the interior of Chateau Groussay by Pierre Bergian over the bed. I'm happy to have all of these oil landscapes by Julian Barrow throughout the room because they have a lot of sharp green, which does wonderful things to the purple. The room is bursting at the seams—there's nothing else that can be added at this point—but it feels alive. Again, there's no better complement than what's happening outside of the window, so it's a tableau vivant.