In our series, What I Love, we're asking designers to build us a mood board of what's inspiring them right now.
Zuni Madera has an eye for the ethereal. The New York–based vice president of Foley&Cox has a knack for layering plush textiles with pastel tones and abstract prints to create spaces that feel airy yet approachable.
Her current mood board is an excellent example. Drawing inspiration from spring and summertime fashion trends, Madera blends touchable fabrics, earthy pigments and graphic motifs without ever deviating from a neutral scheme. "This flat lay reflects personal style in an interior space," she tells Business of Home. "The refined moments of contrast and sumptuous materials create a monochromatic color story that provokes the senses."
The end result is a delicate mix of tactile textures and light hues grounded by a strategic sprinkling of metallic accents. "The less-is-more approach captures the appreciation of collected elevated design principles and elements."
Here, Madera breaks down the details—from milky-white paints to washi-style wallcoverings.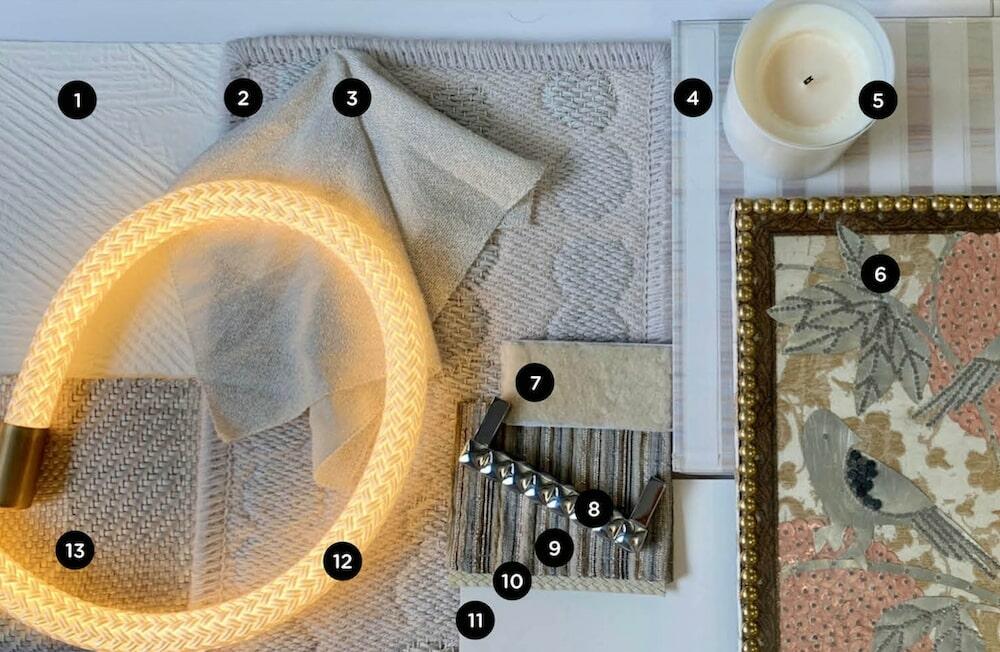 1. CONCRETE WASHI II WALLCOVERING IN BRUSHING UP BY PHILLP JEFFRIES
"White-on-white pattern and texture are so chic."
2. TORRI RUG IN OPAL BY MERIDA STUDIO
"This rug's mix of textures in merino, alpaca, linen and silk is soft and sensuous."
3. SENORITA FABRIC IN SILVER BY HOLLAND & SHERRY
"This light boucle textile is like being wrapped in a cozy wool scarf and adds a layer of softness to window treatments."
4. JOHNNIE WINONA ROSS BOOK BY RADIUS BOOKS
"A beautiful coffee table book is an art form and a fabulous accessory."
5. INSPIRATION CANDLE BY FOLEY&COX HOME
"This candle's aroma is pure, light, clean and sets the mood for inspiring ideas."
6. CUSTOM FURNITURE SAMPLE BY VALENTINA GIOVANDO
"Valentina Giovando's furniture collection is whimsical, glamorous and tailor-made all at the same time. A unique piece from this line is the jewelry for the room."
7. NATURAL SHEARLING IN CREAM BY KELEEN LEATHERS
"A soft and cozy creamy shearling—you'll want to curl up in anything upholstered in this plush wool."
8. CP 3017 SQUARE PILLOW PULL BY SA BAXTER
"Cabinet hardware is a bespoke detail that transforms a case goods item into a one-of-a-kind. This design is elegant and timeless."
9. CUSTOM TEXTILE SAMPLE BY FJ HAKIMIAN
"A subdued, multicolored textured stripe adds a soft pop of interest in a monochromatic palette."
10. SERPENTINE TAPE IN SOFIA BY HOLLY HUNT
"It's all in the details, and a braided leather tape adds a nice finishing touch to upholstery or throw accessories."
11. DKC-51 PAINT SAMPLE BY DONALD KAUFMAN COLOR
"There's no better caption for this hue than 'by none other than Donald Kaufman Color.'"
12. TRACER BAR 1.8 CHANDELIER BY LUKE LAMP CO.
"This light fixture instantly gives any space a cool factor. It goes from artistic form to functional light to sculpture hanging from the ceiling."
13. TWEED LEATHER IN PALM SPRINGS BY LANCE WOVEN LEATHER
"This woven leather offers limitless applications, from upholstery to interior architecture."
Homepage photo: A flat lay by Zuni Madera | Courtesy of Foley&Cox