The 50 States Project is a yearlong series of candid conversations with interior designers across the country about how they've built their businesses. This week, Portland, Oregon–based Tiffany Thompson of Duett Interiors tells us what it's like working with NBA players and TV personalities, how she focuses on storytelling when presenting to clients, and why she's planting roots in the local design scene.
Do you have early memories of being interested in design?
I was born and raised in Queens, New York, and I did not know of a single interior designer—I didn't even know that was a job. I was a tomboy growing up; I naturally gravitated towards sports, and I just thought, "What career can I go into that doesn't require me to dress up every day?" I played soccer in college, and then worked for a basketball team down in Miami, where I met a guy wearing all this Nike stuff who [told me about his job] at Nike. I'm like, "Where?" He said, "Portland," and I was like, "Oh, Maine. Cool." He's like, "No, Oregon." And I'm like, "What are you talking about?" But after that, I got fixated on the idea of working for Nike.
Luckily, Nike hired me when I was 22 to work full-time in Chicago. Again, I still had no idea about interior design. When I was in college, I had my own dorm and apartment, and I just decorated it so that it felt comfortable for me. I actually liked being in my space and I would help out my teammates or friends, but it wasn't anything that I thought was a viable career. In Chicago, I did the same thing and decorated the apartment that I got off of Craigslist. Nike moved me to New York, and then to Portland, and I ended up buying a house in 2016, when I was under 30. My friends would come over, and that was the first validation—they said, "Hey, you're actually pretty good at decorating. Maybe you should help me with my place. I'll give you free food, or I'll pay you $100." I was like, Well, this is the year of the side hustle. I'll do this on the side for fun.
You were on the creative team at Nike. What was your role there?
Nike was an amazing place that allowed you to have your feet in different functions. You're able to move around from sales to marketing to accounting. I started as an administrative assistant when I was 22, and I was terrible at it. It was so hard for me to manage somebody else's calendar and not be distracted by all the cool things that were happening. They took me off that job in six months, and had me do marketing for influencers—but this was 2010, before we really had influencers. That allowed me to connect with a bunch of people in the city and build really solid relationships. The pivotal thing was that they were not transactional relationships—they were based off of me just being inquisitive, wanting to meet really cool people then putting them in front of people at Nike to give them an opportunity. Like Virgil Abloh. I brought him to Nike very early on, and I think that as influencer marketing changed and shifted, those people were definitely valuable relationships.
After that, I moved to New York as a tech rep, so I only spoke about Nike products. I worked all around SoHo, and I had all the cool sportswear accounts—all these cool stores like Kith—and I got to connect with people and talk specifically about tech and storytelling of these products from the perspective of the design team.
Then I moved over to the design team in Portland, where I did apparel. I was the product line manager for apparel in tennis, so I worked on product for Serena Williams, Rafael Nadal, and all the stuff for the U.S. Open and the Australian Open. It was amazing to work with athletes at that level. Then I moved over to women's sportswear, where I worked on footwear for women—Air Force 1's and all of the cool casual shoes. I started from scratch by building cool stories around them. I worked on heritage products, so a lot of my job was going into the DNA—my strength was definitely being a storyteller, and how you make those stories come to life by relating them to new consumers, because that's when people get really engaged—and then slightly tweaking the product so that it had a new spin, or bringing it back better than it was before.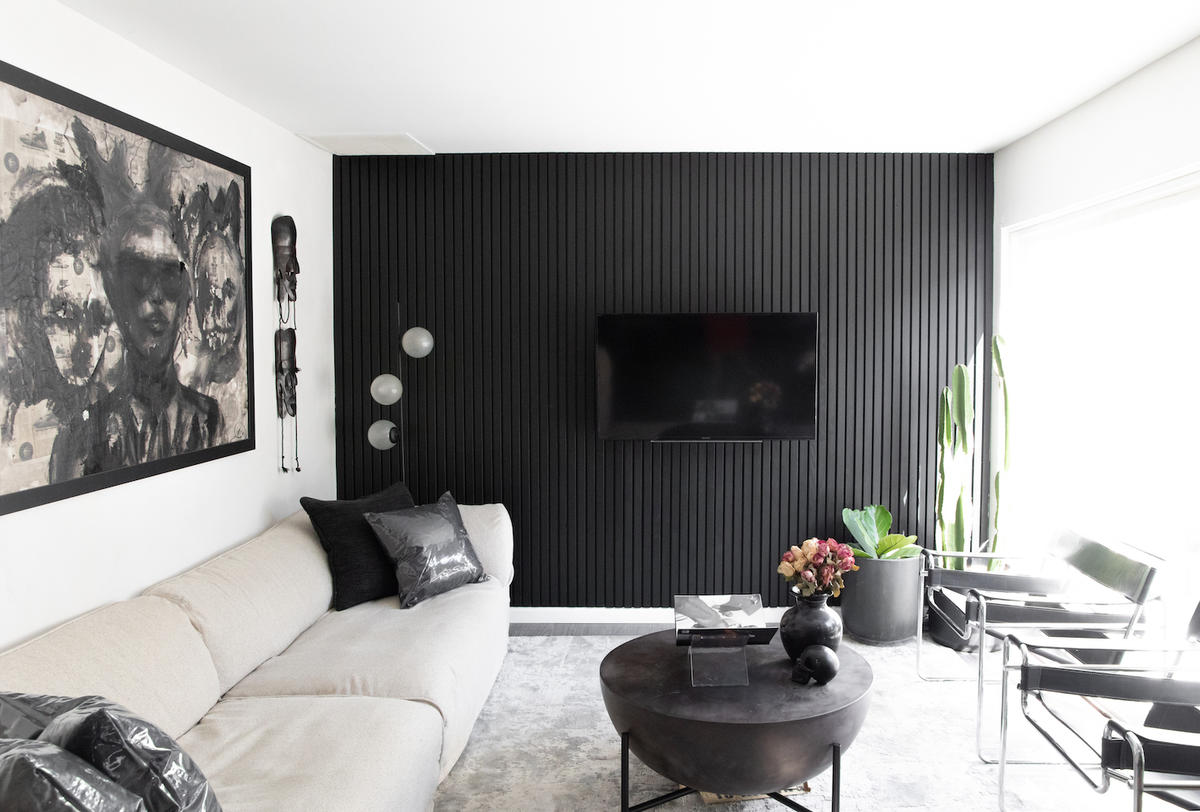 Courtesy of Duett Interiors
How have those experiences shaped how you run your business now?
I got an inside look at a $50 billion company. I learned how to run a business from one of the best businesses and corporations in the world, which I do not take for granted. I also learned how to make mistakes—and Nike had great leaders who were able to guide me along. It was about, "How do we not only find gaps in the marketplace and opportunities, but convert that into sales and numbers?" The storytelling aspect is always going to be one of my strong points. I'm definitely a person that loves details, and I love a heart-wrenching story—I'll buy anything if you sell me on the story, and I use that with clients today. Even when I'm picking out tile, there's always a reason why. I just did an all-blue powder room in a client's house, and it's inspired by the blue city [Chefchaouen] in Morocco. The client is from that side of the world, so I try to bring in those little stories that connect to them. That's the fun part about design—you're able to create new stories but also be inspired by anything.
You were working at Nike and had this design business on the side. How did those two worlds collide?
I had a conversation with a Nike VP where I was like, "It's pretty disappointing going from Nike's office setting in New York, where the office is new and there's so much energy, to Portland, where it looks cold and not inspiring." We worked on the design team, but it didn't feel like a place I wanted to be every day. I had higher expectations for Nike. So I said, "If you let me design the office, I'll do it without you guys having to pay me." Thankfully, they let me do that, and I redesigned our working space. After that, other VPs would come up to me and say, "Hey, I heard you designed this space. Do you want to do my office? I'll pay you. What's your price?"
Was that the moment that made you think, "I'm going to leave this full-time job, and this design career is going to be the next thing for me."
I actually got fired from Nike, which was a shock to me because I was on a path to be one of the VPs, and instead they ended up letting me go. I joke around about this, but sometimes somebody has to kick you out of the party and say, "It's time to go." If nobody kicks you out, you might be the person when the lights come up and it's like, "Oh, I should've left a long time ago." It was kind of tough love. Ultimately, I realized Nike is a stop along my journey. I don't think I was put on Earth to be an employee at Nike; I think I was put on Earth to try to make people feel the same emotions that I feel when I design homes.
Where did your first client come from after that?
The first time I got hired by somebody I didn't know was when I was still at Nike. I was traveling in China, and I got an email that said, "Hey, my husband plays in the NFL. We're going to be moving to Portland, and I'm six months pregnant. I got your name from a friend of ours, and I would love to see if you can do our house." We communicated while I was in China via text and email, and I was so shocked—like, "Wow, somebody that wasn't even a close friend of mine recommended me." I didn't feel like I had the body of work yet to be recommended like that, so that was such a cool moment for me to see that people actually think highly of your work even if you're still being really hard on yourself.
It was a great first project because I still had my job at Nike, so I had a safety net. It was pretty challenging from a communication standpoint, so it taught me how to communicate better with clients. And at the same time, I realized that even though I'm fairly new in this field, people can speak highly of my past work—it's easier for them to come along on this new journey because they're like, "Oh, I've seen her do that for 10 years, and she does it at the highest capacity." People are watching even when you don't realize that they are.
Then the first-ever client that I got post-Nike was [right after I got let go]. My boyfriend is a painter, so he's had his own business his entire life. I saw him do it every day, and he's successful at it. I was crying about losing my job, and he was like, "You'll be fine. You only get one day to cry about it, and then tomorrow you've got to get it together and figure it out." I ended up calling a couple of my friends, and I was like, "Hey, I just wanted to let you know that I'm not at Nike anymore. I'm going to do interior design full-time."
One of the friends I called was an NBA player I first met when I was new at Nike and he was playing basketball in college. We became friends—and then he got drafted and became an NBA superstar. His wife called me the next day and was like, "We just bought a $17 million condo in San Francisco—do you want to design it?" It was my first time working with a high-end client. Yes, they're my really good friends, but their expectations and the details they wanted me to do prepared me for other clients in that space. Then he told one of his teammates about me, and I did that guy's house, and then it kept going like that. I've been out of Nike for the last two years, and now I'm an official entrepreneur.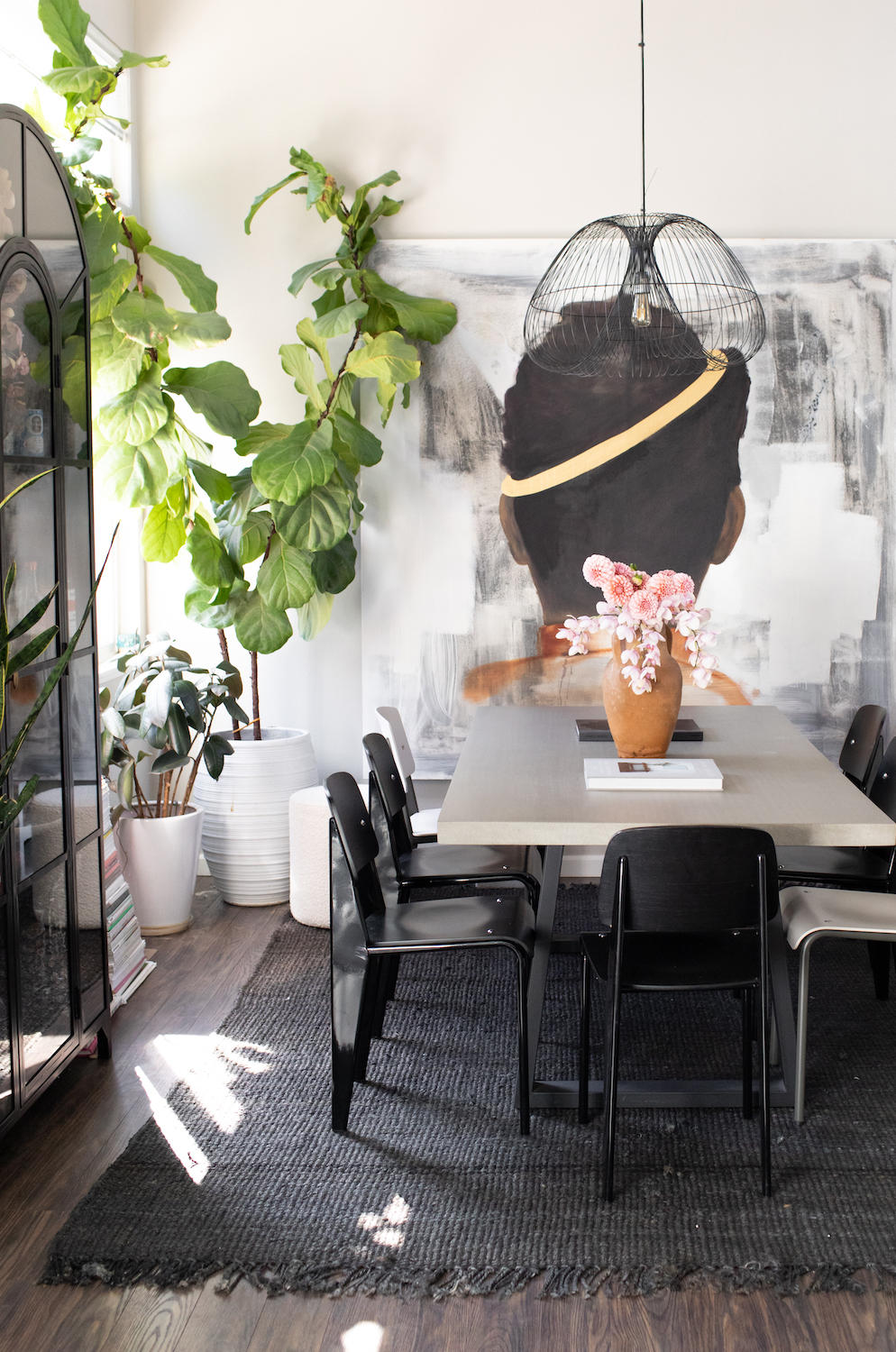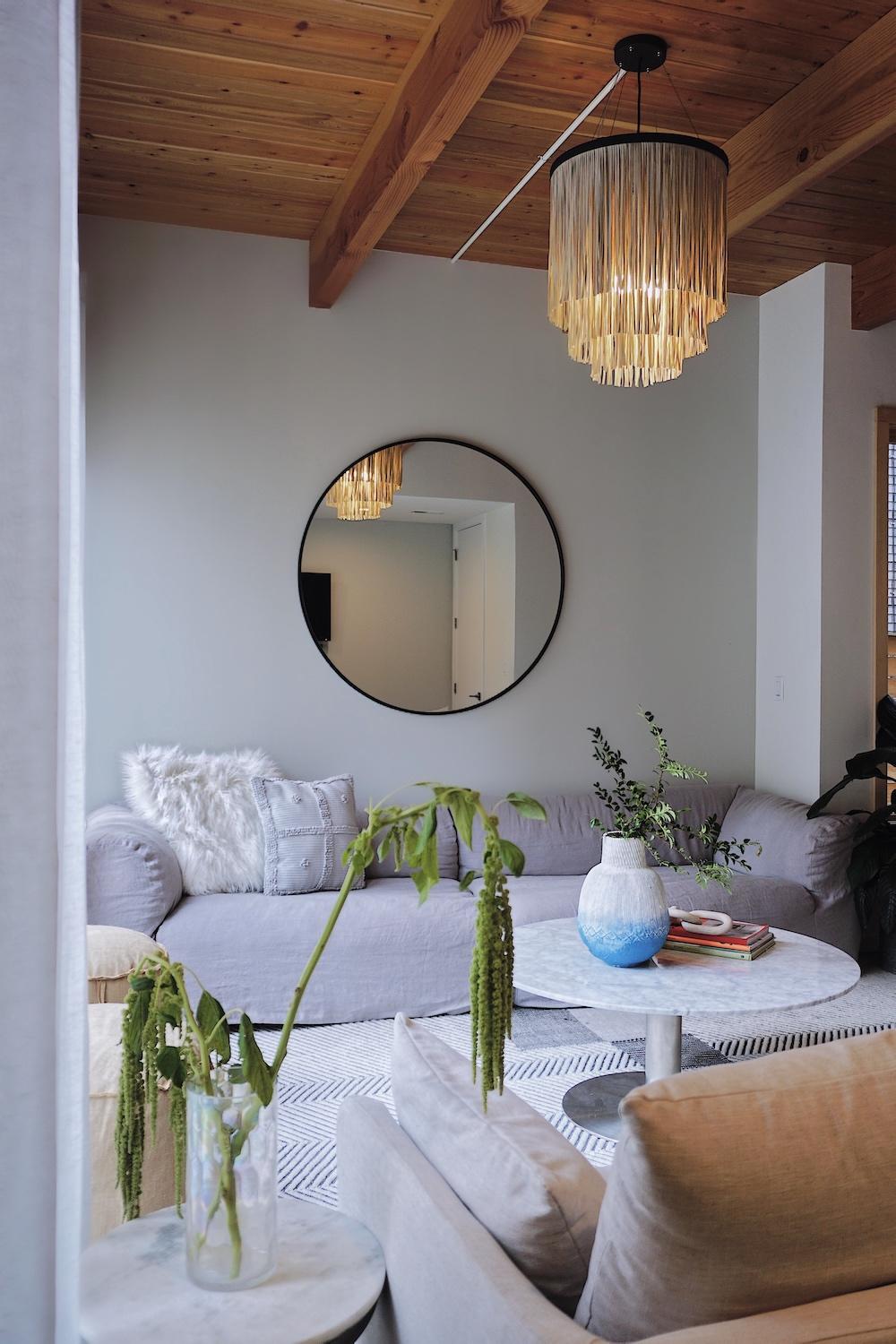 That's amazing—and speaks to what you were talking about before about building genuine relationships.
If your friends believe in you, they should give you opportunities and speak highly of your business. They're not obligated to do that, of course, but when people know your work ethic, they want you to win. Those relationships I built could have easily gone away once I left Nike, but they stayed and got even stronger, and [those people] introduced me to new people. If you treat people right and show up for people, you just never know when it's going to come back around and they're going to be able to help you out.
You mentioned that storytelling is important to you. How do you bring clients along on the journey?
I always start with my "why." Before I even show them what I've chosen, I'm like, "So remember when we talked about this, and or how inspiring that was?" I explain that I've taken that inspiration, merged it with a documentary I saw or a trip that I took, and now I've come up with this amazing idea. I always start with the "why" and try to really engage them in that, and then it's like, "OK, now let's talk about the design."
You're leading with the narrative, not how it's going to look.
Totally. Another thing is that I'm adopted. My aunt adopted me and raised me as her daughter, so creating this really deep feeling of home is special to me, and I try to replicate this for clients. I know what it feels like to have a place that's not comfortable—where you don't feel like you belong, or where you don't feel like it is your safe haven. I always start with what we are trying to make it feel like. This is an emotional process—we'll figure out the aesthetic later, but it's kind of like a therapy session first.
How many projects are you working on right now and what do they look like?
I just wrapped up two projects, and I'm just waiting for a couple of deliveries to wrap up two more. One is a home in Minnesota for an NBA athlete, which has been sent over to [a magazine]. The athlete doesn't want to be involved in the story, but we're trying to convince him. He has a rustic modern home in Minnesota that we've completely transformed—everything there is inspired by Muhammad Ali, who is from his hometown, and everything is in black-and-white.
I am also 99 percent wrapped on a custom build for NW Natural Street of Dreams, which is this show where clients can buy a plot of land, and then they build on it with a builder and designer. It's a fast-paced build—we did that house in four months—and then there's a tour. It was a 5,500-square-foot modern farmhouse, and it's incredible. The clients are two doctors in Portland; she's Indian, so we have a lot of Indian features and cultural design visuals that we brought into the house. I'm so grateful to have had that opportunity, and that they trusted me with their home.
I'm wrapping up another project in Portland where we redid their kitchen and living room, and for that one, I'm just waiting for some furniture. Then I have a project in Oakland—an English Tudor–style house that started last year and that we're hopefully going to be wrapping up at the end of September.
I also have a TV show that's coming out on Discovery+ and HGTV with [actress and producer] Marsai Martin, from the show Blackish, where we are redoing spaces for teenagers that did really amazing things during COVID. And at the same time, we just bought a 4,000-square-foot midcentury ranch on a couple acres. We found the original plan from the guy that built it in 1965, and we're just gonna try to bring it back to life and bring some stuff that he wasn't able to do into the house and make it our own.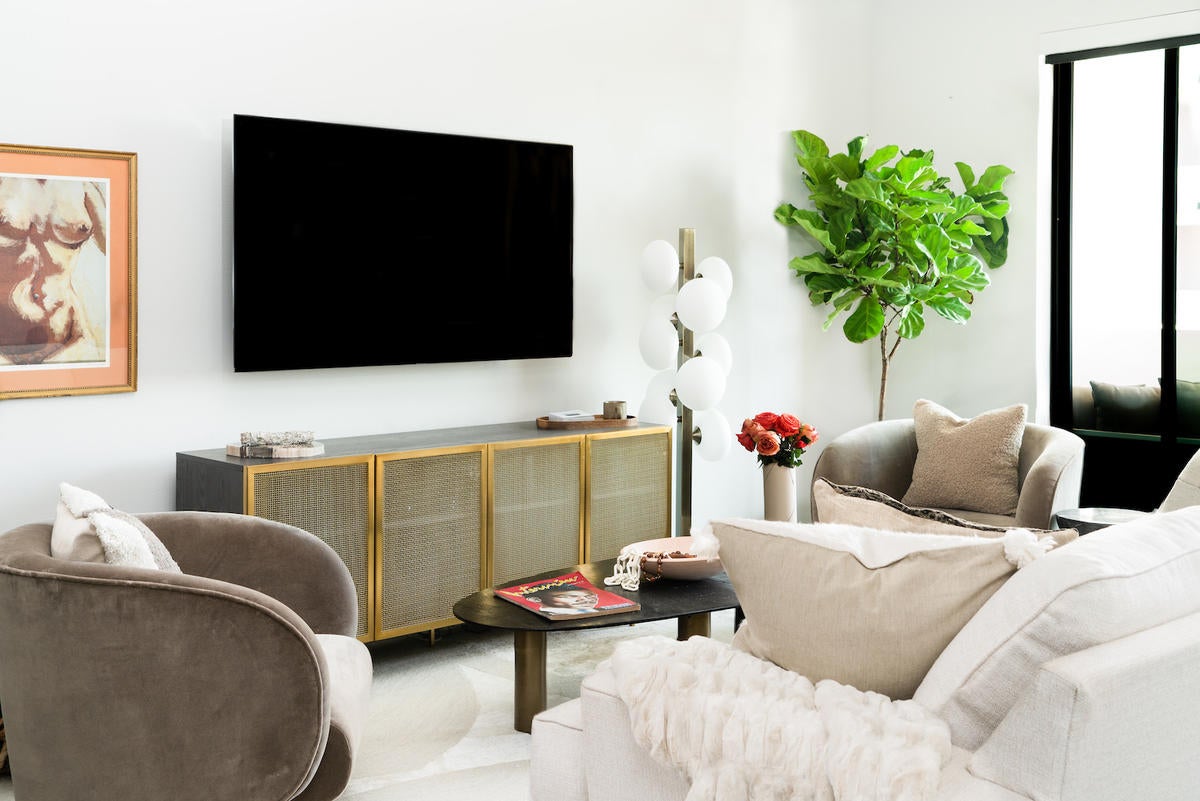 Courtesy of Duett Interiors
How do you decide what you say "yes" to?
I base it on how me and the client get along and how I like them. It's like getting naked with somebody: "We're just gonna strip everything and really get to know you. I'm going to talk about your house and what I don't and do like." It's a very transparent process, and it's not always about the project. It's about, "Do I like the people that I'm building this for?" Again, it's emotional for me, and it's important. I want people that are not like, "I'm gonna do this and then sell it in a year." No. I want [clients whose home is] going to be the backdrop for their memories. The way that I remembered my grandma's house and certain colors on the wall, I want them to have those same memories of their kids when they're growing up.
[But] I try to not be too selective, because I'm still a young designer, so I will take almost anything unless the person is insanely crazy. Even then, you learn so much from those projects too. It's going to be a difficult project, but then you work with them and you learn a lot about yourself. You learn about how you want to run your business, how you want to communicate. Everything is an opportunity to get better. I don't think that God's putting opportunities in front of me that are not for me. So when it works out, I'm like, "This is something I'm supposed to work on, and whatever this journey is, I'm down to go on it."
How do you pivot between projects and adapt as you're designing things that are so different?
This is the thing that keeps me engaged as a creative—that it's not the same thing over and over. My version of the worst day would be to design five farmhouses. Don't make me do that. [When I named] my company Duett Interiors, I looked up what I wanted it to mean and thought about perfect duets and how people harmonize with one another to create something beautiful.
My role as a designer is to be the bridge between what the client wants and what they need, to give them what they don't expect and challenge myself. There's always a common denominator—I'm not a maximalist, I'm focused on grand moments and storytelling—but I can go from a black-and-white rustic home to a Tudor style full of the saturated colors. If I'm really being specific to the client and creating something, I thrive on that.
I'm so glad you didn't ask me, "What's your design style?" Everybody asks that, and I always tell them the same thing: I don't know what that is yet because I'm so influenced by the client. I don't think the word exists yet for my design style—but I also know there are very specific ethos that I always filter all of my design through. It's not about minimalism. It's just about the right amount of stuff in the right grand moments and about activating your five senses. Look, I have my favorite projects, and I have projects that are like, "Oh, I would never do this in my house, but it works perfectly for them." That's why it's really fun to be working on my own house. Axel Vervoordt is my favorite designer ever—all of the plaster and less is more, and things like that.
Are you still a team of one?
I have an intern that I'm trying to get full-time. She's super talented, and I don't want to lose her to a corporation that will be able to pay her better. She just came on in the summer and helped me with the custom build.
How do you want the firm to grow?
I want to have an all-female or majority-women team, and to have minorities to bring different cultures and mirror what I grew up with in New York. I think there's value in having different cultural elements, perspectives, viewpoints and ages to create beautiful design. I don't want there ever to be a point 10 years in where everything starts to look the same because we don't have variety and different perspectives on our team.
You came from one of the biggest companies out there. Does bigger mean better for you in terms of growing your team now?
I would say it does, but not at the cost of quality. I want to grow, but I don't think you get a star on your belt for having 100 employees. I'd rather be smaller and be able to have a targeted amount of projects every year and own it on those projects.
I think about Duett Interiors as [focusing on] residential and smaller commercial projects like hotels. But I also think about products because I come from a product background. I want Duett Homes to have a range of products that are meticulously thought-out. If you can't hire me for full-time services or you just want a piece of our design ethos, you can get it in the linens and cotton and all this other stuff.
I also think about television to showcase our firm to a larger audience as we grow in our projects. On a large scale, I want to be able to say, "Hey, Duett is the best firm in the world for what we specialize in." But I will never sacrifice the quality, so I think there are times where it's OK to pull back. Axel says, "There's luxury in silence." People think you have to have something on every wall in every corner, [but] it's OK to pull back and to let people want more. My businesses will grow at a pace that makes sense to make sure that the product and the quality and the things that we're touching all have the same standard and they become art pieces.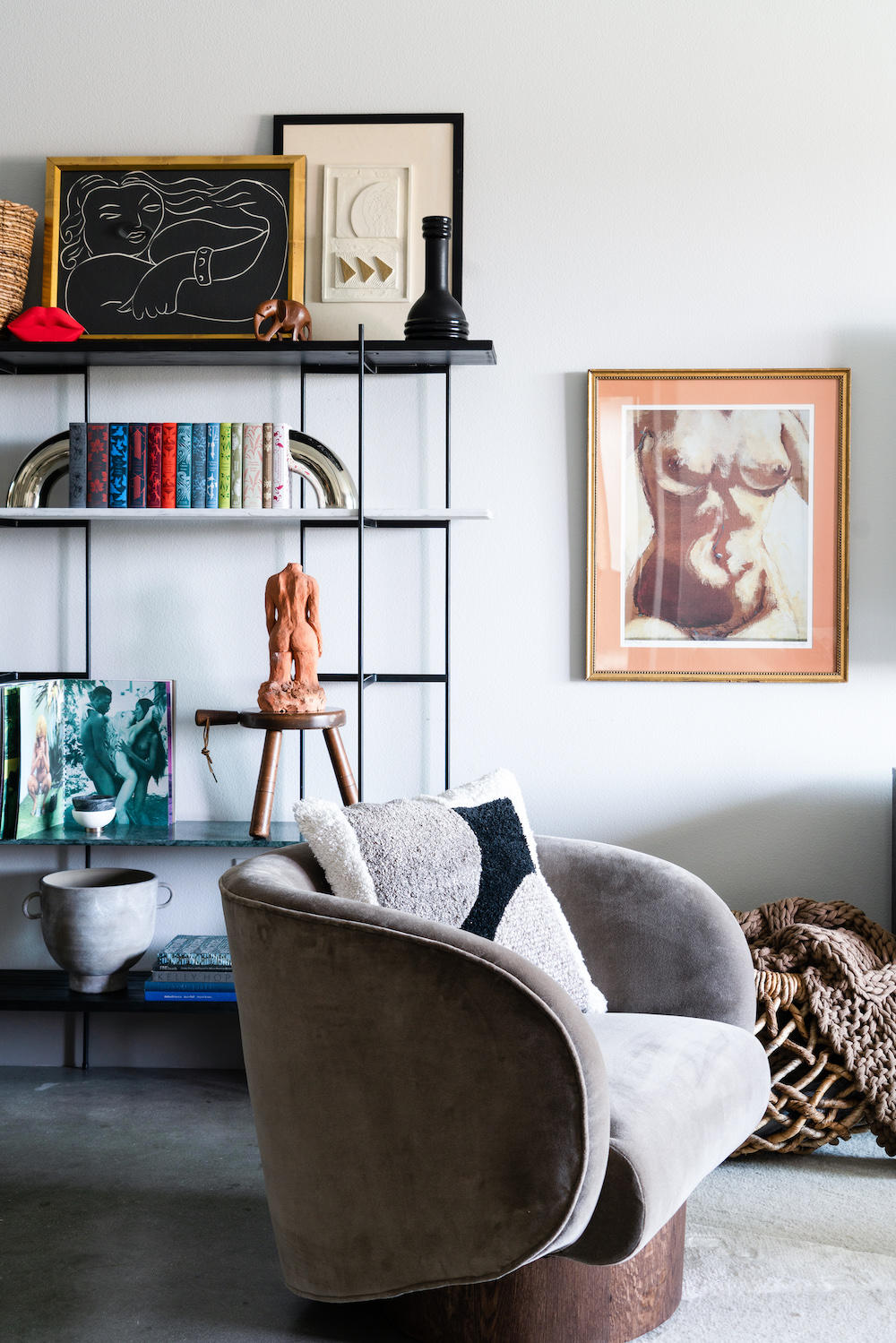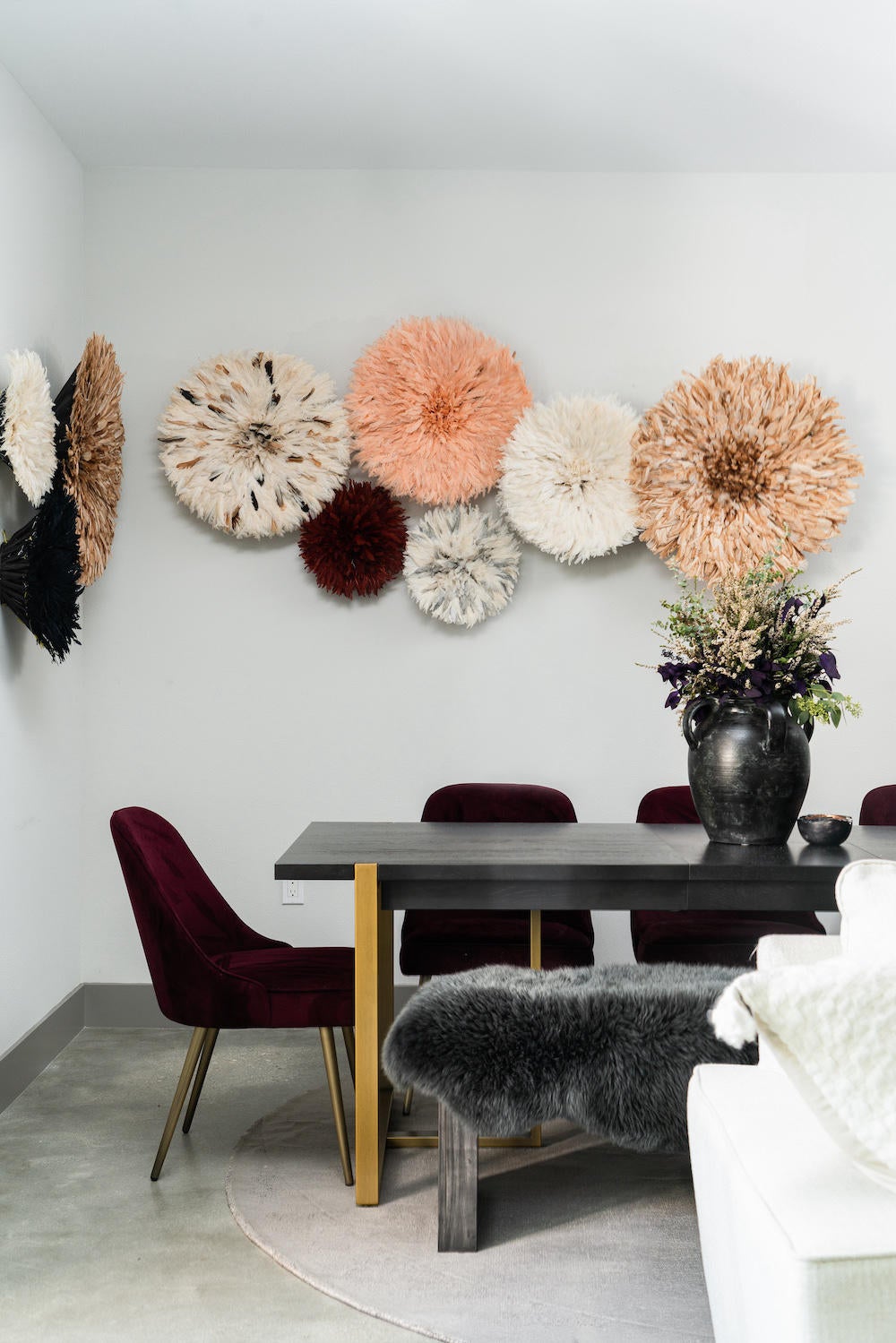 Can you tell me about the local design scene and community?
It's been a little challenging at times because I really haven't had that many projects in Oregon. Of my last six big projects, two are in Oregon and the rest are out of state. It's been really tough, in that sense, but for this Street of Dreams house, it was amazing that the builders had so many connections to vendors, which helped me start to build that community here and get exposure to the other designers.
Oregon is kind of split. You have probably 70 percent of the designers that have been doing the same design and serving the clientele here, but then you have a small, inspiring group that is really pushing the boundaries, and that I'm starting to get more exposure to. I think that the community is a lot smaller than in New York, but for the most part everybody that I've met has been pretty open.
Nike brought you to Oregon. What's keeping you there now?
I'll be honest with you, when I worked for Nike, I was like, "I'm spending two years here maximum, and then I'm going back to Miami." When I think about Miami, I'm like, "That's the place for design. I could change the market there." But now I am really thinking about how I could make my mark here, especially as a woman of color, and bringing exposure to the city that I don't think it had. We are now putting our stake in the ground. We are staying in Oregon.

Of the things that people know Oregon for, I don't think design is one of them. They say it's creative, but weird creative, not necessarily like, "Oh, there's all these amazing things happening." So [my boyfriend and I have] decided, "We're gonna put our feet in Oregon and stay here." We will have a second home in Miami. For now, it's [about] embracing the artistic community here and letting other people that look like us—and that don't look like us—know, "Hey, we're here to stay, and we have community for you." A lot of times, people leave after a couple years because they feel like it doesn't have the same community that other cities have. We're like, "No, we have that here. We have artists' studios, designers, photographers and videographers and all these people." We can't change the makeup of this state if we don't stay, and that's really important for us.
If you're trying and actually working hard, the work will come because there's a lot of opportunity and a lot of money in Oregon. People overlook it because they're here for a mission, which is usually to work for one of these sneaker companies or agencies. Then they leave and don't think, "Hey, this is a place where I could start my roots. But this is a place where you can still own a really nice home for a pretty decent price. You're still close to all these other cities. I would fly to Tokyo six times a year when I was still at Nike—it's only 10 hours away—and the ability to do that is so cool to me. In New York, people do that all the time, but there are a lot of amazing things on this coast, too, and we want to really celebrate that. Portland is also evolving and changing. They're bringing a SoHo House here; they're building the first luxury condos from the St. Regis. There's no tax—that's amazing. It's really easy here, and I can just focus on the work.
There's no tax?
There's no sales tax. So you buy a car, there's no sales tax on the car. I think the income taxes are a little bit higher, but even the taxes for homes—our yearly taxes are so low in comparison to Chicago. It's pretty inexpensive here. It's amazing.
Another thing I love about Oregon is the amount of vintage shopping and the artisans here. There are amazing makers here that handcraft things. Vintage shopping is the best of the best. I've gone to so many states, and I always go vintage shopping when I go to a new state with clients. I'm always like, "I can get that in Oregon for cheaper." There are all these amazing gems to discover here.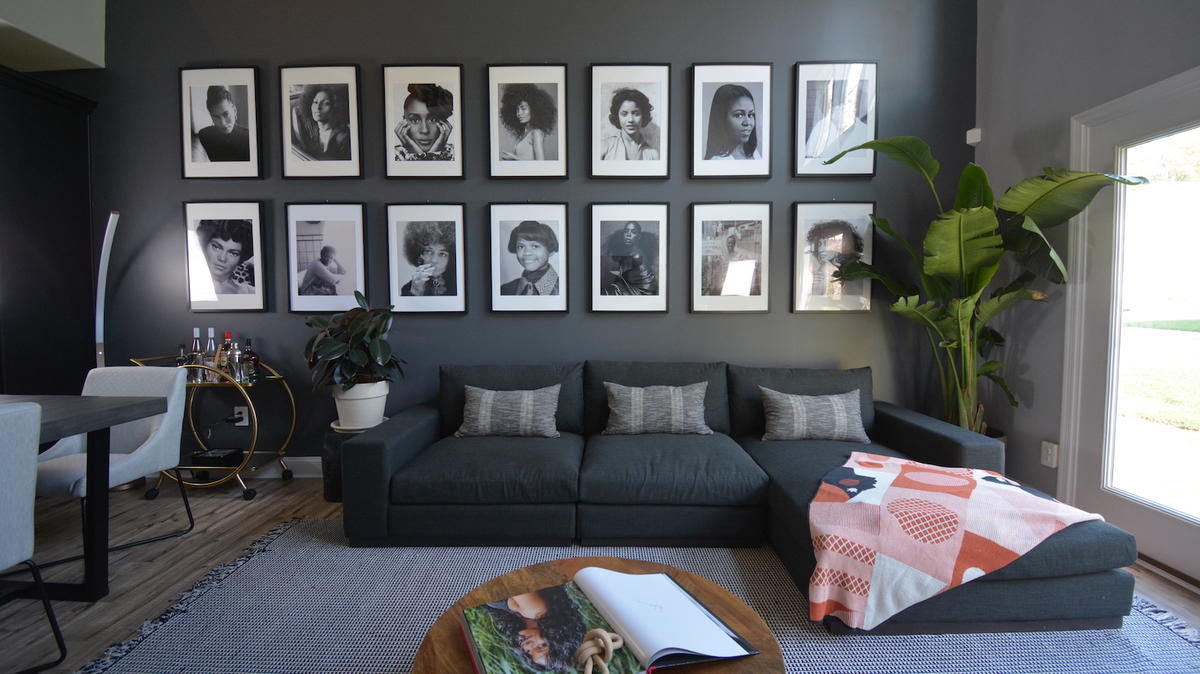 Courtesy of Duett Interiors
How have you approached billing for your work?
When I first started my business, I would just use the client's credit card. I was like, "I'll buy all the stuff and [keep track] on an Excel sheet, and that way everything's transparent and they get all the discounts. But I have mentors who have done this for a really long time, and they told me, "If you don't upcharge [for the goods you procure], you're not going to be able to run your business."
I always say, "I'm learning to run a business while I run a business." Through that, mistakes happen. So with billing, I've been trying to figure it out: Do I charge hourly? Do I charge a percentage? Do I upcharge on furniture? I am trying new things and learning all the time, but because I'm so new, I'm still trying to see what makes sense for me and how I can sustain my business. I wish I had the answers, but for now it is an evolution through mistakes. I really just bill [based] on my ethics and try to be really honest with the clients. So however I bill, I'm very upfront: "Hey, this is how I'm going to bill for my services. This is what you're going to get charged for furniture. If that's not OK with you, then we can make adjustments or decide not to work together."
How do you discover new resources? Where do you look for inspiration?
There are some amazing designers across the world that are doing some really cool stuff, [who] just don't have visibility. I don't only watch [what's being published in] America's Architectural Digest—I'm also watching AD Italia and AD India, because you never know where inspiration is gonna come from. I also have a lot of Belgian magazines I subscribe to because I always think, "Sometimes it takes things a little bit longer to get to America, so what's happening in other places, and how are they problem-solving?" When I think about expanding our business to Miami at some point, I'm like, "OK, well I think about the terrain in New Zealand and Australia and how warm it is there. How could some of those design principles impact the homes that I hope to work on in Miami? What plants can we use? What things can we solve based on that?"
I like to travel. My mom worked for British Airways so that we could travel when I was younger. She's lived in New York her entire life, but we were going to Prague and Barcelona and Brussels when I was little, then going back to Queens and telling all our friends, "We just went to Italy for a couple days." They're like, "What, you [live] in this apartment building and you went to Italy? Yeah, right." Sometimes I honestly will just go on Google Earth and go through different neighborhoods—that's what I did during the pandemic when we couldn't travel. I think the art of discovery and finding new things is part of the design process.
How did the TV show enter the mix?
I have a partnership with Instagram, and through that, I have to post four videos a month. I focus a lot on financial literacy and generational wealth, because I can't design your house if you don't have a house. I'm the first one in my family to buy a house, so I educate people on that. I just started creating these videos, and a friend of mine sent them to a production company, unbeknownst to me. Then they called me and they're like, "Hey, we want you to interview for the show." So I interviewed, and I didn't hear anything back for four months. I started building this house for the Street of Dreams tour, and then they called to say, "Hey, we picked you as the designer for the show. Are you still interested?"
How did you make it work?
I was like, "Oh, my gosh, I have to ask my client's permission." My responsibility is to make sure I fulfill my contract and get this done in a certain amount of time. The client was like, "If you feel like you can balance it, by all means, go [for it]." So a week later [the production company was] like, "You need to come to Los Angeles for six weeks, but we don't have a place for you to stay." I stayed at my sister's house, and we shot this TV show and it was amazing. I'm an introvert, and I never thought TV was a thing that I would want to do, but I loved it.
What surprised you about it?
I love the feeling of doing smaller, faster-paced projects. What I tried to do on the show was more approachable design. But I tried to mirror some of those things with things I've done in my luxury homes, so that people can see it on both ends and say, "OK, you put wallpaper on a ceiling in this apartment, but you also did it in this $3 million home." It can have the same visual element, but it can feel completely different depending on what space you put it in. So I just tried to be really smart about how I brought design to that show because I don't necessarily want to be known as the cheap designer. But I also want people to feel like I'm approachable and you can use a lot of these things.
It'll likely come out in January 2022 on the Discovery+ streaming network, and we're going to have our fingers crossed that there's a season two. What's really great about it are the stories [of teens who made incredible contributions during COVID]. I cried a lot on the show because these kids are so amazing. A lot of people put this stigma on the younger generation like, "They don't really care." They actually care way more than we did, and they're taking action on the things that they care about.
To learn more about Tiffany Thompson, visit her website or find her on Instagram.