The 50 States Project is a yearlong series of candid conversations with interior designers across the country about how they've built their businesses. This week, Montchanin, Delaware–based Megan Gorelick tells us about using former projects as showhouses, why she loves working with family businesses, and why she's exploring an online offering as a "party favor" for clients she can't take on.
When did you know you wanted to be a designer?
I was always interested in design, from the time I was little. I could've told you when I was 4 years old which one of my mother's friends or aunts I wanted to decorate my house. And I would start with my Barbie Dreamhouse—I was always into Barbies and setting up house. But I also always wanted to work. I started babysitting at 8 or 9 years old, about five seconds after my own babysitter left. I just was jonesing to work. I wanted to do everything ahead of time.
I got a job at a store called John Wanamaker in the Philadelphia area, which is one of the oldest department stores. I started right after my 16th birthday—my first stop was the DMV and my second stop was John Wanamaker's—and I worked there all through high school and college. It was funny; by the time I was 17, I was the Sunday manager. I opened the whole building on Sundays because nobody else wanted to do it and I was so eager.
Did you go to school for design?
I studied fashion merchandising at the University of Delaware, and when I finished, I went to Strawbridge's—Wanamaker's biggest competition—and applied for their executive development program. I went to work for Strawbridge's because I had been at Wanamaker's for six years, and I wanted to get a different experience. But I never did end up in fashion.
What path did you take instead?
I did the executive development program, but instead of going the normal route and installing me as an assistant buyer, they popped me in as a replacement for one of the cosmetic managers in Delaware who had gone out on maternity leave. I did that, and I loved it so much that when the woman came back, they put me in that role at another Delaware store, and I stayed there for about a year. I loved the beauty industry, and it was cool being 23 years old and having the Clinique tower in your bathroom with all the lipsticks.
Where did you go from there?
I ended up working for a new fragrance company called Paul Sebastian. I was a sales rep and then a district manager, and it was really fun growing with them. In the management role, I was working from home but traveling. Our biggest account was Macy's, so I'd go to the buying office at Macy's Herald Square, the Strawbridge's buying office and the Wanamaker's—I had the whole Northeast. I still had my foot in retail, but the beauty industry was so cool.
Kelee Bovelle Photography
What made you eventually step away?
I got pregnant with my daughter and was working from home in the basement. I had a nanny to watch her, but I could hear her little footsteps right above me and I finally thought, "I can't do this anymore." I stopped working for about 10 years, and in the meantime, I moved twice. The second time I moved, I did a home renovation.
Was that a formative experience for you?
We had moved from New York to Delaware. When I did the renovation, the subcontractor and the contractor were like, "You had to have been an interior designer." I'm like, "Nope." When they said that, I was intrigued. I didn't know anything about the design industry, but just from the years of training in retail, I understood the logistics of it.
Then I couldn't find a sofa that I wanted. I knew I wanted a sectional, but it wasn't fitting. I ran into a guy I knew who ran a carpet business, and he was like, "I know of this furniture company—I have no idea how to order from them, but I have their book. Would you want to look at it?" When I perused it that weekend, I understood everything they were talking about. So I called him up on Monday and I'm like, "I want to order 17 pieces. How do I do that?" He had no idea. So I'm like, "I'm going to call the owner of the company, do you mind?"
That escalated quickly!
This company is called TCS. It's in Hickory, North Carolina, and the owner, Jobie Redmond, has been in this business over 60 years. Similar to me, he started working at 17, and he's done everything in the furniture industry—but he's always done it under the radar. Some of the other companies buy their upholstery from him. And I thought he was so smart, because he didn't mess with the fabrics—everything was COM. I'm like, This is one brilliant man, because he got the headaches out, he did what he did well, which was making a good piece of furniture, and you could customize anything.
So you called up the company and he took your call?
He did. We spoke, and he coached me through the whole order process. I think he was like, "Who is this girl calling the owner of the company?" When it came time to pick up the furniture, I decided I was going to drive down to Hickory and pick it up myself. When I got there, Jobie was like, "We've got to talk, girl, come in my office." I had a million questions for him and he told me, "You should be doing this." So on the way home, I decided to start a business.
I had driven down with my friend who owns the carpet company, who became my business partner. One of his carpet clients who had heard that I was ordering furniture said she liked my fashion style and that she would love for me to come in and help with her house. That was our first client—and it took us a year to do her bedroom. Through podcasts, through blogs, through Google, I figured it out.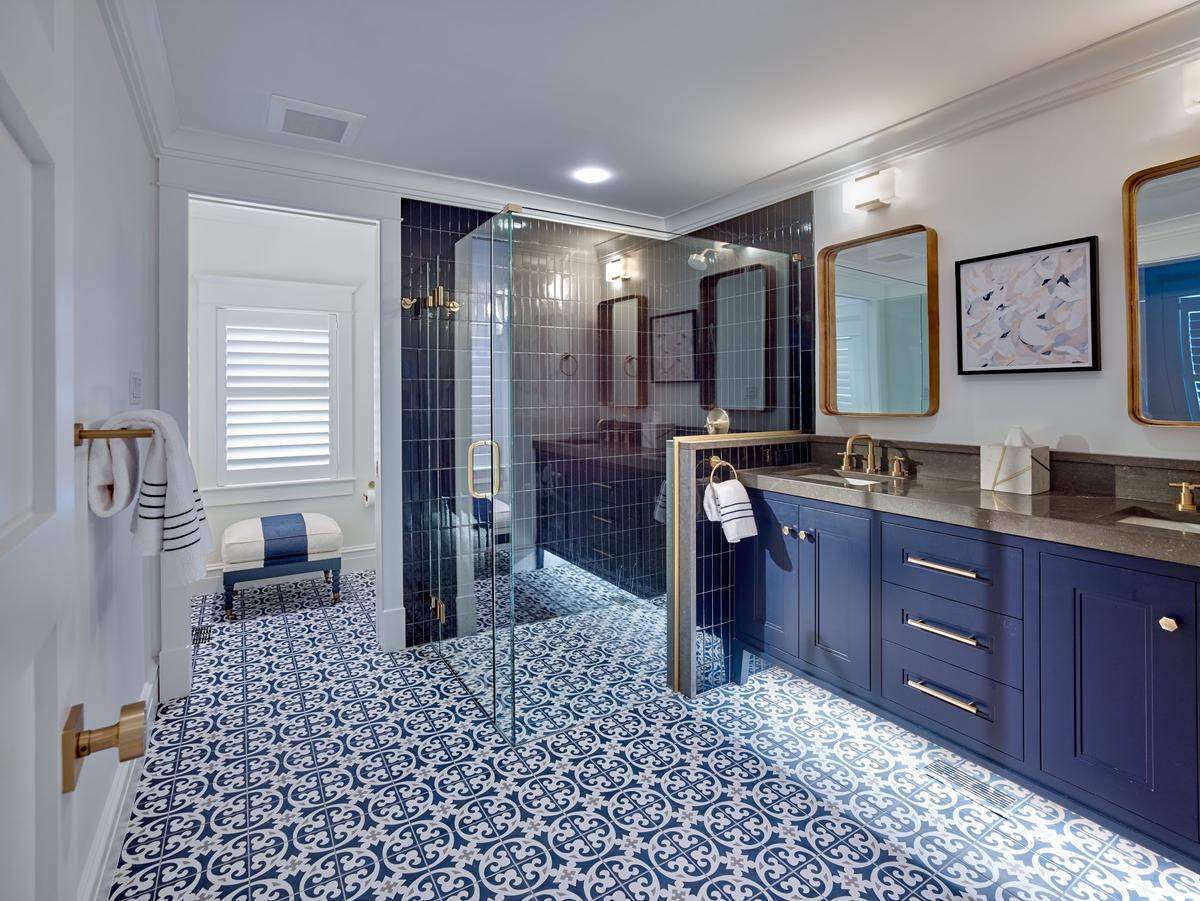 What year did you start the firm?
2008—not a great time with the financial crisis, but it actually worked to my advantage when I would call these furniture companies to start opening accounts. Before, they had to vet you and you had to meet all these minimums. But when I was calling, they didn't care at all. I was so energized and into it. It was fueled by nothing but passion.
After two or three years, I outgrew my partner. For him, it was a nice little addition to his carpet business—he could say, "We do this, too." But I said, "Let's see how far we can take it." And Jobie never let go of my hand. He held my hand all the way through, and now I think I'm his top account. We still talk a couple times a week.
That's such a lovely, unexpected friendship.
It's about relationships, right? I built a relationship with him. I'll joke with him now—I'll say, "If I asked you to build me an upholstered swing set, you would, right?" And he just laughs. He gives me so much confidence—I got so lucky that he took me under his wing and became my mentor. Everything I knew could fit into a thimble, but he got me up to speed as fast as I could learn it. Do you remember [the children's book] The Tale of Jemima Puddle-Duck? She would go to bed and stick a book under her bed and think she could learn that way. That's like me—I was sticking anything in my head, like, "I just want to learn this industry." I just loved it, and I felt like it was such a misunderstood industry.
In what way?
There was always a perception that designers are bitchy or mean. But why? This is so fun—you're so lucky to get these clients, and they trust you. I treat everybody like it's my family. You want to go in and be like, "Yes, I'm your advocate, I can help you." I didn't understand how [designers] had this reputation when it wasn't at all what I was seeing.
People think that designers wouldn't like each other, but I have such a great squad of design friends, and we travel together and do things together. Nobody else is as quirky, and we all have similar skill sets. We're all eager to please, we love beautiful things, we love the hunt and finding unique things. And we all love helping people.
How is that reflected in your approach to the design business?
It doesn't have to be hard. You just bought a new beach house? Wonderful. I'm going to make this the greatest experience. I don't want you to be overwhelmed and feel like you just bought problems. With everything we do, we're thinking, "How can we make that easier and better for the client?" I'm an analytical person, and we analyze everything after. I have no design experience, and nobody on my team had any design experience, so we've just made this stuff up as we've gone along, and it seems to be working.
How did you grow your team?
My very first hire when I went out on my own was my niece, who was finishing college and getting her first job. I just brought her into my living room, like, "Help me pull this stuff together." So she set up some systems—she had no interest in design, but she could catch what I was throwing in terms of, "Can you make this spreadsheet?"
So project management stuff?
Yeah, it was project management and organizing me. The first full-time person I hired was an accountant to do the invoices and bookkeeping. After I made that hire, one of my mentors said to me, "Of course that was easy for you—you hate that part. Now you've got to start pulling people in to help you with your design." But I still do 100 percent of the design myself, even though every mentor in my life is like, "You're never going to scale that way—you're never going to be able to grow."
Right before you called, I had a little pep talk with [my whole team]. I said, "It's been just you long enough." They didn't want me to hire anybody, because they are so busy and it's distracting to train people. I gave them ideas of where to go, and of course I'll help them research, but I told them: "Each of you has to go out and get an assistant."
Who is on your team now?
I still have my original accountant, but with the help of software, she does not have to work full-time anymore. She's a CPA and was a stay-at-home mom when I tapped her to work with me. She's been on board from the beginning—she's amazing and has it down, so I've got really great trust there.
Next, I hired Maggie. She is my best friend's daughter—she was an operations and logistics major and always interned for me. And I'll tell you, Maggie would rather [do anything] than pick out a paint color. You say "design" to her, she wants to cry. But she is my ace in the hole, and she's my builder liaison. We do mostly new construction and ground-up whole house builds, usually beach houses, and she organizes everything. She's like the airport controller. Sam was the next person I hired. She worked with my daughter Bailey at the Anthropologie headquarters in Philadelphia, and now she's my organization guru. After Sam was here for a few months, Bailey was like, "Well, Sam's deliriously happy, why can't I work there, too?"
I have three daughters—Bailey's the oldest, they're all two years apart. I told them they had to work two years in the real world before they could come work for me. I made them all work all through college, too, so they had to do all kinds of internships and stuff. But it had been two years, so we gave Bailey a shot. Her background is in marketing, but then when COVID hit, she had to jump in and do everything, and now she likes being the one to design with me.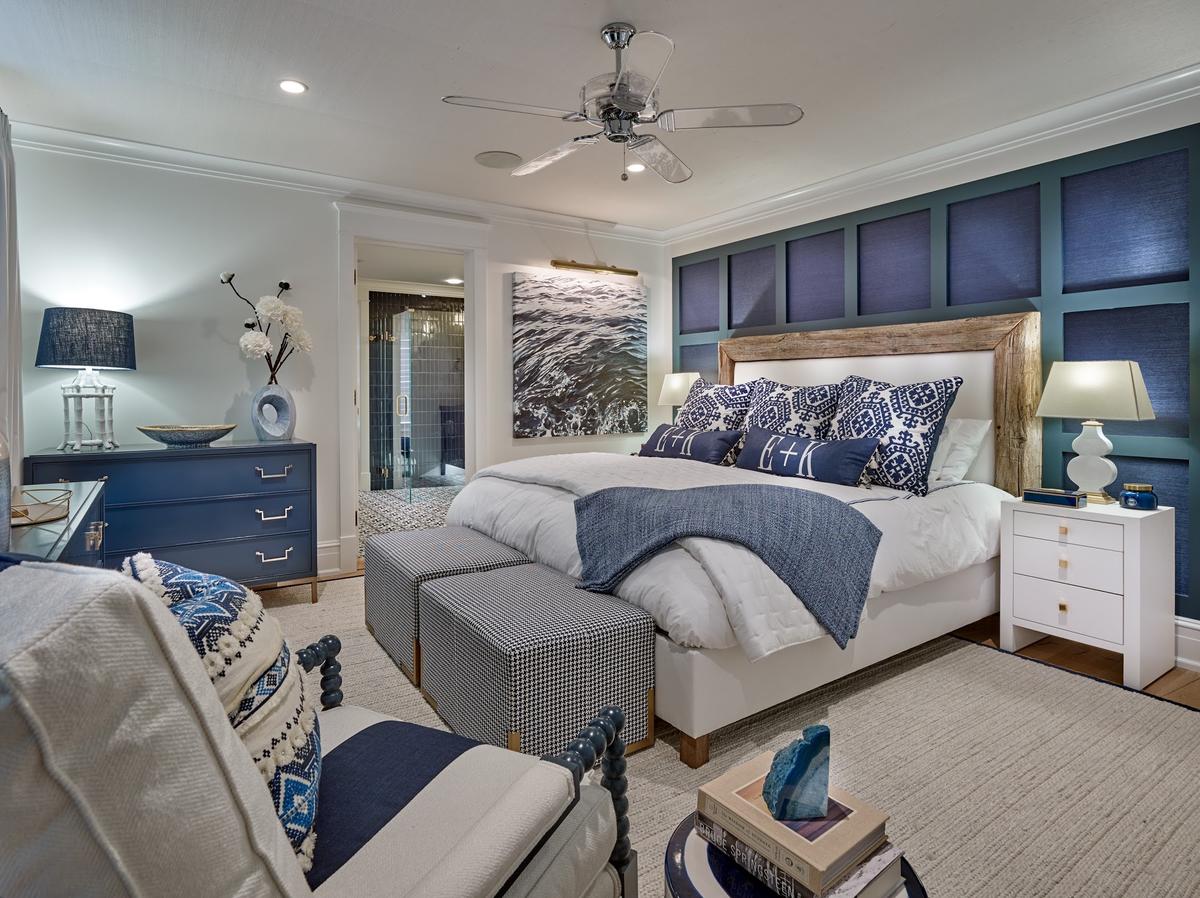 Do you think your business will become a family business?
They all gravitate toward design—my middle daughter is now working at Anthropologie, and my youngest daughter is in her senior year in Charleston and is working for [local design firm] Mitchell Hill. So they all are dabbling in it.
I've always said second-generation designers are the way to go. You get all the trade secrets, all the tips. With my contractors or vendors, whenever I can work with a father-son team or a mother-daughter team, I think it's best, because you're getting the wisdom and the hipness. You're getting both together. So I love having Bailey with me.
How does the design process work, then?
Everything gets passed down the assembly line. So first I design, and then Bailey captures what I'm saying and throws it off to Sam. Sam puts it through this really organized filter, and then things get ordered and the project gets handed off to Maggie. Or if we're starting a new construction, we start with Maggie—in those cases, she's in the front and the back of it. They've made it easy for me; all I really have to focus on is making clients happy and designing.
Are you the person clients talk to every step of the way, then?
No. That's a good question. We have it really well set up. I have tunnel vision during the day—I put my blinders on and the girls are like my boss. They tell me what's going on, but I don't look at my phone all day. I don't have any distractions; I just do my work. Then, at 6 or 7 o'clock, after I get home and eat dinner, I'll start responding to my emails and texts. But in the meantime, in our studio, somebody's always there to answer the phone. Usually, there are two girls with me, and one stays behind.
Yesterday, I was in Avalon for a site visit all day—an action-packed, 7 a.m. to 7 p.m. type of day. The girls just commandeered my phone, so if somebody calls the studio or needs me, they just shout out to me and then text back. The clients know that one of the girls will have my phone if they text, or they can call the studio and get to me. I'm extremely accessible to the clients.
But through a filter.
Exactly. The clients are always going to get some kind of answer—they're never going to get an answering machine. I'll call them back at 8 o'clock at night if that's what they need. And they like it because, after a while, the girls know more details than I do. I don't know if the sofa's been ordered, but they will—I have that luxury of keeping my mind free. I am [both] left-brained and right-brained; I've done those tests where I'm right down the middle. But I'd rather be in the right-brained part, with the designing—who wouldn't, right? That's more fun.
Was it hard to let go of the left-brained tasks that make the firm run?
Impossible. That's what I love about my design friends—we're all control freaks. It was so hard and [requires so much] trust. It makes you think of how your client feels: They're handing over their $6 million house to you to design, and I have such empathy for them. But I had to let go and trust.
To be honest, at one point, I did everything myself, but now I do nothing but the designs. They're better at [the logistics] than I am—they're so much better and so much more confident. I tell my clients every time: "I can come to a meeting alone, but you really don't want me to. I'll come up with all these great ideas, but nobody will capture them. I won't write them down, I'll forget 20 minutes after, I'll be on to something else. You want my girls here, because they'll know how to process it and take it from point A to point B to C to D."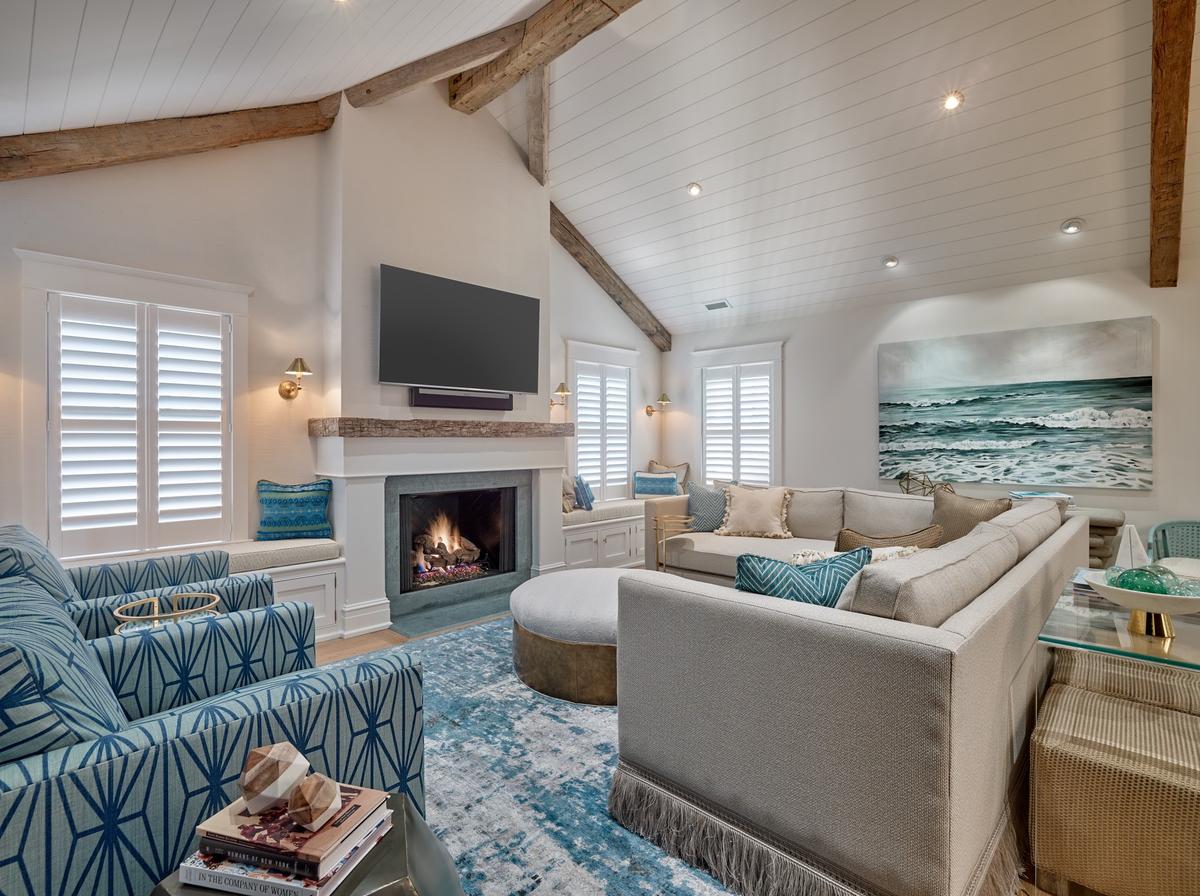 How have you approached billing?
I'm always going to go flat fee. But I'm so intrigued by the healthy debate [between flat-fee and hourly billing], and what I've learned is that a lot of [designers] have gone hourly, then flat fee, and back to hourly. And they were leaving a lot of money on the table with the flat fee—so that's why they've gone back after they've done the deep analysis. But I don't care. I am more terrified the client's going to say, "Oh, we won't ask Megan what kind of plants we should put outside, because the clock will start ticking."
I want to be involved in everything. I see the whole aesthetic package, and I don't want clients to ever hesitate. I want to be like, "I'm on your team, you're with me. So just use me, here I am, ask me anything. And if I don't know, I'll find somebody who does."
How did you land on the right fee, and how do you present that to a client? I feel like that's a big check to ask for upfront!
At first, I didn't charge anything. I just did it because I was so passionate and I was learning. Then I started to charge by room, then for a whole house. The more we got involved, we were doing a lot more with the builder and architect but not getting paid for that—it's not offset by furnishings at all—so I balanced it by adding to our fee. I know I'm still grossly undercharging with my flat fee, but overall, with furniture, I think it evens out.
And it's a win-win for the client, because I'm cutting out middlemen, so I'm getting them the best price I can get, but I'm still making my money between wholesale and when I'm selling it to the client, but the client's getting a discount from retail. So I try to make it a win-win-win [for the vendor, the client and my firm]. The design fee is for the design, but also for the things we spend time on that we don't get paid for. We look at it as a whole big project; I never break it down. My accountant and my daughter are always fussing at me that we're losing money. And I know we are, but we'll do it incrementally, you know?
In terms of raising fees?
I want to be fair. And I want to be able to choose the good projects.
When you say cutting out the middleman, are you opening wholesale accounts with most of your vendors?
Yes. Whenever I can, I go right to the manufacturer directly. I shop at showrooms sometimes, but typically when they are the manufacturer—I don't really go to the ones that curate. Same with art, too—I try and go right to the artist. I work with one gallery that I absolutely love in Charleston, but if I'm not working with [the gallerist], then I go through the artist. I like discovering the artist on Instagram and that type of thing. I do it that way for two reasons. One, to get the client the best value, and two, so that we can be more nimble and get things done when we need to and build the relationship.
That's really interesting. I guess you have always been that way, since that first call to Jobie.
Yeah, that's what I mean. I just wanted to talk to the decision-maker. And that's why he got such a kick out of it, because I guess it was just naivete, but it worked.
How many projects are you working on at a time?
I have no idea. I refuse to count because I think it would terrify everybody. I'm sure the girls know, because they're so organized with their little files of active clients and inactive clients, and potential new clients, and all that stuff. But I am La la la, I don't want to know. Here's where we're having growing pains right now. I'm going to just say, this summer I'll probably be installing 10 houses. But that's just for the summer. We have many more booking into 2022—people are at different stages.
More of your work is in New Jersey than near your studio in Delaware. How did that happen?
I do have some projects in Delaware, but most of our projects are in Avalon and Stone Harbor, the two towns on this seven-mile island down by Cape May and Ocean City in New Jersey. I grew up spending my summers there when I was little. My parents have had a house there since I was born, then I raised my girls there. And in the interim, when I was a stay-at-home mom, we lived there all summer, and my girls ended up working and living there. My girls have never not spent a whole summer there. So that's like my playground and where we have most of our business, but then it spreads out to the other coastal towns around there.
Did you start growing your business in New Jersey because that's where your personal network was?
No, actually! It started with that very first person, when we were driving back with my U-Haul full of furniture from meeting Jobie for the first time. As soon as I finished her bedroom—a year later—her mother-in-law called and said, "I love Liz's bedroom. Will you come do my house?" So I went and did her house. And then it just started going like that—somebody from Delaware was doing a beach house, and they asked if I would help with some of the furnishings, and then it snowballed from there. I think my first few beach house clients were from Delaware. And then one of them was like, "We've got to get you some signs." I called him my marketing man. He went and got all these signs for my business, and he was putting them out in front of the houses I was doing.
A client was putting out signs for you?
Yeah! Then people called and said, "We saw your signs."
Our business really grew through word of mouth. I've never seen an island so interested in houses. Stone Harbor is obsessed with houses. It's all anybody talks about, and it's all about the builders. There are a lot of builders, but there are four really good builders on the island, and they're like the really good restaurants in New York—they have to be good. And there's a handful of really good architects—the ones that I do-si-do with. I'm [also] really good friends with the Realtors. They get the clients first, and the client will say, "Who do you think?" And they might throw out my name. And then they go to the architect and the builder, and our name might get thrown out.
What usually happens is the client gets into their new house on the island and they're like, "Ugh, we love this, but we hate our Pennsylvania house," or wherever they live. So then we go do their main house. And when those clients become a little bit more successful, they're like, "We just bought a place in Florida!" So we go do the Florida house.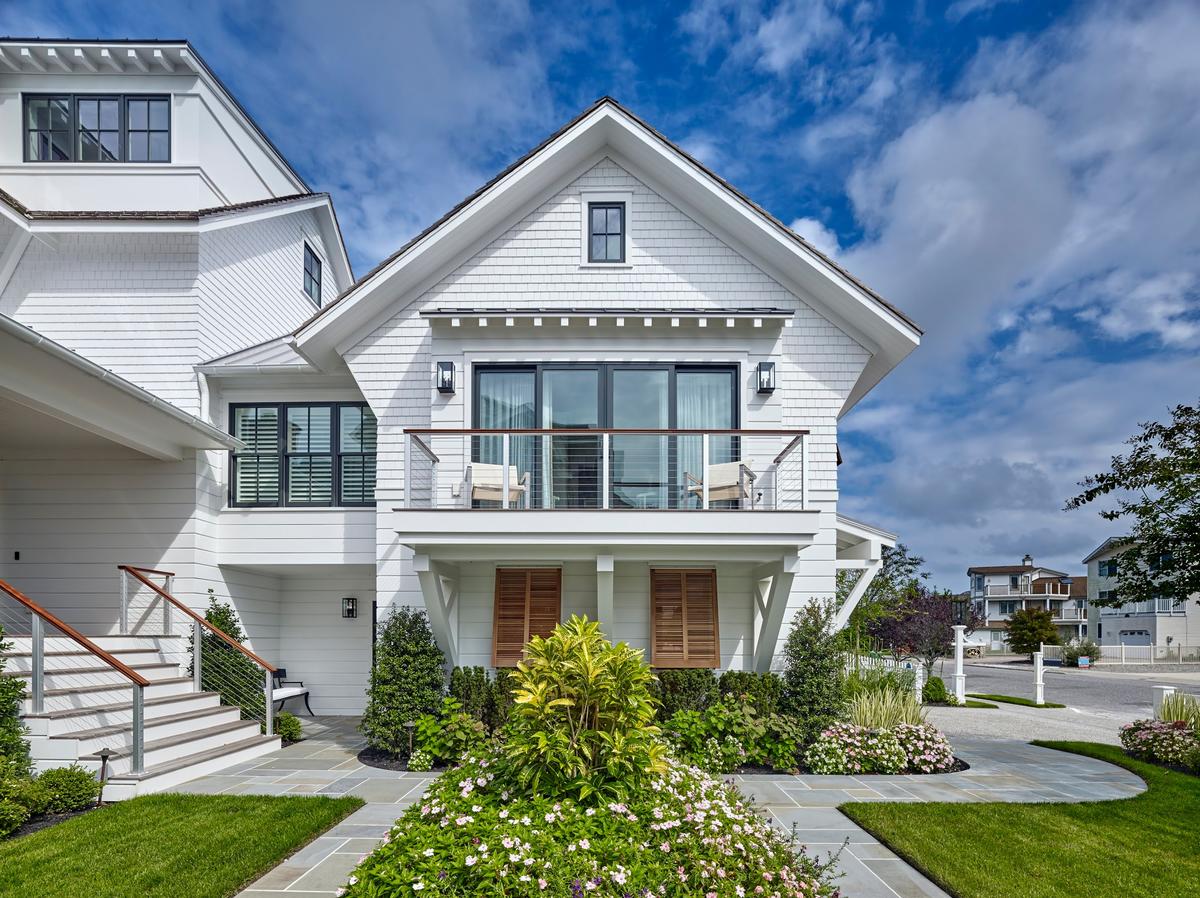 Where do you see the most opportunity to grow next?
I was listening to Dennis Scully's interview with Kathy Kuo [on the Business of Home podcast] this morning, and I was so intrigued. As soon as I finished, I sent it over to my daughter, because her background is e-commerce. I'm really intrigued by what [Kuo has] done. I like that she's doing e-commerce, and she's scaling, yet she's still making it about good, personalized customer service. I loved that she said if you go to Home Depot to build a shed, you're not coming out with a nail—so why should it be that way with e-commerce? They come out with a cart full of things. And I think that's the way to go.
Do you think you'd explore some kind of e-commerce on the side?
I said [to my team], "Let's look at her model a little bit, because there's room for this." What we've struggled with is spending so much time in the studio, our phones have been ringing like crazy. Bailey tries to vet the calls, because the timeline might not work for somebody, or the minimum design team might not work for somebody, or something to that effect.
Quite honestly, a lot of times, it doesn't make sense. Somebody might call and say, "I want you to come pick out my tile and paint color for my renovation." I'm like, "We're not going to be a good value for you, because I don't charge hourly." And that always messes with people's minds when I say that. Bailey's like, "Do you know how many people we're turning away?" So we were also really intrigued with that platform that just launched, The Expert.
Offering a 60-minute video consult for a flat fee.
Right. So now I'm thinking I might take something from that and something from Kathy's model and do a hybrid type of thing for our clients. Because I don't ever want to tell somebody, "We can't take you," but we can't take on all the clients who reach out. Sometimes, it's just not the right fit—but I always want to give them a party favor. I want to get them some value on the way out the door, so they don't feel like they wasted their time talking to us or so they don't feel like we thought we were too good for them, because we're not. It's never about the size of the job, it's about the timing, the value and what makes sense.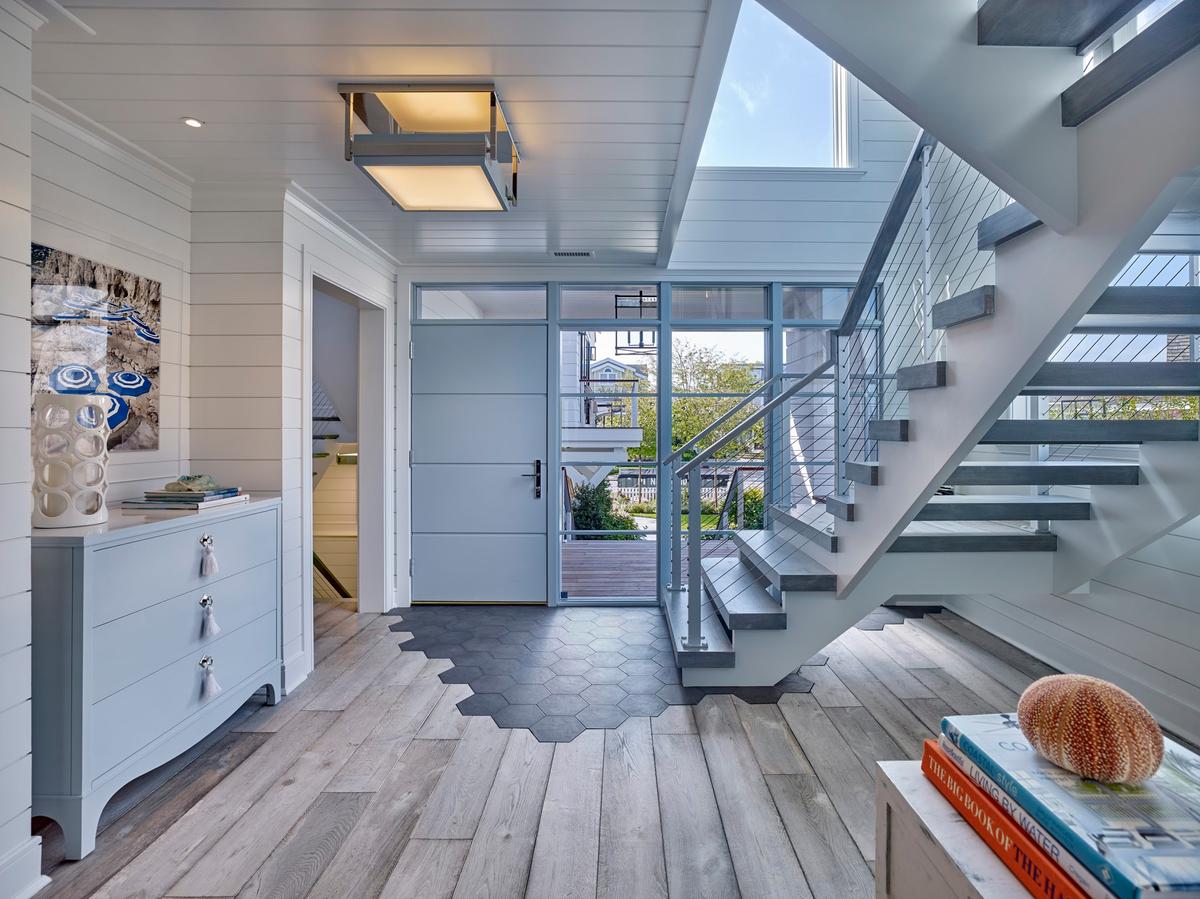 What is the biggest thing you wish you knew from the start?
That everything was going to be OK. I just worried so much, but I guess stress is what fuels us. I wish I knew that the clients would be happy—that is our whole thing, we just want people to be happy. And we care more about our reputation than anything.
How does that show up in the day-to-day of the firm? What does that look like?
No one is allowed to use the word unfortunately. It's my least favorite word in the world. We can be like, "I'm so sorry that this isn't going to be coming" or something—we're all about owning every mistake and making it right. But the word unfortunately, everything that comes after that sucks. Before we have to tell the client something, we want to come to them with a solution, not a problem.
The antithesis of unfortunately is a term I use constantly: happy accident. I'll say, "Oh, my gosh, we had this happy accident, and it's going to be better." I don't want to stress the client out. I always tell them that there's a million ways to do beautiful, and just because I had it going on this trajectory and the wheels fell off doesn't mean I can't pivot and make it happen a different way. Nine times out of 10, design challenges end up being the coolest thing. I had to put extra thought into it, so it becomes [even cooler].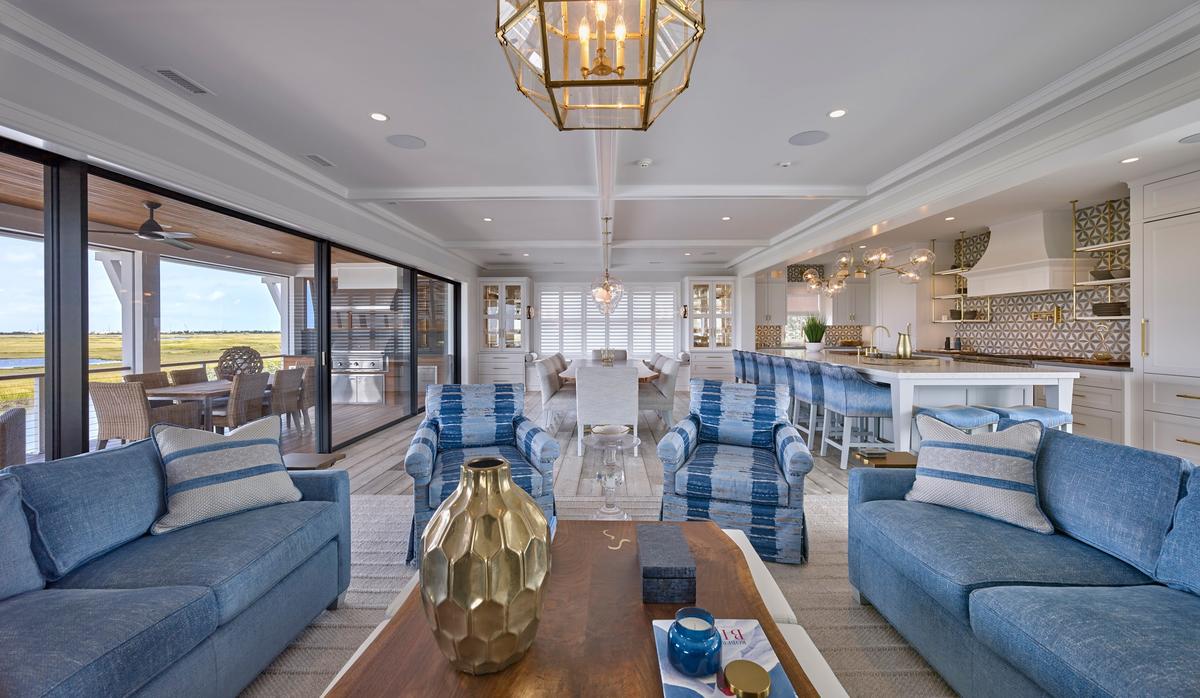 How do you build that initial trust and rapport with clients?
I trust them. They'll trust me if I trust them. We've developed these relationships with the clients, so now they're eager. You know how when someone does something great for you, you're eager to share it? Or you find a new product and you're eager to share it? So they're eager to share it. Even in the summer, if they're not there or whatever, they'll give us all the keys and codes to the houses, and I can say, "Can I take a potential new client to your house this day?" So we'll line up a day with a potential new client and I'll take them through five houses [we've designed].
My team goes with me and they just write down everything the client says—"Oh, I love this, I hate this." I tell the client, "You cannot hurt my feelings in this, and there's no camera in here—just be brutally honest." And the girls are capturing every raised eyebrow, everything. When we go to design, we reference those notes. We're not copying our old work, but we know that they like the way the furniture was, or whatever it is. And they get to sit on the furniture or test out the mattress, too. They get to treat it like a showhouse and have an hour inside each of these houses. By the end, they pretty much trust us.
I can't believe your clients let you do that.
They never mind because they were the ones that got to go through five houses [before they hired us]. I think some of them would be insulted if I didn't ask them. Like, "Wait, why not our house?"
And going back to trust, the reason I use the vendors I do is because if something comes in damaged—which happens—they'll fix it. Typically, if something comes in with a scratch, and even if the movers do it, I'm like, "Don't worry about your barstool this summer—in October, I'm going to ship it back to Jobie, he's going to fix it, I'll bring it back before next summer, and we'll be as good as new."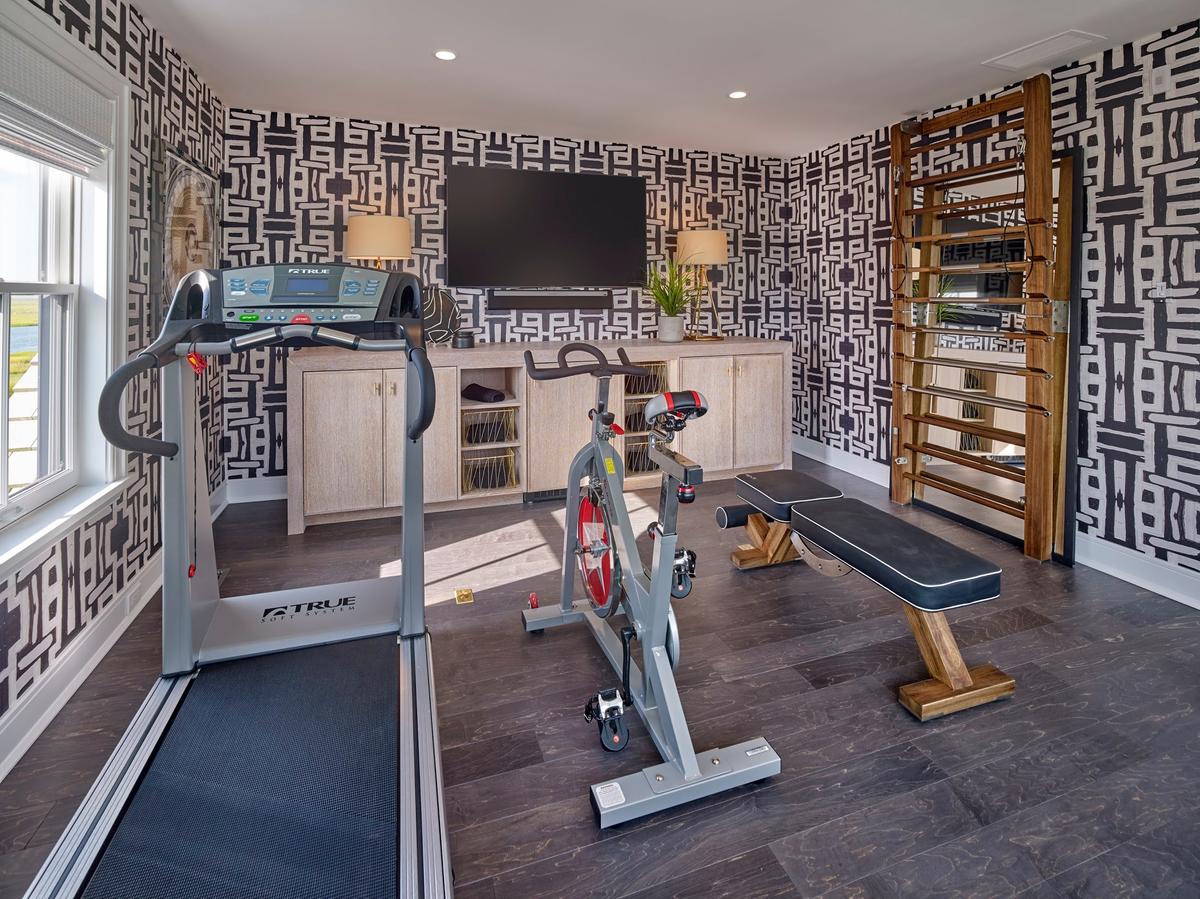 It seems like many parts of running a business come naturally to you.
I'm the youngest of six kids, so I'm a natural learner, because I always felt like it made more sense to watch them all get in trouble and figure it out. So I was always learning through others, by watching and listening. But also, both my parents had their own businesses, and every one of my siblings has their own business. My husband has his own business, and his parents have their own business. So that whole entrepreneurial thing, even though it's in vogue now, it was just all I ever knew.
So the idea of starting a design business wasn't crazy to you.
Not at all. I knew I had to work for Wanamaker's and Strawbridge's to learn a little bit, but I definitely thought I would always have my own company—and that's why I've involved my daughters. They can work with me, but if I was to look at a crystal ball, I fully expect that I'll still be here at 80 doing my thing, and they will each have [their own] spinoffs. I think we'll grow that way, and they'll each have their own specialty. My middle daughter has an amazing eye, and I'm trying to get her into photography—things like that. And in a perfect world, say five or 10 years, we'll all be working together in my studio in Delaware. They'll each have their own little satellite type of the company. Their kids will all have one or two nannies and they'll be playing in the same room. But however it evolves, I'm game, as long as everybody's happy.
To learn more about Megan Gorelick, visit her website or find her on Instagram.
Homepage image: Megan Gorelick | Courtesy of Megan Gorelick