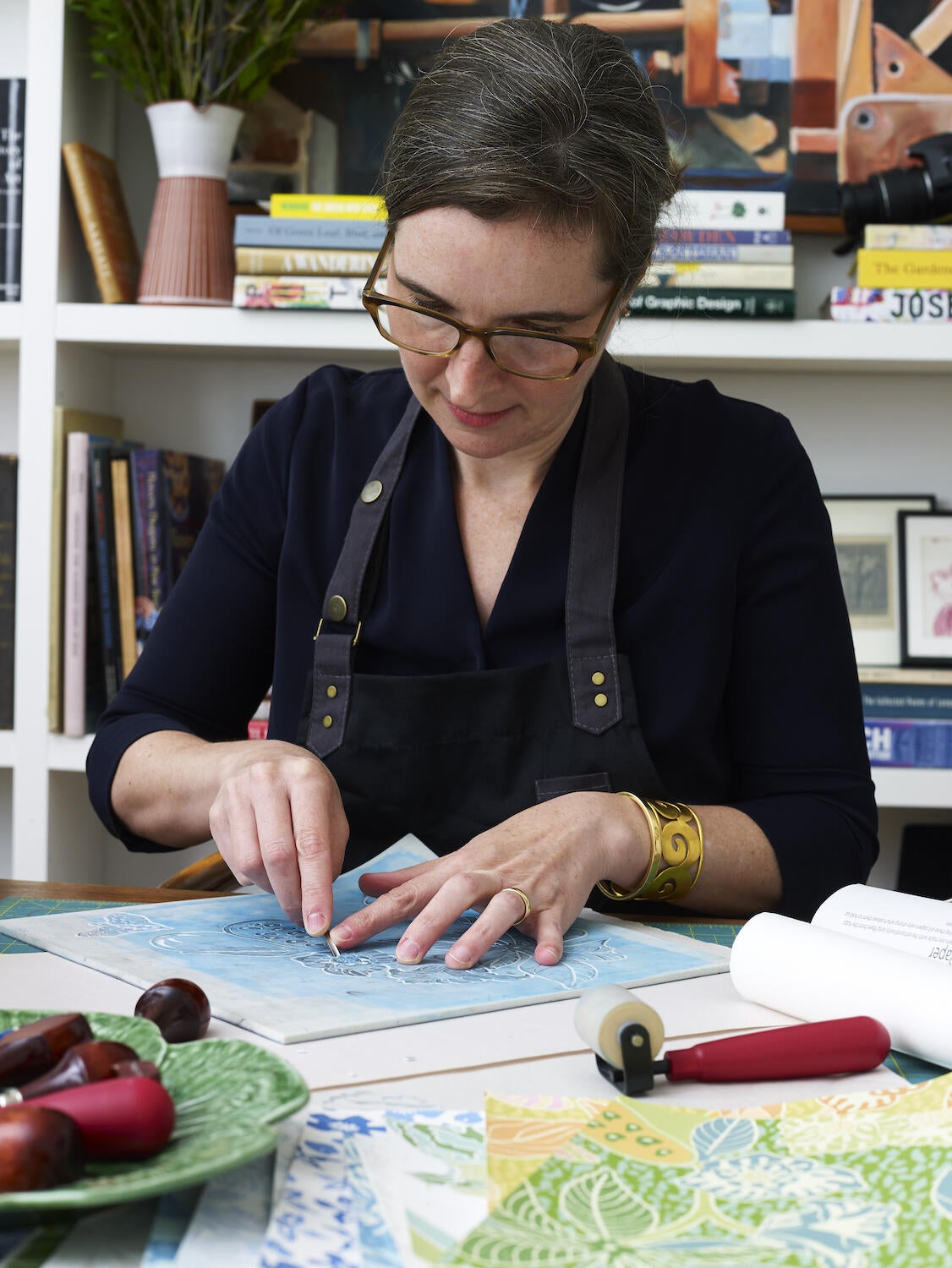 Alexis Audette wants to talk about plants. The New York–based artist and founder of Mazy Path is on a mission to raise awareness about plant life, particularly our relationship with the natural world. "Over time, we've developed what many botanists and biologists call 'plant blindness,' which is an inability to notice plants or understand their importance," she tells Business of Home. "With that in mind, I create wallpapers that capture plants' unique aesthetic qualities because they are literal conversation starters—and talking about nature is the first step toward saving it."
Growing up in New Haven, Connecticut, Audette was immersed in art and nature. "I was raised by a family of artists, art historians and conservators, and some of my earliest memories are of drawing pictures on the floor of my mother's studio," she says. "My parents were also avid gardeners, and helping them care for our family's houseplants, flower beds and vegetable plots instilled a love of plants in me at an early age."
In high school, she spent a semester at The Mountain School of Milton Academy, a working farm in Vershire, Vermont, where she studied everything from forest ecology to linocut print-making. "I found the linocut printing method so approachable," she says. "The tools—gouges, linoleum, ink, brayers, rice paper and a wooden spoon—were small, affordable and easily transportable. So, as I made my way through college and ultimately to a textile MFA program at the Rhode Island School of Design, linocut print-making came with me."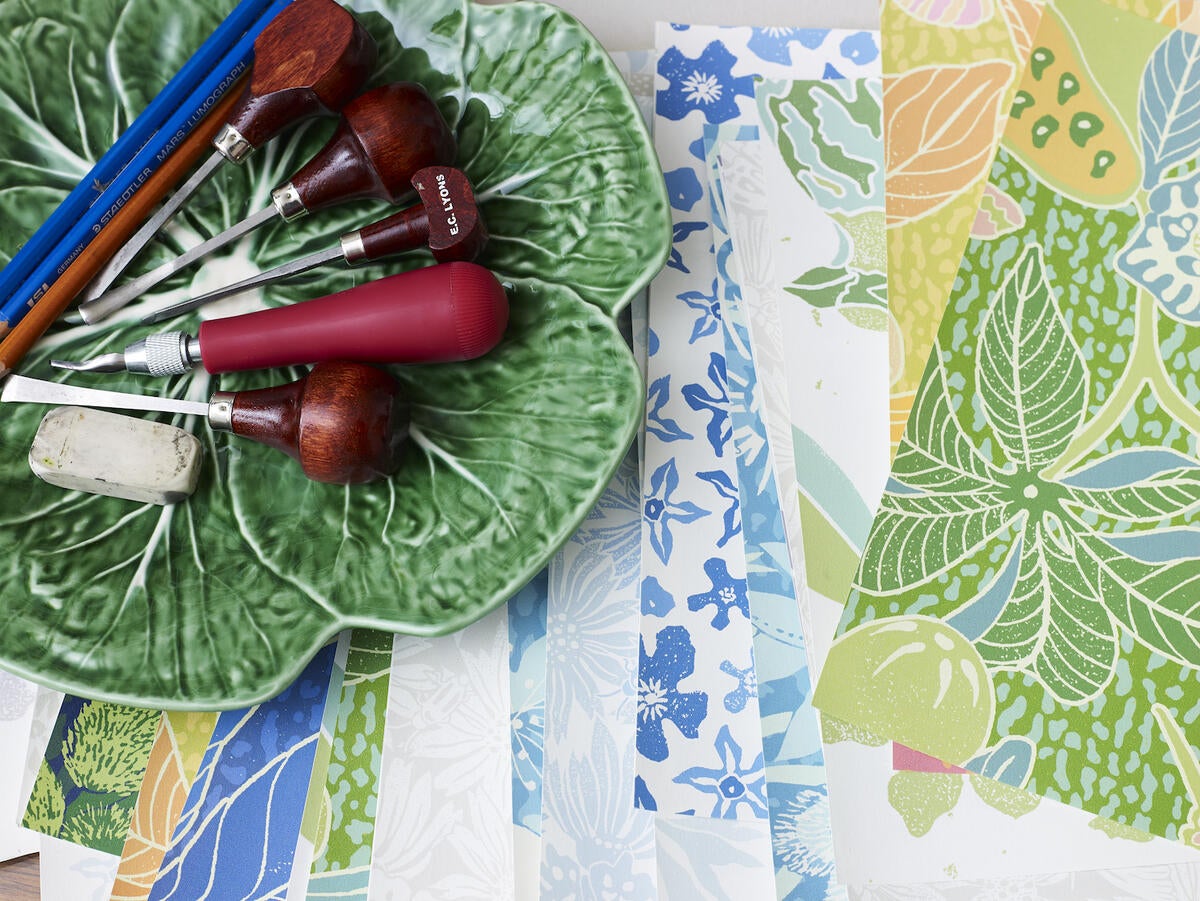 Audette worked as a designer at Kravet before taking a job at Beacon Hill fabrics, where she eventually became creative director. "I developed silks, embroideries and velvets with small, family-owned European and Indian textile mills," she says. "However, as I surveyed the printed textile and wallpaper landscape in the United States, I noticed that few new designs were based on linocut prints—and I saw an opportunity."
She launched Mazy Path in September 2020 with a line of linocut-print-based wallpaper patterns named Community Garden. "The collection was inspired by collaborative relationships in the natural world," she says. "For instance, Willow Talk features trees that support one another with the help of underground fungal networks, and Hummingbird explores the relationship between plant and pollinator."
All of Audette's wallcoverings begin as sketches that she transfers on to linoleum blocks and hand-carves into bespoke botanical patterns. Once the carving is complete, she hand-prints each design using a brayer, water-based inks and rice paper before sending it off to her wallpaper printer on a made-to-order basis. "Depending on the complexity of the design, a pattern can consist of one block or multiple," she says.
Her latest collection, Heirloom, pays homage to heritage grains like wheat and barley and, more specifically, their resilient seeds. The series spans three colorful frond-filled patterns, including Wild Ramps and Virginia Strawberry, made using a reduction print-making technique. "Each print has multiple layers of color based on carving and reprinting a single linoleum block," she says. 'This adds movement, texture and translucency to the pattern."
Looking ahead, Audette hopes to develop a line of sustainable, domestically sourced fabrics adorned in patterns that tell a similar story to her wallcoverings. "I place plants at the front and center of Mazy Path's visual, spoken and written expression," she says. "My goal is to share tales of botanical survival, adaptation and wonder with the public—for both the plant's sake and for ours."
If you want to learn more about Alexis Audette, visit Mazy Path's website or Instagram.
Homepage photo: Linocuts for the Treasure Tree collection by Alexis Audette | Alexandra Rowley