When broadcast journalist Soledad O'Brien decided to paint and stencil her home's old wood floors earlier this year, she sparked an ongoing debate among design enthusiasts online: Was it a fresh renovation choice or a fast track to dinginess? Stay in the know with our weekly roundup of headlines, launches, events, recommended reading and more.
Business News
Starting late last spring, vacation rental hosts began to notice a steep drop-off in demand for their services and began dramatically lowering their prices, The Wall Street Journal reports—one owner slashed her Airbnb rate from $1,000 per night to $275 over the course of a few months. Meanwhile, the hashtag #Airbnbust went viral during the fall as other rental owners took to social media to voice their concerns. In fact, bookings have not fallen—they have increased, with data from short-term-rental analytics firm AirDNA revealing that the number of future nights booked was up 15.8 percent year over year in October. Instead, the sudden change in the market has to do with a surplus of available short-term rental properties. The phenomenon is partially due to the increased number of second-home owners who purchased properties during the pandemic and have now decided to enter the vacation rental pool—either for additional income or to bide time before selling due to the current housing market slowdown. Due to the sudden oversupply, each short-term rental property in the U.S. booked 6 percent fewer nights on average in October 2022.
Wayfair is suing three of its furniture suppliers, Furniture Today reports, alleging the companies defrauded the online furniture retail giant in a scheme that cost at least $1.5 million—money that it's demanding back, in addition to compensatory damages. The lawsuit names Rosevera Corp., Mulhouse Furniture and Fully Wind Co.—along with former Rosevera CEO and Fully Wind vice president Ping Hua "Eric" Hsu and Mulhouse employee Tzu Ju "Jennifer" Huang—alleging that the defendants intermittently coordinated to send empty packages to customers, triggering "lost in transit" claims that prompted Wayfair to send replacement units for which the defendants would receive additional payments. Wayfair also alleges that the defendants charged the company with shipping costs associated with sales through other retailers and marketplaces. Rosevera, Mulhouse and Fully Wind did not respond to FT's request for comment.
Since 2016, at least 30 individuals who work as countertop fabricators in the Los Angeles area have been diagnosed with an accelerated form of a disease known as "silicosis," LAist reports, making up what experts believe to be the largest cluster of the disease in the United States. The dust-related illness is fatal to workers who cut and grind engineered-stone countertops—a synthetic alternative to natural stone that is popular among consumers for its cost-effectiveness and durability. As workers cut the slabs, they may unintentionally breathe in tiny airborne silica particles, which cause incurable lung scarring and eventual death. While the impact of silicosis extends far beyond the Los Angeles area (researchers say 96,366 workers across America were at risk for the disease as of 2018), the effort to enforce better on-site health standards is hampered by factors including a staffing shortage within the U.S. Occupational Safety and Health Administration, which employs just one inspector for every 81,427 workers in the U.S. In addition, many fabrication shops employ undocumented workers, who are less likely to file complaints with the federal agency, making violators even harder to find.
Amazon announced the upcoming debut of a new TikTok-like feature called Inspire, which will present users with a curated feed of photos and videos to encourage new product discovery. According to The Business of Fashion, the feature is designed to compete with social commerce initiatives recently debuted on TikTok and Instagram, and is part of an effort to keep users on Amazon's online marketplace longer—currently, more than one in four Amazon purchases take three minutes or less. The initiative will roll out to select users in early December before going national in the next few months.
Chris Loves Julia—a design and DIY lifestyle business run by blogging duo Chris and Julia Marcum—ended its licensing agreement with Interior Define in the wake of the brand's recent controversy over vastly delayed orders and poor customer communication. In a statement posted to Chris Loves Julia's blog and social media accounts, the duo explained that the decision was made on November 28, and that the pair ended their five-year partnership with Interior Define due to the negative experiences customers had recently shared. "When we decided to make Chris Loves Julia a business, we knew we wanted to make a positive impact in the lives and homes of those who chose to follow us," the statement read. "This not only applies to the content we create and share, but the companies we work with." Interior Define declined to comment.
CommerceBear, a platform created to streamline operations for furniture manufacturers, announced the completion of a $14 million funding round led by Inovia Capital. Based on the fact that the majority of the global furniture and home industry still operates off-line, the company aims to help furniture-makers move their products online before partnering with them to scale business and manage end-to-end e-commerce.
In a U-turn from the supply chain delays of the pandemic, transportation capacity reached a recent high and sent prices falling, Furniture Today reports. According to the Logistics Managers' Index, a monthly survey of supply chain executives, the transportation capacity for November was 71.4 percent—just 2 percentage points below October's reading, which was the highest seen in six years (a higher reading means more capacity is available). The freight transportation prices' subindex for November also hit a historical rate of contraction, indicating that shipping prices could decline further, shifting the balance of power away from the trucking industry and back to furniture suppliers.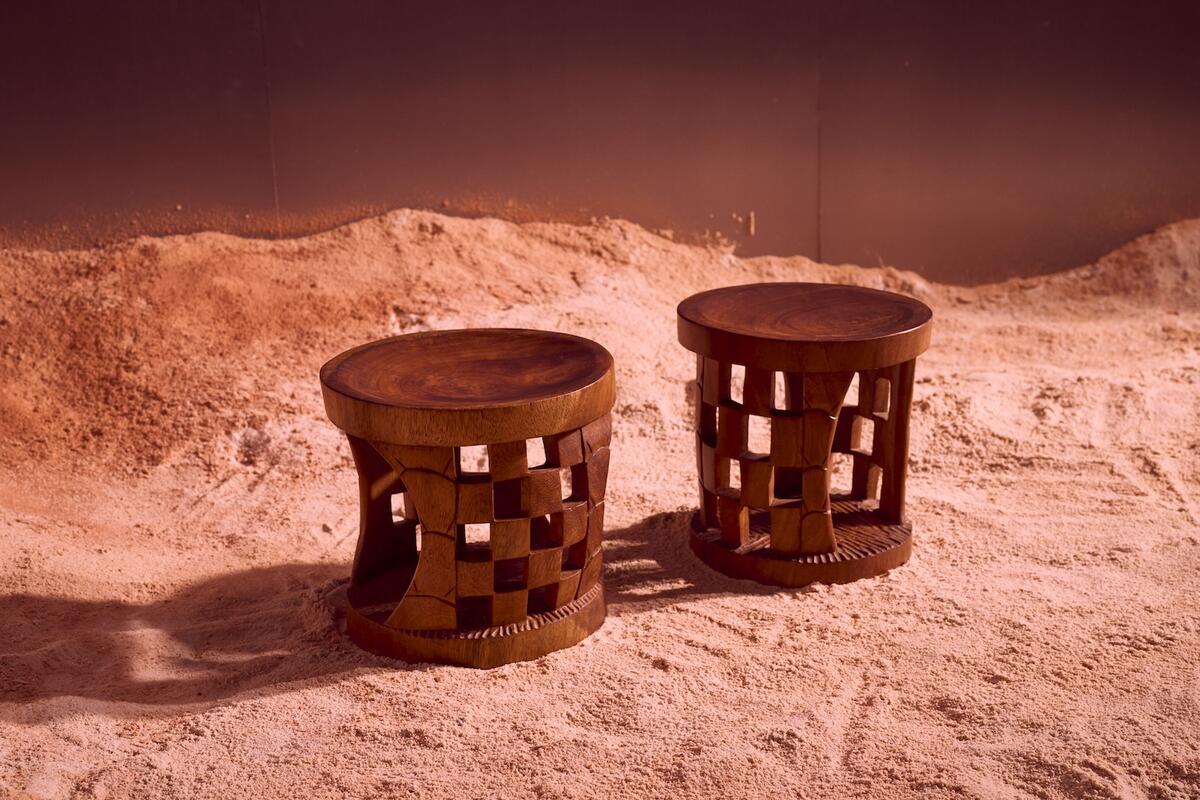 Launches & Collaborations
Charleston, South Carolina–based interior designer Cortney Bishop launched a new e-commerce platform called Album. Each month, the site will feature a "track list" of collectible and contemporary furniture, decor, art and fashion hand-picked by Bishop and available for a limited time. The debut assortment includes original works by contemporary artists Shelby Corso, Artistides Logothetis and Don Zanfagna; lighting from Mexico City–based studio Tezontle; a vintage rug by Amadi Carpets; and more.
Adair Curtis and Jason Bolden—co-founders of the Los Angeles–based design, celebrity styling and product firm JSN Studio—partnered with 1stDibs for a curated auction of their favorite vintage and antique items. The sale features 174 items reflecting the couple's eclectic taste, including art, furniture, lighting, jewelry and more, with standouts such as a 1960s Italian table lamp in the style of Stilnovo, a signed Tiffany Studios art nouveau table lamp and a pair of Ludwig Mies van der Rohe cantilever chairs.
Showroom Representation
Chicago-based design studio and lifestyle showroom 210 Design House is now the exclusive distributor of Italian bathroom brand Milldue within the Chicago area, though the company's products can be purchased and shipped nationwide through 210 Design House. In addition to its existing catalog of Italian and American furnishings, the showroom will now carry Milldue's newest debuts—the Vitage and the Noorth collections.
ABC Carpet & Home is now carrying products from Stark Carpet in a designated section at the retailer's flagship location at 888 Broadway in Manhattan. The store will carry an assortment of broadloom offerings in a partnership that will make Stark's offerings available to New York's downtown area for the first time.
Recommended Reading
Asheville, North Carolina–based ceramic brand East Fork is shifting its leadership approach and brand identity. Since husband-and-wife duo Alex and Connie Matisse co-founded the company with potter John Vigeland in 2009, the brand's identity and messaging has been largely guided by Connie's voice—a candid and transparent perspective that has helped direct East Fork through periods of growth, structural changes and the occasional internal blunder. As Regan Stephens writes for The New York Times, when the onset of financial challenges earlier this year nearly pushed the company's founders to a breaking point, it became clear that Connie should not be inextricable from the company's voice. Now, she is transitioning to a role outside of East Fork's day-to-day operations and passing off the work of content creation and communications to a creative director and vice president of marketing, effectively kicking off a new era for the company.
While the pandemic got the ball rolling on a renewed interest in home renovation, rising mortgage rates in recent months mean the boom is here to stay—but with extended lead times, endless labor shortages and surging material prices in the mix, the process has not gotten any simpler. For House Beautiful, BOH editor in chief Kaitlin Petersen surveys designers and experts to find out what prospective home renovators need to know before they embark on their projects, including how to win over a top-notch team, where to brace for compromises and when to start approaching contractors (hint: it's sooner than you might think!).
Amid an abundance of shoddy flat-pack furniture and the proliferation of mixed-use buildings made in the style of "cardboard modernism," an essay from the editors at N+1 asks the question: Why is everything so ugly? On a stroll through Manhattan, the narrators intersperse their travels with contextual notes from recent history to help illuminate why exactly current surroundings fail to inspire aesthetic wonder.

Call for Entries
High Point x Design and High Point Market Authority announced the launch of the inaugural Vacation Rental Design Summit to be held from April 20-21, 2023, in High Point, North Carolina, alongside the organization's spring market event. The new event's agenda will include presentations, panel discussions and expert-led breakout sessions on topics ranging from the impact of design on the guest experience, the business of vacation rental design, technology for short-term rentals and industry trends. HPxD is currently putting out the call for contributors and experts to join the summit as speakers, looking for a wide range of participants in the short-term rental industry, including interior designers, kitchen and bath designers, property managers, developers and more. To make a contributor submission before the January 6, 2023, deadline, click here.
In Memoriam
Industry communications leader Allison Ruddick Grote passed away last month at the age of 39. Grote's ascent through the industry began nearly two decades ago with a position as a marketing coordinator at Duralee Fabrics, where she rose through the ranks to eventually become director of communications and events. A skilled writer and graduate of Northeastern University's School of Journalism, Grote also called upon her trademark wit and candor as she documented her journey with cancer through dispatches in blog posts and on her social media page.
Homepage image: Interior designer Cortney Bishop launched a new e-commerce platform called Album | Courtesy of Album by CB