Dramatic, ephemeral and just out of reach, this season's Broadway sets are an attraction of their own for some theatergoers—now, designers behind several current onstage environments are sharing how they brought each space to life. Whatever comes next, stay in the know with our weekly roundup of headlines, launches and events, recommended reading and more.
Business News
Italian lighting brand Foscarini has acquired German lighting company Ingo Maurer. Foscarini will acquire 90 percent of Ingo Maurer shares, with the remaining 10 percent retained by Sarah Utermöhlen—the daughter of German designer Ingo Maurer, who established the eponymous studio in 1966. Maurer, who passed away in 2019, has left behind a legacy in the design world for seminal creations such as the oversize lightbulb–shaped Bulb Lamp, now part of the permanent collection at the MoMA. Foscarini founder Carlo Urbinati said in a statement that the company plans to maintain the historic brand's integrity, "with the specific intention of preserving its traditions, values and distinctive expressiveness."
Wayfair has opened its first brick-and-mortar retail location for its house brand AllModern in Lynnfield, Massachusetts. Connected to a corresponding AllModern app, the space features complimentary design services and free delivery, assembly and installation. Later this year, the company also plans to bring its Joss & Main brand into a physical retail space in Burlington, Massachusetts, with the remaining three house brands Wayfair, Birch Lane and Perigold to follow over the next two years.
Lumber futures and on-the-spot wood prices are plunging, The Wall Street Journal reports, as rising interest rates continue to deflate markets that experienced a boom during the pandemic. After reaching a high of $1,334 in early March, lumber futures were down 52 percent at $695.10 per thousand board feet last week, while prices for cash sales of wood fell 12 percent. The drop can be partially attributed to a slowdown in construction, with single-family home completions, starts and building permits each dipping in April, according to the Census Bureau. At the same time, building products dealers have reached more normal inventory levels due to improving supply chain conditions and falling demand for new homes as mortgage rates increase.
Older members of Generation Z, the cohort born between 1997 and 2012, are beginning to enter the housing market, accounting for 10 percent of homebuyers across America's 50 largest metro areas in 2021—though the rise of remote work and increased interest rates are affecting where exactly they put down roots. According to The New York Times, a report from online lending marketplace LendingTree has revealed that many young adult homebuyers are seeking mortgages in midsize cities, with Salt Lake City; Louisville, Kentucky; and Oklahoma City taking the top three spots to which borrowers are flocking, while the coastal cities of San Jose, California; New York and San Francisco take the bottom three.
Ikea will begin selling residential solar panels in the U.S. this fall, Apartment Therapy reports, extending the offer to members of its free customer loyalty program in select California markets. The move will be carried out in partnership with residential solar technology provider SunPower, which will help customers design and install a complete solar energy system for their home. The offering currently exists in 11 markets in Europe, where buyers have the ability to track their energy usage and sell back surplus electricity—after the California rollout, Ikea plans to offer the service to additional stateside locations.
Tom Conley, who served as president and CEO of the High Point Market Authority for the past 11 years, has announced he will be retiring at the end of the year. Conley will be succeeded by the organization's current chief operating officer, Tammy Nagem, who has been with Market Authority since its establishment more than 20 years ago and will assume the new role on January 1, 2023.
Launches and Collaborations
Apple TV+ has picked up a second season of the docuseries Home, which will premiere on June 17. The Emmy-nominated show features an in-depth look at innovative homes around the world, with each episode in the second season dedicated to a different visionary behind distinctive properties in France, Mexico, South Africa, Iceland and more.
Bobby Berk, design expert and host of Netflix's Queer Eye, is listing his recently renovated Palm Desert home on Airbnb and celebrating the launch by offering a pair of two-night stays for $22 each. The property, called Casa Tierra, features seven bedrooms, covered balconies, a pool and a hot tub, all located 30 minutes away from nearby Palm Springs, California.
Quartz surfaces producer Cambria has partnered with home furnishings retailer Room & Board for a new addition to its series of collaborations, which originally began in 2020. Debuting in June, the launch will include six new Cambria surface designs customized for seven of Room & Board's bath vanity collections, as well as the brand's Amherst collection of storage cabinets and kitchen islands.
Home remodeling brand Semihandmade has teamed up with Caesarstone to offer customers the brand's quartz surfaces products for its own cabinets. Through the Caesarstone Connect platform, customers will be connected with local fabricators who will measure and install Caesarstone surfaces to fit their Semihandmade items. The debut coincides with the launch of Semihandmade's Marketplace—a new one-stop shop where customers can browse Semihandmade cabinet fronts, Caesarstone surfaces, decorative hardware from brands like Rejuvenation, bath accessories from Hawkins New York and more.
Recommended Reading
As the popularity of both renovation projects and binge-watching grew during the pandemic, so did that of home makeover shows—and with that surge came a slew of allegations of "incompetence, negligence and shoddy construction" from various homeowner participants. For The New York Times, Debra Kamin speaks to former contestants, now free from (or disregarding) the confidentiality agreements that have kept their frustrations largely in the dark, about the complaints and lawsuits they've leveled against home networks since appearing on such programs.
In Hudson, New York, when a former town councilperson and anti-gentrification activist—who had helped pass local legislation restricting short-term rentals—listed her own property on Airbnb in early 2022, a scandal ensued. The move sparked outrage among residents of the city, which, when the pandemic first hit in 2020, became the metro area with the biggest influx of new residents in the country. For Curbed, Clio Chang dives into the drama and explains why it might be a microcosm of a larger short-term rental regulation conversation unfolding in the years to come.
Cue the Applause
The Institute of Classical Architecture & Art has announced the winners of the 2022 Arthur Ross Awards for Excellence in the Classical Tradition. This year's recipients include the California-based Appleton Partners LLP in the Architecture category; John Danzer of garden furniture shop Munder-Skiles in the Artisanship & Craftsmanship category; Los Angeles–based Suzanne Rheinstein & Associates in the Interior Design category; Wales, U.K.–based Arne Maynard Garden Design in the Landscape Design and Gardening category; London-based Timothy Smith and Jonathan Taylor in the Education category; and New York–based Barry Bergdoll in the History and Writing category. For the full list of winners, click here.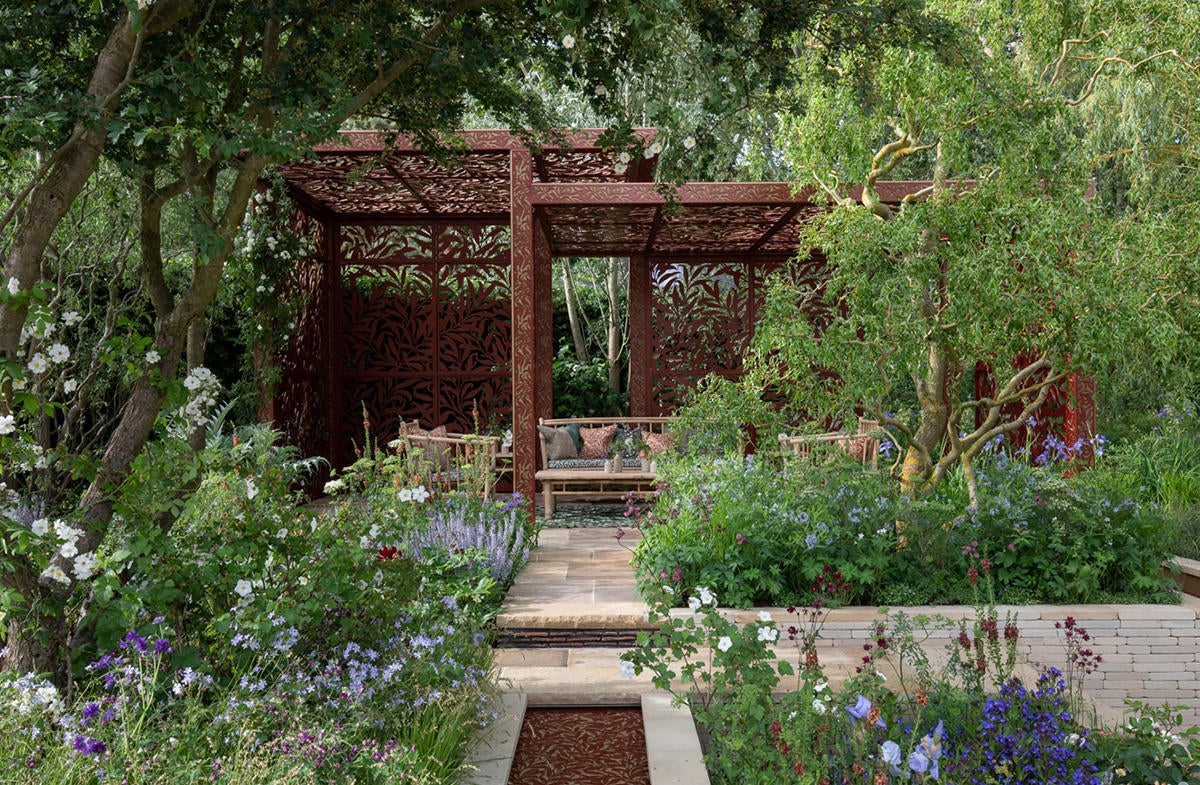 Morris & Co. Garden and its designer, Ruth Willmott, secured the prestigious gold medal award at this year's Chelsea Flower Show, the highest honor of the event. The winning design incorporates William Morris's love for native plants with a mix of British horticulture, complete with woven fencing, a laser-cut pavilion and Yorkstone tiling, all made by craftspeople.
Call for Entries
The Ageless Living Collaborative is now accepting applications for its Senior Living Design Scholarship sponsored by Samuelson Furniture. The contest awards $10,000 to a senior living design student, with the goal of encouraging evidence-based design and better outcomes for seniors. For more information or to submit an application, click here.
In Memoriam
Colin Forbes, graphic designer and co-creator of design organization Pentagram, has passed away at the age of 94. According to The New York Times, in 1972, Forbes joined with Alan Fletcher, Theo Crosby and Mervyn Kurlansky to start the company, which would operate as a cross between a boutique firm and a large Madison Avenue–type operation, prizing a structure that prioritized collaboration and artistic independence in equal parts. Informed by Forbes's business acumen and direction, the company became a force in the industry, forming partnerships with brands such as Jack Daniel's, the Great Western Railway ticket hall at Paddington Station in London and Shakespeare in the Park in New York. "Throughout most of a long and spectacularly successful career in graphic design, Forbes has concentrated his splendid energies on nothing less than designing the practice of design itself. That makes him a designer's designer in quite a special sense," a statement in memoriam reads.
Homepage image: Inside Bobby Berk's Palm Desert property, now listed on Airbnb | Courtesy of Airbnb