It was the early 1980s, the country was in a recession, and no one was hiring. Tom Kligerman, at the time a recent architecture school graduate, was kicking around New York trying to get a job, but without much luck. Then, by chance, he bumped into one of his former professors while walking through Columbus Circle. That professor just happened to be Robert A.M. Stern, one of New York's most prestigious architects.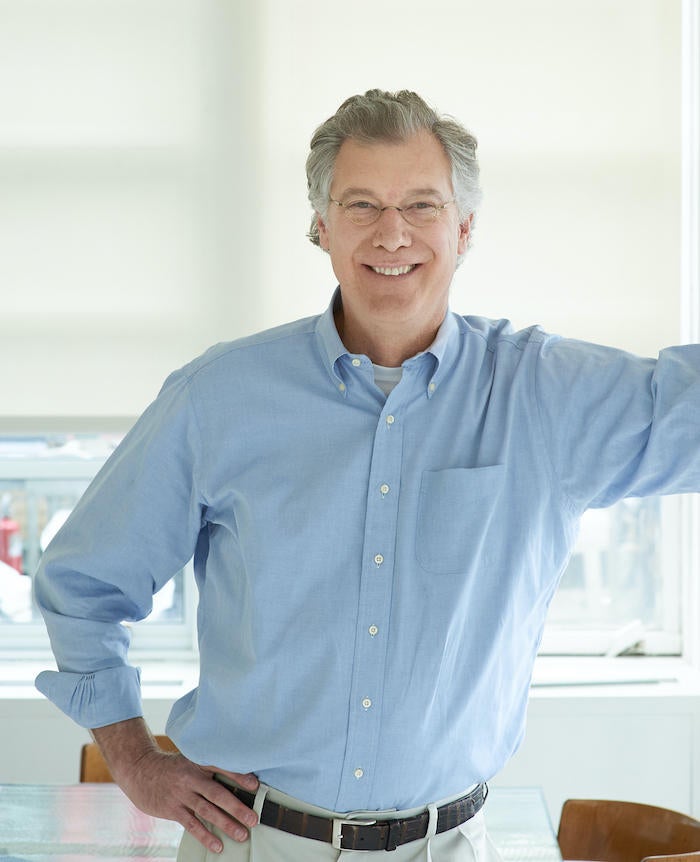 Courtesy of Ike Kligerman Barkley
"I suddenly heard this voice: 'Mr. Kligerman! What are you doing here?' I looked over and it was Bob Stern sitting in an outdoor cafe. ... He said, 'When are you coming to see me?' And I said, 'Well, I was planning to come by tomorrow'—which wasn't true," Kligerman recounts to host Dennis Scully on the latest episode of The Business of Home Podcast. "[At] 9 o'clock I showed up, and at 9:30 he hired me, and I was at work the next day for $6.50 an hour."
Thus began Kligerman's sparkling career, which has seen him, along with his firm, Ike Kligerman Barkley, win award after award and appear regularly in the pages of shelter magazines—including a 26-year run on Architectural Digest's AD100 list. Though his firm works in a range of styles (he likes to call himself a "modern traditionalist"), it has developed a reputation for shingle-style homes. Being identified so closely with a particular style, he says, is both a blessing and a curse.
"It's a double-edged sword. When we first published that dark green [shingle-style] house in New Jersey, we were recognized so quickly [that] I told John [Ike], 'We can make a career out of this—there's a lot to mine here,'" says Kligerman. "Ultimately, we decided there's so many styles of architecture we're interested in—some interpretation of Georgian, or modern, or Victorian—we thought it's just too limited to do that one thing." Yet despite his intentions to stay open to a variety of design styles, the allure of iterating has grown in its appeal: "The more I work, the more I've been interested in narrowing my focus. It allows you to really concentrate on different ideas if you limit your palette a little."
In this episode of the podcast, Kligerman talks about what it's like to work with top designers like Kelly Wearstler and Steven Gambrel, his unique experiments with client presentations, and why even award-winning architects need to be active on Instagram. "I try and post every day—you have to develop business that way, and we do," he says. "I've gotten three substantial projects out of my Instagram. We just photographed a house—22,000 square feet—and they called me because they liked my Instagram, [so] I take it very seriously."
Listen to the show below. If you like what you hear, subscribe on Apple Podcasts or Spotify. This episode is sponsored by SideDoor and Moore & Giles.