In Business of Home's series Shop Talk, we chat with owners of home furnishings stores across the country to hear about their hard-won lessons and challenges, big and small. This week, we spoke with Cara Fox, a Salt Lake City–based designer and owner of The Fox Shop, whose offerings range from furnishings and art to jewelry and apparel.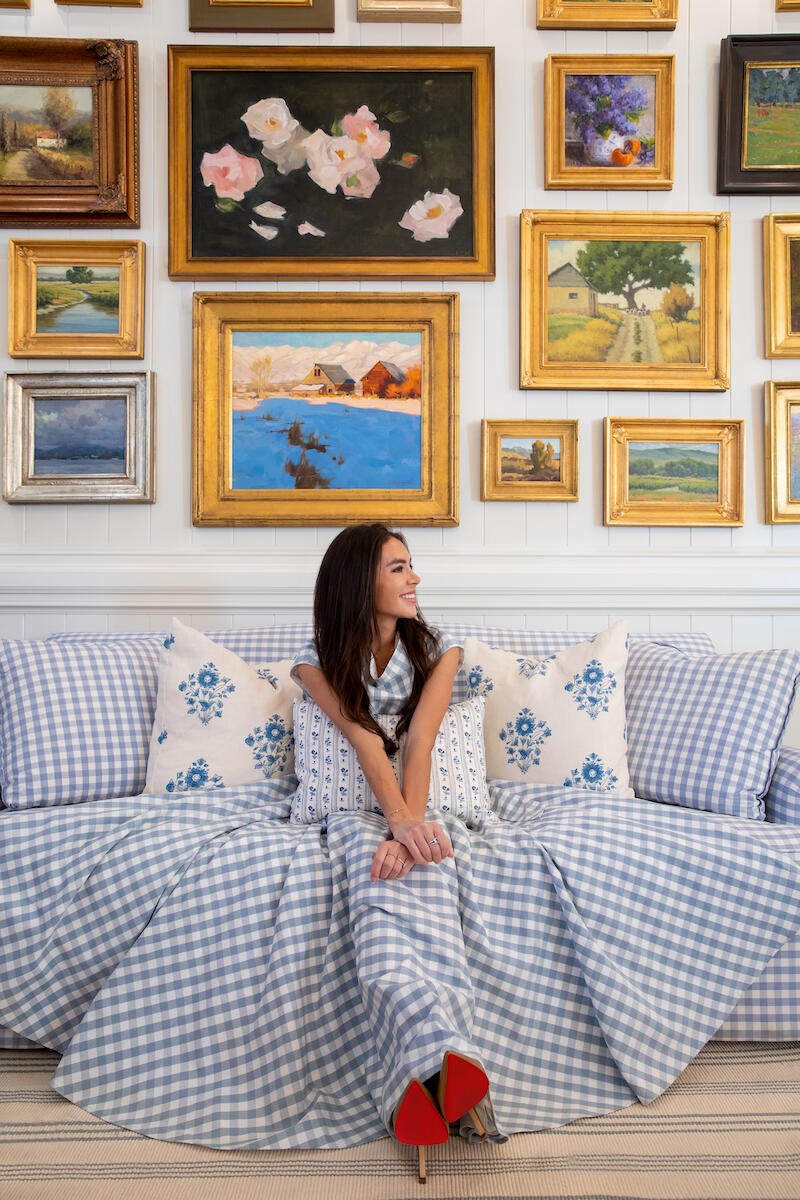 After more than a decade of operating The Fox Group—a residential design and construction firm formed with her husband, Tom—Fox brought their modern English aesthetic to a storefront in Holladay, Utah, on the outskirts of Salt Lake City, in 2021. Though it's only been two years—and Fox released a book with her sister Tanna, Joy of Kitchens, in the interim—she's already got her eyes on the next venture, with plans for a sprawling, Magnolia Market–style hall that will host local artisans, food vendors, classes, events and more. Ahead, Fox chats about the Salt Lake City design scene, her customer's thirst for art and why Ralph Lauren is her idol.
What motivated you to open a brick-and-mortar location?
Designing for clients for 15 years, you learn about so many unique products. You're curating all the time, going to amazing markets and antiques shops, and getting to know furniture manufacturers and companies. It made me want to offer that to more than just the 10 to 15 clients that we were working with a year.
You opened smack in the middle of the pandemic—how was that?
It was interesting. We opened online [first], and 98 percent of our sales were online. Now that things are getting back to normal, we're more at like 80-20, online versus walk-in. We started the shop by appointment, [with] no more than three people [at a time], so it was more intimate and safe.
Now, we're actually expanding—getting a location that's five times bigger this fall, which will be awesome. We'll still keep our little shop, but we'll open a [second] space just three doors down. We're going to bring in artisan food, local finds, as well as antiques and furniture. It's going to involve the community more: We have a neighbor that makes amazing quilts, another lady who makes amazing sourdough bread, the family-run Ballerina Farm selling their grass-fed beef.
Wow! How long had you been planning the store, and did the pandemic change your plans at all?
We had been working on the shop and its website for two years, because it's so detailed and extensive. Even listing one couch could take months, because you have 10 different fabric and trim options for each piece. Then the pandemic hit, and everyone was really worried, but if anything, it helped e-commerce.
Has that settled down at all, or no? Because obviously, the business is doing well if you're expanding.
It hasn't dropped, thankfully. It's grown. We've learned that anything under $1,000 is way more likely to sell online, whereas the $10,000 couches sell more in person. People like to see and feel and touch before they drop that kind of money. That's why we're expanding [to a second store].
Let's come back to that new space in a bit. What is the balance of merchandise now, with outside vendors?
Our main seller right now is probably art. We curate from artists all around the world—with everything happening in Ukraine, we did a ton of work with Ukrainian artists. It's fun to gather all these amazing artisans and craftspeople. Every other month we do a big art show and focus on a local artist. We've also had artists come from out of town for that. Bringing the art community together is huge. After that, it's our custom upholstery and furniture, and then rugs and lighting, in that order.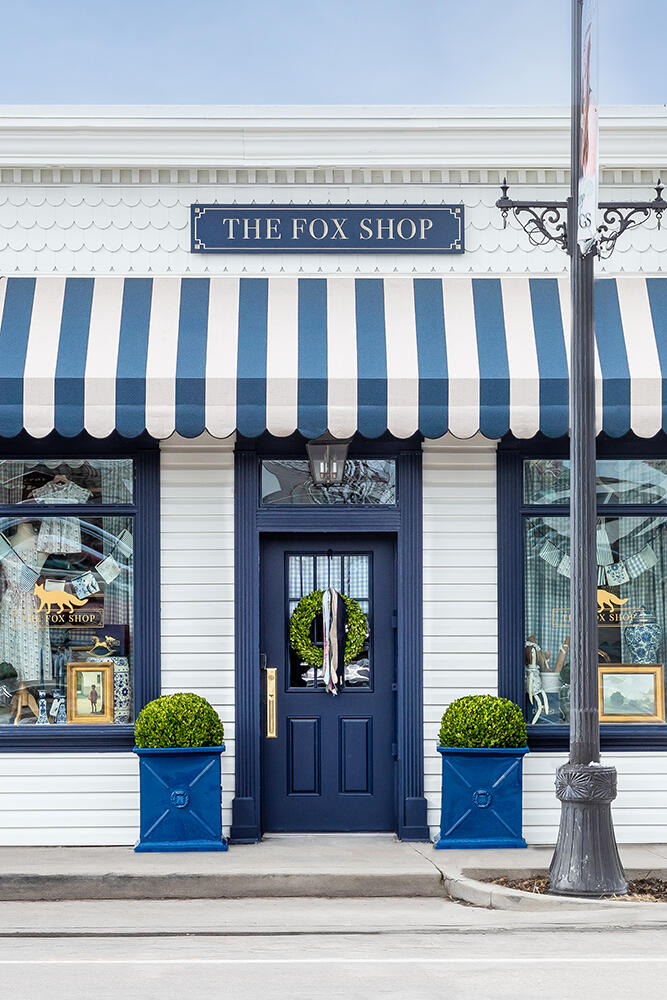 What is your sourcing process like?
For art, it's being involved in the art community online and getting to know the galleries around Utah. We also work with some antiques dealers who bring in shipments from France a couple times a year. As far as new product goes, we find lighting, rugs and decor items at High Point Market. The really cool artisan stuff is all local artists; people who are really unique in their craft and good at what they do, and mom-and-pop shops.
How would you describe the general aesthetic of the store? Is it an extension of the design firm?
We have a lot of New England flair. Most of our inspiration comes from the eastern United States, but also English style. I like to call it "fresh traditional" because it's not old and stuffy.
Who is the typical customer? Is there foot traffic?
That's been the most surprising thing: We didn't expect as much community involvement and foot traffic [as we ended up getting], and that's why we're opening up the bigger location. We were like, "OK, we'll work with a lot of designers." Then we were thinking it would be more of the high-end [retail] client. A lot of the stuff is custom and not cheap. But the coolest thing we've learned is that there are so many people of all different backgrounds who love and appreciate art. We have a lot of abstract and modern art, watercolors, charcoals—all styles. It's been fun to see who that attracts because it's way more diverse than I ever expected.
So is art the category that moves the fastest off the floor?
Definitely. Our wall is constantly changing, every week, and it's crazy to see the power of social media. I'll post some new pieces, and they're typically sold out within 24 hours after the Instagram story is live. If we have a really cool piece, and even sometimes seasonal pieces, we will do giclées of them and then frame them really nicely, and then those 20 to 30 copies sell out. Those are a cheaper price point, so they fly off the shelves.
Did any of the typical pandemic woes impact the business? Like shipping issues or supply chain backups?
The art was always steady. The artists pulled through, and nothing ever was delayed. When my book came out [in 2022], we ran into a lot of shipping issues getting those first few thousand copies out. Shipping was probably the number-one thing, and then upholstery; our lead times went from four months to nine really quickly. But I think people, in general, were very understanding of lead times changing. It wasn't as bad as we anticipated.
Tell me about the local area you're in.
We are in a suburb just 12 minutes outside of downtown called Holladay, but it's pretty much still Salt Lake City. We're right on the main street, and they're really pushing new urbanism and making this little downtown walkable and accessible. We're so grateful to be right in the hub of it, with all these new restaurants around. You still feel like you're in the city, but in the charming outskirts. We have plein-air art festivals, and a big Christmas tree lighting every year. We have a food-truck park now, and so many community events, like outdoor musical festivals in the town square.
What is the greater Salt Lake design scene like? Are there a lot of decor stores?
Typically, no. Salt Lake is definitely not known for being a design hub, but we're getting there. The closest design centers are in L.A. and Denver, so that's typically where we go for our projects. It's also fun trying to pioneer it—we were the second [store] to bring Visual Comfort into Utah, and the first in Salt Lake. I definitely think Utah is behind the times for design.
So is there an element of education with nontrade customers? Do you have to explain why a couch costs $10,000 when everyone is used to Amazon and Wayfair pricing?
Oh, yes. Because they don't realize that Wayfair couch is going to last maybe two years, and your kids are going to jump on it and break it. Utahns are such an industrious people, but I think it makes us a little cheap by nature, always looking for a bargain. You have Amazon and Wayfair, but someone always gets cheated in that system. You're losing the craft of the actual art, why that piece of furniture is hand-carved. It's educating everybody about craftsmanship and quality. But I would say the people that shop with us, they realize the difference and they're coming to us for the quality.
So, back to the retail expansion. When did you realize that you wanted more space?
About a year in, we realized the potential for growth, and how big it could be. We're calling the new expansion The Fox Market, just three buildings away from The Fox Shop.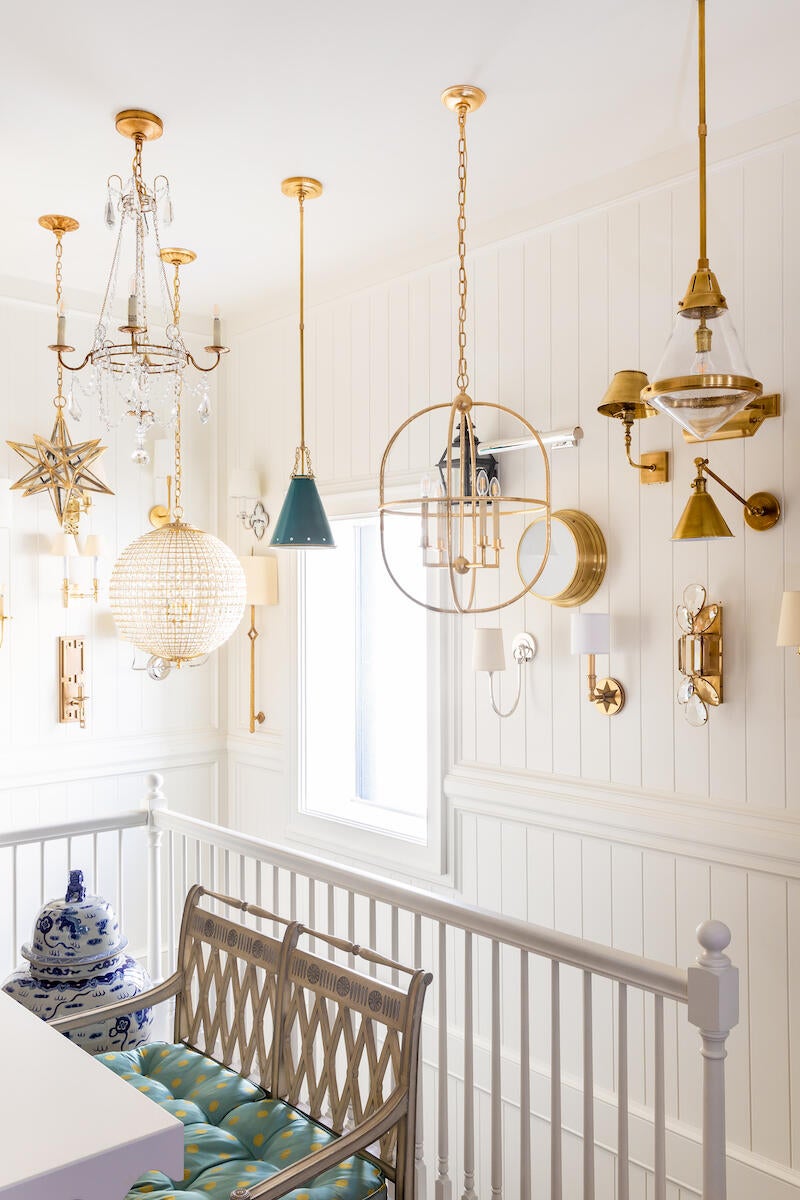 What will the experience be like for customers?
The vision is: There are so many artisans and people who specialize in something unique, like glassmaking, so many talented women and men who need a brick-and-mortar [space] to sell their product, or all these influencers who sell their own product and have huge online followings. How can we bring all these people together?
It's going to feel like a European market experience—the windows all out of conservatory glass. You walk into the food hall, and right now we have five different bakeries signed up to sell food, always fresh. We'll have a drink bar, a tea bar, two chocolatiers, a local ice cream maker. Then we have some influencers, like The Food Nanny, who [makes] Kamut, and it always sells out; the Ballerina Farm people selling their meats; a nutritionist who sells home-made kefir and cultured vegetables. Then you enter the antiques hall, where there'll be antiques, hand-made quilts, pillows and upholstery. As you get further back, we'll have rugs and lighting and the not-so-craftsman stuff, but the stuff people need—the more basic [products].
We'll keep the little shop, too, and we'll focus more on jewelry and the dresses there, and maybe some of the pricier art. At the market, I envision having art everywhere, even hung on the conservatory glass walls.
You have so many projects in the works. How do you figure out where to devote your energy?
I have a passion for marketing, I guess—seeing what the next big thing is, or where the next need is. It's been fun to see this huge increase in [desire] for antiques. It's fun to always keep your eye out. I hate to be trendy, but I love things that are classic and timeless but fresh. That's the word I always use: "Let's keep everything fresh." Block prints are really popular right now, and people can come in and get either a $10,000 couch made in them, or they can buy a $100 pillow. We were used to only working with people with really high incomes, building $5 million homes, but I see the future as being able to cater to everyone.
I've got five children, four horses, two dogs, two cats. We have a busy life. Family always comes first, but I like to involve my family in what we do. I love to bring my kids to work and have them involved. My girls are both going to be working at the market. They come into the shop all the time—they meet the clients. The boys are a little too young still, but I like making everything a family affair. I don't like separating my life into different compartments. So far it works, but we take it day by day, too.
Given your success, how do you feel about the future of small, independent businesses in the U.S.?
I think it's all about creating a brand and a feeling, and wanting people to be a part of that feeling. My biggest icon in the design world is Ralph Lauren. It's almost a lifestyle. It's got to be about the social and human interaction. It's amazing, the power of people seeing a piece of art hung in a beautiful home—it sells so much quicker than on a blank white background. It's creating an emotion around why people want to purchase things, which I don't think you get with Amazon.
Do you think you'll be doing events in the market?
Yes! We'll close at probably 7 p.m. every night, and then we'll start classes at about 8 p.m. We're going to do artist workshops, and our nutritionist will be doing classes. We're thinking we'll do some cooking and quilting or knitting classes. We want to offer a gamut, letting these artisans share their craft with the community.
Off-property, we're putting up a greenhouse, which opens in October. We're thinking people could hold receptions there, wedding receptions or art gallery nights, stuff like that.
What's your favorite kind of day as a shop owner?
I actually had my favorite day of my life as a shop owner and as a designer a couple weeks ago. I have a client who is a leader in the community, and I get to design her office in downtown Salt Lake. The Church of Jesus Christ [of Latter-day Saints] is very big here in Utah, and the church owns millions and millions of dollars worth of art. So, I got to go down, through three different security gates into this temperature-controlled, climate-controlled, light-controlled basement full of Rembrandts.
We got to pull different pieces to use while she's in office, which is a five-year term. They go back after her term is done, and then the next person will get to decorate the office accordingly. Getting to see these originals I've been familiar with my whole life, and getting to decorate a space around them? The client is really influential with the youth, so we tried to pick out a lot of pieces with young women in them. It was better than any European museum—and you're inches away. It's like you're in Indiana Jones, and they pull out these big walls of art, marble statues, priceless artifacts. I get giddy already about art, so it was like heaven for me.
Homepage image: The Fox Shop brings in products like lighting, rugs and decor items from High Point Market | Lindsay Salazar