Bianca Chen, the eldest daughter of Los Angeles design icon and tastemaker Joel Chen, has been surrounded by fashionable people her entire life, including the clients who visit the furniture and decorative arts showroom her father founded 40 years ago.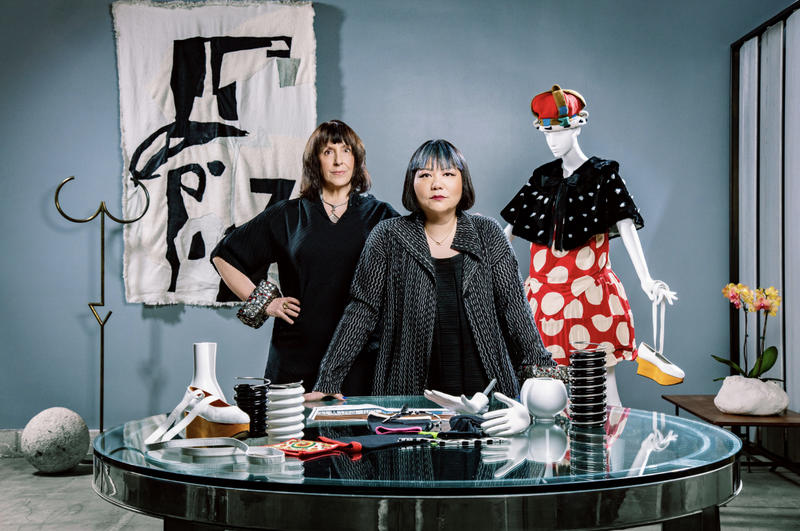 Her love of clothing was cultivated and well-informed, but until recently, it existed from the vantage point most of us share, as a consumer. "This was the biggest learning experience of my life—in curating, in fashion, in history, in everything," Chen says of "Collision," the exhibition she co-created with noted stylist and former costume designer Lynn Pickwell.
On view at JF Chen until the end of April, "Collision" is the ultimate fashion/design coup, pairing the Pickwell/Moore private collection of costumes and vintage garments on mannequins from L.A. specialist Oh Mannequins with select pieces from the JF Chen collection. Focusing on garments from the 1970s, '80s and early '90s, the show honors the artistry of both clothing and furniture in a context that isn't easily defined as commercial or civic. "This was not an ego project," Chen explains, nor was it a luxurious romp with beautiful clothing. The pair set out to explore the visual overlap of both disciplines without diving headfirst into the fluff we're all occasionally guilty of indulging in.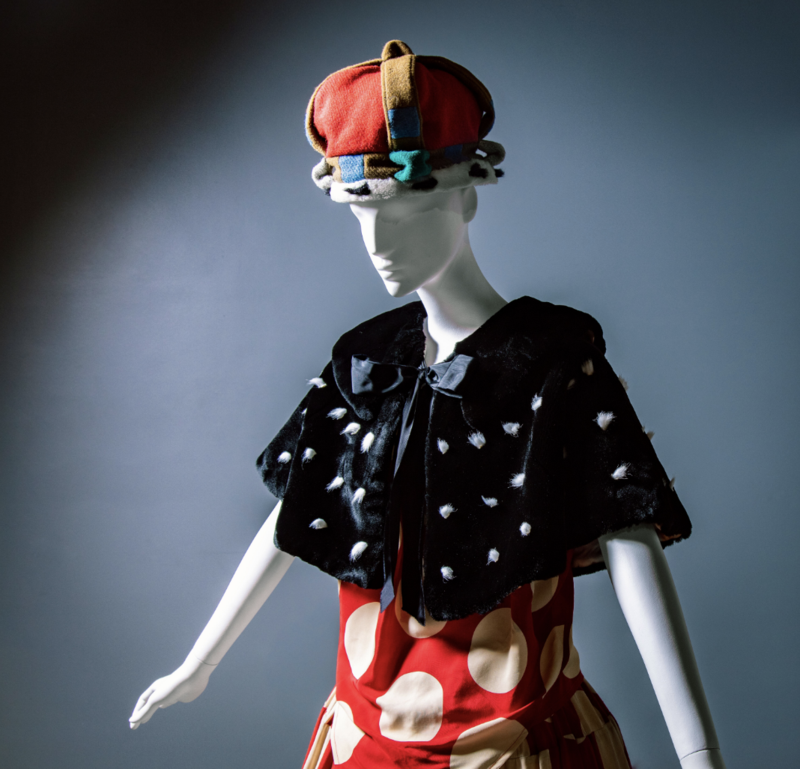 Merging the fashion and furniture worlds is not unusual, but some attempts veer painfully into contrivance with forced fits and splashy events that result in well-choreographed gimmicks. This exhibition arose from a creative friendship and zero intentions to ignite Instagram. "I wanted a feast for the eyes," Chen tells Business of Home. "And to remind people about the creativity, the craftsmanship and the time it takes with both fashion and furniture—both are functional—that's what I wanted to show the world. And I wanted to educate people."
Pickwell is a pedigreed designer: She has created pieces for Bruce Springsteen videos, and worked on projects with David Fincher, Bob Dylan and Whitney Houston. And she has kept her collection private for years (only recently loaning a Junya Watanabe dress for the Oscars on the condition it be returned by midnight to avoid the after-party scene and the risk of copycat designs). After learning about Pickwell's amazing trove, Chen found herself sitting in LA Packing for a special showing of the stellar collection. As racks of clothing and rare finds were pulled out, she knew they needed to collaborate.
While it sounds like a fun time selecting clothes and furniture over a bottle of wine, both Chen and Pickwell applied a serious curatorial approach to their first-time endeavor. Careful not to pair works from the same era and call it a day, they let aesthetics, shape, form and craftsmanship inform the selections.

"Someone told me I wasn't posting enough pictures of the exhibition and I said it was because I wanted people to see it in person."
Bianca Chen
One example can be found in a blue-and-white polka dot Alice Pollock pant suit with serious tailoring. "It has these dove pants that reminded me of the Bauhaus movement, including the blue and white, so I put it with a rare Austrian Hoffman chair," Chen says, noting the circular repeat. On another display, Pickwell and Chen matched a Japanese garment featuring pleats and prominent lines with a rare wooden Marc Newson chair with slats. "That's something Marc Newson never does, it's not his usual style," says Chen.
The displays are also evocatively relevant. One coat by Stephen Sprouse had "God Save America" printed in his unmistakable hand; it reads like a stylish but ferocious rebel yell in today's political climate. Similarly, seeing a mannequin in model Pat Cleveland's likeness wearing clothing by Patrick Kelly (her close friend and designer of choice) is a stark reminder of the AIDS epidemic that ravaged many of fashion's brightest talents in the '80s and '90s.
Turning to the insatiable demands of the digital world, Chen revealed her own elegant obstinance: "Someone told me I wasn't posting enough pictures of the exhibition and I said it was because I wanted people to see it in person. I can't portray these things on filter, on camera—you have to come in and look."
Before the conversation turned into a deep sigh about how the internet is ruining our collective good taste and appreciation for real design, Chen relayed the kind of story that suggests the kids will be all right. Recently three young women—a textile designer, a fashion designer and a jewelry designer—were standing outside JF Chen peering into the window and wondering whether it was OK to enter. Chen invited them in immediately. "I went over, opened the door and said, 'Come in, this show is for you.'"